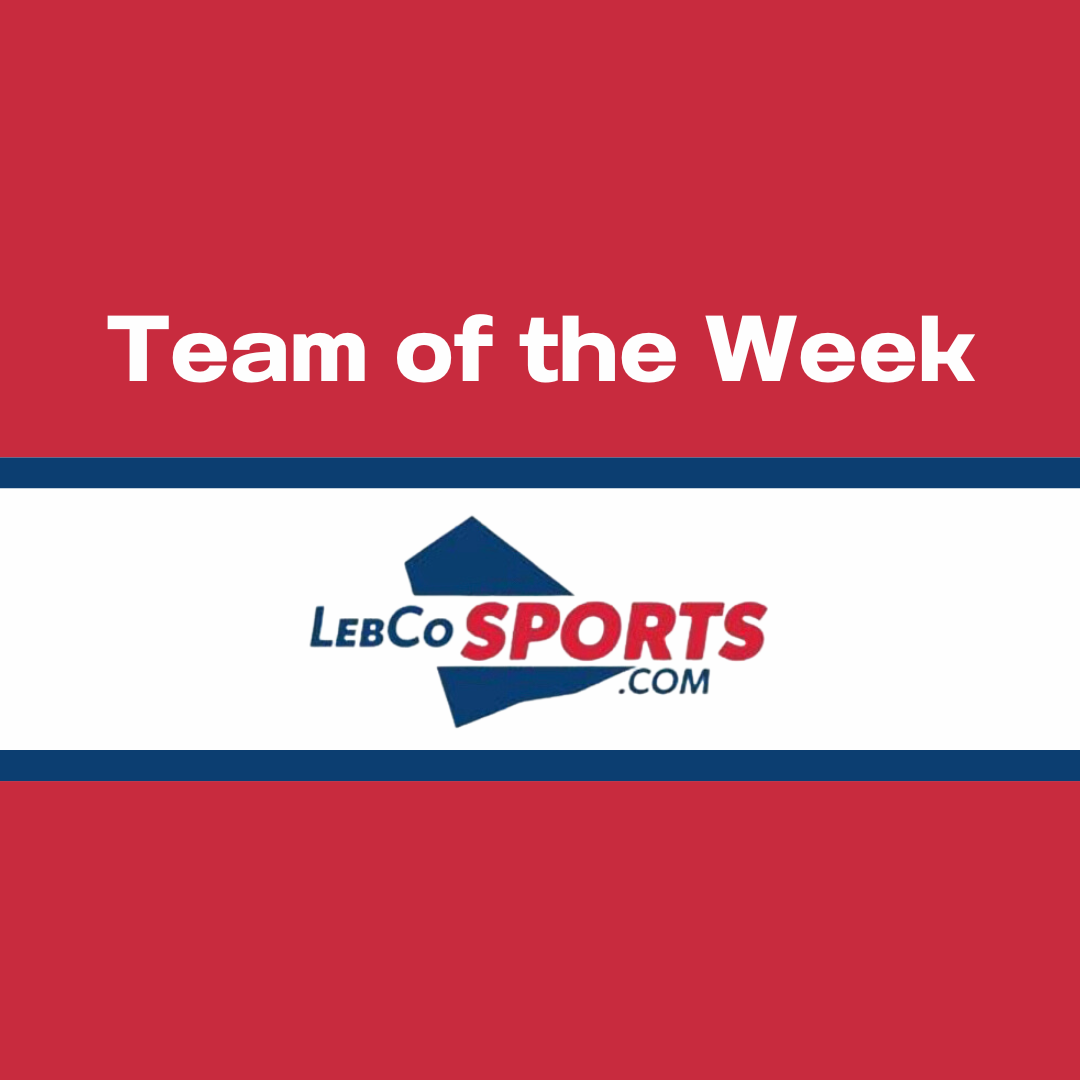 Sponsored by Lebanon Federal Credit Union & WLBR / Froggy Valley 100.1
---
If you like this type of coverage, please let us know by Following us on social media: Twitter/X – @lebcosports1 and Facebook.
For any questions, comments, or discrepancies, please reach out to dan@lebcosports.com.
---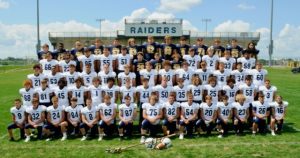 ELCO Football's Week 9 match-up had the potential to heavily sway the postseason chances for the Raiders. They knew that Donegal was better than their record, losing on a last second play to Palmyra in non-league play during Week 3 and then dropping close contests with Berks Catholic (19-16) and Conrad Weiser (34-30). On October 20th, ELCO walked away with a total team victory, winning the game 12-0 on a rainy night in Myerstown. For their efforts, they were selected by the readers of LebCoSports.com as the LebCo Team of the Week.
The score of the game only tells part of the story as to what went into the victory, as it may have been the most difficult win of the season. The Raiders had their share of issues facing them entering the game, which included an injury to Jake "Deuces" Williams that kept him sidelined, except for in an emergency situation. The team's full back/middle linebacker Elliott Kreider would also be playing with a broken hand after being medically cleared earlier in the day. Throughout the season, Williams and Kreider not only have been the team's leaders in the stat department, but have also served as seniors who have led by example, quietly through hard work.
With a large majority of the offense relying on Williams and his 200+ yards per game rushing average through the first eight weeks, the ELCO coaching staff would have to figure out how to adjust. Several players would also have to step up, knowing that their main offensive weapon would not be in the game. While it is what the players train for each day in practice, there would still remain a level of belief in their own abilities that had to occur in order for it to translate into execution. Once the game started, any doubts were laid to rest.
ELCO Head Coach Bob Miller said of the victory that it was, "a reflection of the team culture our players have developed. We had so many players step up, and there was never a single bit of wavering knowing we would be without one of our running backs."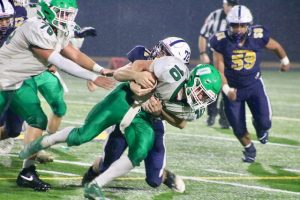 #72 Dawson Ocker brings down the Donegal QB
He went on to talk about how his team player, saying, "Our kids have a physical mentality and it really showed on defense. Our young kids across the o-line and the young backs that stepped up gave a glimpse of the future."
In what was a passing of the torch moment, Miller said, "The seniors like Carter Kemper, James Prosser, and Elliott Kreider, who played with a broken hand, showed the way that ELCO kids play. It was a great example of how these kids have shaped the program."
The defense was really where the mastery of those lessons showed, shutting out the Indians. "We have a ton of youth on defense so we are excited that this group could pitch a shutout," said Miller. The head coach, now in his 12th season, said, "We got a chance to go 1-0 that day and to highlight our defense and the work of the coaches: Carley, Wetzel, Williams, and Hall, who have directed this group to some outstanding performances."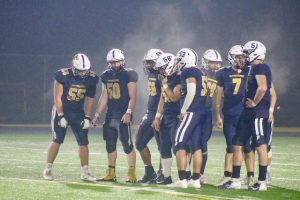 The defense readies for another play.
While the Donegal win was a reflection of the team culture, it is difficult for Miller to narrow down the top lessons in football that his players have learned this season. However, the life lessons are clear with Miller saying, "This group refuses to let a number define them, whether on the scoreboard or in a stat column, they know that the effort they give and the way they play the game is most important. They refuse to let people outside the program determine their success. They set their own standard for teamwork, effort and heart and that has guided them to great success and they will be great young men and women later in life because they define themselves by higher standards than numbers can define."
Continuing to quantify the mentality of the players within his program, Miller said, "Too many people and youth let numbers like bank account or Facebook friends define their value; the ELCO players invest in the lives of each other and realize that your value is determined by what you can do for others and a goal bigger than yourself. They are selfless."
It is this culture that has rocketed ELCO into the District 3 Playoffs after finishing the season with a convincing Week 10 win over Berks Catholic, in which Williams returned to break his own school single season rushing record as part of a 300 yard rushing performance. With a 7-3 regular season record in the very difficult Lancaster Lebanon League Section 4, the Raiders have earned a home playoff game this Friday night against Big Spring.
When it comes to the playoffs, Miller says that the season goals will not change, as the Raiders "will have fun every single day, while raising the standard on the field and off." Again, not being defined by wins and losses, Miller pointed to the ultimate goal he hopes his program provides when he said, "We will work to have the greatest football experience possible, so that our players will look back on these days as some of the best of their lives."
The game against Donegal was one of those lessons where their selfless play and hard work ended with the desired outcome. While not every game will have the same result, one can be certain that the Raiders will continue to define their own experience.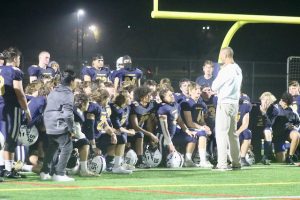 Coach Miller addresses his team after the victory.
Click to find the ELCO Football Roster included as part of the team outlook done prior to the season.
For more on the Week 9 game against Donegal of the Week 10 game against Berks Catholic, check out our ongoing coverage of LebCo High School Football.
Photos courtesy of Heather Daub & the ELCO Athletic Department
---
Read about this week's Female Athletes of the Week – Eliana Schneider
Read about this week's Males Athlete of the Week – Myles Watson
For a full list of this week's nominees, check out: Athlete of the Week Voting: Week of October 9th
Previous Winners Update
ELCO Field Hockey (Week of 9/11): Notched a 3-0 victory over Berks Catholic in the opening round of Districts before falling 2-0 to Boiling Springs, the defending State Champ. They will now have two chances to make it to States, starting with a game against West Perry on Wednesday.
Palmyra Girls Volleyball (Week of 9/18): Defeated by Lancaster Lebanon League powerhouse Hempfield in the opening round of Districts.
Palmyra Field Hockey (Week of 9/25): Won their first two games of Districts, defeating Garden Spot and Hershey. They will play Wednesday against Manheim Central in the semifinals.
ELCO Boys Soccer (Week of 10/2): The Raiders won their opener against Manheim Central in a double OT game that ended with penalty kicks. They went on to lose a tight 1-0 game to Conrad Weiser in the quarterfinals.
Annville-Cleona Field Hockey (Week of 10/9): They opened Districts with a dominant 8-0 win over Section 4 rival Lancaster Country Day. The Dutchmen then lost in the quarterfinals to Bishop McDevitt. They will now have two chances to make it to States, starting with a game against Newport on Wednesday.