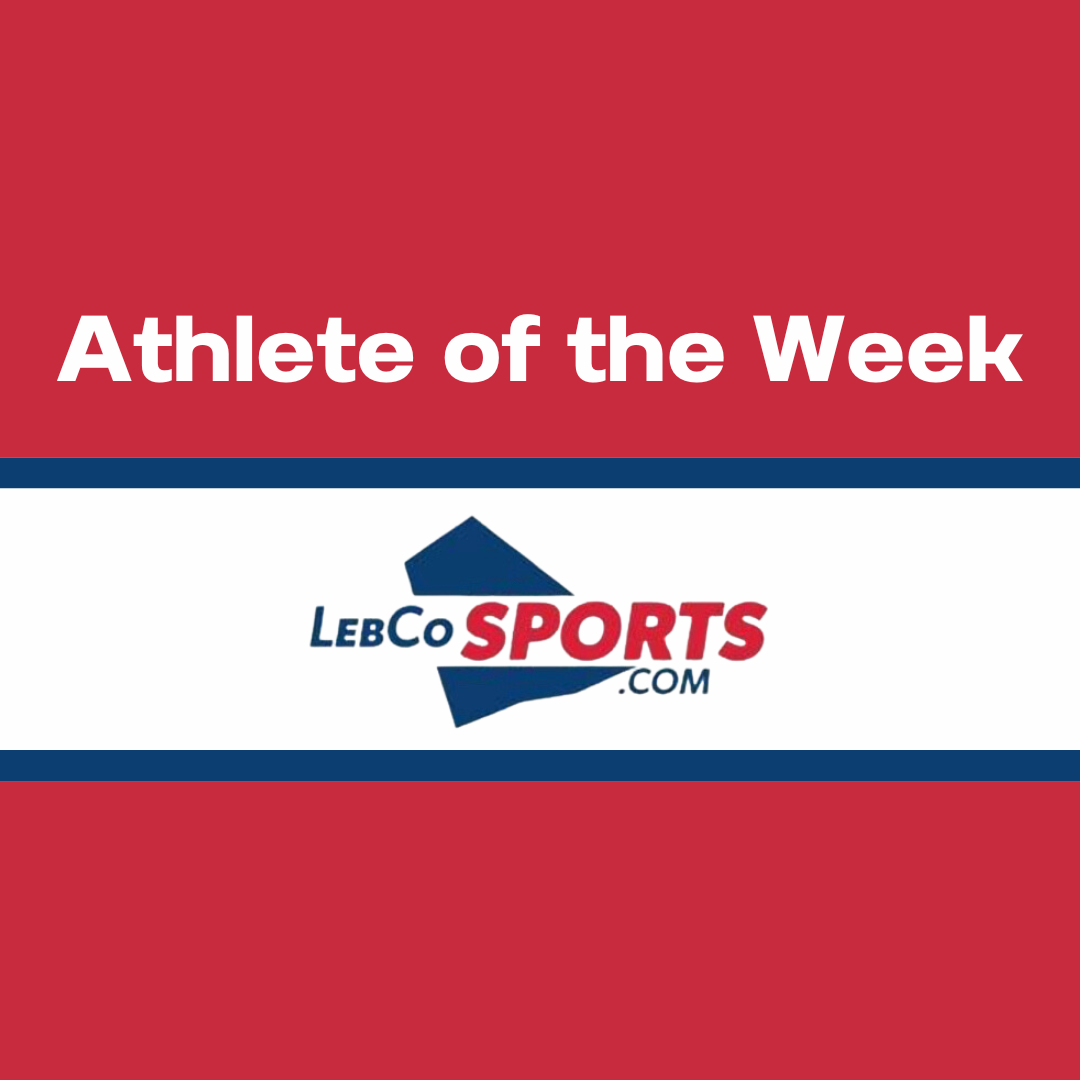 Sponsored by Lebanon Federal Credit Union & WLBR / Froggy Valley 100.1
This was for the Week of October 16th with the voting taking place last week.  Due to an issue with technology, voting was delayed a day and pushed back the writing of this week's pieces.
---
If you like this type of coverage, please let us know by Following us on social media: Twitter/X – @lebcosports1 and Facebook.
For any questions, comments, or discrepancies, please reach out to dan@lebcosports.com.
---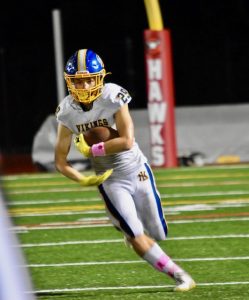 The Northern Lebanon Football Team struggled with illness ahead of their Week 9 clash with Hamburg to the point that they were unable to practice and were limited in the personnel they had available key at kickoff on Friday, October 20th.  Among the starters missing was Moises Gonzalez, the Vikings' leading running back.  In Gonzalez's absence, junior Myles Watson became the feature back.  Taking full advantage of this opportunity, he carried the ball 25 times and rushed for a total of 244 yards and 5 touchdowns to give Northern Lebanon a chance at winning the ball game.
While the Vikings lost to the Hawks 42-35, because of a late Hamburg touchdown, it was Watson's standout performance gave Northern Lebanon a chance at victory when the odds were stacked against them.  For his efforts, Watson was chosen by the readers of LebCoSports.com as the LebCo Male Athlete of the Week.
Of this performance, Watson wanted to thank his offensive line and Offensive Coordinator Mark Thompson for having faith in him to lead the attack.
Head Coach Jason Rice, said of Watson's performance, "I'm so proud of Myles. It was a thrill to watch him go out there and put on a show. While we may not have walked away with the team win, he deserves every bit of recognition he gets for his performance."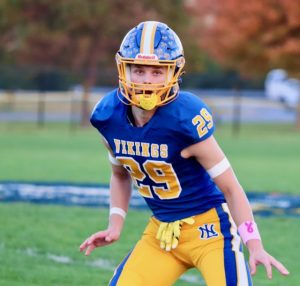 Photo Credit: Susan Dengler
Rice went on to talk about Watson's mentality as a player, "I have no doubt that he felt very good about his play over the weekend, but it's not his personality to boast about it."
What did Watson do following his outstanding individual performance?  The head coach had the answer: "Myles wanted to recognize the hard work and efforts of his O-Line by getting them pizza."
With Watson, along with most of the offensive line being juniors, one can expect to hear more about the Vikings and their running game in 2024.
For now, Watson will continue to work on becoming better, putting in the work in the weight room and as a member of the Northern Lebanon Track & Field Team.  He will also be looking to find an opportunity to continue his Football career after high school and can also see himself around the game long-term.
---
Read about this week's Female Athletes of the Week – Eliana Schneider
For a full list of this week's nominees, check out: Athlete of the Week Voting: Week of October 16th.
Previous Winners Update
Updated through 10/26
Jake Williams (Week of 9/4): Sat out the game against Donegal to rest a nagging back injury ahead of a postseason run.
Kody Boyer (Week of 9/11):
Fernando Marquez (Week of 9/11): Scored 4 touchdowns and rushed for 139 yards on 14 carries as the Falcons defeated Hempfield.
Riley Messinger (Week of 9/18): The soccer season ended, but Messinger continued his role as the punter for Northern Lebanon Football.
Luke Shaffer (Week of 9/25): Returned to school the day of the game against Hamburg. Recorded 16 tackles on defense, along with totaling 3 receptions for 44 yards.
Reagan Flynn (Week of 10/2): Season ended.
Elliott Kreider (Week of 10/2): Battling a hand injury that required a cast, Kreider would carry the ball 3 times for 15 yards in ELCO's win over Donegal.
Camden Marquette (Week of 10/9): Helped ELCO to a win on penalty kicks over Manheim Central in the 1st round of Districts.