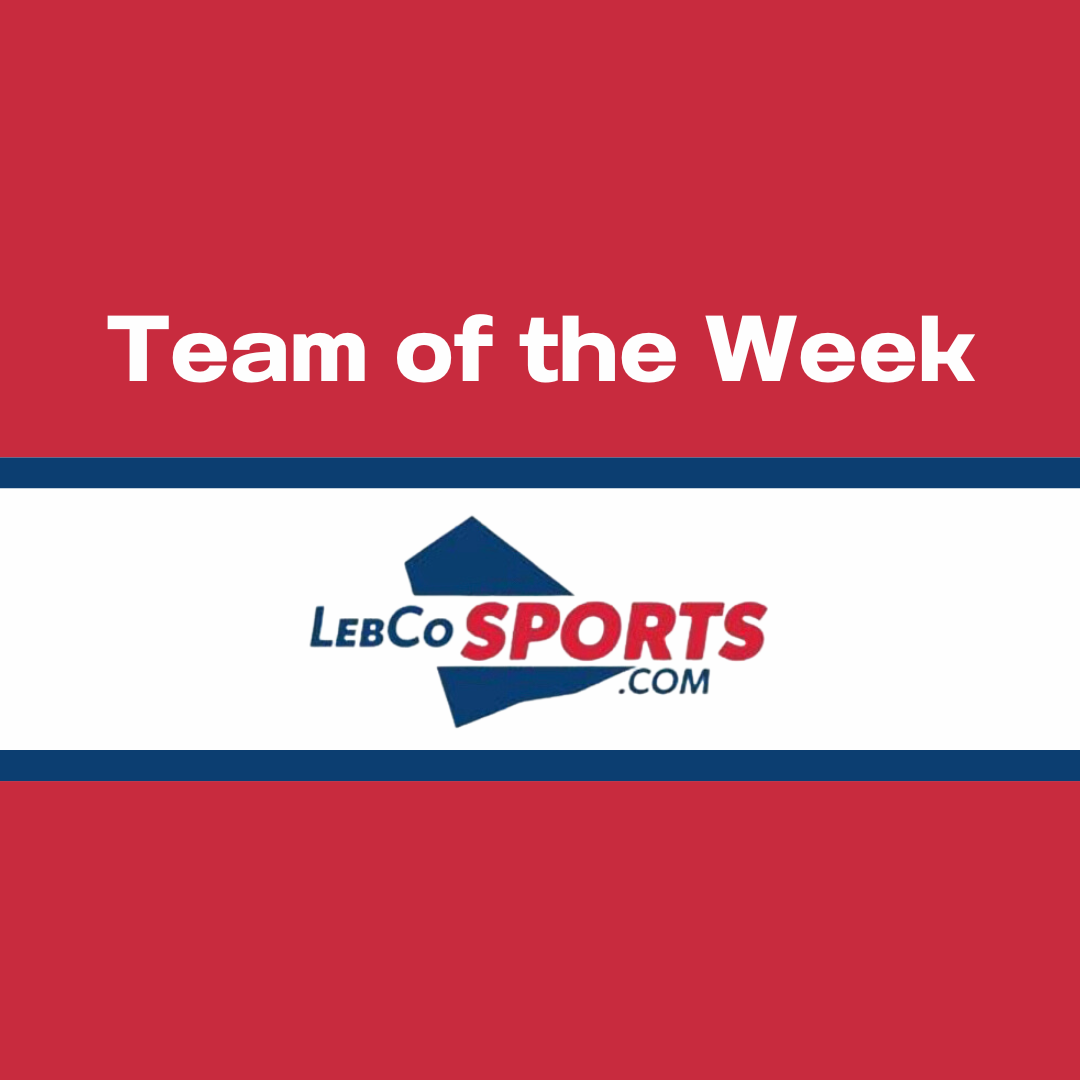 Sponsored by Lebanon Federal Credit Union
---
If you like this type of coverage, please let us know by Following us on social media: Twitter/X – @lebcosports1 and Facebook.
For any questions, comments, or discrepancies, please reach out to dan@lebcosports.com.
---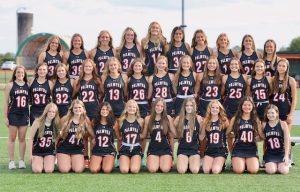 The week of September 25th, Palmyra Field Hockey notched two major Keystone Division wins over Mechanicsburg and Hershey. Mechanicsburg is the defending State Champion and Hershey finished at the District 3 runner-up last season. Palmyra cruised to a 5-0 win over Mechanicsburg before grinding out a hard fought 1-0 win over neighboring Hershey. For this reason, the readers of LebCoSports.com selected them as the Team of the Week.
If you count their games at the rain-soaked Max Field Hockey National Invite, where they lost to Kingsway Regional (NJ) and then won 6-0 over Torrey Pines (CA) their record stood at 10-1-1 at week's end. Since then, the Lady Cougars have played two more games, and currently hold a 11-2-1 record with four regular season games left to play. Their 7-1 record in the Mid Penn Keystone gives them a shot at regaining the championship in one of the toughest conferences in the entire nation. When it comes to Power Rankings, they are #1 among AA teams. They were also ranked #8 nationally in a list that came out last week.
Palmyra Field Hockey has a long history of excellence, having appeared in nine State Championship finals, winning three (2005, 2014, 2020). Most recently, they appeared in last year's Finals against Mechanicsburg, eventually falling in overtime. From the 2022 team, seven members committed to playing at the collegiate level, with four of them playing at the Division 1 level.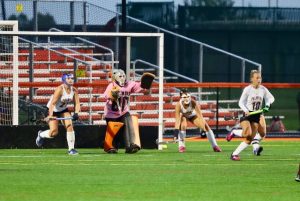 Head Coach Kent Harshman told us that the sustained success of the program is due to the development of Palmyra's athletes. This has allowed for a rich tradition of "Reloading, not Rebuilding" each time a talented crop of seniors graduate. In fact, again this year, the Junior Varsity and Middle School teams are both undefeated.
To aid that high level development, Coach Harshman is quick to point out that it goes well beyond the head coach. He is very proud of all the coaches who work with the young women who don the orange and black.
One of the things that is unique about this program is that seven of the ten coaches in the program have played for Palmyra and went on to play at the collegiate level. That list includes all six of Harshman's high school assistants, including his two daughters, Kayla Ricker and Kristi Costello.
All of the players that play within the program know the motto: SCIJ – Strength, Courage, Intensity, and Joy. This point of common culture lays out the major tenants for life as a member of the Palmyra Field Hockey family and helps to bond the team on and off the field, year to year. For those paying attention, this motto is so important within the culture that there are many times when SCIJ is used interchangeably with Palmyra Field Hockey.
Yes, this team has its "star" players, but it is a "team first" culture that allows them to win so often.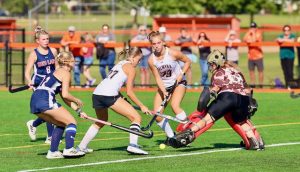 This is also a program that does not back down from a challenge each year as they prepare themselves for the playoffs. Outside of the previously mentioned national showcase, the non-league schedule they play outside of their already tough Keystone schedule is intentionally challenging. In their final four games, they will be playing against Penn Manor and Warwick, currently ranked #2 and #3 in the AAA Power Rankings. They previously tied top-ranked Manheim Township and the 4th ranked AAA team is Lower Dauphin, a member of the Mid Penn Keystone Division.
When considering goals for the remainder of the season, the Cougars have their sights set on winning the Keystone Division on their way to securing the top-seed (and home field advantage) in the District 3 Championship Tournament. From there, it is a matter of making a deep run towards the District 3 and PIAA State championships.
Coach Harshman praised his seniors for their leadership, along with the overall chemistry of this team, both of which will be highly important when they reach the win or go home games later this month. With that said, SCIJ will guide them in that endeavor. We wish them the best of luck in that journey.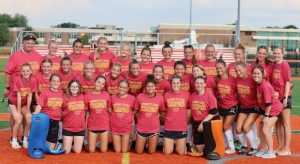 Photos provided courtesy of Beverly Hudson
Palmyra Field Hockey Roster
2 Bri Eckenroth (Jr.) F
4 Kate Hathaway (Fr.) B
6 Sophia Mcgough (Fr.) M/F
7 Avery Mettle (So.) F
10 Liv Gain (Sr.) M/F
12 Ava High (Fr.) F
13 Jovie Weaver (So.) F/M
14 Payton Kane (Sr.) B
15 Madi Gingrich (So.) M/F
17 Leigha Kane (Fr.) M/F
18 Stella Kristich (So.) B
19 Maddy Waldron (Fr.) F
21 Alyssa Dugan (Sr.) M/B
22 Maddy Witt (So.) F
23 Bree Aughenbaugh (So.) B
24 Ava Wolfe (So.) M/F
25 Aj Walker (So.) B
26 Hadley Hoffsmith (Jr.) F
27 Keely Bowers (Sr.) M/F
28 Mallory Hudson (Jr.) F/M
29 Morgan Lantz (Sr.) M/F
31 Ella Longanecker (Jr.) F
32 Kamryn Van Zant (So.) B
33 Peyton Bean (Sr.) B
34 Maddie Blauch (Sr.) F
35/35 Sophie Kennelly (Fr.) GK
39 Addie Sholly (Sr.) B/M
40 Shayla Carl (So.) M
41 Lauren Osteen (Fr.) B
77/16 Riley Zettlemoyer (So.) GK
80/37 Abby Bennett (So.) GK
---
Read about this week's Female Athletes of the Week – Rowan Ulrich & Madison Brewer
Read about this week's Male Athlete of the Week – Luke Shaffer
For a full list of this week's nominees, check out: Athlete of the Week Voting: Week of September 25th.
Previous Winners Update
ELCO Field Hockey (Week of 9/11): Won two more games to run their win streak to 11 in a row, including reaching the program 500th win milestone.
Palmyra Girls Volleyball (Week of 9/18): Won a game over Lower Dauphin to improve to 8-3 on the season.