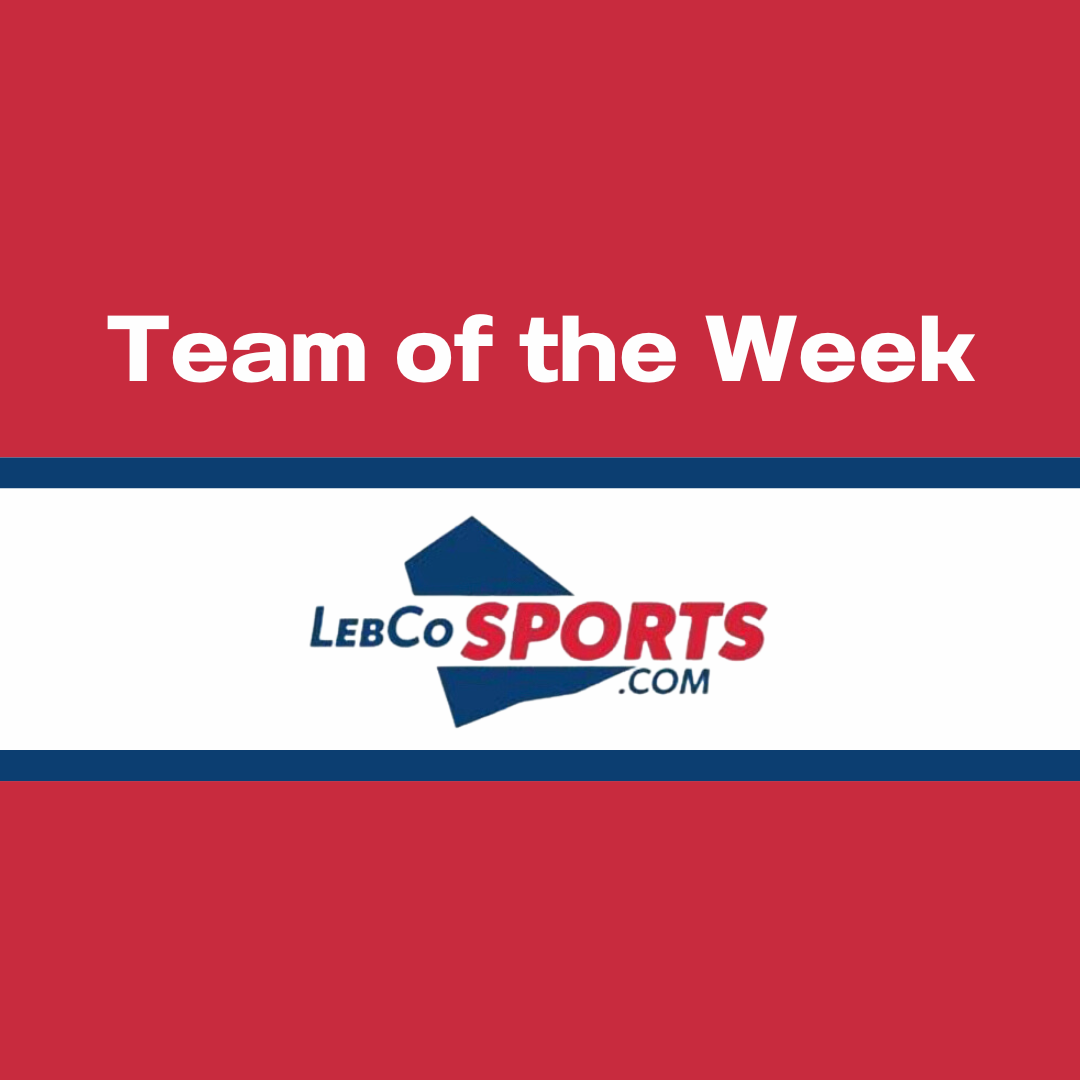 Sponsored by Lebanon Federal Credit Union
---
If you like this type of coverage, please let us know by Following us on social media: Twitter/X – @lebcosports1 and Facebook.
For any questions, comments, or discrepancies, please reach out to dan@lebcosports.com.
---

ELCO Boys Soccer has a long and storied tradition for their consistent level of excellence over the course of its history. It has resulted in five State Championships spanning over four different decades (1977, 1979, 1986, 1998, 2003). If that fact wasn't enough to make the point, consider that the program has only had nine sub-.500 seasons since 1962!
On October 3rd, the 2023 team defeated Solanco, 7-0. This win was the 900th in the history of ELCO Soccer. This milestone victory was a major reason why the readers of LebCoSports.com selected them as the Team of the Week.
Head Coach Jamie Cascarino, currently in his 3rd season at the helm, was a player for the Raiders in the early 90s, giving him perspective as to what the milestone victory means and also the quality of the players he currently has on his roster. When asked to reflect on this, Cascarino responded, "Having been part of the program as a player myself in the early 1990s, I am not only honored to be in this position, but also blessed. There were lifelong learning opportunities that I experienced back then and to have the opportunity to pay it forward to next generations is humbling. The community that surrounds our program, the ELCO community, is full of pride and tradition, which makes our 900 program win extremely honorable for all of us. It's really a community statistic and not just something for our team."
Of that community support, Cascarino continued by stating, "I am very proud and honored to part of this program, and blessed to be surrounded by great people that love the sport, love the ELCO community, and love this program. I know this is true for myself, as it is also for the coaching staff (Sean Miller and Brian Marquette)."
The support of the community cannot be discounted by any measure when talking about soccer in the eastern end of Lebanon County. The youth soccer programs are well established and help to develop athletes for all of ELCO's varsity athletic programs. Simply put, there is an appreciation for soccer that goes well beyond those that are currently playing soccer. The 2023 team is a reflection of that.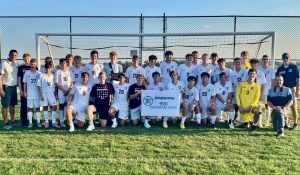 However, the 900 win milestone is only part of the reason they are the Team of the Week, as this year's team won a total of three games during the week of October 2nd. In those games, they outscored their opponents, 19-0. They went on to close out the regular season with three additional wins to bring their record to 16-1-1. Going undefeated in league play, they were crowned champions of Section 3 of the Lancaster Lebanon League for the 2nd straight year.
When asked about the back-to-back championships, Cascarino told us, "Having won the section back-to-back helps me realize that what we are implementing and instilling is effective. We want these boys to understand the pride it takes to put on an ELCO jersey. This all starts with us as the coaching staff."
When it comes to the effectiveness of what this team has been doing, keep in mind that they have 12 shutouts in their 18 regular season games. When tallied up, the Raiders have scored 76 goals and have only surrendered 8. This effort has all started with a strong defense and goaltending. Senior Kody Boyer (a previous Athlete of the Week) has been an anchor, helping to lead the defense. Senior Luke Macchione has been the main goaltender and has been in net for most of the 12 shutouts.
The strong defense has allowed their talented offensive weapons to find the net with frequency. Senior Camden Marquette has led the offense, having scored 30 goals, along with assisting on 12 more. Fellow senior Dallas George has been credited with 14 assists and also has scored 5 of his own. While the team is led by its seniors, juniors Landon Goodison (9 goals, 5 assists) and Micah Gray (7 goals, 6 assists) have both contributed.
While the Raiders have their main stat leaders, one of the things that makes this team unique is that there are several other players who have stepped up in key situations. This was never clearer than when senior Jaydon Noll scored a hat trick in the 3-2 win over Cocalico that clinched the Section title. All in all, a total of 12 team members have scored goals this year.
Of this year's team and what he learned as a player, Cascarino said, "The team continues to improve. One lesson I learned from my former high school coach, Mike Seigfried, was that you want your team to peak at the end of the season and during playoffs. That is a lesson I carry forward with this group. This particular group of boys has a real want to perform well, achieve, and win."
Wanting to win has been evident, as several players have been called upon to change positions to account for injuries. They have done so selflessly and the moves have resulted in wins.
After losing in the quarterfinals of the League Tournament to Manheim Township (3-0) on Saturday, the Raiders will now prepare for the District 3 Tournament. They are currently #6 in the District 3 AAA Power Rankings.
With the win or go home games upcoming, we asked Coach Cascarino to talk about what they've done to prepare. He said, "Our team continues to grow and mature and that is all we need to as we enter into the postseason. Our preparation will continue to based on our principles and goals as we look forward to doing what we do best and always to "all in" during each match."
With the Raiders knowing who they are as a team and having trust in one another, things could be interesting as they make a push to extend their season deep into the playoff season. For now, we will wish them the best of luck as we prepare to cheer them on as they hope to get the program closer to the 1,000 win milestone.
Here is what the seniors had to say prior to the season about their goals for their final campaign:
ELCO Raider Boys Soccer Roster
1 Ethan Zimmerman (Jr.) Goalie
2 Cole Doster (So.) Defense
3 Jacob Kuhne (Fr.) Midfielder
4 Brady Strausser (Fr.) Defense
5 Jayden Noll (Sr.) Defense / Midfielder
6 Dallas George (Sr.) Forward
8 Camden Marquette (Sr.) Midfielder
9 Ben Macchione (So.) Midfielder
10 Noah Dubble (Fr.) Midfielder
11 Owen Carmello (So.) Midfielder
12 Luke Macchione (Sr.) Goalie / Defense
13 Austin Smith (So.) Forward
14 Collin Readinger (So.) Forward
15 Tyce Boyer (So.) Goalie / Defense
16 Colin Turner (Fr.) Forward
17 Tate Lovell (Jr.) Midfielder
18 Nic Miller (Sr.) Defense
21 Luke Byler (Fr.) Goalie
22 Kody Boyer (Sr.) Defense
23 Dylan McDonnell (Sr.) Defense
24 Braden Gettle (So.) Midfielder
25 Lukas Smeltzer (Jr.) Defense
26 Landon Goodison (Jr.) Forward
27 Logan Kless (Sr.) Defense
28 Ben Stohler (Sr.) Forward
29 Samuel Keener (So.) Midfielder
30 Micah Gray (Jr.) Midfielder
31 Kyle McDonnell (Sr.) Defense
32 Bryce Hoglund (Jr.) Defense
33 Joseph Muzzy (Jr.) Defense
37 Carson Adams (Fr.) Forward
---
Read about this week's Female Athletes of the Week – Kailen Hibshman
Read about this week's Males Athlete of the Week – Reagan Flynn & Elliott Kreider
For a full list of this week's nominees, check out: Athlete of the Week Voting: Week of October 2nd
Previous Winners Update
ELCO Field Hockey (Week of 9/11): Won the Section 3 championship, ending the regular season on 15 game win streak.
Palmyra Girls Volleyball (Week of 9/18): Have won 3 of their last 4 with victories over Hershey, Mifflin County, and Red Land.
Palmyra Field Hockey (Week of 9/25): Endured a hiccup with a 2-1 loss versus a very good Lower Dauphin team, but then came back to defeat Warwick and Penn Manor. They are one win away from winning the Keystone Division.