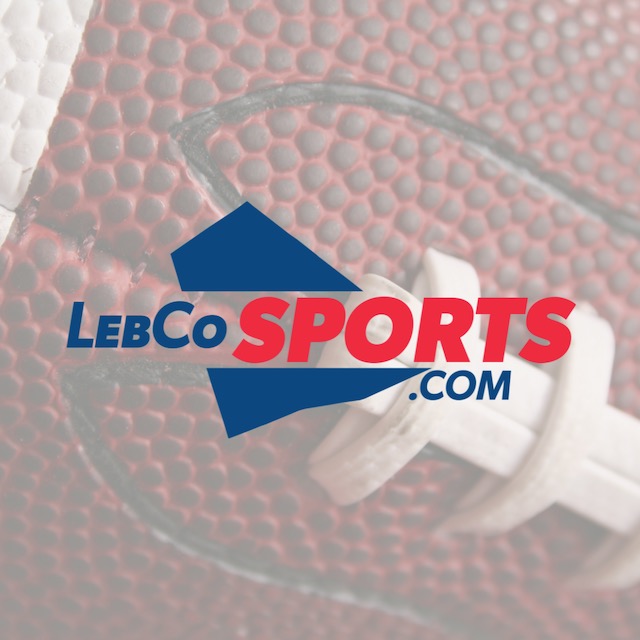 With Week 10 of high school football  complete, here are the weekly game capsules.
For any questions, comments, or discrepancies, please reach out to dan@lebcosports.com.
---
Cedar Crest 49, Lebanon 6
Entering this year's Cedar Bowl, it was a tale of two very different seasons.  Cedar Crest entered this year's game carrying a 7-2 record, knowing a win would qualify them for the 6A District 3 Playoffs for the first time since 2019.  On the other hand, Lebanon is 0-9 and in the midst of a thirty-one game losing streak.  It is no secret that the Falcons were the better team heading into Thursday night's game, but given that this is a rivalry game there was a chance that some big plays by Lebanon would make it an interesting game.
Before the game, there was a tribute to Cedar Crest's Michael "Big Mike" Rivera who tragically passed away on April 23rd. In carrying on his memory, the team has dedicated their season to their teammate
On the opening drive, senior Owen Chernich intercepted a pass thrown by Lebanon quarterback Paul Trace.  However, Lebanon stopped the Falcons to force a turnover on downs. The visiting Cedars showed that they would not be easily pushed around. After another change of possession, Cedar Crest fumbled and it was recovered by the Cedars in the red zone.  Trace then found sophomore wide receiver Malachi Briddell for a Lebanon touchdown to give the Cedars a 6-0 lead with just under five minutes remaining in the 1st quarter.  A strong defensive stand on a 4th-and-1 left Lebanon with the lead after one quarter of play.
In the 2nd quarter, Cedar Crest took advantage of their first possession with junior quarterback Jackson Custer throwing a 23-yard strike to Chernich.  With a successful PAT by Ethan Bowman, the Falcons grabbed their first lead of the night. Chernich ended the next Lebanon drive with his second interception of the game and then caught his second touchdown pass when Custer found him on a 5-yard passing play with just seconds remaining in the half.  At the midway point, Cedar Crest led the Cedars by a slim 14-6 margin.
When the teams came back onto the field, the Falcons played with attitude.  After receiving the kickoff at the beginning of the 2nd half, Cedar Crest drove the length of the field in lightning quick fashion.  Ninety seconds in the 3rd quarter, senior running back Fernando Marquez, wearing #44 after a jersey mishap, rushed the ball across the goal line for a 5-yard touchdown.  After quickly stopping Lebanon's drive, Crest against found themselves in scoring position, choosing the give the ball to Alejandro Abreu for the 1-yard touchdown run.  Just over five minutes into the 2nd half, Cedar Crest was suddenly up 28-6.
When the next Lebanon drive stalled, a bad snap on the punt attempt led to a turnover deep in the red zone. Cedar Crest would turn it into another score with Marquez scoring from the 2 yard line.  A bad snap on the PAT led to a Jack Waranavage scoop and score for an unintended, but successful two-point conversion.  At the end of the 3rd quarter, the Falcons led 36-6.
In the 4th quarter, Chernich took over at quarterback and scored on a 4-yard keeper for his 3rd touchdown of the night.  With eleven minutes left in the game and Cedar Crest leading 43-6, the game entered the mercy rule.  Cedar Crest's Dominic Roth would score one final touchdown with just over six minutes remaining.
While Lebanon showed some fight early on, the Falcons proved to be too much in the 2nd half.
With the win, Cedar Crest moves to 8-2 and will now wait to find out where they will have to travel next week for the 1st round of the 6A PIAA District 3 Playoffs. The loss ends Lebanon's season.
Owen Chernich finished the game with 3 touchdowns and 2 interceptions.  Fernando Marquez scored 2 touchdowns and now has scored 10 over the past three weeks.
Lebanon Stats
Rushing: Kai Rivera – 6 carries, 8 yards; Paul Trace – 3 carries, 2 yards, fumble; Cameron Buchmoyer – 2 carries, 1 yard; Derrick Briddell – 1 carry, 1 yard; Sebastian Polanco – 3 carries, 0 yards; Jahkeim Medlock – 1 carry, -1 yard
Passing: Paul Trace – 14/25, 124 yards, TD, 2 INT
Receiving: Malachi Briddell – 4 receptions, 60 yards, TD; Derrick Briddell – 2 receptions, 31 yards; Tayvian Rivera – 1 receptions, 16 yards; Derek Infante – 3 receptions, 10 yards; Braylon Beaver – 3 receptions, 5 yards; Sebastian Polanco – 1 reception, 2 yards
Defensive Leaders: Derrick Briddell – 6 tackles; Braylon Beaver – 4 tackles; Malachi Briddell – 3 tackle; Jack Herr – 3 tackles; Jahkeim Medlock – 3 tackles
Cedar Crest Stats
Rushing: Fernando Marquez – 15 carries, 145 yards, 2 TDs, long 45 yards; Alejandro Abreu – 14 carries, 69 yards, TD; Josh Tricoche – 3 carries, 67 yards; Dominic Roth – 4 carries, 24 yards, TD; Jackson Custer – 3 carries, 7 yards; Owen Chernich – 2 carries, 4 yards, TD
Passing: Jackson Custer – 4/8, 95 yards, 2 TD
Receiving: Owen Chernich – 3 receptions, 64 yards, 2 TD; Malachi Victor – 1 reception, 31 yards
Defensive Leaders: Richie Hernandez – 6 total tackles, 1 solo, 2 tackles for loss; Dominic Roth – 6 total tackles, 3 solo, 2 tackles for loss, 1 sack; Tristan Long – 5 assists, 2 tackles for loss; Landyn Kline – 5 assists; Owen Chernich – 4 total tackles, 2 solo, 2 INTs
---
Annville-Cleona 24, Northern Lebanon 0
For the Dutchmen, there was a lot riding on this game of the two LebCo teams in Section 5.  With a win combined with a Lancaster Catholic victory over Schuylkill Valley, Annville-Cleona would claim a share of the Section 5 Championship, splitting it with those aforementioned teams.  Additionally, Annville came into Week 10 looking to lock up the top-seed in the 2A District 3 Playoffs.  With that said, Northern Lebanon has been tough as of late and looked to be a formidable foe for the visiting Dutchmen.
With a long drive, Annville got the scoring started when senior running back Cael Harter converted on an 8-yard touchdown run with just under three minutes to go in the 1st quarter.  In what would be a common theme, this long drive that ended nine minutes into the game was just the second possession of the game by either team.
On the ensuing possession, Northern Lebanon had a touchdown erased by an offensive penalty.  When Annville got the ball back, they put together a twelve-minute drive.  A 32-yard field goal by Mina Elzek gave Annville a 10-0 lead before halftime.
In the 3rd quarter, the Dutchmen against put together a long ten-minute drive, culminating with quarterback Cameron Connelly scoring from the 2-yard line.  On the next Viking possession, it was Harter who picked off a pass attempt and returned it for a touchdown.  After that defensive touchdown, the quarter would end with the scoreboard reading 24-0.
In the 4th quarter, the defensive battle continued and kept the score unchanged all the way through the end of the game.
The big question coming into this game being if the Vikings could slow up the rushing threat posed by Annville.  This ended up being a two things can be true at once scenario, as Annville was slowed down, but engaged in a game of ball control that did not allow many chances for Northern Lebanon to score.  The result was a shutout.
For Annville-Cleona, they had to wait a few minutes to celebrate.  When they found out that Lancaster Catholic had defeated Schuylkill Valley, the Dutchmen were able to rejoice in a co-championship.  They will not celebrate for very long, as they will begin to prepare for next week's District 3 game.
Northern Lebanon finished the season with a 4-6 record.  Next year they will be moving to Section 4.
Annville-Cleona: Coach's Thoughts
We caught up with Annville-Cleona Head Coach Matt Gingrich following his team's win. About the game plan, he said:
"We knew it was gonna be a tough game.  They are physically impressive, and we were hoping to play keep-a-way.  I just didn't know we could do that well."  
His Dutchmen were able to execute this plan better than expected.  The 12 minute drive in the 2nd quarter totaled 29 plays and 10 minute 3rd quarter drive in the 3rd totaled 22 plays. The Vikings were limited to 7 offensive plays over the first 34 minutes of the game.
The Annville defense stepped up when they had to stop the Vikings:
"Then when our defense did get on the field, they did a great job playing assignment football (as compared to last week)."
Ahead of Districts, Gingrich said this of his seniors:
"Our seniors will take us as far as we go. They are great young men and becoming great leaders!"
Annville-Cleona Stats
Rushing: Cael Harter – 26 carries, 122 yards, TD; Bryce Keller – 15 carries, 48 yards; Cameron Connelly – 20 carries, 57 yards, TD
Passing: Cameron Connelly – 1/4, 18 yards
Receiving: Jonathan Shay – 1 reception, 18 yards
Defensive Leaders: Cael Harter – 4 total tackles, 2 solo, 1 tackle for loss, INT, TD, forced fumble; Darrian Holloway – 7 total tackles, 5 solo; Damien Miller – 6 total tackles, 3 solo, 3 tackles for loss; Hudson Sellers – 5 total tackles, 2 solo, fumble recovery, 1 tackle for a loss
Special Teams: Mina Elzek – 3/3 PAT, 1/1 FG (32 yd)
Northern Lebanon Stats
Rushing: Moises Gonzalez – 7 carries, 17 yards; Myles Watson – 5 carries, -3 yards
Passing: Kael Erdman – 4/11, 52 yards
Receiving: Brendan Ryan – 3 receptions, 28 yards; Moises Gonzalez – 1 reception, 25 yards
Defensive Leaders: Luke Shaffer – 14.5 tackles, 1 sack; Kyle Hitz – 9 tackles; Tanner Feagley – 5.5 tackles, fumble recovery; Hayden Adams – 8 tackles
---
ELCO 34, Berks Catholic 21
ELCO entered their Week 10 showdown with Berks Catholic knowing that a win would guarantee their District Playoff berth.  They also knew that after a solid team victory over Donegal, their defense was looking mightier than ever.  Another advantage to that team effort was that they could rest running back Jake Williams, giving some of his nagging injuries a chance to heal.  Even with a healthy Williams, ELCO knew that a matchup with a strong Berks Catholic team would likely be a battle from the opening kick until the final whistle.
Berks Catholic took the opening drive of the game down the field and punched it in the end zone to take a 7-0 lead just over four minutes into the 1st quarter.  ELCO would respond five minutes later when Williams broke a 33-yard run and scored to tie the game at 7-7.
ELCO began the 2nd quarter in the red zone.  With 10:39 left in the 1st half, Williams scored from 4 yards out.  A missed PAT kept the Raider lead at 13-7. A series of defensive stands would keep both teams from scoring until there were eighteen ticks until halftime.  At that point, ELCO finished off an 87-yard drive with a Steven Rosado quarterback-keeper.  When the two teams went to the locker rooms, the scoreboard read 20-7 in favor of ELCO.
ELCO fumbled the ball to start the 3rd quarter, but the defense again held forcing a turnover on downs.  When ELCO regained possession, Williams rumbled 78 yards to paydirt on the first play from scrimmage, giving the Raiders a 27-7 lead.  However, Berks Catholic would respond with a touchdown of their own with just over five minutes to play in the 3rd quarter.
With the score was 27-14 going into the final frame, a Griffin Kreider interception hoped to give the Raiders some more breathing room.  To make sure that plan could not be executed, Berks Catholic forced a fumble just two players later.  The Saints scored with just under six minutes remaining to put themselves within one touchdown with the score 27-21.
Needing a big drive to end the hopes of a Berks Catholic comeback, ELCO did what they do best . . . ran the ball.  Williams and Mitchell Frederick pieced together a series of runs, which led to a Williams 10-yard touchdown run with just over two minutes remaining.  After another defensive stand, ELCO would tack on a field goal.  The final score was 34-21.
Williams ended the game with another 4 touchdown performance, although he will be the first to tell anyone that this is a reflection of the offensive line.  His unconfirmed yardage total for this game was 314 yards, giving him 1,978 yards on the season over the course of 9 games.  This total broke his own ELCO single season rushing total.
With the victory, ELCO locked up their spot in the 4A District 3 Playoffs.  The 7-3 Raiders will now have to wait to find out who they will play.
Coach's Thoughts
Following the game, Coach Bob Miller had this to say about his team:
"This group of players raised the standard with their effort and their physical and mental toughness. We are so proud of this group. They never blinked when facing adversity and they rose up to every challenge they faced. Whether it was the kids on the sideline who practiced so hard to prep this week or the kids on the field, this group represented the E well tonight. Warriors. Winners."
ELCO Stats
Rushing: Jake Williams – 24 carries, 304 yards, 4 TDs; Mitchell Frederick – 7 carries, 30 yards; Steven Rosado – 5 carries, 12 yards; Elliott Kreider – 4 carries, 7 yards
Passing: Steven Rosado – 3/5, 28 yards
Receiving: Justin Smucker – 1 reception, 11 yards; Mitchell Frederick – 1 reception, 10 yards; James Prosser – 1 reception, 7 yards
---
Hershey 21, Palmyra 13
Palmyra entered their game with Hershey sporting a 2-7 record.  Hershey entered their game at Palmyra with a 6-3 record, on the verge of making Districts.  While the Cougars have played tough in many games, the scoreboard in recent weeks has not been friendly.  While they are always hoping for a win in the end, the main goal for the Cougars coming into this game was to be competitive and end the season with something they could be proud of.
In the game's opening drive that took five minutes off of the clock, Hershey was able to score the night's first touchdown to take an early 7-0 lead.  Palmyra was able to respond with their own five-minute drive, which ended with a 16-yard touchdown run by Ryan Kowalski.  A Matt Bordner PAT made the game 7-7.  A Nathan Eisenhooth interception helped to limit Hershey's ability to respond. The score would remained locked at 7 all the way until halftime.
Braxtin Risser reeled off a 73-yard touchdown run just ninety seconds into the 2nd half. A bad snap on the PAT kept the score at 13-7.  Hershey would then score to take a 14-13 lead with just over six minutes remaining in the 3rd quarter.
A Hershey fumble recovered by Kadin Jones made things even more interesting.  Unfortunately, it did not result in points and Hershey added another touchdown on the their next drive with just over six minutes remaining.  The Cougars continued to battle, but Hershey's defense stopped the comeback attempt late in the game.
Palmyra's season ends with a 2-8 record and although they lost this game, they definitely ended the season on a competitive note.
Palmyra Stats
Rushing: Braxtin Risser – 16 carries, 97 yards, TD; Ryan Kowalski – 5 carries, 43 yards; Justin Kaplan – 2 carries, 7 yards; Kyle Koennecke – 2 carries, 2 yards; Kadan Readinger 1 carry, 1 yard
Passing: Ryan Kowalski – 7/14, 88 yards
Receiving: Jonathan McDannell – 3 receptions, 39 yards; Jason McCurdy – 1 reception, 39 yards; Justin Kaplan – 2 receptions, 10 yards
Defensive Leaders: Nathan Eisenhooth – 6 tackles, 4 assists, INT; Kyle Koennecke – 5 tackles, 5 assists; Keagen Kleinfelter – 5 tackes, 3 assists; Kadin Jones – 3 tackles, 8 assists, fumble recovery
---