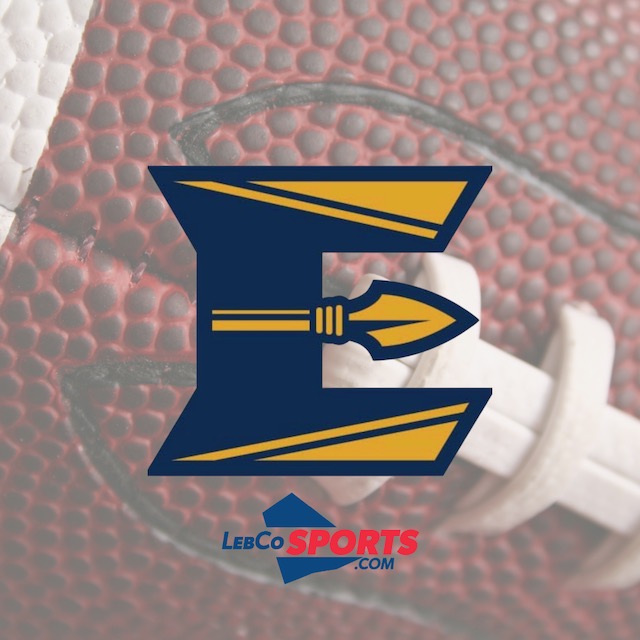 Lancaster Lebanon League – Section 4 (AAAA)
Head Coach: Bob Miller – 12th season
Top Returners: Jake Williams (Sr., RB/LB); Elliott Kreider (Sr., RB/LB); Mitchell Frederick (Jr., RB/LB); Brayden Malloy (Jr., OL/DL); Justin Smucker (Jr., WR/DB); Paul Williams (So., OL/DL)
Key Losses: Aidon Fritsch (Millersville); Alden Stickler (Albright); Colin Daub; Jaron Garcia; Ricardo Lebron-Muniz
2022 Results: 4-6
On the Radio: ELCO Raider Football can be heard on WLBR/Froggy Valley three times this season: August 31 against Annville-Cleona, September 15 against Conrad Weiser, and October 20 against Donegal. Click for the full radio schedule.
---
ELCO Football Season Outlook
Written by Isaac Harms (ELCO Football – Class of '24)
You need eleven players on both sides of the field to have a football game, something ELCO Football can cover as SIXTY-EIGHT players are part of the 2023 roster. This number, which may be the largest in the history of the school, is impressive for a AAAA school. That depth will be much needed, as the Raiders have seen many changes within the offseason. There are roles that need to be filled with the loss of twelve key seniors that were part of last year's team. Within the last couple months building up to the start of the season, there have been several members of this year's team that have put in the work to begin filling those roles.
While depth will be one factor for the success of the team, ELCO is lucky to be the home of numerous star athletes that will make those successes easier to find. Headlining that list is senior Jake Williams, the running back and outside linebacker who has found a special spot on the team. Last year at the homecoming game against Octorara, Williams set ELCO's single game rushing record when he rushed for 319 yards on only 11 possessions. Last season, he totaled 1,837 rushing yards and 18 touchdowns within the ten game schedule. Williams also had 50 tackles at linebacker.
Another key athlete is senior Elliott Kreider. Kreider was a dual threat on offense and a force on defense. With his first year at tight end he had 3 receiving touchdowns and was awarded 1st All-County at the position. Kreider also played running back, racking up 180 rushing yards with 2 rushing touchdowns. At middle linebacker, Kreider had 77 tackles.
Junior safety and receiver Justin Smucker also found a spot on the field as a key contributor in 2022. Smucker had 2 interceptions, 10 pass breakups, and was awarded 2nd Team All-County Defensive Back. On the offensive end, his route-running ability may give opposing d-backs headaches throughout the season.
In general football terms, a group of guys who don't get enough recognition are the linemen. For the Raiders, this is a group that has consistently stepped up. Over the course of the off-season, they have continued to work on getting better. This is scary prospect for opposing teams. Among that group are Brayden Malloy, Luke Bailey, and Chris Bateman who have each put up unbelievable numbers in the weight room, battling it out on their maxes. To put it in context: Malloy has a max bench of 310 and a max squat of 480; Bailey benches 305 and squats 445; Bateman benches 285 and squats 480. On the defensive side of the line, there is Brady Stoops who transitioned from safety to linebacker and will now make the move to defensive end after working hard in the weight room to pack on thirty pounds of muscle.
While these are only some highlights, there is a roster full of talented young men (and a young woman – Sara Miller) that will suit up for ELCO this season. This talent, along with heart and a true brotherhood has been on display as the Raiders have worked through the preseason. As they prepare for their first game against West York some questions have to be asked among the players, "What is going to define us as a team? Will it be last year's record of 4 wins and 6 losses? Will it be those that shined last season? Or will it be the bonds built day after day on the gridiron?
(This article was written as part of the mission of LebCoSports.com to give young writers an opportunity to develop skills they may use in their future careers.)
---
Quotable
Last week, WLBR's Laura LeBeau stopped by ELCO's practice and interviewed juniors Gavin Bicher and Steven Rosado, along with Coach Miller.
In regards to the strength of competition ELCO will see again this year in Section 4:
Rosado – "We have a tough schedule, but it makes us push ourselves harder and get better every day so we can compete with big teams like that."
Miller – "If you go back and you watch like we're where we belong, we're a team that competes every single game. You can look at that 4-6 and I'm going to tell you now that it doesn't matter. It's every single play our kids are out there competing and earning their way to be in the section that is probably the top section in the state."
Bicher and Rosado are engaged in a quarterback battle. Here is what they had to say:
Bicher – "We'll have to wait and see. But Steven is a really good athlete, so it's fun to compete with him and allow each other get better and learn and have fun along the process.
Rosado – "We are both super competitive and I will admit I am very competitive and want the spot, but we both do things we both have strong points and weak points. So, I feel like we complement each other's games really well."
Miller – "That's a great problem to have. Like I said, I've been in years where we didn't have a quarterback. We'll try to figure out who we can move there and have two kids that know the system so well that coach each other. That's a really neat thing. If you watch them and practice and coach each other. We actually did an activity earlier where they rated themselves and rated each other and support each other. And they're within a point, you know, 82/81 and it's really neat to listen to these two. Sort of develop each other and watch some coaches because the kid that coach.
When Coach Miller was asked if he determines success based on the wins and losses, he said the following:
"That scoreboard and like you've had that 4-6 and a piece of paper that's meaningless to me. Really, it's going to come down to whether the kids can play without keeping score. When you go through life, like if you're keeping score of your success based on your bank account or you know what car you got in the driveway, well then you really, you can have that car but you can be an awfully lonely person on the inside, so we're looking for success through every single play. It doesn't matter whether it's game one scrimmage Week 10 playoffs, that that's going to dictate our success and our determination. And we talked about if we have fun every single day. Goal #1. If we raise the standard and expectation of our behavior in and out of school, in, on, and off the field, and if we we walk away with those two goals, then goal #3 will be certainly achievable, which is to have the greatest football experience they can have. And these guys are kind of living that right now and they're loving life and they're you see them in here now hanging out, being together and they're building exactly what we want to see with the football team, so that's going to determine our success."
---
2022 Key Stats
Jake Williams – 1,824 rushing yards, 9.0 yards per carry, 17 rushing TDs, 18 total TDs
Aidon Fritsch* – 8.0 tackles per game
Elliot Kreider – 7.7 tackles per game, 2 sacks, 1 INT, 2 fumble recoveries / 5 total TDS (3 receiving/2 rushing)
Alex Muniz – 4 forced fumbles
*Graduated
---
2023 ELCO Football Schedule
8/25 @ West York
8/31 v Annville-Cleona (radio)
9/8 v Columbia
9/15 v Conrad Weiser* (radio)
9/23 @ Wyomissing*
9/29 v Cocalico*
10/6 @ Octorara*
10/13 @ Lampeter-Strasburg*
10/20 v Donegal* (radio)
10/27 @ Berks Catholic*
*Section 4 game
---
2023 ELCO Football Roster
| | | | |
| --- | --- | --- | --- |
| # | Player | Year | Position |
| 1 | Jordan Hartz | Jr. | WR/DB |
| 2 | Justin Smucker | Jr. | WR/DB |
| 3 | Steven Rosado | Jr. | QB/DB |
| 4 | Shane Boyer | Jr. | WR/LB |
| 5 | Jackson Conners | Sr. | WR/DB |
| 6 | Gavin Bicher | Jr. | QB/LB |
| 7 | Phillip Horst | Jr. | TE/DE |
| 8 | Austin Yesko | Jr. | RB/DB |
| 9 | Ira Gensamer | Sr. | RB/DB |
| 10 | Elliott Kreider | Sr. | RB/LB |
| 11 | Dom Herzog | Sr. | WR/DB |
| 14? | Ethan Busser | Jr. | WR/LB |
| 15 | Dante James | Sr. | WR/DB |
| 16 | Sara Miller | Sr. | WR/DB |
| 17 | Josh Blair | Jr. | QB/LB |
| 19 | James Prosser | Sr. | WR/DB |
| 20 | Jude Weaver | Sr. | WR/DB |
| 21 | Jonathan Fisher | Jr. | WR/DB |
| 22 | Jake Williams | Sr. | RB/LB |
| 23 | Zane Trostle | Jr. | RB/DB |
| 24 | Mitchell Frederick | Jr. | RB/LB |
| 25 | Lee Tobias | Sr. | RB/DB |
| 26 | Landon Goodison | Jr. | K/P |
| 28 | Butch Savich | So. | WR/DB |
| 29 | Issac Harms | Sr. | WR/DB |
| 30 | Griffin Kreider | Fr. | QB/DB |
| 32 | Ellis Gensamer | So. | RB/LB |
| 33 | Brady Stoops | Jr. | RB/DL |
| 34 | Victor Feliciano | Sr. | WR/DB |
| 35 | Dom Shaak | Jr. | RB/DB |
| 38 | Isaiah Angley | Sr. | RB/DL |
| 40 | Rhyce Faust | Jr. | WR/DB |
| 41 | Hunter Mehaffey | So. | WR/DB |
| 42 | Elejandro Weister | So. | WR/DB |
| 44 | Connor Showalter | So. | WR/DB |
| 45 | J.C. Dejesus | Jr. | RB/DL |
| 50 | Luke Bailey | So. | OL/DL |
| 51 | Paul Williams | So. | OL/DL |
| 52 | Avery Kurtz | Jr. | OL/DL |
| 53 | Alex Muniz Cruz | Sr. | OL/DL |
| 54 | Robert Lubin | Jr. | OL/DL |
| 55 | Brayden Malloy | Jr. | OL/DL |
| 57 | Mason Sipe | So. | OL/DL |
| 58 | Carter Kemper | Sr. | OL/LB |
| 59 | Tupac Vasquez-Disla | Jr. | OL/DL |
| 60 | Lukas Morasco | Jr. | OL/DL |
| 62 | Griffin Fisher | Sr. | OL/DL |
| 63 | Asher Grier | So. | OL/DL |
| 64 | Dominick Lattarulo | Jr. | OL/DL |
| 65 | Riley McDonald | So. | RB/LB |
| 66 | Chris Bateman | Jr. | OL/DL |
| 67 | Ty Landis | So. | RB/LB |
| 68 | Jason Arnold | Sr. | WR/DB |
| 71 | James Kuhne | So. | WR/DB |
| 72 | Dawson Ocker | Sr. | OL/DL |
| 74 | Cole Haag | So. | OL/DL |
| 75 | Bryce Maize | Jr. | OL/DL |
| 76 | Josie Lebron-Matos | So. | WR/DB |
| 77 | Tyler Shaak | So. | OL/DL |
| 78 | Dylan Reddinger | Sr. | WR/DB |
| 79 | Ethan Bretzius | So. | OL/DL |
| 80 | Tyce Fiddner | Jr. | TE/DE |
| 81 | Michael Books | Jr. | WR/DB |
| 82 | Bryant Auker | Sr. | WR/DB |
| 84 | Noah Burgess | Jr. | WR/DB |
| 85 | Landon Leonard | Jr. | TE/DE |
| 87 | Chase Hess | Jr. | TE/DE |
| 88 | Bryce Haislip | Sr. | WR/DB |
| 89 | Dalton Pyzka | So. | TE/DE |
Head Coach
Robert Miller
Assistant Coaches
John Carley
Robert Williams
Wyatt Hall
Earl Thomas
John Wetzel

Lebanon Federal Credit Union