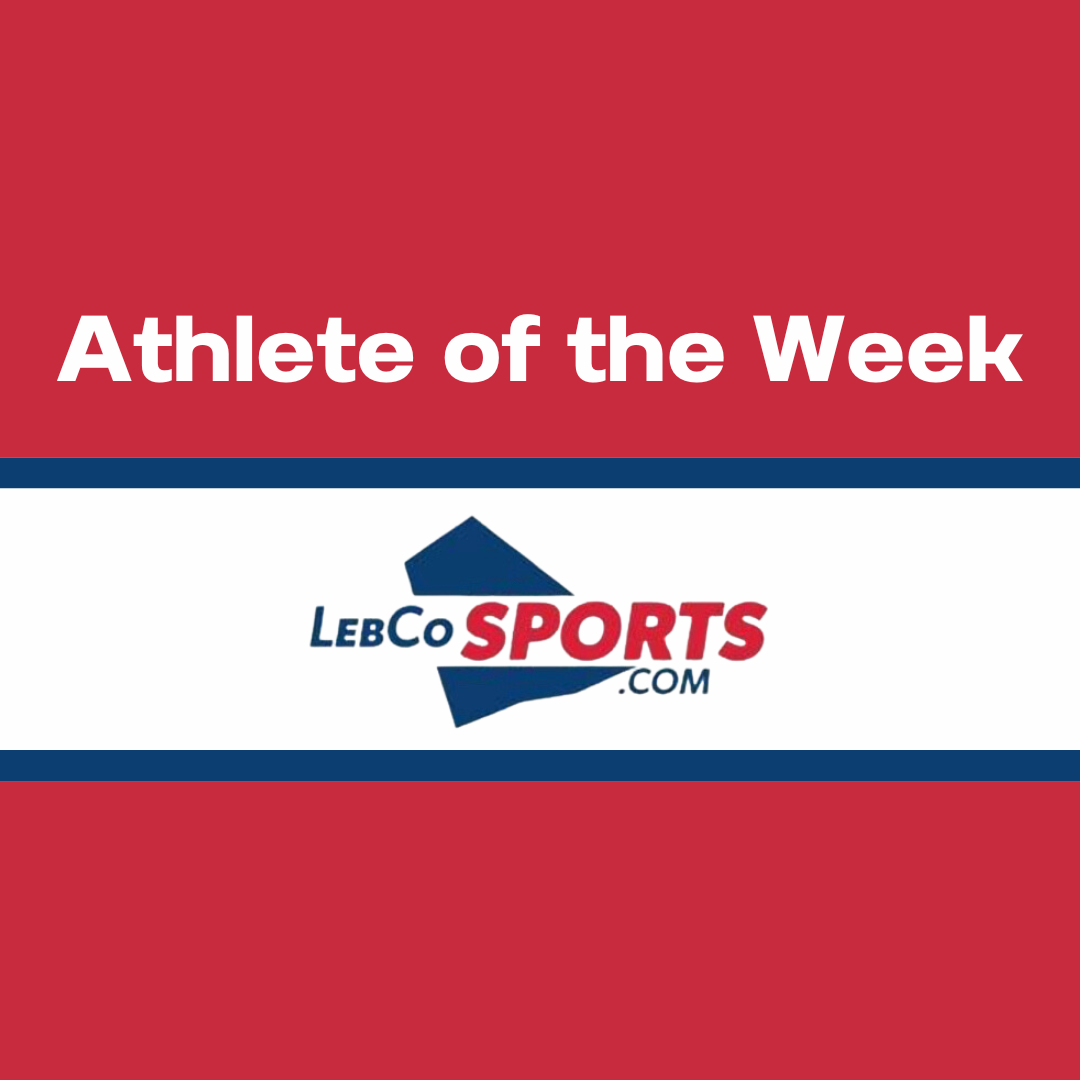 Sponsored by Lebanon Federal Credit Union & WLBR / Froggy Valley 100.1
---
If you like this type of coverage, please let us know by Following us on social media: Twitter/X – @lebcosports1 and Facebook.
For any questions, comments, or discrepancies, please reach out to dan@lebcosports.com.
---
Aeryn Marks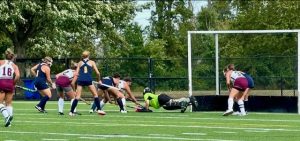 The ELCO Raider Field Hockey Team went 16-1-1 in the regular season on their way to winning the Lancaster Lebanon League Section 3 Championship.  In the District 3 Tournament, they were faced with a win or go home scenario last Saturday when they squared up against Annville-Cleona.  The Raiders won the match-up by a score of 5-1, finishing 7thin District 3 1A.  That victory punched ELCO's ticket into the PIAA State Playoffs for the first time since 2002.
Helping the team's efforts was Aeryn Marks, who spent the season playing goalie for the Raiders.  In the State qualifier clincher, the junior stopped 6 of the 7 shots fired at her by the tenacious Dutchmen.  For her efforts, Marks was chosen as a LebCo Female Athlete of the Week.
This type of performance was not anything new from Marks, whose friends call her "A-A Ron".  Over the course of the season, she faced 103 shots, stopping 84 of them for a save percentage of 82%.  Including the postseason, Marks gave up only 19 goals in a total of 23 games and totaled 11 shutouts.
Of her overall performance, Head Coach Kelsey Thorley said of Marks, "Aeryn has been the mainstay behind our experienced defensive unit and has kept us in some really tough games.  She played phenomenally at the end of the season against some very skilled offensive units.  I can't say enough about her efforts in the cage, especially since she had to step up big for us when we needed it most in the postseason."
In citing her goalie's top skill, Thorley pointed out, "She has quick reactions and did so well with controlling her rebounds and eliminating second efforts."
Marks used those skills in giving the Raiders to win every game.  Thorley said of that effort, "She and our defense came up big in our post-season run as they were challenged more than they were all season and they responded."
When it came to the postseason run, Marks and her teammates battled until the very end, taking on District 2 Champion Lackawanna Trail in the 1st round of States.  A defensive battle took place in the game, with Marks stepping up to make 13 saves in the 1-0 loss.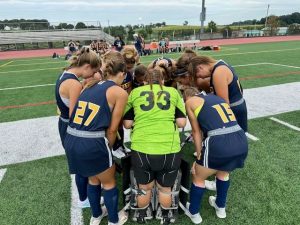 For as well as she played, Marks was playing this season with a heavy heart after a death in the family over the summer.  She dedicated her season to the memory of her loved one.
Beyond Field Hockey, Marks is a member of the ELCO Track & Field Team, specializing in the Throws.  She also serves her community as a volunteer firefighter.  After high school, Marks would like to go to college to play Field Hockey, while majoring in special education.  Marks also sees coaching in her future.
As this season has ended, we now wish her the best of luck over the course of the next year and look forward to seeing what she is going to do in 2024.
ELCO Defeats Annville, Gains State Berth
 Team of the Week – ELCO Raider Field Hockey (Week of September 11th)
---
Mallory Hudson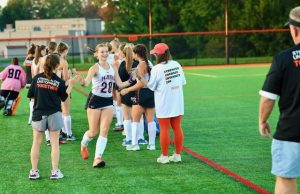 Last Saturday, the Palmyra Cougars won their 2nd consecutive District 3 Field Hockey Championship.  While it was a total team effort, complete with lockdown defense, a series of clutch goals helped Palmyra win two games last week to help them to win the programs 15th District title.
Mallory Hudson was among the key performers in the final two games of the District 3 Tournament.  In the semifinal win over Manheim Central, the junior scored the final goal in a late offensive explosion of a 2-0 win.  In the championship round over Northern York, Hudson assisted on the game's only goal, scored by Jovie Weaver.  For her efforts, Hudson was selected as a LebCo Female Athlete of the Week.
Of the performance last week, "Mal" said, "The team all worked together to stay focused on the prize and put the ball in the back of the cage. I worked on staying hungry in the circle and staying connected with my teammates."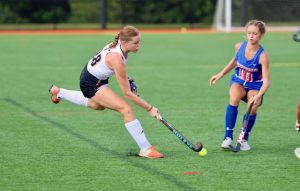 The high level of performance exhibited during the postseason is nothing new for Hudson, as she was second on the team with 18 goals scored during the regular season.  In the District quarterfinals matchup against Hershey, Hudson scored the eventual game winner.
Head Coach Kent Harshman spoke on behalf on his coaching staff in saying, "Mallory is one of our leading scorers this year and a huge part of our success.  Her speed is outstanding; and she seems to have a gear that lets her get to any 50/50 ball, first!  We're extremely proud of the hard work she's invested in herself to become the player she has become this year."
According to Hudson, her individual success is the result of hard work by her and her teammates, something she addressed in saying, "This season we have been working extremely hard. We pushed through hard preseason practices and all kept the same goal in mind going into each game."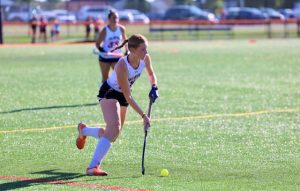 For the Cougars, this hard work has resulted in a record of 20-2-1 so far.  In the 1st round of States, Palmyra enjoyed a 7-1 victory over West Chester East.  Hudson will take to the field again tomorrow when the Cougars meet Manheim Central once again, this time in the State Quarterfinals at Donegal High School.
After high school, Hudson plans on attending Boston University to play Field Hockey while majoring in business.  While she no longer has to worry about her plans for the future, she can now fully focus on winning a State Championship.  We wish Hudson and her teammates all the best in making this a reality.
Palmyra Wins District Championship
 Team of the Week – Palmyra Field Hockey (Week of September 25th)
Special thanks to Beverly Hudson for providing the photos for this piece
---
Read about this week's Male Athlete of the Week – Ramon Urena Batista
For a full list of this week's nominees, check out: Athlete of the Week Voting: Week of October 30th.
---
Previous Winners Update
Reece Woelfling (Week of 9/4): Season is complete.
Hannah Menicheshi (Week of 9/11): Season is complete.
Addie Weiler (Week of 9/18): Scored 2 goals in the win over Annville-Cleona.
Madison Brewer (Week of 9/25): Season is complete.
Rowan Ulrich (Week of 9/25): Season is complete.
Kailen Hibshman (Week of 10/2): Had 1 goal and 2 assists in the ELCO win over Annville-Cleona.
Dylan Worley (Week of 10/9): Season is complete.
Cara Figueroa (Week of 10/9): Season is complete.
Eliana Schneider (Week of 10/16): Finished 132nd at the PIAA State Championships.
Keely Bowers (Week of 10/23): Scored the game winning goal in the District 3 semifinals, then had 2 goals and 2 assists in the opening round of States.