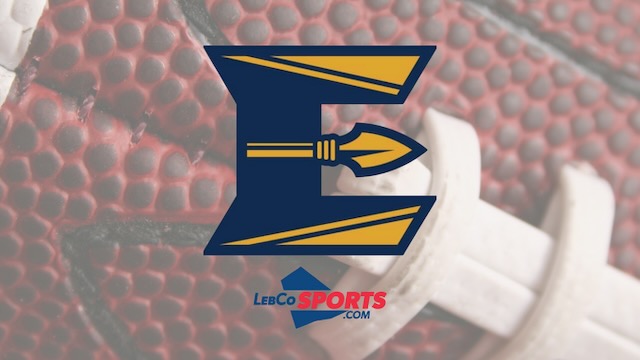 This is the initial draft of this article.  It will be updated once stats are finalized.
---
If you like this type of coverage, please let us know by Following us on social media: Twitter/X – @lebcosports1 and Facebook.
For any questions, comments, or discrepancies, please reach out to dan@lebcosports.com.
---
Twin Valley 35, ELCO 7
Following last week's 34-7 victory over Big Spring in the 1st round of the 4A District 3 Playoffs, the ELCO Raiders were given a tall order when they earned the chance to play another week.  The task was literally tall, with their opponent Twin Valley featuring a line where the average player stands 6'3" and weighs 280-pounds.  The Twin Valley Raiders entered the game as the #2 seed after going 9-1 in the regular season.  They were the top offensive team in the Lancaster Lebanon League, averaging just north of 40 points per game.  Their ability to execute an effective RPO scheme made them especially dangerous, running the ball with two 1,000+ rushers and also passing the ball with effectiveness.  Their only loss came at the hands of Ephrata in a game that decided the Section 3 Championships.
On Friday evening, the ELCO Raiders rolled into Elverson to meet Twin Valley on their home field.  The hope for ELCO was that they could use their speed to counter Twin Valley's size.
With Twin Valley winning the coin toss and deferring, ELCO had the first opportunity to see if they could get their offense going.  Twin Valley forced a punt.  However, ELCO did the same thing in return following an early defensive stand.  Twin Valley then attempted to fake a punt and fumbled it back to ELCO.  Unfortunately, Twin Valley stopped the early threat by ELCO.
Following a touchback, Twin Valley got the ball back and went to a no huddle hurry up as they drove down the field.  With just under four minutes remaining in the 1st quarter, Twin Valley was able to find the end zone to take a 7-0 lead.
After another defensive stop by Twin Valley, they aired it out and connected on a 57-yard pass play.  This set them up to score again, giving them a 14-0 lead before the end of the 1st quarter. Just four minutes later, Twin Valley would again use their ground game to take a 21-0 lead with just over eight minutes left in the 1st half.
With the game seemingly getting out of hand quickly and the offense not being able to move, ELCO needed a spark.  Griffin Kreider provided just that when he picked off a Twin Valley pass and gave the Raiders the ball back with 5:32 left in the half.  While they started the drive on their own 20, they were able to connect on a 30-yard pass play from Steven Rosado to Mitchell Frederick. ELCO showed their continued fight before ceding the ball back to Twin Valley.  The home team then used a quarterback keeper that went 52 yards to make the score 28-0 just before halftime.
While the ELCO Raiders were down by four scores entering the 2nd half, their play in the rest of the contest would be the true test of their collective character.  They had gotten some things going in the right direction in the 2nd quarter, but Twin Valley countered each time. Towards the end of the half, Jake Williams almost broke a long run, stepping out of bounds after a 10 yard gain that could have gone for much more. While it would be tough for ELCO to mount a comeback, especially being a run-first team, the final two quarters would help to define how the 2023 team would be remembered.
The 3rd quarter started with ELCO forcing another Twin Valley punt.  Twin Valley's defense again held ELCO in place and got the ball back deep in their own zone following a punt.  Twin Valley was able to drive down the field to score their fifth rushing touchdown of the night.
Down 35-0 with the mercy rule now in effect, ELCO's time was running out.  Facing defeat, ELCO kept at it.  On the first play of the 4th quarter, Williams broke a 48-yard run to put ELCO onto the scoreboard.  ELCO then held Twin Valley and forced another punt, giving them another chance to reduce the deficit.  ELCO continued to gain yardage, including a 37 yard run by Williams, but  Twin Valley was able to prevent ELCO from scoring again.  Once Twin Valley had the ball back, they were able to run out the final four minutes of the game.
Williams finished the game unofficially with 160 yards on 20 carries.  With tonight's yardage, he became the Lancaster Lebanon League's All-Time #2 Single Season Rushing Leader, moving past former Lancaster Catholic star and current Annville-Cleona Athletic Director Tommy Long.
While the game ended in a 35-7 loss for the ELCO Raiders, they left Twin Valley with a lot for which they could be proud.  Against a dominant opponent, they battled until the end, something that is not indicated if you just look at the final score.
Following the loss to Wyomissing earlier this season, Head Coach Bob Miller said, "This wasn't some kind of Herculean ELCO effort.  Honest to God, this is who the Raiders are.  These are tough, physical kids who play with their hearts and focus on their team and never on the scoreboard.  Today's battle isn't a surprise.  The only people surprised are those who don't know football or these young men. Those people don't matter.  I'm proud of our kids.  We will get better and go 1-0 tomorrow."
While the loss ends their chances to play together again in 2023, at the end of the day this group of ELCO Raiders did win.  It's the lessons learned throughout this journey that will allow them to get better and to go 1-0 tomorrow.
District Playoff action continues on Saturday afternoon when Cedar Crest takes on Harrisburg. For more about the game, check out the preview done by Robert Griffiths:  Football: For Cedar Crest and ELCO, The Playoffs Mean More Than Winning
So proud of our seniors. Lost 35-7 to a good twin valley team. @ELCORaiderFB – this season and tonight is about our seniors and the way they raised the standard. Great season raiders! #watchdeezraiders pic.twitter.com/gi3rduhrJm

— Coach John Wetzel (@johnewetzel) November 11, 2023
Previous Coverage