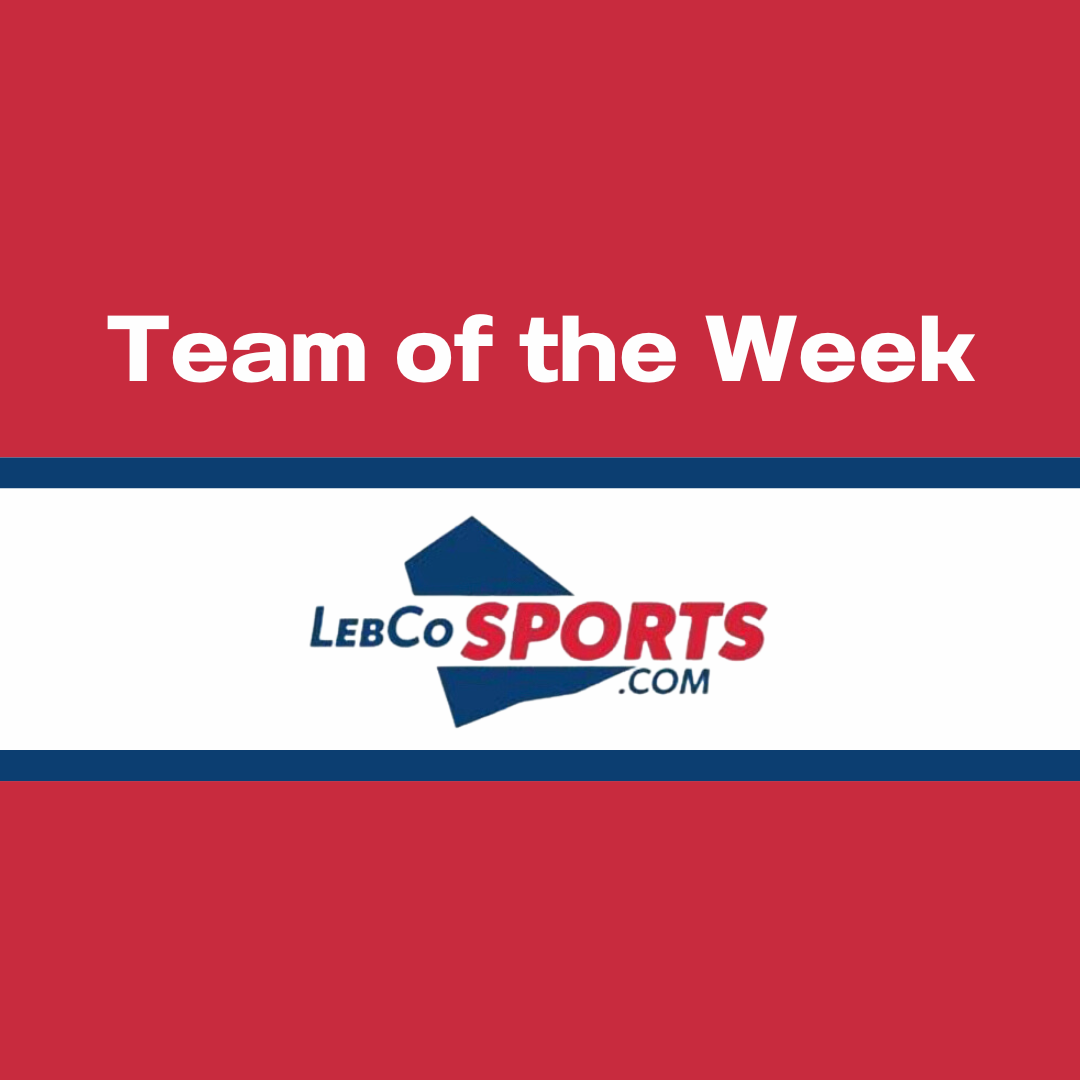 Sponsored by Lebanon Federal Credit Union & WLBR / Froggy Valley 100.1
---
If you like this type of coverage, please let us know by Following us on social media: Twitter/X – @lebcosports1 and Facebook.
For any questions, comments, or discrepancies, please reach out to dan@lebcosports.com.
---
---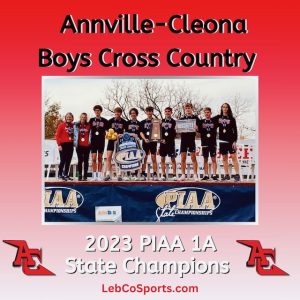 During last week's Team of the Week voting, there was only one choice.  Winning a State Championship will have that effect.  It's kind of a big deal.
For the Annville-Cleona Boys Cross Country Team, it was without a doubt a HUGE DEAL when they took to Hershey's Parkview on November 4th and finished as the top 1A team in the entire Commonwealth.  This marked the fourth time that Annville-Cleona had won the PIAA State Championship in Cross Country, but the first time since 1977.  They won this year's title in convincing fashion, finishing with a total of 91 points, far ahead of 2nd place Riverview's 137 points and Eden Christian's 156 points.
There was a lot of hope going into the PIAA State Championships that Annville-Cleona would be able to finish 1st.  On September 23rd, the Dutchmen had won the PIAA Foundation Invitational at Hershey, an event that serves as a preview.  However, not all teams attend and a lot can change from September to November.  After finishing top among all LebCo teams at the Lancaster Lebanon League Championships, the confidence grew when Annville won the District 3 Championship.  At Districts, they placed their top six among the first twelve finishers, including a repeat victory by junior Landon Hostetter.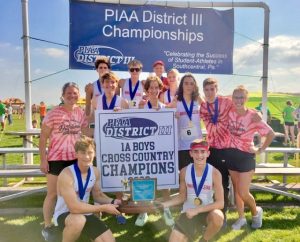 One of the major things that Annville had going for them was that they had three runners making their second appearance at States: Hostetter, Oliver Funck, and Matt Clemson.  According to Hostetter and Funck, this lit a fire of the entire group and affected their offseason training.  They were joined in racing at States this year by David Moran, Samuel Domncic, Z Moyer, and Luke Tshudy.
For the sophomore Funck, who finished 134th a season ago, the improvement was massive as he finished 21st this season and joined Hostetter (11th) in earning an individual medal. Of his huge jump to the next level, Funck spoke of his mental shift in saying, "I started to take the sport way more seriously and I worked hard almost every day over the summer: lifting and going on runs. But mostly it was just my mindset. I knew I could be one of the top runners in the state going into the year if I just worked hard enough. I told myself again and again that I could compete with the best and get to that next level."
It was this mentality that hit the entire team, once they realized what they might be able to do. With that said, Hostetter spoke of that mental transition when the team knew that it was time to take care of business: "The contrast between the team's normally carefree attitude and the lock-in mindset we had before the race was clear.  When every one of our runners fully focused, we put up a good race."
This type of mentality was not a one-time thing for the Dutchmen, nor did it happen overnight.  It is a culture in Annville, where they push one another and hold each other accountable over the course of the entire year.  Anyone who has ever run knows that much easier to make excuses as to why you cannot run that day ("It's too hot", "It's raining", etc.), rather than lacing up and putting in the miles.  It helps to have the team support to suppress the excuses.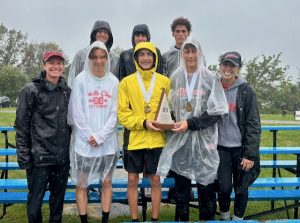 The Dutchmen celebrate their PIAA Foundation Invite title
Head Coach Caitlin Heller, who completed her fifth year leading the program, described her team by saying, "Our team culture has developed into one of a loving family. The entire team from the Junior High to the Seniors demonstrate the values of hard work, dedication, and positive attitudes. It has taken a few years but we follow a similar daily routine, stress the importance of effort and attitude, as well as enjoying the time we have together."
The hard work paying off with a State Championship will only further validate that dedication to excellence and what it takes to be a winner.  Heller reflected on the experience by saying, "The State Championship really means so much to our program as it helps to instill the values of hard work and discipline. The Junior High kids were there on Saturday to cheer on their teammates and saw first-hand what can be accomplished."
Sure, winning is fun, but Heller pointed out that there are things that are more important: "As a coach, seeing the team-family atmosphere being instilled and supported with the results is an accomplishment that I am most proud of."
When asked about being crowned as the top 1A team in Pennsylvania, Hostetter spoke to the community support the they received, "It's one of the coolest things I've ever experienced, and a lot of that feeling came from the parents and students that came out to watch the race. Knowing that so many people care about your accomplishment is really uplifting."
The community support continued last Wednesday evening when the town turned out to cheer on the team as a parade was held in their honor.  This is something for which this Annville-Cleona team is thankful.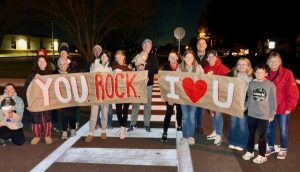 Parade supporters line up to cheer on the champs (Photo taken from AC MS/HS Principal Twitter)
While the parade helped to cap off 2023, when the calendar reads August 2024, the Dutchmen realize that they will enter next season as the favorites to repeat as State Champs.  This is the result of the fact that they will only be graduating one member of their top seven from this year's team (Samuel Domencic).
The question will be how being the defending champs will affect them. While this can be a lot of pressure for high school student-athletes, Hostetter sees it as an advantage, stating, "It's going to help a lot with our motivation. Knowing that we're expected to repeat will be a great drive for our team to keep striving to do better. Our team has a reputation to uphold."  Funck also sees the frontrunner status as a motivator, saying, "We will just have to work twice as hard."
Time will tell what next season will look like, but this talented group can take pride in what they've accomplished.  At the beginning of the season, they had a blank space.  At the end, they wrote their names at the top of the list of teams in Pennsylvania.  Congratulations!
Thank you to Officer Maldonado and to our local fire departments for helping us celebrate our boys cross country state champs tonight! pic.twitter.com/IMK7hEY8PB

— A-C Dutchmen Athletics (@AnnvilleCleona) November 9, 2023
For more on the PIAA State Championship Results, check out: 2023 PIAA Cross Country State Championships: Full LebCo Results
---
---
Read about this week's Female Athletes of the Week –  Aeryn Marks & Mallory Hudson
Read about this week's Male Athlete of the Week – Ramon Urena Batista
For a full list of this week's nominees, check out: Athlete of the Week Voting: Week of October 30th
Previous Winners Update
ELCO Field Hockey (Week of 9/11):  Season complete.
Palmyra Girls Volleyball (Week of 9/18): Season complete.
Palmyra Field Hockey (Week of 9/25): Continued through the quarterfinals of States and will now face Hershey in the semifinals.
ELCO Boys Soccer (Week of 10/2): Season complete.
Annville-Cleona Field Hockey (Week of 10/9):  Season complete.
ELCO Football (Week of 10/16): The Raiders lost to Twin Valley as they saw their season come to a close.
Northern Lebanon Boys Cross Country (Week of 10/23):