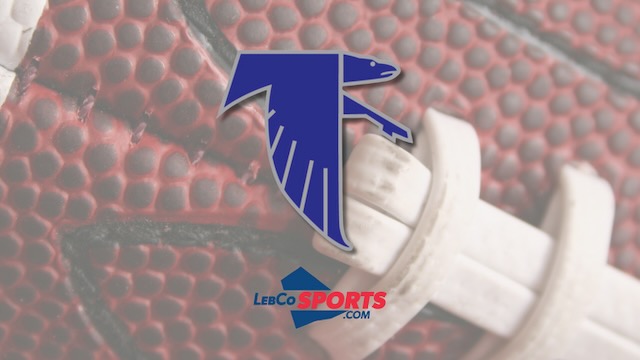 This is the initial draft of this article.  It will be updated once stats are finalized.
---
If you like this type of coverage, please let us know by Following us on social media: Twitter/X – @lebcosports1 and Facebook.
For any questions, comments, or discrepancies, please reach out to dan@lebcosports.com.
---
Harrisburg 54, Cedar Crest 28
The Cedar Crest Falcons surpassed expectations by going 8-2 during the regular season.  They were rewarded with the 7th seed in the 6A District 3 Playoffs and were tasked with traveling to take on the #2 seeded Harrisburg Mighty Cougars on Saturday afternoon.  In recent years, Harrisburg has become a perennial powerhouse, which included a District Championship in 2021 and finishing as the PIAA 5A runner-up in 2016.  This year they have again shown their overall dominance in every game except for one, a Week 3 loss to Manheim Township.
Cedar Crest knew that they would need to play a game of ball control and mistake-free football in order to have a chance to advance. Harrisburg got the ball first and showed how dangerous they can be, driving 80 yards in under two minutes to race out to a 7-0 lead.  However, the first time the Falcons had the ball, Cedar Crest quarterback Jackson Custer found his tight end Aiden Schomp three times to methodically drive down the field.  With the defense softening, the handoff went to running back Fernando Marquez and he rumbled for a 23-yard score.  With a strong defensive effort from the Falcons, the scoreboard read 7-7 at the end of the 1st quarter.
The 2nd quarter began with Cedar Crest driving. Timely 4th down conversions set-up the Custer to Schomp connection again, this time on a huge 30-yard touchdown pass to give the Falcons the lead. With just over five minutes to go in the first half, Cedar Crest was now up 14-7.
Harrisburg responded by putting together a three-minute drive that resulted in a touchdown.  A failed PAT attempt kept it 14-13 in favor of the Falcons with just over two minutes to go in the half.
A series of mistakes before half would be the turning point in this game.  Cedar Crest had a nice return on the ensuing kick, but it was unfortunately called back on penalty.  They then had a poorly timed fumble that gave the ball back to Harrisburg to start their drive in the red zone.  Harrisburg converted on this opportunity and took a 21-14 lead going into halftime.
Cedar Crest received the kickoff to start the 2nd half.  Harrisburg made necessary adjustments to stop the Falcons, causing another change of possession.  Harrisburg then broke off a long run to take a 28-14 lead.  On the next drive, the Falcons punted and a nice return set Harrisburg up again in the red zone.  They promptly made it 35-14.
With Cedar Crest attempting to respond, the Harrisburg defense forced another turnover in the form of an interception.  Harrisburg punched it in with another touchdown run to make it 41-14 as the 3rd quarter came to a close.  They then scored again to make it 48-14 when the 4th quarter began.
For as dominant as Harrisburg was showing themselves to be, Cedar Crest did not back down.  A second Marquez touchdown run, this time from 10 yards out, made it 48-21 with just under eight minutes to go. The defense then held and Harrisburg made a special teams mistake to set-up a 7-yard touchdown run by Alejandro Abreu to cut the deficit to 48-28.
With the clock reading 5:31, Cedar Crest attempted an onside kick that Harrisburg was able to recover. Harrisburg would score one more time on a long touchdown pass to make it 54-28.
While the outcome was not what Cedar Crest wanted, this loss does not define the success that they found over the course of the season.  With their 8-win season now complete, the Falcons will begin to look ahead to moving the program to the next level.  They showed in this game that they have the ability to run with one of the more elite teams in Pennsylvania and if a couple of things had played out differently, they'd be talking about playing against Gerry Yonchiuk led Central York in the District 3 Semifinals.
In other news, Lebanon Head Coach Frank Isenberg submitted his resignation earlier this week.  On Friday, his team was informed of the decision to step down after four seasons leading the Cedars.  Isenberg went 3-32 in his time as Lebanon's head coach, after taking over for Gerry Yonchiuk to start the 2020 season.
Prior to the start of this weekend's games, a preview was done by Robert Griffiths, where he talks about the success of Cedar Crest and ELCO not being defined by the outcomes of this weekend's games:  

Football: For Cedar Crest and ELCO, The Playoffs Mean More Than Winning
Previous Coverage