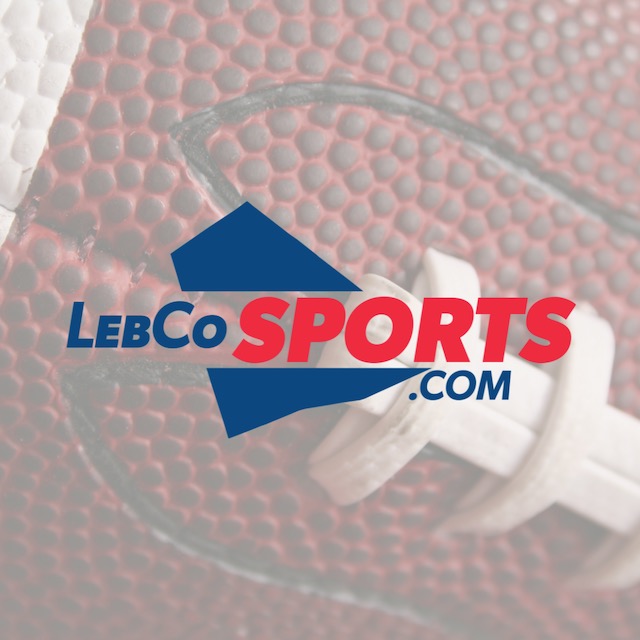 Below are short recaps of each of the LebCo Football games played during Week 7. We strive to bring you as many details as possible from each game.  Please keep checking back throughout the season as we continue to bring you the best coverage that we are able to provide.
For any questions, comments, or discrepancies, please reach out to dan@lebcosports.com.
---
---
---
---
Manheim Township 42, Cedar Crest 0
Cedar Crest had the tough task tonight of hosting powerhouse Manheim Township, ranked #4 in Pennsylvania according to MaxPreps.  The Blue Streaks, coached by Cedar Crest alum Mark Evans, were slowed by the Falcon defense early in this one.  However, three touchdowns in the final 7:28 of the 2nd quarter broke the game open, giving the visitors a 28-0 lead headed into the break.  They would add two more touchdowns in the 3rd quarter, while their defense held Cedar Crest in check.
Cedar Crest is now 5-2 overall, with a 2-2 record in Section 1.  They will host McCaskey next Friday night.
Cedar Crest Stats
Defensive Leaders: Tristan Long – 8 total tackles, 2 solo, 1 tackle for loss; Leo Tirado – 6 total tackles, 3 solo; Owen Chernich – 6 total tackles, 2 solo; Caleb Dorshimer – 6 total tackles, 1 solo; Kenyon Figueroa – 6 total tackles; Carter Eisenhauer – 6 total tackles; Aiden Schomp – 5 total tackles, 1 solo, 1 sack; Richie Hernandez – 4 total tackles, 3 solo
---
Annville-Cleona 35, Lancaster Catholic 21
Fresh off their exciting 41-40 win over Kutztown, the Dutchmen traveled to put their 3-0 Section 5 record on the line against undefeated Lancaster Catholic.  The Crusaders had won sixteen straight regular season games, including a one-point victory at Annville last year.
The action got started with an early Catholic touchdown to give them a 7-0 lead.  However, on their next possession, the Dutchmen stopped them on 4th down to regain possession.  Annville took full advantage of that opportunity, with quarterback Cameron Connelly finding the endzone on a 30-yard run.  Connelly picked right up where he left off last week against Kutztown, where he rushed for three touchdowns.  The first one of tonight's game tied it up at 7 following a successful PAT by Mina Elzek.
Entering the 2nd quarter with a 7-7 score, Annville began a drive from their own 5-yard line.  3:30 later, Connelly found the endzone again to give his squad a 14-7 lead with 8:31 left in the 1st half.  The Crusaders responded on their next drive to make it 14-14.  The Dutchmen were able to drive close enough to try for a field goal at the end of the half, but Elzek's attempt did not make it through the uprights and the score remained 14-14 at the break.
Coming back to the field following halftime, the composure of the game completely changed.  Following a return to the Catholic 45-yard line, Connelly would again take a run up the middle to score his 3rd touchdown of the night.  This gave the Dutchmen a 21-14 lead, where the score would stay heading into the 4th quarter.
In the final frame, Jon Shay rushed for a touchdown to give Annville a 28-14 lead.  The defense then stopped Catholic's attempted response, leading to a turnover on downs. On the ensuing possession, a Cael Harter 11-yard touchdown run gave the Dutchmen a 35-14 lead.  Annville would then stop the Crusaders, this time via a Dominic Casciotti interception.  Catholic would tack on one more score to bring the game to 35-21, but a Bryce Kellerinterception with just over three minutes remaining allowed the Dutchmen to run the clock down to :00.
Connelly, Harter, & Keller each gained 100+ yards on the way to the Dutchmen gaining 389 total rushing yards. Darrian Holloway continued his impressive season with 11 tackles, 7 of which were solo, and added a sack.
This statement victory moved Annville-Cleona to 4-0 in Section 5 and 5-2 overall.  They will host Pequea Valley next week.
Coach's Thoughts
After the game, we caught up with Coach Matt Gingrich for his thoughts on this monumental win that puts Annville-Cleona in the driver's seat for the Section 5 crown:
"I'm very proud of our kids.  I can't express how much it means to me that they are willing to play a tough, physical brand of football, even though that isn't what is popular.  They understand what we are and what can get us some wins.  They are willing to sacrifice for substance."
Reflecting back on earlier lopsided losses to ELCO and Littlestown, Coach Gingrich also indicated that those were necessary growing pains that have allowed his young men to get to where they currently are.
Annville-Cleona Stats
Rushing: Bryce Keller – 26 carries, 135 yards; Cameron Connelly – 18 carries, 102 yards, 3 TDs; Cael Harter – 17 carries, 100 yards, 1 TD; Jonathan Shay – 5 carries, 52 yards
Passing: Cameron Connelly – 0/1; Cael Harter – 0/1
Defensive Leaders: Darrian Holloway – 11 total tackles, 7 solo, 2 tackles for loss, 1 sack; Luke Wentling – 7 total tackles, 4 solo, 1 sack; Hudson Sellers – 5 total tackles, 3 solo, 2 tackles for loss; Bryce Keller – 3 total tackles, 2 solo, INT; Dominic Casciotti – 2 total tackles, 1 solo, INT
Special Teams: Mina Elzek – 5/5 PAT, 0/1 FG
---
Northern Lebanon 35, Kutztown 21
Northern Lebanon entered their road trip to Kutztown with eyes on improving their 2-4 record.  Last week, the Vikings lost a hard-fought defensive struggle with Schuylkill Valley by a score of 7-6.  Kutztown was also coming off a one-point loss, but that was a high scoring 41-40 win by Annville-Cleona.
While the Northern Lebanon offense has been up and down throughout this season, tonight was one of those nights where everything was clicking.  The scoring began on the first drive, with Moises Gonzalez taking a handoff 31 yards to the endzone on the third play from scrimmage.  Quarterback Kael Erdman would then find tight end Luke Shaffer on a 6-yard pass for the 2nd Viking touchdown of the night.  Myles Watson then got in on the action, hitting a cutback to take a 13-yard run for a touchdown.  The fourth and final Viking score of the 1st half came on another Gonzalez run where he was able to hurdle over some Kutztown defenders who had been thrown to the ground by the Northern Lebanon offensive line on his way to taking it 18 yards into the endzone. At the end of the half, Northern Lebanon led 28-7.
In the 3rd quarter, Gonzalez took a 4-yard run for his 3rd touchdown of the game.  A late Kutztown touchdown would make the final score 35-7.
For the game, both Gonzalez and Watson broke the century mark on the ground.  Shaffer at linebacker led the defensive effort with 11 tackles, including the 300th of his high school career.
The win moved Northern Lebanon to 3-4 overall and 2-2 in Section 5.  They will now gear up to host Columbia next Friday night.
Coach's Thoughts
After last night's game, we asked Coach Jason Rice for his thoughts. He began his comments on the win: 
"A really good night for Viking football. I'm very proud of my guys. Full four quarters of just Pure Team, team football, starting right from the opening drive. I think it was 3 plays and then Mo (Gonzalez) put that first one in the end zone. That solid drive established momentum there in the beginning of the game." 
 He praised his defense for their consistency and toughness that made it a long night for Kutztown: 
"The defense, as per usual, just balled out and that was good stuff." Rice explained that they "limited spill plays", as the defense stayed alert and avoided being "lulled to sleep". He went on to say, "Kutztown really came out in the second half and made some good adjustments that put more pressure interiorly on us, but our guys were ready to make adjustments that limited Kutztown." 
In talking about keeping up the pressure in the 2nd half, Coach Rice praised his team again for a complete, total team game. He went on to praise some of his top performers that caused the offense to click effectively: 
"Luke (Shaffer) had another touchdown on offense. Then, Myles Watson and Mo each had a tremendous night running the ball. Naturally, with two 100-yard rushers, you have to say something about that offensive line. We have guys who may not be the biggest or strongest, but they execute. They do their job. And then you have to mention Kael Erdman for having a good, composed game with a high percentage of completions, 11 for 14, and a touchdown pass." 
Considering the result of last week, Coach Rice explained how his guys prepared for this week's game: 
"We made a goal after a tough loss against Schuylkill Valley last week. Prior to this game, we told our guys that we had four games left, where we're going to lay everything out, give everything we got, put everything on the line . . .  that's what they did tonight. They stepped up and did just that."  
 In looking at what this win means for the final three weeks of the season, Coach Rice said: 
"We can check one off here, but we're going to take this week to week. We have a big homecoming game next week against to Columbia. I'm very excited about that and just excited to see these guys continue and hopefully use this game as momentum going into next week." 
Northern Lebanon Stats
Rushing: Moises Gonzalez – 13 carries, 114 yards, 3 TDs; Myles Watson – 10 rushes, 111 yards, 1 TD; Kael Erdman – 3 carries, 8 yards
Passing: Kael Erdman – 11/14, 134 yards, 1 TD
Receiving: Luke Shaffer – 3 receptions, 37 yards, 1 TD; Tanner Feagley – 2 receptions, 67 yards; Bryan Mitzel – 4 receptions, 23 yards; Brendan Ryan – 1 reception, 6 yards; Moises Gonzalez – 1 reception, 1 yard
Defensive Leaders: Luke Shaffer – 11 tackles; Bryan Mitzel – 5.5 tackles, INT; Moises Gonzalez – 10 tackles, forced fumble; Bryce Yocum – 5.5 tackles, fumble recovery; Tanner Feagley – 5.5 tackles, 1 sack; Kyle Hitz – 7 tackles
---
Red Land 24, Palmyra 7
Palmyra entered Friday night with a 2-4 record, optimistic that they could improve on that record in front of an excited Homecoming audience.  Their opponent, Red Land, entered with a 1-5 record, but in sports, the record often does not mean much when it comes to the game.
The two teams played a scoreless 1st quarter, but Palmyra was able to find the endzone quickly in the 2ndquarter. With 10:35 remaining in the half, running back Braxtin Risser scored from 4 yards out.  A Matt Bordner PAT made the score 7-0 in favor of the orange and black.  Just over five minutes later, Red Land would respond with a score of their own to even the score at 7 each.
Pressure on the quarterback by Xavier Smith led to a Nate Eisenhooth interception, giving the Cougars an opportunity to score again before the end of the half.  The Patriots had other ideas and stopped that plan, instead kicking a field goal of their own before the teams went to their respective locker rooms with the scoreboard showing 10-7 in favor of the visitors.
Unfortunately, Red Land would add a touchdown in the 3rd quarter and another in the 4th to put the game out of reach when they went unanswered.
Palmyra moved to 2-5 on the season.  They will now prepare to host Cedar Cliff in Week 8.
Palmyra Stats
Rushing: Braxtin Risser – 10 carries, 31 yards, 1 TD, fumble; Kyle Koennecke – 3 carries, 23 yards; Ryan Kowalski – 6 carries, 20 yards, fumble; Kadan Readinger – 1 carry, 6 yards; Justin Kaplan – 2 carries, 5 yards; Nate Eisenhooth – 1 carry, -4 yards
Passing: Ryan Kowalski – 19/30, 143 yards
Receiving: Jason McCurdy – 5 receptions, 35 yards; Keagen Kleinfelter – 4 receptions, 34 yards; Braxtin Risser – 4 receptions, 29 yards; Nate Eisenhooth – 2 receptions, 23 yards; Kadan Readinger – 3 receptions, 18 yards; Justin Kaplan – 1 reception, 4 yards
Defensive Leaders: Kadin Jones – 6 tackles, 11 assists, 1 tackle for loss; Kyle Koennecke – 3 tackles, 10 assists; Keagen Kleinfelter – 3 tackles, 4 assists; Joseph Altebrando – 3 tackles, 4 assists; Nate Eisenhooth – 5 tackles, 1 assist, INT
Special Teams: Matt Bordner – 1/1 PAT
---
ELCO 56, Octorara 21
Following two tough weeks against Wyomissing and Cocalico, the ELCO Raiders traveled to Octorara on Friday night.  The Raiders were 4-2, while the Braves were 2-4.  While the records indicated an advantage for ELCO, Octorara would benefit from game film where they saw schemes that slowed down the dominate run game that ELCO can often flaunt.
Once the game started, it was clear that no matter how much game planning was done to stop ELCO, Coach Miller's game plan and his personnel were just a cut above that of Octorara.  On the 2nd play of the game, Jake Williams took a run 60 yards to the house.  Late in the 1st quarter, quarterback Steven Rosado would break a long, 34-yard run of his own to give the Raiders a 14-0 lead.  Unfortunately for Octorara, ELCO would get two more possession in the quarter, with both ending quickly with long runs of 68 and 54 yards by Williams.  The quarter ended with ELCO leading 28-0.  Williams had 3 touchdowns with over 200 yards on the stat sheet.
The 2nd quarter was more domination by the visiting ELCO squad.  With the score 35-0, quarterback Gavin Bicher hit Elliot Kreider with an 11-yard touchdown pass.  This score put ELCO up 42-0 at the halfway point.
In the 2nd half, ELCO would score twice more.  The first touchdown was courtesy of a long run by Kreider.  Later, his younger brother, Griffin Kreider, entered the game at quarterback and found Victor Feliciano for ELCO's 8th touchdown of the night.  Octorara was able to put up 21 in the half, but ELCO comfortably won, 56-21.
The victory moves ELCO to 5-2 on the season.  They will now begin preparing for another tough test when they hit the road to play Lampeter-Strasburg.
On an interesting note from Friday, Cocalico defeated Wyomissing, 34-14, to end Wyo's regular season win streak at 41 games.
ELCO Stats
Rushing: Jake Williams – 10 carries, 257 yards, 4 TDs; Elliot Kreider – 3 carries, 61 yards TD; Steven Rosado – 2 carries, 53 yards, TD; Gavin Bicher – 2 carries, -2 yards; Mitchell Frederick – 3 carries, 2 yards; Ellis Gensamer – 5 carries, 15 yards; Riley McDonald – 3 carries, 7 yards; Griffin Kreider – 4 carries, 0 yards
Passing: Steven Rosado – 1/1, 13 yards; Gavin Bicher – 1/3, 12 yards, TD; Griffin Kreider – 2/3, 50 yards, TD
Receiving: Sara Miller – 1 reception, 13 yards; Elliot Kreider – 1 reception, 12 yards, TD; Michael Books – 1 reception, 13 yards; Victor Feliciano – 1 reception, 37 yards
---
Manheim Central 70, Lebanon 13
Manheim Central is Manheim Central.  They are a good team that doesn't often show mercy for its opponents.  Lebanon took their 0-6 record to Manheim on Friday night in hopes of competing hard to make it interesting.  The Cedars did just that, regardless of what the final score says.
Following an early score by the Barons, the Cedars were able to stop them on 4th down on their next possession.  This led to an exciting reception made by Lebanon sophomore Malachi Briddell.  The play, which was described as a "circus catch", went for 24 yards.  Unfortunately, an interception ended the threat from Lebanon.  Central would score again to take a 14-0 lead at the end of the 1st quarter.
In the 2nd quarter, Central struck again to take a 21-0 lead.  Lebanon then drove down to the 12-yard line before being stopped on 4th down.  This led to a series of events that benefited the home team that entered the game as the heavy favorites.
Less than two minutes after regaining possession, the Barons scored to take a 28-0 lead with 5:36 on the clock.  Ninety seconds later, they were able to score again with 4:06 left.  With 1:42 left in the half, another Baron touchdown would make the score 42-0 for their final touchdown before heading into the locker rooms.
To start the scoring in the 2nd half, Lebanon's quarterback Sebastian Cruz used his legs to find the endzone from 2 yards out.  A Derek Infante PAT gave the Cedars 7 points.  By the end of the 3rd quarter, the scoreboard would read 63-7.
After Manheim Central added another touchdown in the 4th quarter, the ensuing kickoff ended up in the hands of Infante who took the rock 88 yards on his way to the endzone with 5:51 to go.  The score would remain 70-13 the rest of the way.
The outcome resulted in Manheim Centrals 600th victory on a night where their 2003 State Championship team was honored.
Lebanon moved to 0-7 on the season. The Cedars will now begin prepping for next week when they will host Governor Mifflin.
---