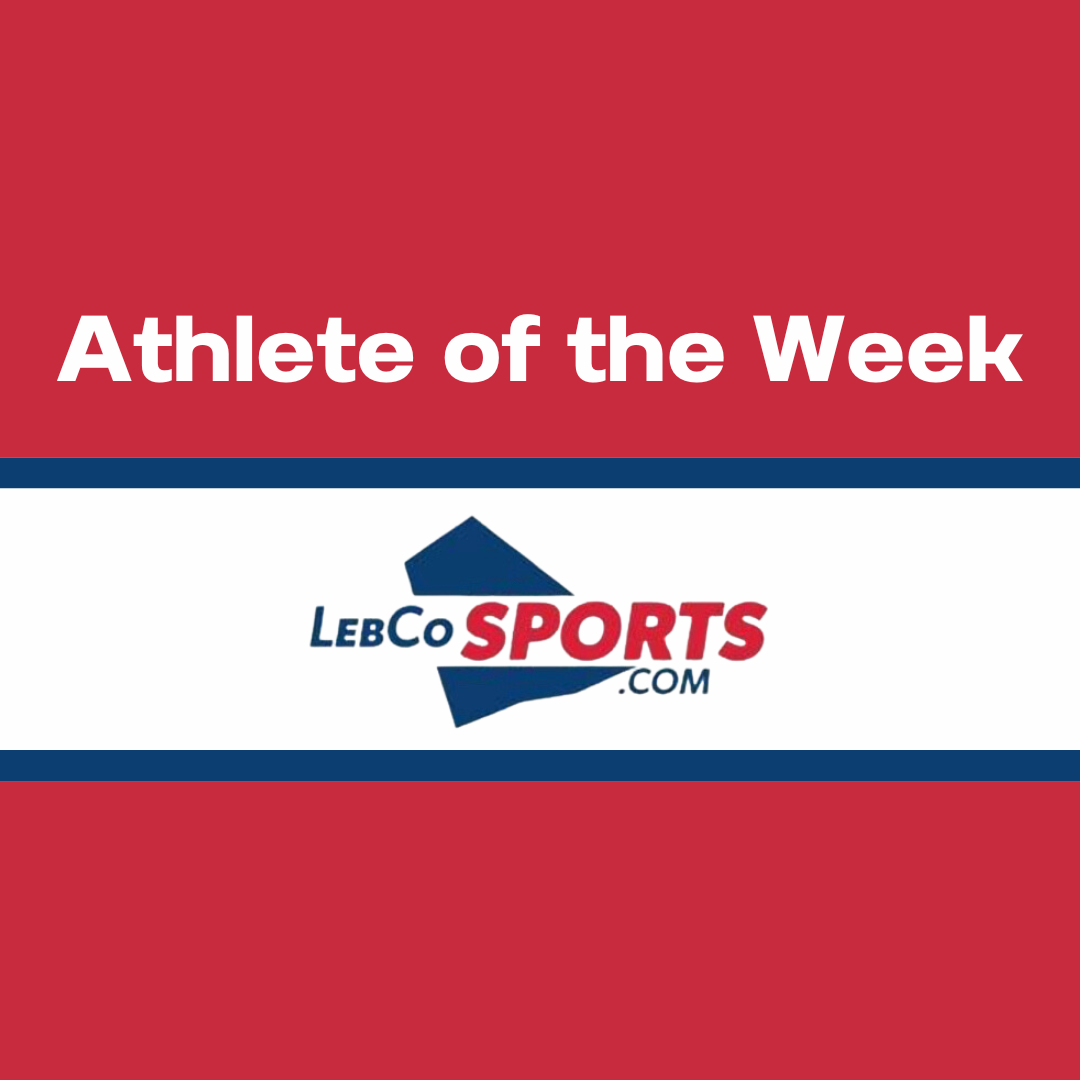 Sponsored by Lebanon Federal Credit Union & WLBR / Froggy Valley 100.1
---
If you like this type of coverage, please let us know by Following us on social media: Twitter/X – @lebcosports1 and Facebook.
For any questions, comments, or discrepancies, please reach out to dan@lebcosports.com.
---
Cael Harter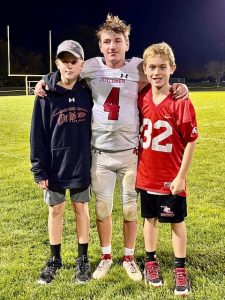 Last Friday night, Annville-Cleona Football closed out their regular season with a 24-0, shutout road win over Northern Lebanon.  In that game, the Dutchmen controlled the game through long drives that kept the Vikings from finding any type of offensive rhythm.  The ball control limited Northern Lebanon to seven offensive plays over the first thirty-four minutes of the game.
One of the major reasons that Annville was able to execute this style of game plan was through the tough play of senior running back Cael Harter.  In the game, Harter carried the ball 22 times for 122 yards and a touchdown.  In the 3rd quarter, Harter added an interception that he returned for a touchdown.  For this reason, Harter was selected as a LebCo Male Athlete of the Week by our readers.
While the performance was impressive, it is nothing new for Harter this season.  As a main piece of the rushing attack that flows from Annville's offensive scheme, Harter has now rushed for 1,087 yards this season, having rushed for 100+ in seven games.  From the backfield, Harter has accounted for 13 touchdowns.  In addition to the Pick Six in the Northern Lebanon game, he also had one in the win over Hamburg giving him a total of 15 touchdowns on the season.
For his performance, Harter acknowledged his offensive line and the other running backs with which he has combined for over 3,000 yards of rushing offense this season.  He also wanted to take the time to recognize his coaches for developing the game plan that helped them to close out the season with a share of the Lancaster Lebanon League Section 5 Championship.
Coach Matt Gingrich had nothing but great things to say when asked about his senior captain, "He is a humble and quiet kid socially, and you would never have a clue of his talent as he never talks about it. But, when he gets on the field, he is an amazing leader.  He (along with the other captains) initiated our turn-around after our 1-2 start.  He is the unquestioned leader."
However, before mentioning Harter as a Football player, Gingrich said this about him, "Cael Harter has been one of the best young men that I have ever been able to coach. The great part for us is he is another kid that has become the embodiment of what we are trying to do at AC.  He is great in the classroom, as I get to teach in him Probability and Statistics this year."
With the #1 seed heading into the 2A District 3 Playoffs, Annville-Cleona will host Camp Hill tonight at Lebanon's Alumni Stadium with the hopes of advancing to next week's championship game.  By doing his part, Harter wants to help his teammates advance as deep as possible in the postseason.
Speaking of helping others, Gingrich again had high praise for Harter, saying, "The best part is that Cael is a huge advocate for our youth.  Cael is a flag football coach for the last 4 years, dedicated to 4-5 hours a week to these kids after our practice is over. He also goes to their events, and the kids are forever grateful for that. Cael Harter will be a name people around here talk about for a long time because of all of these attributes."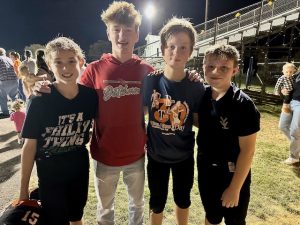 While Harter is mostly known for his gridiron prowess having played the sport since 2nd grade, he spends the winter season on the mats as a member of the Annville-Cleona Wrestling Team.  Once finished with high school, Harter plans to go to college to major in exercise science.
Best of luck to Cael and the Dutchmen as they begin their postseason journey!
---
Owen Chernich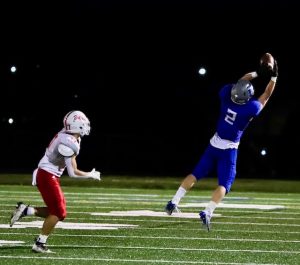 This year's edition of the annual clash between the Football teams from Cedar Crest and Lebanon took place last Thursday night.  The Falcons prevailed over the Cedars by a score of 49-6.  While it was considered a total team victory for Crest, there is no denying that Owen Chernich had a standout performance.  The senior caught three passes, with two for touchdowns. He then ran for another score when he was playing quarterback late in the game. On defense, Chernich had two key interceptions in the 1st half to slow Lebanon's attempts at an upset bid.  For his efforts, he was selected as a LebCo Male Athlete of the Week.
Chernich credits his coaches for putting him and his teammates in the right positions that have given them the opportunities to make the big plays.  He also acknowledged the efforts of his teammates for playing hard.
With Cedar Crest currently standing at 8-2 awaiting next week's 6A District 3 Playoff game against Harrisburg, Chernich sees his role as doing "whatever it takes to win games and advance".  This formula has worked so far this season, as the Falcons have benefitted from selfless play from their cast of talented players, including Chernich.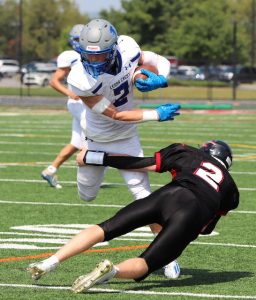 Beyond being the team's top wide receiver, Chernich is the top tackler for the Falcons.  The defensive back has completed 66 takedowns, including 23 solo and 8 for a loss.  He has also tallied 3 interceptions.
While Chernich has at least one game left in his high school career, he hopes to continue playing in college.  As far as seeking competition, Chernich will continue to do so when he suits up as a member of the Falcon Basketball team again this winter when they work to defend this Section 1 Championship.
For now, we wish Owen and his teammates the best of luck as they prepare to take on Harrisburg.
---
Read about this week's Female Athletes of the Week – Keely Bowers
For a full list of this week's nominees, check out: Athlete of the Week Voting: Week of October 23rd.
Previous Winners Update
Updated through 11/2
Jake Williams (Week of 9/4): Rushed for 304 yards and 4 TDs as ELCO defeated Berks Catholic to clinch a District 3 Playoff bid.
Kody Boyer (Week of 9/11): Season ended.
Fernando Marquez (Week of 9/11): In the Cedar Bowl, Marquez rushed for 145 yards and 2 TDs.
Riley Messinger (Week of 9/18): Season ended.
Luke Shaffer (Week of 9/25): Recorded 14.5 tackles, including a sack in the loss to Annville-Cleona.
Reagan Flynn (Week of 10/2): Season ended.
Elliott Kreider (Week of 10/2): Nursing a broken hand, Kreider's defensive presence helped to hold Berks Catholic in check.
Camden Marquette (Week of 10/9): Season ended.