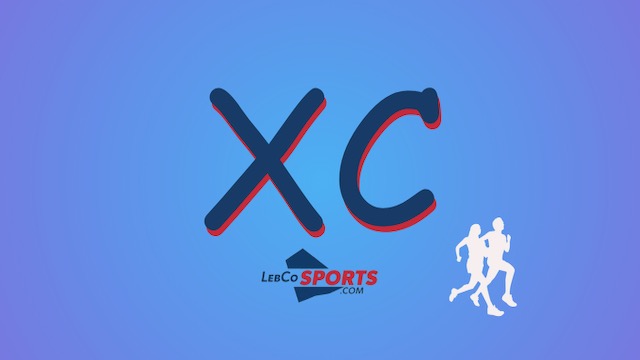 On an unseasonably warm autumn day, forty runners from LebCo competed at the District 3 Cross Country Championships at Big Spring High School.  This contingent included four full teams who qualified based on their races at the Lancaster Lebanon Lebanon and Mid Penn Championships. Each of the county's six schools were represented in the race.  To advance to States, an individual or team has to qualify at the District meet.
For our local racers, there will now be one full team and an individual racer who will be running at Hershey next Saturday.  Annville-Cleona finished 3rd, claiming the final team spot in the AA classification.  In doing so, they had two top twenty finishers, Mackenzie Stellmach and Emily Maag, who were each awarded medals for their individual performances.  Joining the representatives from the 17003 will be Cedar Crest's Eliana Schneider who qualified for States in AAA based on her 24th place finish.
Below are the full results for each LebCo runner that competed broken up by classification.  Underneath are the combined race results, regardless of classification.
The LebCo Girls results from Districts can be found here.
---
If you like this type of coverage, please let us know by Following us on social media:
Twitter/X – @lebcosports1 and Facebook.
For any questions, comments, or discrepancies, please reach out to dan@lebcosports.com.
---
AA
In the AA competition, one team will advance to States after Annville-Cleona finished 3rd overall and just 2 points behind 2nd place Wyomissing.  For the Dutchmen, they will be making the trip back to Hershey as a AA team again this year after winning Districts after making the bump from A in 2022.  Their efforts were anchored by medalists Mackenzie Stellmach and Emily Maag, but it took strong races from the rest of the top five to push them up the leaderboard.
After the race, an interview with the Annville-Cleona's lead runner Mackenzie Stellmach was conducted on behalf of LebCoSports.com.  Mackenzie Stellmach said going into the race that the team "had a good mindset coming in and they knew that they could do it."  She is hoping to carry this same mentality into States, of which she said with a big smile on her face, "I'm really pumped up.  We're going to do amazing."
ELCO freshman Reagan Zwally also had a tremendous race, but just missed the cut to advance to next week's State Championship.
Annville-Cleona
Team Finish – 3rd place (Team State Qualifier)
6th      Mackenzie Stellmach – 20:20.0
18th    Emily Maag – 21:28.1
32nd   Leah Tshudy – 22:23.7
46th    Anna Lezon – 23:07.9
58th    Emilie Stefanchik – 23:40.6
108th  Nadia Lezon – 25:37.3
116th  Megan Brophy –  26:25.9

ELCO
Team Finish – 16th
29th    Reagan Zwally – 22:17.3
57th    Loni Ogunwusi – 23:33.2
59th    Shawna Donough – 23:42.6
99th    Desaray Nolt –  25:18.8
146th  Anna Lehman – 30:27.2
Northern Lebanon
128th  Jade Kasprowicz – 27:05.9
145th  Layna Horner – 30:13.9
152nd  Clarissa Schamber – 32:09.6
---
AAA
In the large school race, Cedar Crest's Eliana Schneider battled through the warm weather to finish 24th.  This finish qualified the sophomore for States for the 2nd time is a many years.  As a team, the Falcons finished 13th.  Though they did not get anyone through to States, Palmyra finished 11th as a team, a result of a higher spread among their runners.
Cedar Crest
Team Finish – 13th place
24th    Eliana Schneider – 20:10.0 (State Qualifier)
67th    Lizzie Lowe – 21:30.7
95th    Maddie Lowe – 22:21.0
102nd  Audrey Fugate – 22:27.7
150th  Maggie Chernich – 23:27.0
169th  Sam Yorty – 23:57.3
199th  Nora Cuthie – 24:44.3
Lebanon
187th  Ella Whalen – 24:23.3
Palmyra
Team Finish – 11th place
50th    Avery Rohrer – 21:11.0
72nd   Ellie Schaffer – 21:38.9
84th    Abby Berarducci – 22:09.1
92nd   Amber McCurdy – 22:17.4
133rd  Leah Senft – 23:05.1
146th  Andrea Cooper – 23:21.4
185th  Cecilia Cole – 24:20.9
---
Full Results of the 2023 District 3 Championships
---
Combined Results
1)        Eliana Schneider (Cedar Crest) – 20:10.0
2)        Mackenzie Stellmach (Annville-Cleona) – 20:20.0
3)        Avery Rohrer (Palmyra) – 21:11.0
4)        Emily Maag (Annville-Cleona) – 21:28.1
5)        Lizzie Lowe (Cedar Crest)  – 21:30.7
6)        Ellie Schaffer (Palmyra) – 21:38.9
7)        Abby Berarducci (Palmyra) – 22:09.1
8)        Reagan Zwally (ELCO) – 22:17.3
9)        Amber McCurdy (Palmyra) – 22:17.4
10)      Maddie Lowe (Cedar Crest) – 22:21.0
11)       Leah Tshudy (Annville-Cleona) – 22:23.7
12)      Audrey Fugate (Cedar Crest) – 22:27.7
13)      Leah Senft (Palmyra) – 23:05.1
14)      Anna Lezon (Annville-Cleona) – 23:07.9
15)      Andrea Cooper (Palmyra) – 23:21.4
16)      Maggie Chernich (Cedar Crest) – 23:27.0
17)      Loni Ogunwusi (ELCO) – 23:33.2
18)      Emilie Stefanchik (Annville-Cleona) – 23:40.6
19)      Shawna Donough (ELCO)  – 23:42.6
20)      Sam Yorty (Cedar Crest) – 23:57.3
21)      Cecilia Cole (Palmyra) – 24:20.9
22)      Ella Whalen (Lebanon) – 24:23.3
23)      Nora Cuthie (Cedar Crest) – 24:44.3
24)      Desaray Nolt (ELCO) – 25:18.8
25)      Nadia Lezon  (Annville-Cleona) – 25:37.3
26)      Megan Brophy (Annville-Cleona) – 26:25.9
27)      Jade Kasprowicz (Northern Lebanon) – 27:05.9
28)      Layna Horner (Northern Lebanon) – 30:13.9
29)      Anna Lehman (ELCO) – 30:27.2
30)      Clarissa Schamber (Northern Lebanon) – 32:09.6
---
The CCXC Girls ran a resilient race to finish 13th out of 30 AAA Teams @ Districts!! Eliana Schneider led the way for the girls & qualified for States for the 2nd time in her career! Congrats on a strong performance! #FalconPride pic.twitter.com/gjss5LiK8l

— Brandon Risser (@CoachRiss112) October 28, 2023
Ella Whalen ran well in her first District 3 meet to cap a great season! The boys team finished 14th overall, led by Ramon Urena's 11th place & State qualifying run! This is the highest District team finish in my coaching tenure. Very proud of this group! On to States! Go Cedars! pic.twitter.com/YS598uNSFc

— Cedars XC (@cedarsxc) October 28, 2023