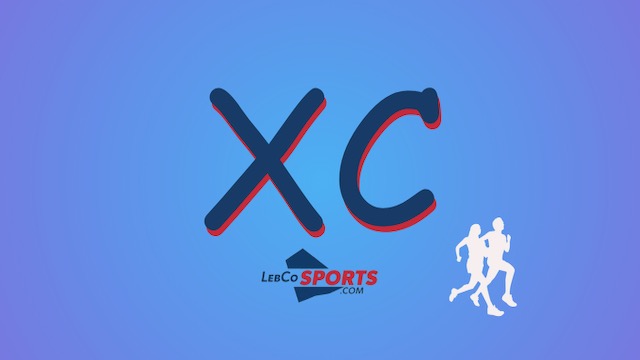 On Saturday, runners from each of the six LebCo Cross Country teams traveled to Big Spring High School for the PIAA District 3 Championship Meet.  The league meets were used as a qualifier for this event, with each team meeting the standards to garner invites. The District race is used as a qualifier for the PIAA State Championships which will be held next Saturday, November 4th at Hershey.
When all of the racing was complete, two LebCo teams (Annville-Cleona & Northern Lebanon) earned their starting blocks at States.  Joining them will be individual runners from each of the other four county schools.
Headlining the day was the domination of Annville-Cleona in the A race, where they finished their first six runners in the top twelve places.  Junior Landon Hostetter won the race for the 2nd straight year.  Joining the Dutchmen in collecting hardware was Northern Lebanon, finishing 2nd in the AA race, with Tyler Shunk finishing 4th overall.  Lebanon's Ramon Urena Batista medaled in the AAA race, finishing 11th.
Below are the full results for each LebCo runner that competed broken up by classification.  Underneath are the combined race results, regardless of classification.
The LebCo Girls results from Districts can be found here.
---
If you like this type of coverage, please let us know by Following us on social media:
Twitter/X – @lebcosports1 and Facebook.
For any questions, comments, or discrepancies, please reach out to dan@lebcosports.com.
---
A
In the A race, Annville-Cleona absolutely dominated, crossing their top six runners in the first twelve places. Their combined score of 27 points was far ahead of 2nd place York Catholic who amassed 86 points. The Dutchmen were led by junior Landon Hostetter who collected his 2nd District gold in as many years.
Following their outstanding performance, the runners from Annville were interviewed on behalf of LebCoSports.com.
Landon Hostetter relived his race while refueling with a peanut butter and jelly sandwich in his hand, saying that he, "Attacked the hills as hard as possible and then tried to lengthen his stride on the downhill."  At States last year, Hostetter finished 5th overall.  When asked of his goal this year, he said that it is to finish top five and to help the team win.
Sam Domencic spoke of his 10th place performance by saying, "I just kind of went for it. I didn't really think about it." When asked about States, Domencic said that the goal is to "Win."  This is something that Oliver Funck and Matt Clemson agreed on.
Annville-Cleona
Team Finish – 1st place (Team State Qualifier)
1st       Landon Hostetter – 16:23.2
3rd      Oliver Funck – 17:18.0
4th      Matt Clemson – 17:24.9
10th    Samuel Domencic – 17:52.6
11th    Z Moyer – 18:02.8
12th    David Moran – 18:07.1
29th    Luke Tshudy  – 19:32.5
---
AA
The AA race witnessed two Northern Lebanon runners collecting medals for their performances with Tyler Shunk finishing 4th overall and Luke Hentz coming in 11th.  Leading the way for the Vikings, they fueled a 2nd place finish behind only Lampeter-Strasburg.  Joining the team from Northern Lebanon at next Saturday's start line will be ELCO's Chad Keller, who finished 22nd in the District 3 Championship.
ELCO
Team Finish – 16th place
22nd   Chad Keller – 17:45.0 (State Qualifier)
80th    Wesley Doll – 19:49.5
97th    Harrison Kramer – 20:26.0
126th  Ethan Donough – 21:17.8
132nd Grant Liskey – 21:31.6
Northern Lebanon
Team Finish – 2nd place (Team State Qualifier)
4th      Tyler Shunk – 16:51.1
10th    Luke Hentz – 17:06.6
34th    Caleb Sanders – 18:32.6
35th    Joseph Escobales – 18:34.2
38th    David Boyer – 18:40.0
65th    Josiah Kelly – 19:28.4
66th    Tucker Reiber – 19:29.1
---
AAA
The AAA race was by far the largest of race of the day, featuring 249 runners and 29 full teams.  Lebanon's Ramon Urena Batista led the LebCo runners, grabbing an 11th place medal for his efforts.  Cedar Crest had two runners, Travis Furmanski and Viseth Meng, grab spots at States, while Palmyra's Cornelius Cummings also qualified.
Cedar Crest
Team Finish – 9th place
26th    Travis Furmanski – 16:50.6 (State Qualifier)
42nd   Viseth Meng – 17:11.5 (State Qualifier)
63rd    Jake Perhonitch – 17:28.5
70th    Ben Causak – 17:35.0
72nd   Anthony Figueroa – 17:36.2
90th    Jack Williams – 17:47.1
164th  Arturo Chavez-Ramirez – 18:39.6
Lebanon
Team Finish – 14th place
11th    Ramon Urena Batista – 16:22.2 (State Qualifier)
102nd Javier Montalvo – 17:53.8
107th  Gavin Sheetz – 17:57.3
109th  Brendon Shaak – 18:00.3
126th  Tyler Long – 18:13.0
204th  Samuel Hershey – 19:11.6
246th  Owen Kreider – 20:46.7
Palmyra
Team Finish – 20th place
24th    Cornelius Cummings – 16:48.7 (State Qualifier)
56th    Jake Vottero – 17:22.0
162nd Gavin  Bullard – 18:38.7
178th  Cohen Claar – 18:51.9
202nd Logan Mierzwicki – 19:09.8
206th  Joshua Miller – 19:14.5
210th  Joshua Townsend – 19:20.4
---
Full Results of the 2023 District 3 Championships
---
Combined Results
1)        Ramon Urena Batista (Lebanon) – 16:22.2
2)        Landon Hostetter (Annville-Cleona) – 16:23.2
3)        Cornelius Cummings (Palmyra) – 16:48.7
4)        Travis Furmanski (Cedar Crest) – 16:50.6
5)        Tyler Shunk (Northern Lebanon) – 16:51.1
6)        Luke Hentz (Northern Lebanon) – 17:06.6
7)        Viseth Meng (Cedar Crest) – 17:11.5
8)        Oliver Funck  (Annville-Cleona) – 17:18.0
9)        Jake Vottero  (Palmyra) – 17:22.0
10)      Matt Clemson (Annville-Cleona) – 17:24.9
11)       Jake Perhonitch (Cedar Crest) – 17:28.5
12)      Ben Causak (Cedar Crest) – 17:35.0
13)      Anthony Figueroa (Cedar Crest) – 17:36.2
14)      Chad Keller (ELCO) – 17:45.0
15)      Jack Williams (Cedar Crest) – 17:47.1
16)      Samuel Domencic (Annville-Cleona) – 17:52.6
17)      Javier Montalvo (Lebanon) – 17:53.8
18)      Gavin Sheetz (Lebanon) – 17:57.3
19)      Brendon Shaak (Lebanon) – 18:00.3
20)      Z Moyer (Annville-Cleona) – 18:02.8
21)      David Moran  (Annville-Cleona) – 18:07.1
22)      Tyler Long (Lebanon) – 18:13.0
23)      Caleb Sanders (Northern Lebanon) – 18:32.6
24)      Joseph Escobales (Northern Lebanon) – 18:34.2
25)      Gavin Bullard  (Palmyra) – 18:38.7
26)      Arturo Chavez-Ramirez (Cedar Crest) – 18:39.6
27)      David Boyer (Northern Lebanon)  – 18:40.0
28)      Cohen Claar (Palmyra) – 18:51.9
29)      Logan Mierzwicki (Palmyra) – 19:09.8
30)      Samuel Hershey (Lebanon) – 19:11.6
31)      Joshua Miller (Palmyra) – 19:14.5
32)      Joshua Townsend (Palmyra) – 19:20.4
33)      Josiah Kelly (Northern Lebanon) – 19:28.4
34)      Tucker Reiber (Northern Lebanon) – 19:29.1
35)      Luke Tshudy  (Annville-Cleona) – 19:32.5
36)      Wesley Doll (ELCO) – 19:49.5
37)      Harrison Kramer (ELCO) – 20:26.0
38)      Owen Kreider (Lebanon) – 20:46.7
39)      Ethan Donough (ELCO) – 21:17.8
40)      Grant Liskey (ELCO) – 21:31.6
---
PIAA District III 1A boys cross country team champions with 5 runners on top 11, Annville-Cleona pic.twitter.com/aQWZgN39GV

— PIAA District III (@piaadistrict3) October 28, 2023
The CCXC Boys Mixed It Up with a strong 9th Place AAA Finish @ Districts!! The boys packed it up & had an impressive 45 second spread. Travis Furmanski & Viseth Meng led the way & punched their ticket to States! Congrats on a strong performance! #FalconPride pic.twitter.com/najnpgqfm0

— Brandon Risser (@CoachRiss112) October 28, 2023
Ella Whalen ran well in her first District 3 meet to cap a great season! The boys team finished 14th overall, led by Ramon Urena's 11th place & State qualifying run! This is the highest District team finish in my coaching tenure. Very proud of this group! On to States! Go Cedars! pic.twitter.com/YS598uNSFc

— Cedars XC (@cedarsxc) October 28, 2023
Congratulations to junior Chad Keller for placing 22nd (17:45) in the District III 2A XC Championships & Chad is a 2A PIAA qualifier next weekend! #ElcoExcellence @LebCoSports1 🔵🟡 pic.twitter.com/dml4537qik

— ELCO Athletics (@ELCOAthletics) October 28, 2023