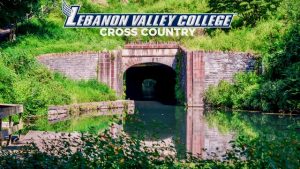 On Saturday morning, LebCo's six high school cross country teams were among the twenty-two high school teams that gathered at Lebanon's Union Canal Park to compete in the 50th LVC Dutchmen Cross Country Invitational. The local contingent was well represented among the 275 runners, taking half of the spots among top-twenty finishers. Lebanon's Ramon Urena Batista led the entire field, finishing 1st with a tying course record of 15:47.7 (Gage Krall, Northern Lebanon – 2019). Rounding out the top three were two other local runners, with Annville-Cleona's Landon Hostetter finishing 2nd, followed closely by Palmyra's Cornelius Cummings. Northern Lebanon's Tyler Shunk and Cedar Crest's Ben Causak finished 8th and 10th respectively.
When adding up all of the points among the teams, it was Annville-Cleona who finished highest with a 2nd place finish behind only Lower Dauphin. Cedar Crest finished 4th and Lebanon finished 5th. This was the only time this season where all six LebCo teams would be in the same race.
See the times for all LebCo athletes and teams below.
---
Girls Cross Country: LVC Dutchmen Invitational Results – 2023
---
If you like this type of coverage, please let us know by Following us on social media:
Twitter/X – @lebcosports1 and Facebook.
For any questions, comments, or discrepancies, please reach out to dan@lebcosports.com.
---
Lebanon County Results
Individual
Place – Name – Grade – School – Time
1 Ramon Urena (12) – Lebanon – 15:47.7
2 Landon Hostetter (11) – Annville-Cleona – 16:12.3
3 Cornelius Cummings (10) – Palmyra – 16:19.9
8 Tyler Shunk (12) – Northern Lebanon – 16:40.3
10 Ben Causak (12) – Cedar Crest – 16:42.8
11 Oliver Funck (10) – Annville-Cleona – 16:43.9
12 Gavin Sheetz (11) – Lebanon – 16:44.4
14 Travis Furmanski (10) – Cedar Crest – 16:50.2
16 Jake Vottero (12) – Palmyra – 16:54.4
20 Chad Keller (11) – ELCO – 17:06.3
23 Anthony Figueroa (10) – Cedar Crest – 17:07.6
26 Luke Hentz (10) – Northern Lebanon – 17:16.7
28 Brendon Shaak (12) – Lebanon -17:21.3
29 Viseth Meng (11) – Cedar Crest – 17:22.3
30 Z Moyer (10) – Annville-Cleona – 17:24.6
36 Samuel Domencic (12) – Annville-Cleona – 17:37.6
39 Tyler Long (12) – Lebanon – 17:43.5
40 Matt Clemson (11) – Annville-Cleona – 17:45.5
42 Cohen Claar (11) – Palmyra – 17:46.4
45 David Moran (10) – Annville-Cleona – 17:53.7
47 Arturo Chavez Ramirez (11) – Cedar Crest – 18:09.1
56 Samuel Hershey (9) – Lebanon – 18:19.9
57 Logan Mierzwicki (12) – Palmyra – 18:20.5
62 Caleb Sanders (12) – Northern Lebanon – 18:26.9
68 Gavin Bullard (10) – Palmyra – 18:32.6
69 Javier Montalvo (11) – Lebanon – 18:33.0
70 Jon Beltran Garcia (12) – Lebanon – 18:35.9
71 Joshua Townsend (12) – Palmyra – 18:37.8
74 Joshua Miller (10) – Palmyra – 18:42.4
79 Jack Williams (11) – Cedar Crest – 18:49.1
81 Joseph Escobales (12) – Northern Lebanon – 18:51.4
83 Gabe Asper (11) – ELCO – 18:52.6
84 Owen Kreider (11) – Lebanon – 18:54.8
89 Edwin Amadeo (12) – Cedar Crest – 19:00.6
93 Ethan Yorty (11) – Palmyra – 19:04.8
97 Luke Vottero (12) – Palmyra – 19:09.0
102 David Boyer (11) – Northern Lebanon – 19:13.9
106 Ethan Donough (9) – ELCO – 19:21.4
107 Luke Tshudy (10) – Annville-Cleona – 19:21.7
108 Jason Foutz (11) – Palmyra – 19:21.9
112 Nathan Keiner (10) – Palmyra – 19:32.9
116 Tucker Reiber (10) – Northern Lebanon – 19:36.9
118 Benjamin Sheffield (12) – Cedar Crest – 19:42.2
119 Daniel Ray (11) – Palmyra – 19:42.4
120 Jack Bruce (11) – Palmyra – 19:42.8
122 Jake Schelhorn (10) – Palmyra – 19:45.6
123 Dominic Basselgia (11) – Annville-Cleona – 19:45.6
128 Wesley Doll (12) – ELCO – 19:52.5
131 Brayden Zerphey (10) – Palmyra – 20:00.5
133 Thadeous Gilbert (10) – Lebanon – 20:03.3
135 Harrison Kramer (11) – ELCO – 20:04.5
136 Maxwell Davis (11) – Palmyra – 20:05.2
138 Nathan Werner (12) – Palmyra – 20:10.7
139 Alfred Nazeeri (10) – Palmyra – 20:12.0
140 Evan Weimer (9) – Cedar Crest – 20:12.3
141 Landyn Rose (9) – Palmyra – 20:13.0
151 Brayden Zettlemoyer (12) – Palmyra – 20:32.7
157 Conner Danz (9) – Cedar Crest – 20:39.6
165 Cole Showers (12) – Lebanon – 20:53.6
168 Reed Fretz (12) – Cedar Crest – 20:59.8
176 Benjamin Clemmer (11) – Northern Lebanon – 21:05.8
177 Ethan Frey (11) – ELCO – 21:10.6
182 Zachery Morrissey (12) – Palmyra – 21:31.5
188 Tadhg Callihan (9) – Cedar Crest – 21:43.2
189 James Engle (9) – Cedar Crest – 21:44.5
190 Aiden Davis (9) – Cedar Crest – 21:44.9
196 Deacon Shearer (12) – ELCO – 21:56.8
197 Bryce Readinger (9) – Palmyra – 22:06.8
201 Edward Kuntz (9) – Cedar Crest – 22:15.1
206 Trieton Shirk (10) – Cedar Crest – 22:32.7
211 Andrew Driscoll (11) – Palmyra – 22:39.2
214 Nathan Small (10) – Cedar Crest – 22:48.0
215 Parker Crum (11) – Palmyra – 22:48.3
217 Sam Bross (12) – ELCO – 22:53.7
218 Evan Driscoll (10) – Northern Lebanon – 22:54.8
221 Charles Bomberger (10) – Northern Lebanon – 23:04.9
226 Carlos Polanco (9) – Northern Lebanon – 23:23.6
231 Garrett Gigous (12) – Annville-Cleona – 23:28.4
237 Aiden Reif (9) – Cedar Crest – 23:59.5
240 Mason Pychewicz (11) – Cedar Crest – 24:03.5
243 Davis Gebhard (9) – Cedar Crest – 24:33.6
247 Anthony Bartal (12) – Cedar Crest – 25:11.8
250 Conner Troxell (10) – Northern Lebanon – 25:37.9
253 Keaton Flynn (11) – Annville-Cleona – 26:18.3
255 Gabe Guzman Lora (10) – Lebanon – 26:32.8
258 Gavin Kubica (12) – Northern Lebanon – 26:44.7
259 Vincent Reager (9) – Cedar Crest – 26:49.5
261 Joshua Tallent (11) – Lebanon – 27:07.0
266 Mason Eisenhauer (11) – Cedar Crest – 29:10.5
267 Nathan Reno (10) – Cedar Crest – 29:33.1
270 Shayn Wilson (11) – Annville-Cleona – 31:54.7
274 Carter Kubica (11) – Northern Lebanon – 35:36.3
Team
2nd – Annville-Cleona
4th – Cedar Crest
5th – Lebanon
7th – Palmyra
9th – Northern Lebanon
14th – ELCO
For full results, visit: LVC Dutchmen Invite

Lebanon Federal Credit Union