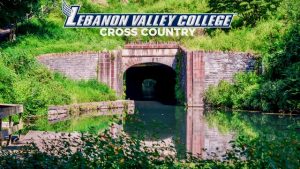 Athletes from LebCo's six high school were among the 174 runners who competed in the girls race at the 50th LVC Dutchmen Invitational that took place Saturday morning at Lebanon's Union Canal Tunnel Park. Overall, there were nineteen teams represented, with all of LebCo's programs represented. Leading the way for the local racers was Annville-Cleona's Makenzie Stellmach, finishing 4th overall with a 19:51.9.  Close behind the Annville sophomore was Palmyra's Abby Berarducci in 6th place with a 19:55.1. Rounding out the top-10 was Berarducci's teammate Avery Rohrer.  Palmyra was the top LebCo team, finishing 2nd overall behind only Lower Dauphin. Cedar Crest finished 4th as a team, led by the Lowe sisters in the top-20: Lizzie (12th) and Maddie (18th).
See the times for all LebCo athletes and teams below.
---
Boys Cross Country: LVC Dutchmen Invitational Results – 2023
---
If you like this type of coverage, please let us know by Following us on social media:
Twitter/X – @lebcosports1 and Facebook.
For any questions, comments, or discrepancies, please reach out to dan@lebcosports.com.
---
Lebanon County Results
Individual
Place – Name – Grade – School – Time
4          Makenzie Stellmach (10) – Annville-Cleona – 19:51.9
6          Abby Berarducci (12) – Palmyra – 19:55.1
10        Avery Rohrer (11) – Palmyra – 20:22.0
12        Lizzie Lowe (12) – Cedar Crest – 20:35.4
15        Emily Maag (12) – Annville-Cleona – 20:44.6
18        Maddie Lowe (12) – Cedar Crest – 20:59.2
20        Amber Mccurdy (9) – Palmyra – 21:03.6
31        Eleana Schaffer (11) – Palmyra – 21:57.0
32        Maggie Chernich (12) – Cedar Crest – 21:59.4
33        Shawna Donough (11) – ELCO – 22:14.7
35        Reagan Zwally (9) – ELCO – 22:21.8
39        Andrea Cooper (10) – Palmyra – 22:38.9
40        Leah Senft (9) – Palmyra – 22:40.4
42        Cecilia Cole (11)  – Palmyra – 22:44.0
43        Samantha Yorty (11) – Cedar Crest – 22:46.2
49        Leah Tshudy (10) – Annville-Cleona – 23:00.7
55        Vivian Doster (9) – Cedar Crest – 23:18.2
56        Nora Cuthie (11) – Cedar Crest – 23:24.4
60        Juliana O'hara (9) – Cedar Crest – 23:37.5
63        Loni Ogunwusi (11) – ELCO – 23:42.8
65        Sarah Sipe (11)  – Palmyra – 23:47.8
66        Ella Whalen (10) – Lebanon – 23:52.3
71        Megan Brophy (12) – Annville-Cleona – 23:58.1
72        Madi Long (10)  – Annville-Cleona – 24:05.3
73        Maragaret Cuthie (11) – Cedar Crest – 24:09.4
80        Olivia Yorty (9) – Palmyra – 24:22.3
82        Emilie Stefanchik (11) – Annville-Cleona  – 24:25.0
83        Anna Lezon (10) – Annville-Cleona – 24:27.9
85        Alyssa Mccully (9) – Palmyra – 24:29.1
91        Colbey Brown (11) – Annville-Cleona – 24:52.5
94        Grace Chesney (10) – Palmyra – 24:56.7
96        Helena Baker (9) – Palmyra – 25:07.6
99        Abigail Keiner (12) – Palmyra – 25:11.5
100      Emily Shearer (9) – Annville-Cleona – 25:14.4
103      Desaray Nolt (12) – ELCO – 25:19.9
107      Ashlan Macdonald (12)  – Cedar Crest – 25:24.2
110      Bailey Grissinger (9) – Palmyra – 25:45.7
112      Nadia Lezon (11) – Annville-Cleona – 26:09.6
113      Alexis Schreckengost (10) – Northern Lebanon – 26:11.1
121      Victoria Mrakovich (9) – Palmyra – 26:32.5
124      Delaney Smith (11) – Cedar Crest – 26:41.0
125      Jade Kasprowicz (11) – Northern Lebanon – 26:47.7
136      Addison Davis (9) – Cedar Crest – 27:55.9
138      Layna Horner (12) – Northern Lebanon – 28:04.9
141      Cal Mull (9) – Palmyra – 28:21.4
143      Rachel Cote (9) – Palmyra – 28:34.6
144      Sarah Mickalonis (9) – Palmyra – 28:44.0
152      Anna Lehman (9) – ELCO – 29:47.8
158      Clarissa Schamber (10) – Northern Lebanon – 31:05.3
163      Eleanor Brower (9) – Palmyra – 32:57.0
168      Bryna Brinkman (12) – Annville-Cleona – 35:35.0
173      Mary Haley (11) – Annville-Cleona – 37:53.9
Team
2nd – Palmyra
4th – Cedar Crest
6th – Annville-Cleona
15th – ELCO
Northern Lebanon & Lebanon did not field the required five for a team score
For full results, visit: LVC Dutchmen Invite

Lebanon Federal Credit Union