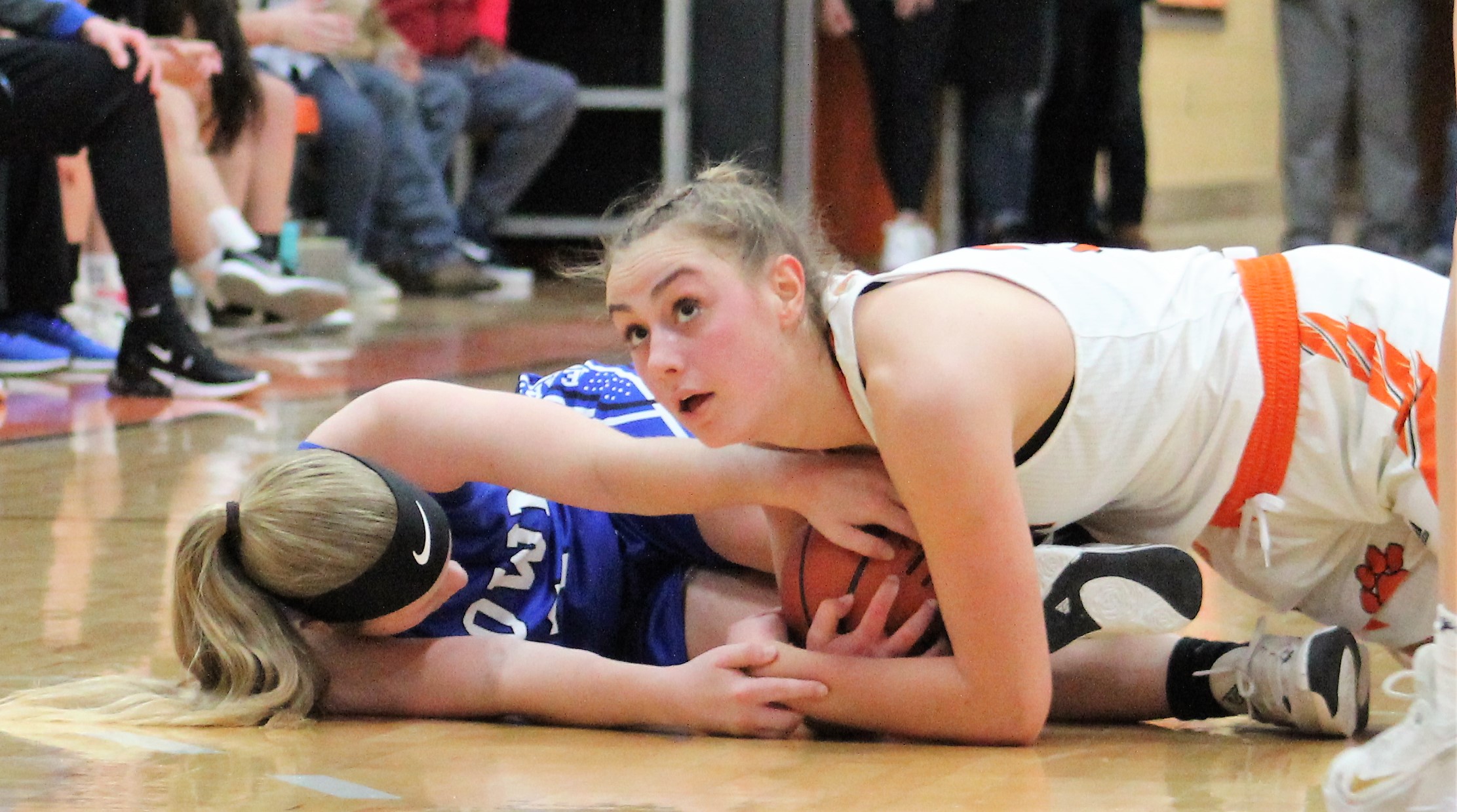 BY JEFF FALK
PALMYRA – It was a high-intensity, defensive-oriented, playoff-preview type of contest. With points at a premium, it was the kind of game where the importance of effort and free throws were magnified and multiplied.
On Saturday evening at Palmyra High School, the Cougars' girls' basketball team's quest for the postseason took on some water, in the form of a 32-26 non-league setback to Elizabethtown. After falling behind in the third quarter, Palmyra's comeback attempt during crunch time was hindered by foul shooting and energy.
Despite the performance, the general feeling around the Palmyra camp is that things are going to be OK. Now 7-8 overall, the Cougars were listed 14th in the latest District Three power rankings, for an AAAAAA classification that takes 16 for its playoff tournament.
Elizabethtown moved to 6-9 on the season.
"Effort. It's one word," said Palmyra head coach John Polly. "We didn't have any effort tonight. They (the Bears) wanted it more. They beat us to every rebound. The beat us to every loose ball. It had nothing to do with Xs and Os. The reason? Honestly, I wish I had the answer to that.
"There were opportunities in the fourth quarter," added Polly. "We had them in the bonus and we couldn't convert from the foul line. Loose balls, they beat us to every single one. I can live with missed shots. But not getting to loose balls is unacceptable."
Facing a nine-point hole, senior Zoe Smith led Palmyra on a 10-3 run to open the fourth quarter. Two Smith free throws with 2:35 remaining pulled the Cougars to within 28-26 of the lead.
But the run could've been even more productive, if Palmyra had made any of the five free throws it missed over the last six minutes of play.
"We're about a 65 percent shooting team," said Polly of his side's prowess at the charity stripe. "A couple of those in the fourth quarter were front ends of one-and-ones. We left points on the table, no doubt. But it comes down to effort. If you're the scrappier team, then the breaks are going to fall your way. The breaks did not fall our way.
"I told our girls, 'We're not the type of team that can walk on the court and expect to win,'" continued Polly. "We have to go out there and work. We have to be the team that wants it more, and we weren't, and because of that we lost tonight. Elizabethtown's girls came hungry."
"We were playing a Mid-Penn team," said Elizabethtown head coach John Myers of the Cougars. "They're in a good conference and we knew they were going to be good. They were what we expected. We did enough to get a win. Some of our kids at the end came up with big buckets for us."
Following an evenly-played initial 16 minutes of action, Elizabethtown held the Cougars to a single Smith three-point basket in the third quarter. On the other side, the Bears received scoring from four different sources, while opening a 25-16 margin.
"This was the first one of seven, of the last eight, that we have at home," said Polly. "We haven't been home much. We finally come home and it was just a lackadaisical effort.
"This is a team (Elizabethtown) that is below us in the (district) power rankings," Polly continued. "We should win. We should take care of business. But they (the Bears) came in focused, hungry and ready to play."
Smith finished with 13 Cougar points, and Palmyra finished three-for-eight at the foul line. The Bears outscored the Cougars 22-14 on two-point field goals.
"It was a clunky game," said Polly. "Their zone is designed to do that. There are gaps, but we've got to be patient with it. There was really no flow to it."
"As I expected, they (the Cougars) played good man defense," said Myers. "I knew they were going to be a good team. They were aggressive. They were energetic. This is a good win for our program."
After it went the initial 4:15 of the contest without a score, Palmyra grabbed its first lead of the night at 9-8, on a Keely Bowers three-pointer 1:25 into the second period. A minute later, junior Maddie Henry's jumper made the Cougars' lead 11-10.
But that would prove to be the Cougars' final advantage of the game.
"I think we've improved enough," said Polly. "Today was a step backwards. We've improved as a team throughout the season. Hopefully, we can come back on Monday with a rekindled spirit.
"It's (District Three postseason) within our reach," concluded Polly. "I think in order for the season to be a success, we've got to get there, because it's right in front of us. This was a blow to it. There are more opportunities, but we're going to get into another tough stretch soon. This was an opportunity we kind of squandered."
To purchase images in this article please email jeff@lebcosports.com.
2021-22 Palmyra Girls' Basketball Results
| | | | | | |
| --- | --- | --- | --- | --- | --- |
| 2021-12-10 | A | vs | Middletown(3) | W | 63-42 |
| 2021-12-11 | A | vs | Northern Lebanon(3) | W | 48-33 |
| 2021-12-14 | H | vs | Lower Dauphin(3) | L | 26-45 |
| 2021-12-17 | H | vs | Red Land(3) | L | 39-44 |
| 2021-12-18 | A | vs | Cedar Crest(3) | W | 34-32 |
| 2021-12-22 | A | vs | Hershey(3) | W | 34-32 |
| 2021-12-29 | A | vs | Manheim Township(3) | L | 30-43 |
| 2021-12-30 | A | vs | Whitehall(11) | W | 43-9 |
| 2022-01-04 | A | vs | Mechanicsburg(3) | L | 24-37 |
| 2022-01-07 | H | vs | Mifflin County(6) | L | 42-56 |
| 2022-01-11 | A | vs | Cedar Cliff(3) | L | 11-44 |
| 2022-01-14 | A | vs | Lower Dauphin(3) | L | 41-42 |
| 2022-01-17 | P | vs | Milton Hershey(3) | | |
| 2022-01-18 | A | vs | Milton Hershey(3) | W | 42-30 |
| 2022-01-19 | A | vs | Red Land(3) | W | 29-14 |
| 2022-01-22 | H | vs | Elizabethtown(3) | L | 26-32 |
| 2022-01-25 | H | vs | Hershey(3) | | 0-0 |
| 2022-01-28 | H | vs | Mechanicsburg(3) | | 0-0 |
| 2022-02-01 | A | vs | Mifflin County(6) | | 0-0 |
| 2022-02-04 | H | vs | Cedar Cliff(3) | | 0-0 |
| 2022-02-05 | H | vs | Conrad Weiser(3) | | 0-0 |
| 2022-02-08 | H | vs | Muhlenberg(3) | | 0-0 |
| 2022-02-11 | H | vs | Milton Hershey(3) | | 0-0 |
PIAA District Three Class AAAAA Power Rankings
| | | | | | | | | | | | |
| --- | --- | --- | --- | --- | --- | --- | --- | --- | --- | --- | --- |
| AAAAA | School |  W |  L |  T |  Rating |  TWP |  OWP |  TWPW |  OWPW |  TWPL |  OWPL |
| 1 | Gettysburg | 10- | 2- | 0 |  0.744201 |  0.875969 |  0.583151 |  11.30 |  173.05 |  1.60 |  123.70 |
| 2 | Manheim Central | 9- | 2- | 0 |  0.715876 |  0.850622 |  0.551185 |  10.25 |  170.95 |  1.80 |  139.20 |
| 3 | Greencastle Antrim | 12- | 3- | 0 |  0.708361 |  0.826498 |  0.563970 |  13.10 |  141.50 |  2.75 |  109.40 |
| 4 | Mechanicsburg | 9- | 4- | 0 |  0.691677 |  0.778598 |  0.585440 |  10.55 |  173.70 |  3.00 |  123.00 |
| 5 | Lower Dauphin | 10- | 5- | 0 |  0.682347 |  0.742671 |  0.608618 |  11.40 |  187.15 |  3.95 |  120.35 |
| 6 | Spring Grove Area | 7- | 6- | 0 |  0.663153 |  0.636364 |  0.695896 |  8.05 |  204.35 |  4.60 |  89.30 |
| 7 | West York | 10- | 5- | 0 |  0.655255 |  0.726154 |  0.568600 |  11.80 |  165.15 |  4.45 |  125.30 |
| 8 | Twin Valley | 10- | 5- | 0 |  0.621853 |  0.730897 |  0.488576 |  11.00 |  139.00 |  4.05 |  145.50 |
| 9 | Fleetwood | 8- | 5- | 0 |  0.609903 |  0.661479 |  0.546867 |  8.50 |  156.65 |  4.35 |  129.80 |
| 10 | York Suburban | 9- | 6- | 0 |  0.608897 |  0.654485 |  0.553178 |  9.85 |  170.60 |  5.20 |  137.80 |
| 11 | West Perry | 9- | 6- | 0 |  0.607854 |  0.647458 |  0.559451 |  9.55 |  154.80 |  5.20 |  121.90 |
| 12 | New Oxford | 7- | 8- | 0 |  0.591190 |  0.521595 |  0.676250 |  7.85 |  216.40 |  7.20 |  103.60 |
| 13 | Northern York | 6- | 6- | 0 |  0.582916 |  0.561983 |  0.608500 |  6.80 |  175.40 |  5.30 |  112.85 |
| 14 | Palmyra | 7- | 7- | 0 |  0.579652 |  0.587591 |  0.569948 |  8.05 |  176.00 |  5.65 |  132.80 |
| 15 | Northeastern | 7- | 9- | 0 |  0.579215 |  0.516026 |  0.656446 |  8.05 |  209.80 |  7.55 |  109.80 |
| 16 | Garden Spot | 8- | 7- | 0 |  0.568080 |  0.592834 |  0.537825 |  9.10 |  162.45 |  6.25 |  139.60 |
| 17 | Lampeter Strasburg | 7- | 6- | 0 |  0.561464 |  0.607843 |  0.504778 |  7.75 |  134.70 |  5.00 |  132.15 |
| 18 | South Western | 7- | 9- | 0 |  0.554566 |  0.510135 |  0.608871 |  7.55 |  188.75 |  7.25 |  121.25 |
| 19 | Hershey | 5- | 9- | 0 |  0.510398 |  0.434615 |  0.603022 |  5.65 |  181.60 |  7.35 |  119.55 |
| 20 | Susquehannock | 6- | 9- | 0 |  0.509355 |  0.442907 |  0.590570 |  6.40 |  189.75 |  8.05 |  131.55 |
| 21 | Waynesboro | 4- | 7- | 0 |  0.496924 |  0.413146 |  0.599320 |  4.40 |  176.20 |  6.25 |  117.80 |
| 22 | Elizabethtown | 5- | 9- | 0 |  0.491598 |  0.450758 |  0.541513 |  5.95 |  161.75 |  7.25 |  136.95 |
| 23 | Shippensburg | 2- | 5- | 0 |  0.480585 |  0.325581 |  0.670033 |  2.10 |  172.50 |  4.35 |  84.95 |
| 24 | Red Land | 4- | 10- | 0 |  0.467773 |  0.352000 |  0.609273 |  4.40 |  172.15 |  8.10 |  110.40 |
| 25 | Cocalico | 4- | 10- | 0 |  0.407538 |  0.353846 |  0.473162 |  4.60 |  140.60 |  8.40 |  156.55 |
| 26 | Exeter Township | 2- | 11- | 0 |  0.403427 |  0.207792 |  0.642536 |  2.40 |  193.05 |  9.15 |  107.40 |
| 27 | Dover | 2- | 12- | 0 |  0.365553 |  0.182609 |  0.589151 |  2.10 |  183.55 |  9.40 |  128.00 |
| 28 | Solanco | 1- | 13- | 0 |  0.332923 |  0.093496 |  0.625556 |  1.15 |  197.05 |  11.15 |  117.95 |
| 29 | Donegal | 2- | 16- | 0 |  0.331084 |  0.138365 |  0.566629 |  2.20 |  175.40 |  13.70 |  134.15 |
| 30 | Milton Hershey | 0- | 12- | 0 |  0.269660 |  0.000000 |  0.599244 |  0.00 |  190.35 |  10.30 |  127.30 |
| 31 | Daniel Boone | 0- | 15- | 0 |  0.259362 |  0.000000 |  0.576360 |  0.00 |  165.30 |  12.85 |  121.50 |