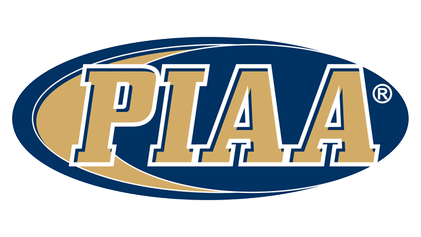 This is the moment that track and field athletes from around the State of Pennsylvania have worked for their entire careers, a chance to compete at the PIAA State Track & Field Championships.  The annual Memorial Day Weekend event is always exciting and this year welcomes a large contingent from Lebanon County.
The following is a brief synopsis of how our LebCo athletes got to States and where they stack up. While it is a huge accomplishment just to qualify for this meet, several of our local stars are looking to return from Shippensburg with hardware.
if you won't be there in person, be sure to tune into PCN to watch live and to follow our coverage throughout the weekend. Here is the schedule of events for when our local athletes will be competing.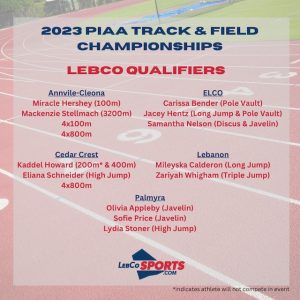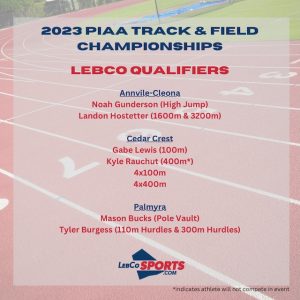 ---
Annville-Cleona
The Dutchmen will be traveling to Shippensburg with a large contingent, looking to cap off a successful season that brought the Girls Team's 1st District 3 title since 1986 and an individual gold medal performance on the boys' side.  This led Coach Sue Felty to say, "Anything we earn this weekend at the state meet will just be the icing on the cake."  She is encouraging her athletes to "enjoy this last week and savor the moment."  This is something Felty did herself when she helped lead the Annville (Class of '86).
Girls
The level of depth and career best performances that propelled Annville to the District title has also led to two underclassmen and two relay teams to qualify for States this weekend.  The 4x100m Relay ran a 50.43 en route to a silver medal.  The team consists Miracle Hershey, Audrey Sider, Kaylyn Stokes, and Kendall Cooper.  The 4x800m Relay also finished Districts with a silver and consists of Nory Mitchell, Grace Francis, Megan Brophy, and Mackenzie Stellmach.  Both of these relays will be looking to build on their outstanding performances from last week to have a chance at a medal.
The 4x100m is led by sophomore Miracle Hershey, who finished Districts with a silver medal in the 100m with a time of 12.63.  A member of the co-op with New Covenant, Hershey will carry the banner of two school communities when she arrives to States as the #15 seed.  Also leading her relay is freshman Mackenzie Stellmach who also qualified individually in the 3200m after claiming District silver with a time of 12:02.55.  She enters States as the #20 seed.
Miracle Hershey – 100m – 12.63 – #15 seed
Mackenzie Stellmach – 3200m – #20 seed
4x100m – 50.43 – #14 seed
4x800m – 10:02.78 – #17 seed
Boys
Two Annville-Cleona Boys will be making the trip to Ship this weekend.  Noah Gunderson was a State medalist a season ago and returns with high hopes following his golden performances at Districts last week.  Missing most of the season with an injury, Gunderson has now cleared 6'6" to win the Lancaster Lebanon League title and then 6'7" at Districts.  He is currently the #2 seed in a meet where experience may be his secret weapon.  Sophomore Landon Hostetter is making his first trip to States following his two silver medals at Districts last weekend.  He enters States as the #28 seed in the 1600m and the #21 seed in the 3200m.  His consistent improvement throughout the season should make for an interesting finish to his season.
Noah Gunderson – High jump – 6'7" – #2 seed
Landon Hostetter – 1600m – 4:41.03 – #28 seed
Landon Hostetter – 3200m – 9:48.79 – #21 seed
---
Cedar Crest
In catching up with Coach Bare earlier this week, he was excited that so many of Lebanon County's athletes would be competing at States.  For his Falcons, they are riding a wave of positivity going into the final meet of the season.  The Cedar Crest contingent will include three members competing in individual events, along with three relays.  Strategic moves to focus on medaling in the relay will mean that two athletes will each pass on an event for which they qualified.  One of Coach Bare's sayings to his athletes is, "Great moments are born from great opportunity."  With having the goal all season to compete not only at the State Championship Meet, but in the State Finals, the "great opportunity" is there for his athletes.  Something which he proclaims, "We're ready!"
Girls
The Lady Falcons have a chance for three medals this weekend.  Freshman Kaddel Howard, the gold medal winner in the District Championships, will enter States as the #1 seed as she looks to add her 2nd State gold in the event after winning the Indoor State title earlier this year.  Her time of 54.68 is the new District 3 record, but she also recently clocked a 53.28 at an open meet.  She also qualified for the 200m, but did not enter, as she will have to run the 400m twice and is a key member of the 4x800m relay.
Another member of the relay is freshman Eliana Schneider who will be competing in the High Jump.  Her mark of 5'4" tied her season-best height and earned her District silver.  It also puts her tied as the #4 seed going into States.  The three girls ahead of Schneider all cleared 5'5" at their respective District meets.
The 4x800m Relay finished 2nd at Districts with a 9:31.94.  That team consisted of Howard and Schneider, along with Lizzie Lowe and Audrey Fugate.  Their time has them as the #11 seed entering States.  There is also no set line-up going into States, so there could be changes. Crest's season best time is a 9:27.94, a mark that stands as the school record and included Grace Tadajewski as one of the legs.  Regardless, the team has a good opportunity to improve further on this mark with the team relatively fresh as they entering Saturday's finals.
Kaddel Howard – 400m – 54.68 – #1 seed
Eliana Schneider – High Jump –  5'4" – #4 seed (tied)
4x800m – 9:31.94 – #11 seed
Boys
Entering Districts, a major question loomed as to if senior sprinter Gabe Lewis would be healthy enough to compete as he looks for his 2nd straight State medal in the 100m.  The uncertainty stemmed an untimely hamstring injury in the final dual meet of the season on May 8th that forced him to miss the Lancaster Lebanon League Meet.  Not only was he healthy, he ran a 10.78 to finish 3rd and was a key member of the two relays that made States.  He now enters States as the #9 seed (kudos to his physical therapy team and the Cedar Crest athletic training staff).
At Districts, the 4x100m team of Lewis, Leo Tirado, Kyle Rauchut, and Nick Garman ran a lightning quick 41.92 to set the Cedar Crest school record, which earned them the #2 seed entering States.
Lewis, Rauchut, and Garman joined Ethan Heisey to take 3rd in the 4x400m.  The relay holds the #16 seed going into Friday's prelims.  The nature of entering a relay allows for some strategic flexibility when it comes to personnel, so it will be interesting to see who lines up for the Falcons at race time.
One final note, Rauchut qualified for the 400m, but did not enter as an individual presumably in favor of using him in the relay scenarios.
Gabe Lewis – 100m – 10.78 – #9 seed
4x100m – 41.92 – #3 seed
4x400m – 3:24.65 – #16 seed
---
ELCO
ELCO is sending three of its talented females to States.   Senior Carissa Bender is returning to compete in the Pole Vault for the third straight year, finishing 9th in 2022. At Districts, she cleared 12'0" to claim silver following her win at the Lancaster Lebanon League Championship Meet. She will be joined in the Pole Vault by fellow senior Jacey Hentz who cleared 11'6" at Districts to finish 5th. Bender is tied for the #4 seed, while Hentz is tied as the #12 seed. 13'8″ is the top seed.
Hentz also qualified for the Long Jump after claiming 5th at Districts, even though injured.  Prior to the event, Hentz worked with her jumps coach, Coach Hartman, to switch legs and put forth a jump of 17'7.25" to qualify.  She will enter States as seeded #21.
Joining Bender and Hentz will be senior Sam Nelson, who qualified in the Discus and Javelin.  In the Discus, her throw of 124' earned her a 5th place finish and the #8 seed at States.  She earned bronze in Javelin with a throw of 126'6", which earned her the #9 seed.
While Hentz just joined the ELCO community two years ago and has since been a major piece of their program, Bender and Nelson are products of the ELCO Youth Track & Field program.  Seeing them each put in hard work over the course of multiple seasons, Coach Bob Miller is excited to see what they will be able to do at Shippensburg.
Carissa Bender – Pole Vault – 12' – #4 seed (tied)
Jacey Hentz – Pole Vault – 11'6 – #12 seed (tied)
Jacey Hentz – Long Jump – 17'7.25" – #21 seed
Samantha Nelson – Discus – 124' – #8 seed
Samantha Nelson – Javelin – 126'6" – #9 seed
---
---
Lebanon
By all accounts, Lebanon has never sent a female jumper to States before. This year, they will be sending two.  All things considered, it is an unbelievable year for this to happen given that due to construction they are a team that is practicing without any jumping pits. Coach Silcox, Lebanon's jumps' coach, has used his years of experience to unlock the potential of these two talents: senior Mileyska Calderon and junior Zariyah Whigham.
Calderon qualified in the Long Jump, following her 4th place jump of 17'7.5" at Districts.  This makes her the #19 seed, although her season best of 18'1" would place her higher on the list.  After qualifying for States, Calderon announced that she is committing to Millersville to continue her track & field career.
Whigham finished 3rd in the Triple Jump at Districts with a leap of 37'1.75", giving her the #11 seed this weekend.  Reports are that Whigham was back on the board at least 6", so another week of technical work may lead to a longer measurement at States and into medal contention.
Mileyska Calderon – Long Jump – 17'7.5 – #19 seed
Zariyah Whigham – Triple Jump – 37'1.75″ – #11 seed
---
Palmyra
Palmyra's Track & Field Teams went a combined 11-1 in their dual meet season, so it is not a shock that they are finding success in the postseason.  However, the degree of success their athletes are having is something may still be a pleasant surprise to even their most ardent supporters.  They enter this weekend with five athletes competing in six events.
Girls
Senior Lydia Stoner leads the Lady Cougar delegation following her Mid Penn High Jump Championship followed by a 5th place finish at Districts.  Her District mark was 5'2", giving her a #11 seed, but when considering her season best is 5'4", she could have a good chance at a medal.
Palmyra will also be taking two of the Javelin trio that helped them sweep the event throughout the regular season. Sophomore Sofie Price is making her 2nd straight trip to States following a 5th place District finish.  Senior Olivia Appleby will be joining her having finished 6th and meeting the state qualifying standard in the process.  Price enters with the #12 seed, while Appleby is #16. Price finished 14th in 2022 with a top throw of 108'6".
Olivia Appleby – Javelin – 122'6" – #16 seed
Sofie Price – Javelin – 124'9" – #12 seed
Lydia Stoner – High Jump – 5'2" – #11 seed
Boys
Mason Bucks entered his junior season of Pole Vault with high hopes.  His performances have been dazzling and he enters the weekend in search of his 2nd State medal after finishing 8th in 2022.  He will enter this year as the #8 seed, but this does not mean much given the challenges that Pole Vault brings each meet.  He holds the Palmyra record with a 16'1".  Given his experience and past performances, he has the chance to stand high on the podium.
One athlete that is making his 1st trip to States is Tyler Burgess, the sophomore hurdler who has been nothing short of exceptional.  At the Mid Penn Championships, Burgess won both hurdle events with career best times.  At Districts, he matched that time of 14.59 to finish 4th.  In the 300m Hurdles, he was close to his career best, running a 39.17 to finish 3rd.  He enters States with high seeds that could translate into medals for the youngster.  It is a talented field that could push him to setting new personal records.
Mason Bucks – Pole Vault – 14'3" – #8 seed
Tyler Burgess – 110m High Hurdles – 14.59 – #9 seed
Tyler Burgess – 300m IM Hurdles – 39.17 – #4 seed
---
District 3 Track & Field Championships – Day 1