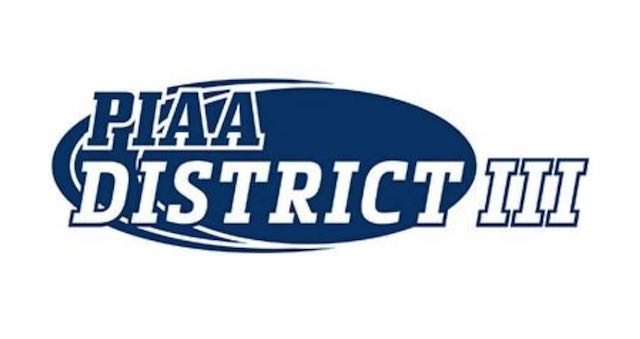 Below are the results of the performances by our LebCo athletes on the first day of the PIAA District 3 Track and Field Championships.  Overall, it was a successful day for our local athletes, with SEVEN of them already earning their spots in next week's PIAA State Championships ( orange). In total, FIFTEEN medals were won by LebCo athletes (green).  Several more athletes made it through the prelims and semifinal rounds of their events and will compete in the Finals tomorrow (blue).
For more in-depth coverage, check out Jeff Falk's coverage titled Noah Gunderson is Scripting the Perfect Ending.
If you are looking for the full list of LebCo athletes competing, along with pre-meet analysis, be sure to check out our previews: Girls District 3 Preview / Boys District 3 Preview.
Check Twitter (@lebcosports1) for all the latest updates throughout the 2nd day of action OR just go to LebCoSports.com to see our Twitter feed.
---
AAA
Girls
100m   SQS 12.50
Mileyska Calderon, Lebanon: Prelims – 13:07 q / Semis – 12.99 / Calderon finished 11th overall
200m   SQS  25.91
Kaddel Howard, Cedar Crest: Prelims – 25.33 q / Semis – 26.05 q / Howard will enter the Finals as the #6 seed
100m High Hurdles     SQS 15.4
Jacey Hentz, ELCO : Prelims – 16.12 q / Semis – 18.33 / Hentz finished 16th overall
Shannon Dorsey, Cedar Crest: Prelims – Disqualified
Triple Jump   SQS 36'6"
3rd Zariyah Whigham, Lebanon – 37'1.75" (PIAA qualifier)
10th Makenna Haas, ELCO – 35'3.5"
Pole Vault   SQS 11'6"
2nd Carissa Bender, ELCO – 12'0"  (PIAA qualifier)
5th  Jacey Hentz, ELCO – 11'6″  (PIAA qualifier)
6th  Kaylie Groff, Palmyra – 11'0″
13th Hailee Kreiser, Cedar Crest – 10'6"
18th Ruby Wolfe, Cedar Crest – 10'0"
Shot Put   SQS 37'6"
8th Sophia Rosenberg, Cedar Crest – 36'3"
Boys
Gabe Lewis, Cedar Crest: Prelims – 11.07 q / Semis – 11.10 q / Will enter Finals as the #2 seed
Jose Morales, Palmyra: Prelims – 23.32 / Morales finished 21st overall
Jalik Hill, Lebanon: Prelims – 23.46 / Hill finished 25th overall
110m High Hurdles     SQS 15.10
Tyler Burgess, Palmyra: Prelims – 15.25 q / Semis – 15.19 q / Will enter Finals as the #5 seed
Jonathan McDannell, Palmyra: Prelims -15.31 q / Semis – 15.38 / McDannell finshed 10th overall
Jackson Conners, ELCO: Prelims – 15.86 q / Semis – 15.58 / Conners finished 13th overall
Reed Fretz, Cedar Crest: Prelims – 16.41 / Fretz finished 23rd overall
Triple Jump     SQS 45'0"
15th Izaiah Gonzalez, Cedar Crest – 40'7"
16th Alden Stickler, ELCO – 40'6"
Pole Vault       SQS 14'3"
4th Mason Bucks, Palmyra – 14'3"  (PIAA qualifier)
13th Colin Daub, ELCO – 47'3.75"
17th Christian Weaber, Cedar Crest – 44'3.25"
AA
Girls: Annville-Cleona 
100m   SQS 12.70
Miracle Hershey: Prelims – 13.33 q / Semis – 13.19 q / Will enter Finals as the #3 seed
Kaylyn Stokes: Prelims – 13.88 q / Semis – 13.78 / Stokes finished 11th overall
200m   SQS 26.25
Kendall Cooper: Prelims – 26.93 q  / Semis – 26.84 q / Will enter Finals as the #2 seed
Miracle Hershey: Prelims – 27.61 q / Semis –  27.35 q / Will enter Finals as the #7 seed
Kaylyn Stokes: Prelims – 28.24 q  / Semis –  28.93 / Stokes finished 15th overall
3200m SQS 11:35.00
2nd  Mackenzie Stellmach – 12:02.55 (PIAA qualifier)
3rd  Noryan Mitchell – 12:12.55
4th  Emily Maag – 12:16.64
100m High Hurdles   SQS 16.01
Kya Missimer: Prelims – 17.89 / Missimer finished 9th overall
Long Jump   SQS 16'11"
13th Emily Shuey – 14'7.5"
14th  Audrey Sider – 14'4.5"
High Jump  SQS 5'2"
5th (tie) Claire Hoover – 4'8"
5th (tie) Ava Hoover – 4'8"
Discus SQS 113'0"
5th  Ava Hoover – 100'5"
Javelin SQS 121'0"
3rd Claire Hoover – 104'8"
Boys: Annville-Cleona 
100m   SQS 11.30
Dylan Clements: Prelims – 12.15 / Clements finished 17th overall
Jon Moran: Prelims – 12.15 / Moran finished 18th overall
200m   SQS 22.88
Jon Moran: Prelim – 24.34 q / Semis – 24.57 / Moran finished 13th overall
Dylan Clements: Prelim – 24.82 / Clements finished 18th overall
3200m SQS 9:48.01
2nd Landon Hostetter – 9:48.79   (PIAA qualifier)
9th Matt Clemson – 10:23.35
110m High Hurdles  SQS 15.50
Tim Montijo: Prelims – 18.72 / Montijo finished 20th overall
High Jump   SQS 6'3"
1st Noah Gunderson – 6'7"  (PIAA qualifier)
Full results from the PIAA District 3 Track & Field Championships