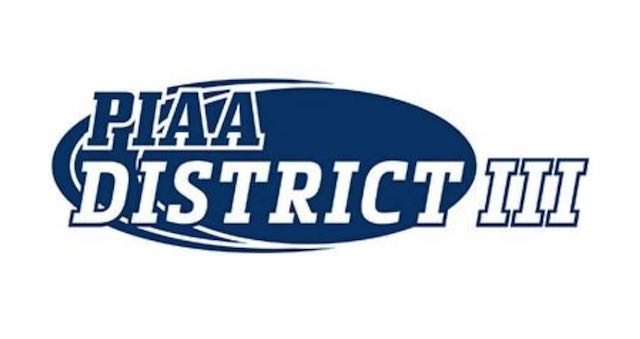 It was a wildly successful day for our local athletes competing in the second and final day of the District 3 Track & Field Championships.  These efforts were highlighted by Kaddel Howard's record breaking 400m run and the Annville-Cleona Girls Team capturing the AA Team Championship for the first time since 1986. When it came to qualification for the next round, SIXTEEN more athletes claiming spots in individual events at next week's State Championship Meet.  There were also FIVE relay teams who earned bids.  Over the course of the two days, TWENTY-EIGHT spots were claimed by LebCo athletes.  The State Qualifiers are highlighted in orange. There were FIFTEEN additional medal winning performances by LebCo athletes (green).
For more in-depth coverage, check out Jeff Falk's coverage titled At District Three Meet, Kaddel Howard Shows up, A-C Girls Show out.
Below are the results of the performances by our LebCo athletes on the second and final day of the PIAA District 3 Track and Field Championships.  For complete results from Day 1, click here.
If you are looking for the full list of LebCo athletes that were competing, along with pre-meet analysis, be sure to check out our previews: Girls District 3 Preview / Boys District 3 Preview.
---
Day 2 Results
AAA
Girls
200m   SQS  25.91
3rd Kaddel Howard, Cedar Crest: Prelims – 25.33 q / Semis – 26.05 q / Finals – 25.21 (PIAA qualifier)
400m   SQS 58.62
1st Kaddel Howard, Cedar Crest – 54.68 New District 3 Record  (PIAA qualifier) 
4x400m    SQS 4:01.5
13th Cedar Crest (Emma Pavlesich, Eliana Schneider, Lizzie Lowe, Kaddel Howard) – 4:10.45
4x800m    SQS 9:35.48
2nd Cedar Crest (Eliana Schneider, Lizzie Lowe, Audrey Fugate, Kaddel Howard) – 9:31.94 (PIAA qualifier)
Long Jump   SQS 17'9"
4th  Mileyska Calderon, Lebanon – 17'7.5"   (PIAA qualifier) 
5th Jacey Hentz, ELCO – 17'7.25"  (PIAA qualifier) 
High Jump   SQS 5'3"
2nd Eliana Schneider, Cedar Crest – 5'4″   (PIAA qualifier) 
5th Lydia Stoner, Palmyra – 5'2″   (PIAA qualifier) 
10th Ashley Rich, Northern Lebanon – 4'10"
Discus  SQS 118'0"
5th   Samantha Nelson, ELCO – 124'   (PIAA qualifier) 
13th  Nachali Manon Aquino, Cedar Crest – 107'0"
15th  Sophia Rosenberg, Cedar Crest – 102'11"
Javelin   SQS 122'0"
3rd Samantha Nelson, ELCO – 126'6" (PIAA qualifier) 
5th Sofie Price, Palmyra – 124'9" (PIAA qualifier) 
6th Olivia Appleby, Palmyra – 122'6" (PIAA qualifier) 
7th Eliana Schneider, Cedar Crest – 120'6"
Boys
 3rd Gabe Lewis, Cedar Crest: Prelims – 11.07 q / Semis – 11.10 q / Finals – 10.78  (PIAA qualifier)
6th Kyle Rauchut, Cedar Crest – 50.04  (PIAA qualifier)
 8th Nick Garman, Cedar Crest – 50.39
110m High Hurdles     SQS 15.10
4th Tyler Burgess, Palmyra: Prelims – 15.25 q / Semis – 15.19 q / Finals – 14.59  (PIAA qualifier)
300m IM Hurdles      SQS 39.8
3rd Tyler Burgess, Palmyra – 39.17  (PIAA qualifier)
12th Ethan Heisey, Cedar Crest – 41.02
16th Luke Macchione, ELCO – 41.42
2nd Cedar Crest (Leo Tirado, Kyle Rauchut, Nick Garman, Gabe Lewis) – 41.92  (PIAA qualifier)
9th Palmyra (Jacob Burgess, Travis McDannell, Tyler Burgess, Jose Morales) – 43.50
3rd Cedar Crest (Nick Garman, Gabe Lewis, Ethan Heisey, Kyle Rauchut) – 3:24.65 (PIAA qualifier)
14th Cedar Crest (Max Wauhop, Jack Williams, Ben Causak, Owen Sparks) – 8:18.81
16th Alden Stickler, ELCO – 18'6.25"
9th Colin Daub, ELCO – 150'7"
14th  Dylan Groff, Cedar Crest – 151'1"
---
---
AA
Girls: Annville-Cleona
100m   SQS 12.70
2nd Miracle Hershey: Prelims – 13.33 q / Semis – 13.19 q / Finals – 12.63  (PIAA qualifier)
200m   SQS 26.25
4th Kendall Cooper: Prelims – 26.93 q  / Semis – 26.84 q / Finals – 26.51
6th Miracle Hershey: Prelims – 27.61 q / Semis –  27.35 q / Finals – 27.04
400m   SQS 59.85
3rd Kendall Cooper – 59.96
6th Grace Francis – 1:02.47
800m   SQS 2:20.6
5th Megan Brophy – 2:28.53
1600m  SQS 5:18.3
5th Mackenzie Stellmach – 5:38.89
6th Emily Maag – 5:39.42
11th Noryan Mitchell – 5:57.58
300m IM Hurdles  SQS 47.64
11th Kya Missimer – 51.36
4x100m  SQS 50.80
2nd  Annville-Cleona (Miracle Hershey, Audrey Sider, Kaylyn Stokes, Kendall Cooper) – 50.43   (PIAA qualifier)
4x400m  SQS 4:08.75
3rd  Annville-Cleona (Caitlin Shay, Colbey Brown, Sophia Caporaletti, Grace Francis) – 4:16.56
4x800m SQS 9:50.4
2nd Annville-Cleona (Noryan Mitchell, Grace Francis, Megan Brophy, Mackenzie Stellmach) – 10:02.78  (PIAA qualifier)
Triple Jump     SQS 35'6″
7th Madison Long – 32'11.5"
Pole Vault   SQS 10'6"
4th Caitlin Shay – 8'6"
Shot Put  SQS 36'6"
3rd Sage Sherk – 32'9.25"
9th Ava Hoover – 30'5.5"
Boys: Annville-Cleona 
2nd Landon Hostetter – 4:41.03  (PIAA qualifier)
9th  Matt Clemson – 4:44.43
300m IM Hurdles  SQS 40.80
9th  Annville-Cleona (Dylan Clements, Dominic Casciotti, Ali Konneh, Jon Moran) – 46.08
10th  Annville-Cleona (Tim Montijo, Dominic Basselgia, Oliver Moyer, David Moran) – 3:47.46
7th Annville-Cleona (Landon Hostetter, Matt Clemson, Oliver Moyer, David Moran) – 8:36.41
11th  Josh Lindsey – 42'6"
Full results from the PIAA District 3 Track & Field Championships

Lebanon Federal Credit Union