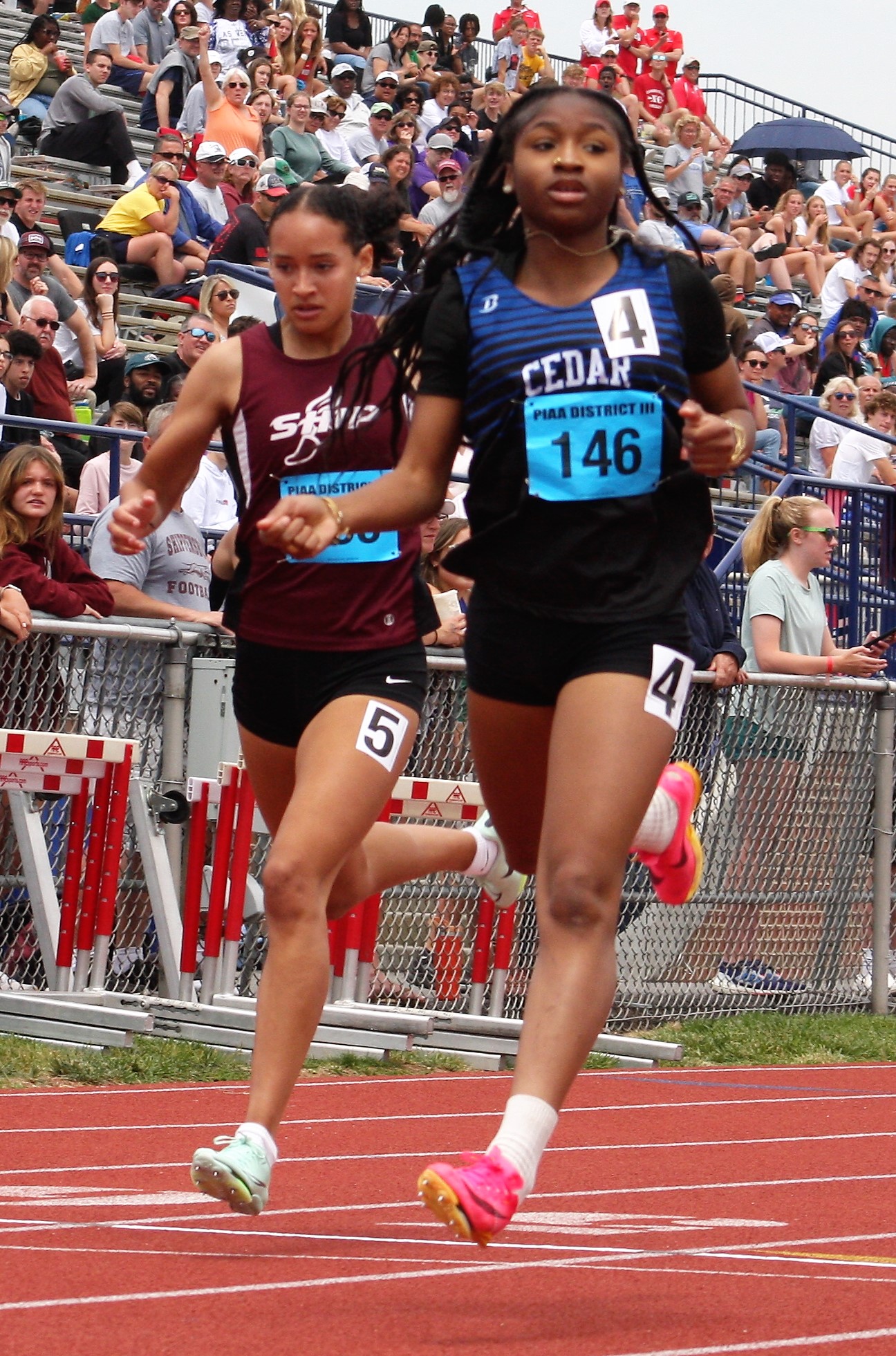 BY JEFF FALK
SHIPPENSBURG – Tons and tons of hype. But as advertised.
Kaddel Howard is the real deal. Now, the District Three Track and Field world waits with bated breath to see exactly where she takes her future.
On a warm day at Shippensburg University, on the second and final day of the annual District Three Track and Field Championships, the much heralded Howard did not disappoint. Combining her raw speed with a tenacious competitive spirit, the Cedar Crest freshman captured a gold medal, a silver medal and a bronze in her first appearance at Districts.
But while Howard was displaying her individual talents, the Annville-Cleona girls were coming together as a team in historic fashion. Scoring in the field, on the track and in the relays, the Little Dutchmen ran away with the District Three Class AA team title, piling up 104.50 team points to nudge runner-up Susquenita by more than ten points.
The last time Annville-Cleona had garnered a District Three team championship was in 1986, when retiring head coach Sue Felty ran for the Little Dutchmen.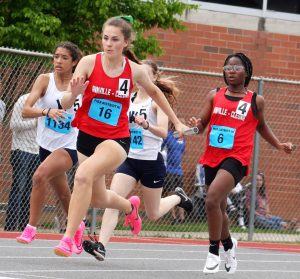 "This is amazing," said Felty. "I think everyone did a little more than they always do, and that little went a long way. We had scoring from a lot of different sources. There's a lot of promise here. There are a lot of girls already talking about next year.
"It's truly a team award," added Felty. "Our distance runners came up so big. Those are the ones who stand out, them and the relays."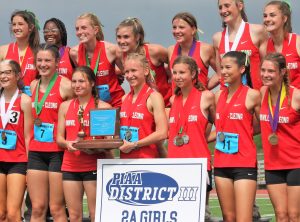 Howard shone brightest in her favorite event, the 400-meter dash. She took control of the race's outcome early, before establishing a new District Three Class AAA record in the event with a 54.68, a time that's about 1.4 seconds slower than her personal best.
In the opening event of Saturday's second day at the District Three meet, Howard anchored the Cedar Crest team of Eliana Schneider, Lizzie Lowe and Audrey Frugate to a runner-up effort in the 3200-meter relay. In addition, Howard ran third in the 200 meter dash.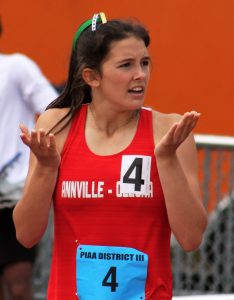 "I did good in the 400, but I did bad in the 200," said Howard. "At the end, my hip was hurting. The competition here was way harder. On a scale, winning is like a seven out of ten to me.
"It (the district record in the 400) just kind of happened," added Howard. "I didn't even know I broke the record. It was surprising."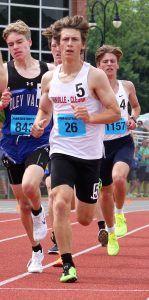 The Annville-Cleona girls received contributions from a variety of sources.
Little Dutchmen sprinter Kendal Cooper came in third in the Class AA 400-meter dash and fourth in the 200 meters, while teammate Miracle Hershey was the runner-up in the Class AA 100-meter dash and sixth in the 200 meters. Senior Sage Sherk scored valuable team points for A-C with her bronze medal in the Class AA shot put.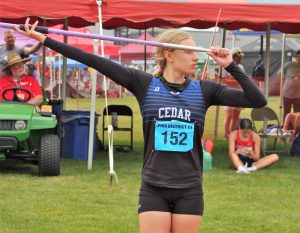 "I'm really happy with how all the girls performed," said Cooper. "I just think our girls' team has done spectacular. We're such a small school and no one has heard of us."
Perhaps the only thing that didn't go Annville-Cleona's way was the 400-meter relay, where the top-seeded Little Dutchmen squad of Cooper, Hershey, Audrey Sider and Kaylyn Stokes was edged by thousands-of-a-second by winner Wyomissing at the finish line. That runner-up showing was matched in the 3200-meter relay by the A-C quartet of  Noryan Mitchell, Grace Francis, Megan Brophy and Mackenzie Stellmach.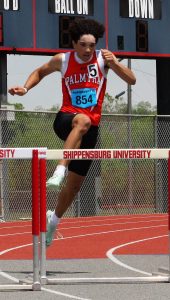 Another Annville-Cleona relay, the 1600-meter foursome of Colbey Brown, Francis, Sophia Caporaletti and Caitlin Shay, earned a bronze medal.
"At the end, I didn't know she (the Wyomissing anchor) was coming, so I just had to go and lean," said Cooper of the 400-meter relay drama. "I think her hips just crossed the slightest bit ahead of mine. But I'm proud of our four-by-one team. We needed to get our hand-offs down and we did."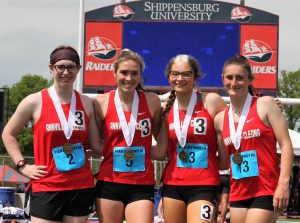 With sophomore Landon Hostetter showing the way, the Annville-Cleona boys also enjoyed a fair amount of success. Hostetter followed up his silver-medal effort in the Class AA 3200-meters on Friday with a similar showing in the 1600 meters.
"Next year, I want to do better, but this year it was a great finish," said Hostetter. "I'm really happy with this. They were both relatively close races, but the 3200 was a real nail-biter.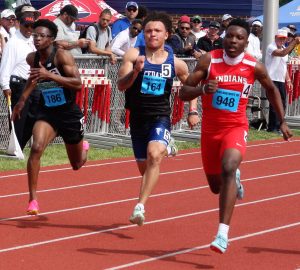 "It's super fun to compete here," continued Hostetter. "I just envision it like it's a really big dual meet and just run my rest race. I try not to get overwhelmed by all the people. I've just got to keep myself calm."
Also sparkling in the relay races were the Cedar Crest boys.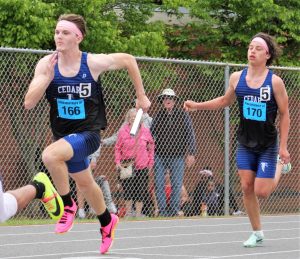 First, the Falcon team of Leo Tirado, Kyle Rauchut, Nick Garman and Gabe Lewis finished second in the 400-meter relay by .13 of a second to victor Susquehanna Township. Then, Cedar Crest's Ethan Heisey, Garman, Lewis and Rauchut took home third in the 1600-meter relay.
Individually, Lewis ran to a bronze medal in the 100-meter dash.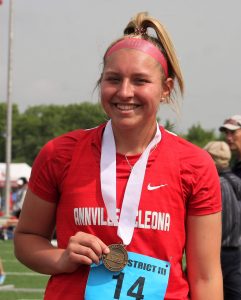 Palmyra's Tyler Burgess claimed a bronze in the Class AAA 300 hurdles.
Falcon freshman Schneider captured a silver medal in the Class AAA high jump.
For Elco, senior Sam Nelson finished third in the Class AAA javelin.
To purchase images in this article please email jeff@lebcosports.com.
For all the results from the District Three Track and Field Championships, to go https://macfat.net/.