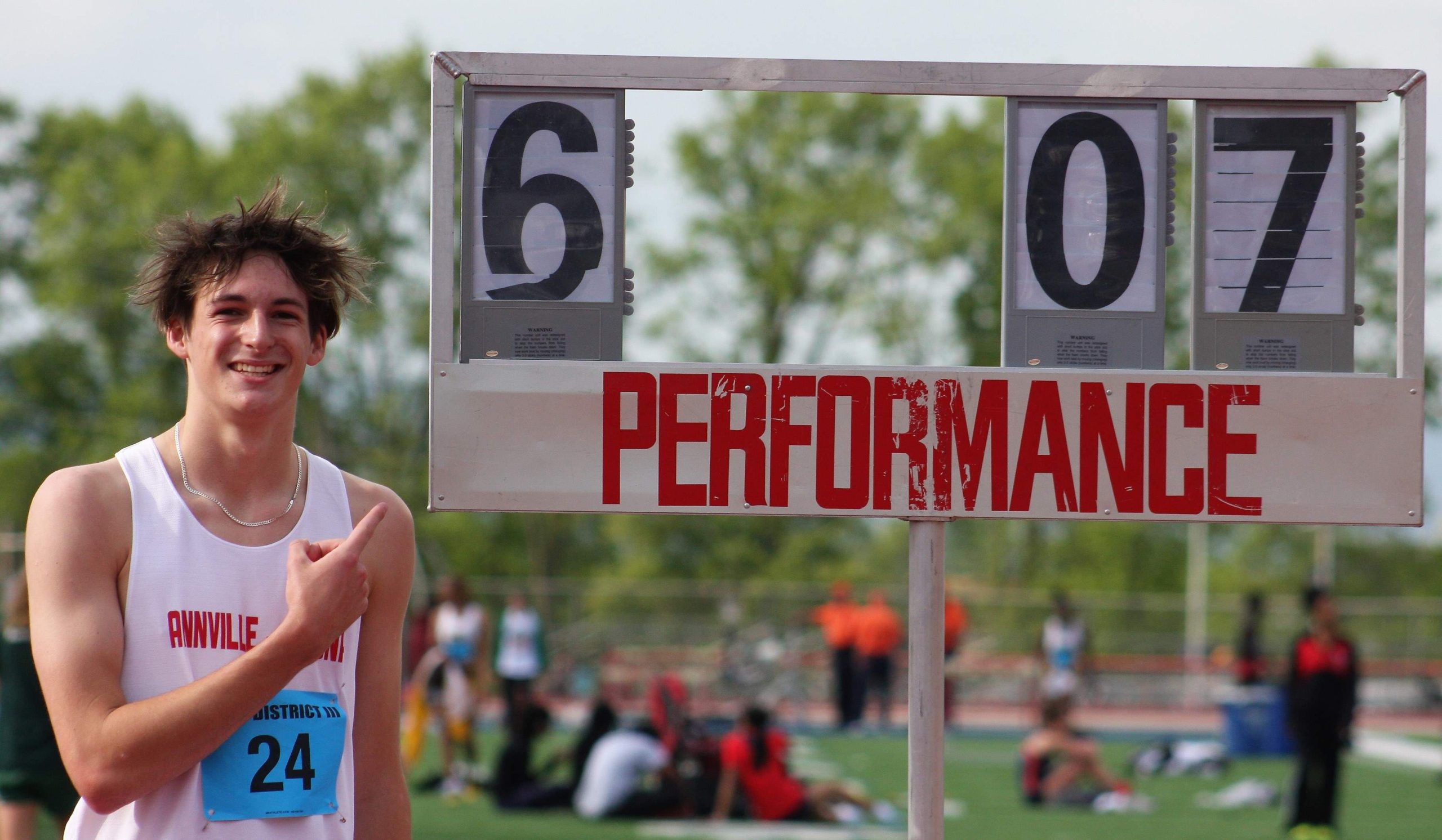 BY JEFF FALK
SHIPPENSBURG – There's going out with a bang. There's going out with your best. And then there's going out in style.
Noah Gunderson is going out on top.
On a cool Friday at Shippensburg University's Seth Grove Stadium, during the opening day of the District Three Track and Field Championship, Gunderson reached new heights in the next-to-last meet of his marvelous jumping career. The Annville-Cleona senior cleared 6-7 to easily snag the championship in the Class AA high jump.
Gunderson's new personal best and gold medal highlighted a solid day of competition for Lebanon County student-athletes at the annual District Three meet, and a spectacular one for Little Dutchmen thinclads. In other action involving local competitors, Elco senior Carissa Bender followed up last week's surprising Lancaster-Lebanon League championship with another strong showing in the Class AAA pole vault, while a trio of Annville-Cleona distance runners turned in a two-three-four performance in the Class AA 3200-meter run and A-C sophomore Landon Hostetter ran a very strong second in the boys' version of that race.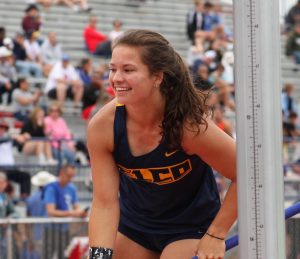 The District Three Track and Field Championships will conclude on Saturday back at Shippensburg University, and county athletes are expected to enjoy another bountiful medal haul.
"Coming in, I'm confident, but I'm nervous," said Gunderson. "Now I'm happy. I'm just thrilled.
"I have one more meet (next week at states), and there's no better way to go out," continued Gunderson. "It's emotional, because I'm not jumping in college. It cuts a little deep."
The top-seed, Gunderson had cleared 6-6 in winning the 2022 Class AA high jump, a height he matched last week during a triumphant return from injury at the Lancaster-Lebanon League Championships. After securing the title by six inches, Gunderson cleared 6-7, then missed at 6-8.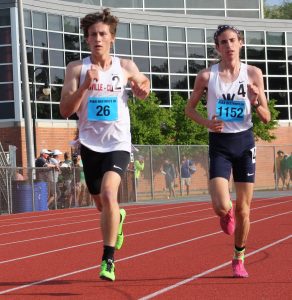 "I did better today than last week with my height," said Gunderson. "I've got to take it. I didn't expect that today. It's probably up there with my career accomplishments. Six-seven at districts in my senior year, I can't ask for anything more than that.
"Personally, I think I can get to 6-8," added Gunderson. "I just missed it on my first attempt today. "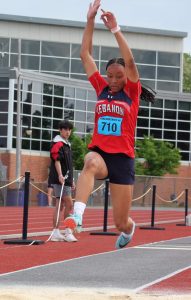 Bender equaled her personal best of 12-0 in the pole vault. But this time it wasn't high enough for gold, as top seed Katie Urbine went 13-8 to set a new District Three record and win going away.
"It went really good," said Bender, of the next-to-last scholastic competition on what will become her home college track. "I jumped the same as last week, but I was closer to 12-6. I think I can get it at states. I think I have a good chance.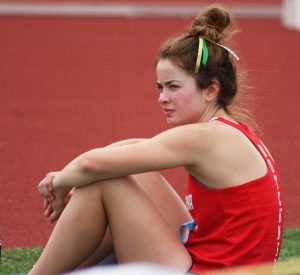 "I was really nervous because I knew it was going to be one of the last competitions in my high school career," continued Bender. "I really wanted to do well. But it's also really exciting because my future is right around the corner."
In the Class AA 3200-meter run, Annville-Cleona freshman Mackenzie Stellmach, senior Noryan Mitchell and junior Emily Maag pulled off the rare feat of hitting the finish line second, third and fourth, respectively. Wyomissing junior Addie Cohen won the race in 11:41.79.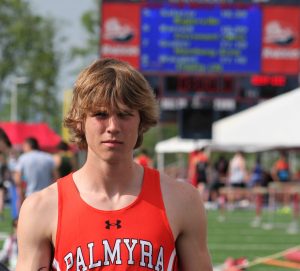 Seeded second, Hostetter nearly pulled an upset of Paul Monsour of Wyomissing with a strong finishing kick. Hostetter's time of 9:48.79 was a nearly seven-second PR for him and just .24 off Monsour's time.
"The first lap was a little fast," said Hostetter. "I was just trying to keep pace. On Lap Seven, I tried to pick it up at the 200 mark. On Lap Eight, I tried to finish fast. That sprint saved me.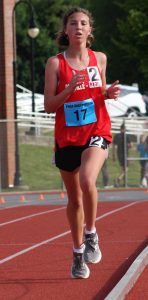 "I checked the seedings and the guy ahead of me (Monsour) was in front of me by seven seconds," Hostetter continued. "But it was a good race. Going into big races I try to stay calm, because I'm better that way."
In her first taste of District Three Track and Field competition, Lebanon junior Zariyah Whigham finished third in the Class AAA triple jump. Another Little Dutchmen, senior Claire Hoover scored a satisfying bronze medal in the Class AA javelin.
Palmyra's Mason Bucks, the top-seed in the Class AAA pole vault, came in fourth with a 14-3 effort.
To purchase images in this article please email jeff@lebcosports.com.
For all results from the District Three Track and Field Championships, go to https://macfat.net/.