This section was started as we have realized that we have a way to share some of the many noteworthy items that occur on a regular basis.  We get some of it out via Facebook, but keeping up with every item can prove difficult.  We hope you enjoy this section.  If you have anything for us, please reach out on our social media or send an email dan@lebcosports.com.
---
This past Saturday, all six cross country teams were represented at the District 3 Championship meet.  While we compiled all of the Lebanon County results in one place, we wanted to give a little extra attention some other items.
First of all, the 5th place finish by the Cedar Crest Girls was the highest team finish in the history of CCXC.  Coach Risser knew he had something special and this group delivered.
Annville-Cleona had an excellent day, with Landon Hostetter winning the District 3 1A Championship and the females winning the 2A team title.  Coach Heller sent us pictures of the hardware that will be displayed at ACHS, alongside many other trophies earned by runners who have come before.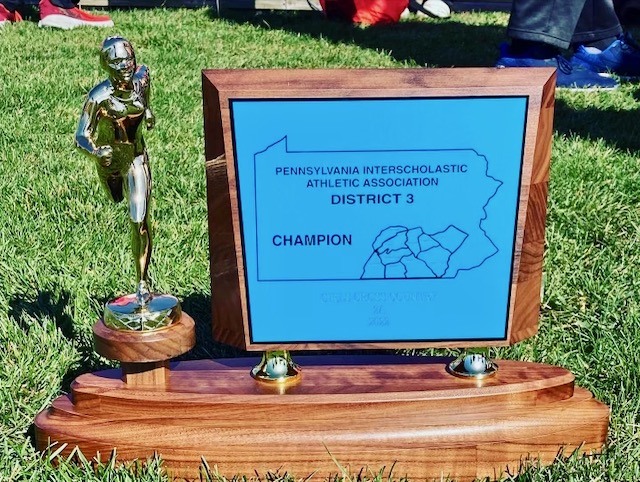 The District 3 AA Championship Trophy
The team that successfully won another title, despite moving up a classification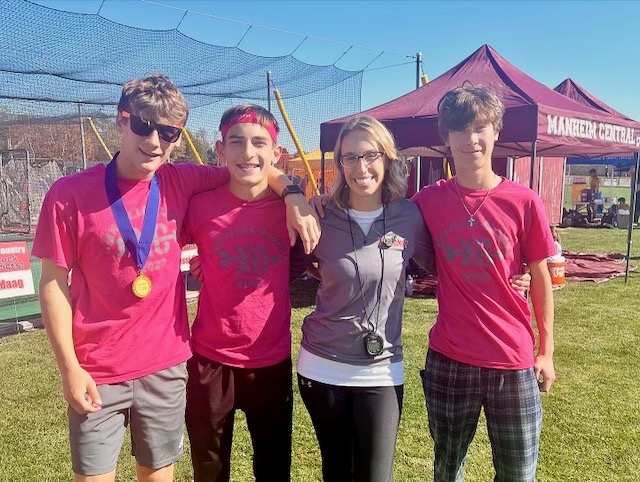 Coach Heller celebrates with the boys who will be representing A-C at States
In addition to the Annville-Cleona Girls, there will be a total of nine individual runners (representing five county schools) competing at the PIAA State Championships, which will be held this Saturday at Hershey.
The race times are as follows: 1A Girls – 11:00; 2A Girls – 11:45; 3A Girls – 12:30; 1A Boys – 1:15; 2A Boys – 2:00; 3A Boys – 2:45
---
Speaking of qualifiers to the PIAA State Championships, there are two county teams who have punched their tickets to a life beyond Districts. Congratulations to Palmyra Field Hockey and Palmyra Boys Soccer.  Annville-Cleona Field Hockey and Northern Lebanon Girls Volleyball are also in a position where they could wrap up an invitation to their respective State tournaments over the next few days.  Keep in mind, it's an accomplishment to even make Districts, so making it further is something worth celebrating.  For more on the District 3 Playoffs, check out our ongoing list of how each team has been progressing.
---
Another District Qualifier not mentioned in the original group of eleven is the Annville-Cleona Football, who wrapped up the #1 seed in District 3 AA.  The Dutchmen will host Camp Hill this Friday.
---
Throughout the season, Annville-Cleona Football has been aided by its running game that has proved tough to stop.  Leading the charge has been Phoenix Music, the senior running back who Google gets confused with a French band.  Music broke Annville's single season rushing record, finishing the 10 game slate with 1,902 yards.
Music was not alone in powering his team and setting rushing records.  Over at ELCO, it was junior Jake Williams to whom opposing defenses always had to pay attention.  Despite their efforts to slow him down, Williams still set a single season Raiders rushing record. He finished his junior campaign with 1,792 yards.  This broke the record of 1,606, previously set by Braden Bohannon in 2019.
---
While Bohannon and Jake's older brother are teammates at LVC, let's shift gears to talk about some other ELCO alumni who are showing off their skills at the collegiate level.
Ryelle Shuey, now a senior midfielder at Lehigh University, just picked up All-Patriot First Team honors.  Shuey has five goals this season, including three game winners.  In Lehigh's most recent game against Navy, she scored twice, including the game winner.  Lehigh's next game is against Army in a Patriot League Semifinals match.
Penn College Women's Soccer has benefitted from the strong play by junior Cassie Johnson.  Johnson was not only just named the United East Player of the Week.  To sum up her regular season, Penn College Athletics tweeted: "Cassie Johnson broke the NCAA-Era record for assists in a season, previously held by Hailee Hartman with nine, and finished the season with 11 helpers. She also became the first player in program history to reach the 10/10 Club, with 10 goals and 11 assists this season."
---
Northern Lebanon grad Jordan Berger is now a senior at LVC.  Running at the MAC Cross Country Championship, Berger took 8th place (25:46) and was named to the All-MAC Team.
Running as a junior for Lancaster Bible College, ELCO's Mitchell Gray won the United East Championship in a time of 27:14.  This performance allowed him to be Runner of the Year in his conference.
---
If you are looking to provide feedback or are a business or individual interested in providing sponsorship to aid our mission at LebCoSports, you are asked to contact Dan by emailing dan@lebcosports.com.

Lebanon Federal Credit Union