This section was started as we have realized that we have a way to share some of the many noteworthy items that occur on a regular basis.  We get some of it out via Facebook, but keeping up with every item can prove difficult.  We hope you enjoy this section.  If you have anything for us, please reach out on our social media or send an email dan@lebcosports.com.
Sports Shorts is proudly presented by our friends at Gingrich Insurance Group.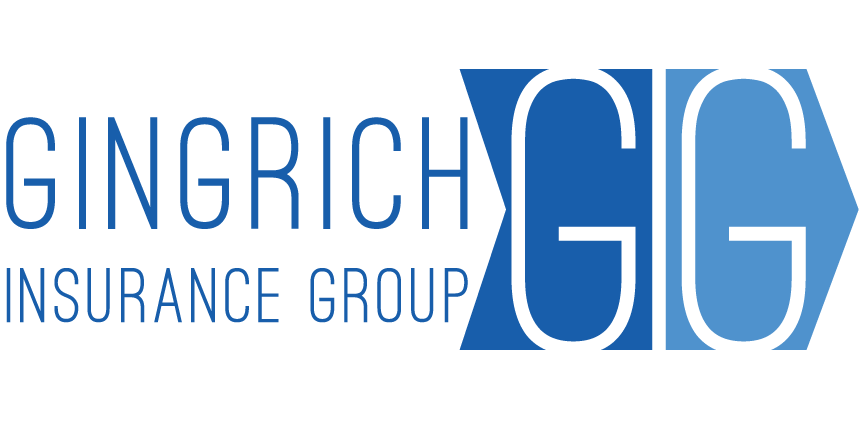 ---
We'll start of this edition of Sports Shorts by updating you on the progress of one of Lebanon's most famous athletes, the Tae Kwon Do prodigy that is Joshua Aguirre.  He recently competed in the 2022 Seoul Cup, held in an online format due to Covid restrictions.  When all of the scoring was completed, the ten-year-old Aguirre was awarded another gold medal in international competition.  Aguirre current trains with Master David Gladwell, who operates Family Karate.
---
As has been widely reported, the Palmyra Field Hockey Team defeated Hershey on Saturday to win the District 3 Championship.  This win resulted in the program's 14th District Championship and Coach Kent Harshman's 3rd championship in his five years at the helm.  As a head coach or assistant, Coach "Big Dog" has been on the sidelines for twelve of the championship runs.  This includes the four that his daughter, Kristi Harshman Costello, won in her time leading her alma mater.  There is no doubt that this program has a championship mentality, but all accounts are that it also fosters a family atmosphere that makes it unique.  This starts with the coaching staff (some who are literally family) and is a mantle carried by the student-athletes who are the leaders of the team.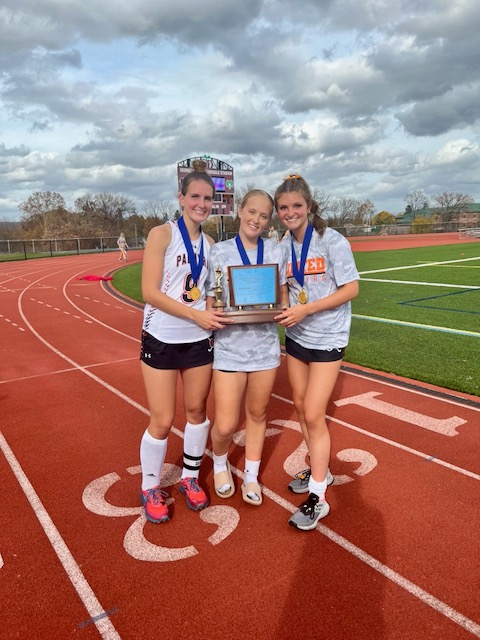 Palmyra's captains celebrate their District 3 title
(L-R: Olivia Kirkpatrick, Haleigh Lambert, Alicia Battistelli)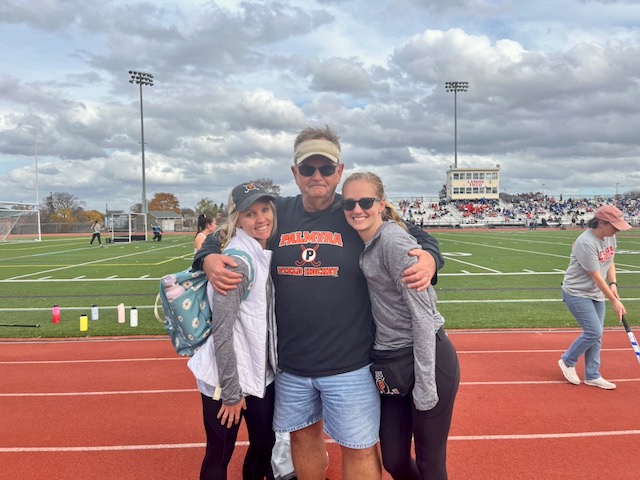 Coach Harshman with his favorite assistant coaches, daughters Kayla and Kristi
---
For all of your insurance needs, consider contacting Gingrich Insurance Group to see how they can help.
---
While we are on the subject of Palmyra Field Hockey, one of its former stars has continued to shine at the collegiate level.  Now a junior at Northwestern University, Lauren Wadas was recently named the Big 10 Offensive Player of the Week (Week ending October 24) after she scored the game winning goal with 37 seconds remaining in double overtime in a win over Michigan.  In the Big 10 Championship held this past Saturday, Wadas again scored against Michigan, but the Wildcats lost 2-1.  For her efforts, Wadas was named to the All-Tournament Team.  There is still more high level field hockey left to play this season, as Northwestern was awarded the #2 seed for the NCAA Tournament.  On November 11th, they will play the winner of Miami (OH) and Rider.
---
As first reported by Steve Snyder,  three Lebanon County athletes aided the efforts of their football teams this past weekend.
Logan Horn (Cedar Crest) was 4 of 6 passing for 46 years and a touchdown as IUP rolled to a 45-0 victory over Clarion.  Fellow Falcon Cole Laney also had a 6 yard reception in the winning effort.  This Saturday, IUP will play in the PSAC Championship against Shepard.
In another winning effort, Lebanon's Alex Rufe 2 receptions for 16 yards as his Shippensburg Raiders won 44-7 over Lock Haven.
Though the Maryland Terps lost to Wisconsin 23-10, Chad Ryland (Cedar Crest) booted a 39-yard field goal and added an extra point.  He will take his big leg to Beaver Stadium this weekend as his 6-3 Terps visit Penn State.
---
If you are looking to provide feedback or are a business or individual interested in providing sponsorship to aid our mission at LebCoSports, you are asked to contact Dan by emailing dan@lebcosports.com.

Lebanon Federal Credit Union