Over the span of four hours on Saturday, runners from all over Pennsylvania lined up to run in the PIAA State Cross Country Championships.  The biggest race in the state is held at Hershey Park on what was once the Parkview Golf Course.  The course is unforgiving in nature and the abnormally warm, seventy-five degree weather did not make racing any easier for the athletes.
Representing Lebanon County were sixteen runners from five different schools.  Of this group, only two seniors competed, meaning that the large majority of them have gained experience that they will carry in future years of high school level competition.  In the end, one area runner (an underclassman) brought home hardware as one of the top runners in Pennsylvania.
For more on how the runners qualified for the State Championship Meet, check out our previous coverage that can be found here.  Keep in mind, just making it to States is a huge accomplishment for any runner and they should be commended regardless of any results they put forth in this race.
Below you will find a quick recap of each team's day, along with results for each runner.  Further down, you will find combined results from all of Lebanon County's runners.
---
     Annville-Cleona Dutchmen 
Recap
After winning the District 3 AA Team Championship, the Annville-Cleona Girls were the only Lebanon County team to qualify for the PIAA State Championship.  There were some question marks coming into this race due to the youth of the team, with three freshman and two sophomores lining up to the start the race.  Once the race started, several members of the team stepped up to pick up their teammates who found difficulty on the warm, hilly course.  They were 16th through the first mile, but they dug deep and finished 13th overall once all the whole 3.1 mile course was completed.  Leading the way was junior Emily Maag, followed by the freshmen Leah Tshudy and Mackenzie Stellmach.  With the way this team finished, Coach Heller is very excited for the future.
The Annville-Cleona Boys qualified three individuals to run in the PIAA 1A race.  This group was led by the District 3 A Champion, sophomore Landon Hostetter.  Through the first mile of the State Championship, Hostetter was 11th overall after running a 5:06.5 opening mile that is made difficult by the number of runners jockeying for position on some tough turns.  Hostetter was able to move up further as the race open up and was sitting in 6th place halfway through the 5,000 meter course.   With 1,000 meters remaining, he had dropped to 7th, but then turned it on down the stretch, crossing the finish line in 5th place with a time of 17:19.8.  In fact, Hostetter was the top underclassman finisher in the race.  With one of the top young runners in the state on their team, sophomore Matt Clemson and freshman Oliver Funck picked up valuable experience on this big stage that will help their team reach greater heights next year.
Annville-Cleona Girls Results (Class AA)
                            Mile 1 /  Mile 2 / Total
112th: Emily Maag (11)                     6:49.0 / 14:14.7 / 22:28.8 
142nd: Leah Tshudy (9)                  6:52.4 / 14:44.2 / 23:05.4 
144th: Mackenzie Stellmach (9)  6:35.2 / 14:14.7 / 23:06.3
156th: Noryan Mitchell (12)           6:45.0 / 14:29.2 / 23:22.6
174th: Emilie Stefanchik (10)        6:57.4 / 14:57.2 / 23:59.4
196th: Madison Long (9)                 6:56.0 / 15:25.2 / 24:46.8
227th: Nadia Lezon (10)                   7:19.4 / 16:17.8 / 26:17.7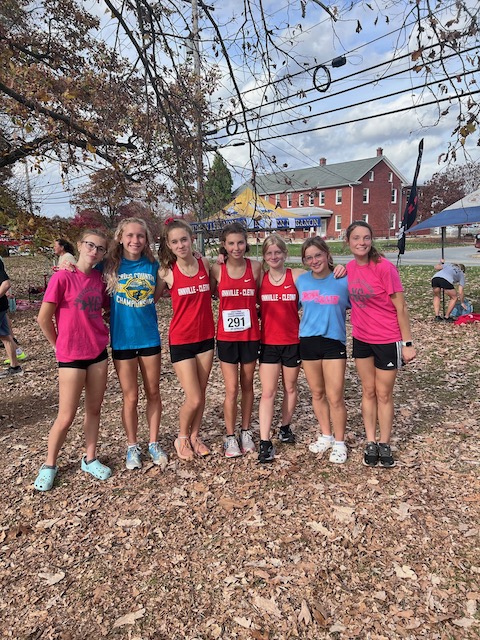 Annville-Cleona celebrates their 13th place finish
Annville-Cleona Boys Results (Class A)
          Mile 1 /  Mile 2 / Total
5th: Landon Hostetter (10)   5:06.5 / no record / 17:19.8
51st: Matt Clemson (10)          5:27.7 / 11:34.5 / 18:35.5
134th: Oliver Funck (9)           5:45.6 / 12:14.7 / 19:40.3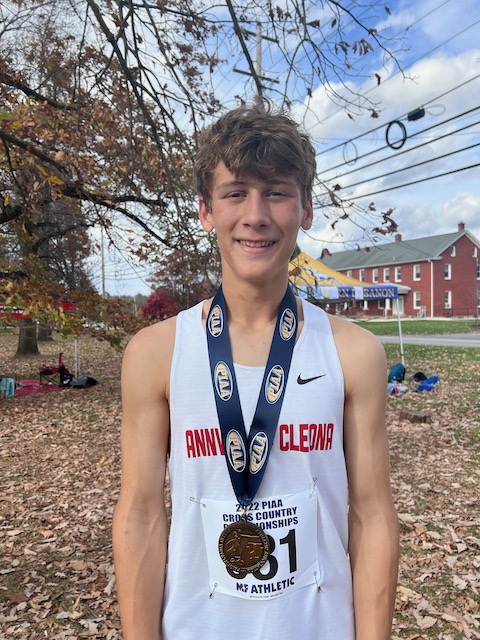 Hostetter, the 5th place medalist
---
     Cedar Crest Falcons 
Recap
The Cedar Crest Cross Country program qualified two individuals for the State Championships.  Eliana Schneider, the freshman who quickly became the Falcon's top female runner, picked up finished 131st overall (233 girls ran) in a time of 21:52.1.  While this was not her fastest time of the season, this course is unforgiving and does not allow for clean time comparisons.  Ben Causak also ran, representing Crest after leading the boys' team throughout the regular season.  He finished 121st overall (236 boys ran) in a time of 18:00.4.  More importantly than any times, it's important to remember that neither of these athletes are set to graduate and now will carry this experience with them going into next season.
Cedar Crest Girls Results (Class AAA)
          Mile 1 /  Mile 2 / Total
131st: Eliana Schneider (9)    6:06.8 / 13:16.3 / 21:52.1
Cedar Crest Boys Results (Class AAA)
Mile 1 /  Mile 2 / Total
121st: Ben Causak (11)    5:13.3 / 11:08.7 / 18:00.4
---

 ELCO Raiders  
Recap
Coming into this race, the hope was for the senior Landen Hostetter and the sophomore Chad Keller to run good races and let the cards fall where they may.  Their finishing positions were not indicative of the effort levels the runners put forth.  All runners know the feeling when side stitches hit, which is what happened to Brubaker after he started out running very well and had to labor through the final mile of the race, finishing 215th out of 237 runners. The younger Keller fared much better and was able to finish the race in a time of 18:27.8, finishing 90th overall.
ELCO Boys Results (Class AA)
Mile 1 /  Mile 2 / Total
90th: Chad Keller (10)               5:21.0 / 11:36.0 / 18:27.8
215th: Landen Brubaker (12)  5:24.0 / 11:52.3 / 20:31.9
---
     Lebanon Cedars
Recap
Last year at this time, Ramon Urena Batista was not even thinking about running cross country.  Yesterday, the junior finished 93rd in the PIAA State AAA Championship.  The learning curve, especially in this race, is steep for any runner let alone someone with very little race experience.  Urena Batista was sitting in 148th place after the first mile, creating a difficult proposition on a course that has many tight areas.  Urena Batista adapted to fight through the crowd and finish in the top 100 with a time of 17:49.2.  As with all of the non-seniors who made it to this stage of the season, the experience will only make him stronger going into 2023.
Lebanon Boys Results  (Class AAA)
       Mile 1 /  Mile 2 / Total
93rd: Ramon Urena Batista (11)  5:22.0 / 11:10.8 / 17:49.2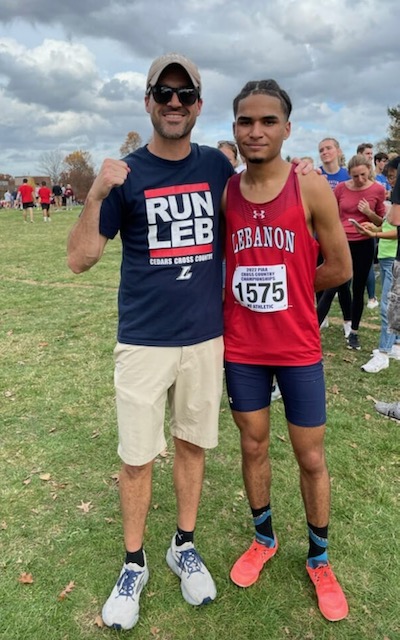 Ramon & Coach Pearson, celebrating an excellent rookie season
---
     Northern Lebanon Vikings
Recap
The thing about races at Hershey are that they often rattle first time visitors, causing them to go out too fast or too slow.  Northern Lebanon junior Tyler Shunk ran his race, which allowed him to run consistently throughout this race.  He finished 119th in a time of 18:47.3, setting a new baseline for next year.
Northern Lebanon Boys Results (Class AA)
          Mile 1 /  Mile 2 / Total
119th: Tyler Shunk (11)  5:31.7 / 11:44.7 / 18:47.3
---
Lebanon County Combined Results
Below are the combined results for all of Lebanon County's runners, regardless of whether they ran in the A, AA, or AAA race.  Keep in mind that while the course is the same, the conditions can change throughout the day.
Girls
Eliana Schneider (Cedar Crest) 21:52.1
Emily Maag (Annville-Cleona)  22:28.8
Leah Tshudy (Annville-Cleona) 23:05
Mackenzie Stellmach (Annville-Cleona) 23:06.3
Noryan Mitchell (Annville-Cleona) 23:22.6
Emilie Stefanchik (Annville-Cleona) 23:59.4
Madison Long (Annville-Cleona) 24:46.8
Nadia Lezon (Annville-Cleona) 26:17.7
Boys
Landon Hostetter (Annville-Cleona) 17:19.8
Ramon Urena Batista  (Lebanon) 17:49.2
Ben Causak (Cedar Crest) 18:00.4
Chad Keller (ELCO) 18:27.8
Matt Clemson (Annville-Cleona) 18:35.5
Tyler Shunk (Northern Lebanon) 18:47.3
Oliver Funck (Annville-Cleona)  19:40.3
Landen Brubaker (ELCO)  20:31.9
---
If you are looking to provide feedback or are a business or individual interested in providing sponsorship to aid our mission at LebCoSports, you are asked to contact Dan by emailing dan@lebcosports.com.

Lebanon Federal Credit Union