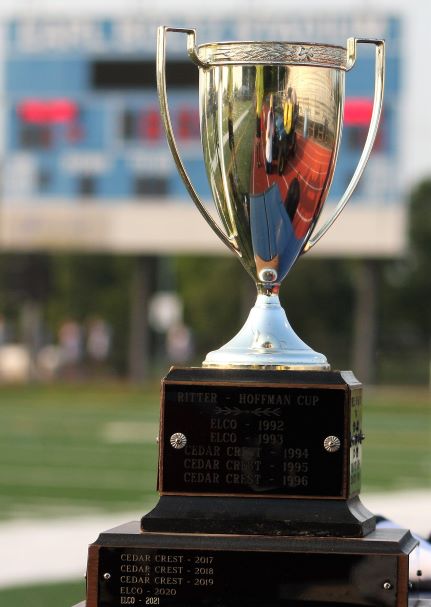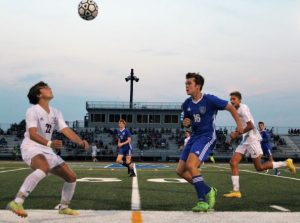 BY JEFF FALK
Editor
SOUTH LEBANON – The Elco boys' soccer program's return to prominence is complete. For conclusive evidence of the Raiders' re-arrival, one has to look no further than the 36th annual Hoffman-Ritter Cup rivalry match.
On a clear Saturday night at Ed and Jeannie Arnold Field at Earl Boltz Stadium, on the campus of Cedar Crest High School, Elco turned the most heated rivalry in Lebanon County boys' soccer into its own personal coming-out party, with an emphatic 5-0 triumph over the homestanding Falcons. Performing with energy and purpose, the Raiders owned the better of the play throughout, before pulling away in the closing minutes.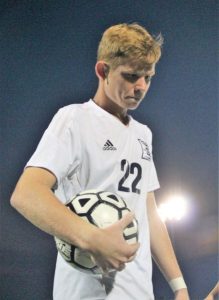 Junior midfielder Camden Marquette's hat trick led a balanced Elco attack that saw no less than seven Raiders contribute to the scoring.
The victory was Elco's sixth straight overall and vaulted it to 6-1 on the year. Though Cedar Crest, now 2-7, is much improved over last season, the Falcons still have a long way to go.
The win was also the Raiders' third straight in the Hoffman-Ritter Cup series, which dates back to 1987. But Cedar Crest still leads the all-time series 18-17-1.
"It was competitive," said Elco head coach Jamie Cascarino. "We came out and performed like Elco soccer should play and perform. It's with high intensity and passion, and the bottom line Elco pride.
"What's been going good is continuity, and communicating what we see," added Cascarino, "and the boys' receptiveness to that and their dedication to the team. Our motto is 'more than a team'. We have great camaraderie."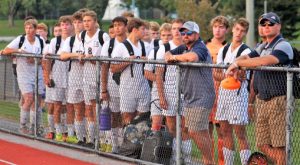 Despite Elco possessing the ball and controlling the midfield, the game was score-less until Marquette gave the Raiders a 1-0 lead, 13:23 in. Landon Gettle was credited with an assist on the play.
Then, three minutes into the second half, senior midfielder Thayne Kahl pushed the Raiders' advantage to two goals. Off a feed from Ashton Beck, Kahl ripped a 35-yarder with his right foot from the middle of the pitch to inside the right post.
"We did a high press on the defensive side and it allowed us to open up space on the outside, and then play it across," said Cascarino, more of Elco's offensive approach than any of Marquette's goals. "And we played amazing defense. Logan Kless is a great leader and Nic Miller did a great job of marking. Kody Boyer and Caden Baer also played well defensively, and our keeper Chandler Ehrhart was back there dictating everything.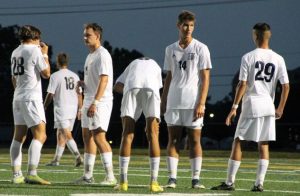 "This has always been an amazing rivalry," continued Cascarino. "I remember being part of it as a former player. It's a high intensity, important match for both programs, with a long history. (Cedar Crest head coach) Todd Gingrich's players fought and played well, and gave us a great challenge."
The Raiders tallied a pair of goals 31 seconds apart in the middle of the second half to extend their lead to 4-0. Marquette's hard shot from a hard angle bounced off Falcon keeper Ty Hains' gloves and into the net, and junior Dallas George used his left foot to pump a Jaydon Noll pass inside the left post.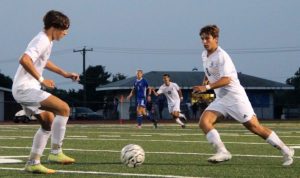 With 1:10 left, Marquette completed his hat trick and rounded out the Raider scoring, following a feed from Ben Macchione.
"Things are going well for us right now," said Cascarino. "The coaching staff is focused on building a solid foundation. That leads us into games where we have each other's backs.
"As far as confidence and Elco soccer goes, every time we step on the field we expect to win," Cascarino added. "So you've got to be prepared for each match. I think you saw that with the result tonight."
Elco out shot Cedar Crest 15-3. The Raiders also prevailed in the corner kick battle, 8-1.
"Elco soccer is always looking for each game to be competitive," said Cascarino. "We're looking to compete and perform at the highest level."
To purchase images in this article please email jeff@lebcosports.com.
2022 Elco Boys' Soccer Schedule
| | | | | | |
| --- | --- | --- | --- | --- | --- |
| 2022-08-31 | H | vs | Conrad Weiser(3) | L | 0-2 |
| 2022-09-03 | A | vs | Wyomissing(3) | W | 6-1 |
| 2022-09-03 | N | vs | Kutztown(3) | W | 3-2 |
| 2022-09-06 | H | vs | Berks Catholic(3) | W | 3-1 |
| 2022-09-08 | H | vs | Lebanon(3) | W | 5-0 |
| 2022-09-15 | A | vs | Solanco(3) | W | 2-0 |
| 2022-09-17 | A | vs | Cedar Crest(3) | | 0-0 |
| 2022-09-19 | H | vs | Octorara(3) | | 0-0 |
| 2022-09-20 | A | vs | Donegal(3) | | 0-0 |
| 2022-09-22 | H | vs | Cocalico(3) | | 0-0 |
| 2022-09-26 | A | vs | Lebanon(3) | | 0-0 |
| 2022-09-28 | A | vs | Octorara(3) | | 0-0 |
| 2022-09-30 | A | vs | Blue Mountain(11) | | 0-0 |
| 2022-10-04 | H | vs | Solanco(3) | | 0-0 |
| 2022-10-06 | H | vs | Donegal(3) | | 0-0 |
| 2022-10-08 | H | vs | Eastern York(3) | | 0-0 |
| 2022-10-10 | A | vs | Cocalico(3) | | 0-0 |
| 2022-10-12 | A | vs | Pequea Valley(3) | | 0-0 |
2022 Cedar Crest Boys' Soccer Schedule
| | | | | | |
| --- | --- | --- | --- | --- | --- |
| 2022-08-29 | H | vs | Lebanon(3) | W | 6-0 |
| 2022-09-02 | A | vs | Cocalico(3) | L | 43 |
| 2022-09-03 | H | vs | Palmyra(3) | L | 6-2 |
| 2022-09-06 | A | vs | Cedar Cliff(3) | L | 4-2 |
| 2022-09-07 | A | vs | Garden Spot(3) | L | 1-0 |
| 2022-09-10 | H | vs | Northern Lebanon(3) | W | 3-2 |
| 2022-09-13 | A | vs | Lampeter Strasburg(3) | L | 6-0 |
| 2022-09-15 | H | vs | Elizabethtown(3) | L | 3-0 |
| 2022-09-17 | H | vs | Eastern Lebanon County(3) | | 0-0 |
| 2022-09-19 | A | vs | Ephrata(3) | | 0-0 |
| 2022-09-21 | H | vs | Manheim Central(3) | | 0-0 |
| 2022-09-24 | H | vs | Solanco(3) | | 0-0 |
| 2022-09-27 | H | vs | Garden Spot(3) | | 0-0 |
| 2022-09-29 | H | vs | Lampeter Strasburg(3) | | 0-0 |
| 2022-10-03 | A | vs | Elizabethtown(3) | | 0-0 |
| 2022-10-05 | H | vs | Ephrata(3) | | 0-0 |
| 2022-10-08 | A | vs | Annville-Cleona(3) | | 0-0 |
| 2022-10-11 | A | vs | Manheim Central(3) | | 0-0 |
Ritter-Hoffman Cup History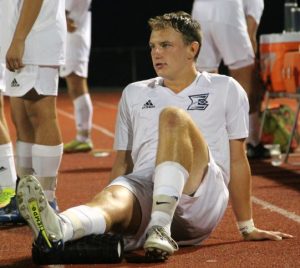 2022 – Elco
2021 – Elco
2020 – Elco
2019 – Cedar Crest
2018 – Cedar Crest
2017 – Cedar Crest
2016 – Elco
2015 – Elco
2014 – Tie
2013 – Cedar Crest
2012 – Cedar Crest
2011 – Cedar Crest
2010 – Elco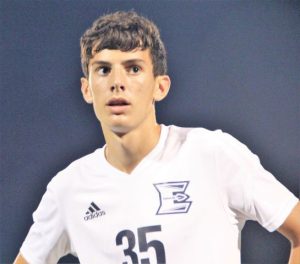 2009 – Elco
2008 – Elco
2007 – Cedar Crest
2006 – Cedar Crest
2005 – Cedar Crest
2004 – Elco
2003 – Cedar Crest
2002 – Elco
2001 – Cedar Crest
200 – Elco
1999 – Elco
1998 – Cedar Crest
1997 – Cedar Crest
1996 – Cedar Crest
1995 – Cedar Crest
1994 – Cedar Crest
1993 – Elco
1992 – Elco
1991 – Elco
1990 – Elco
1989 – Elco
1988 – Cedar Crest
1987 – Cedar Crest