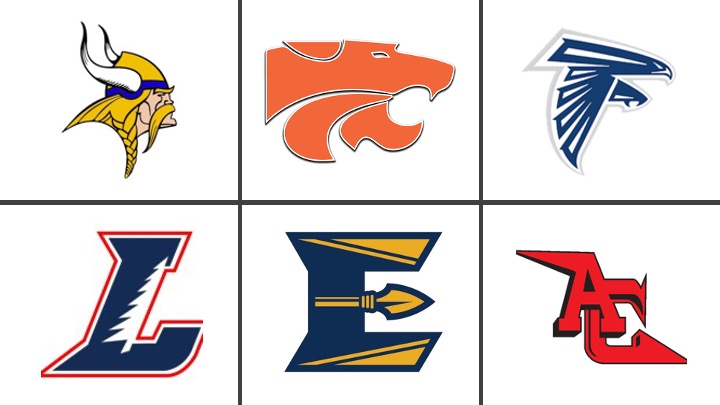 This article has been updated to include the Mid-Penn Championship results.
Entering into the Lancaster-Lebanon League Golf Championship on Monday, Cedar Crest was well prepared to rack up the accolades following an excellent regular season.  As we covered in our most recent Golf Update, Cedar Crest not only has individual talent, but they also have a great group that makes beating them in team scoring a difficult task.  Unfortunately, a couple shots that did not go their way had cost them the Section 1 crown, as Manheim Township beat them out by the slimmest of margins.  When it came time for the Championship round at Fairview, the Falcons were going to be ready to be able to take home the League title.
On the individual side, Cedar Crest has senior Ben Feeman who was in the top three golfers in the League throughout the duration of the season and who had shot a 71 at Fairview in an earlier match this season.  They also have Dylan Ramsey, Feeman's freshman counterpart with whom he won the County Better-Ball Tournament back in August.  Ramsey led the Lancaster-Lebanon League this season, averaging an astounding 70.4 average through the six matches played.
To anyone paying attention, it was not going to be a surprise if a Cedar Crest golfer walked away with the AAA boys' title, but the question remained as to which one of these young men it would be and also how low their score would be in the process.  While the two are very well matched, what few expected was an ending between the two teammates that will be talked about for years to come.
At the end of 18 holes, Feeman and Ramsey had each shot 72 and were atop the leaderboard, one shot ahead of Andrew Bilson from Manheim Township.  Unlike many sports, golf has overtime rules that actually work and called for the two teammates to play a sudden-death style playoff.  Their first stop on their home course was hole #1.  They tied.  The two then moved onto hole #11, where Feeman outdueled Ramsey to secure the win.
This was not the only good news for the Cedar Crest golf team on the day.  In addition to the gold and silver members of the team, Dayton DiBiaso shot a 77 and Jill Fidler, who finished third in the female competition, shot a 79.  This gave Cedar Crest a team score of 300, which was six strokes ahead of rival Township, their next closest competitor.  When asked about his team's efforts, Coach Gates excitedly shared that he, "Couldn't have asked for much more from the team today!"
Cedar Crest was not the only team having fun at Fairview, as Annville-Cleona competed terrifically in the AA category.  Led by junior Reagan Flynn's second place finish with a 76, Annville captured the team title to defeat Section 4 rival Pequea Valley by 17 strokes. Pequea Valley had won the regular season title, which made this victory even more of a statement from the Dutchmen.  Aiding Flynn in this effort were a trio of non-seniors: freshman Logan Francis (82); sophomore Wesley Heller (88); junior Andrew Heller (89).
ELCO was the only other Lebanon County program to have qualified as a team for this competition.  While they finished 11th of 12 in the AAA division, there are a couple of noteworthy items.  First, a change to the line-up was made to replace Brady Keath, the team's #4 golfer in most matches this season.  Keath recently served as a bone marrow donor for his sister and was therefore unavailable due to reasons far more important than sports.  The second noteworthy item is that this event marked the final head coaching appearance by Dave Meyer, who is retiring after coaching scholastically for the past 42 years. Coach Meyer has spent the last 14 as the ELCO golf coach and was most notably the leader of the ELCO girls' basketball program from 1990-2015.
All in all, it was a good day for Lebanon County's golfers, with seven individuals and two teams qualifying for Districts.  The District 3 Championship will be played on October 7th and October 8th, with AAA playing at Briarwood East Golf Club and AA playing at Honey Run Golf Club.  Before they get to Districts, all of the county teams will match up on Thursday to compete at the Lebanon County Golf Championship.
On Tuesday, the Mid-Penn Conference held their championship tournament.  Two Palmyra golfers played the 18 hole course at Dauphin Highlands Golf Course.  Sean Kelly led the way for the Cougars, shooting a 77. This effort earned him a tie for 6th place and earned him a return visit to the District 3 Championship meet.  Teammate Mason North's scorecard added up to 86, which placed him 22nd and the "first alternate" status for Districts.
Here is a full list of results from the county teams:
1st Place AAA – Cedar Crest (300)#
1st Place AA – Annville-Cleona (335)#
11th Place AAA – ELCO (365)
# denotes District Qualifier
Here is a full list of results from the county individuals:
AAA Boys
Ben Feeman, Cedar Crest – 72 – 1st place #
Dylan Ramsey, Cedar Crest – 72 – 2nd place #
Dayton DiBiaso, Cedar Crest – 77 – 7th place #
Ethan Rader, Cedar Crest – 80 – 14th place #
Cole Weaver, ELCO – 86
Levi Shoemaker, Northern Lebanon – 89
Gavin Sheetz, Lebanon – 90
Vinnie Battistelli, Northern Lebanon – 90
Tyler Reed, ELCO – 92
Colin Bogart, ELCO – 92
Carson DiBiaso, Cedar Crest – 94
Ethan Spang, ELCO – 95
Morgan Shanaman, ELCO – 95
Bryant Auker, ELCO – 95
Jackson Custer, Cedar Crest – 96
Brian Bicksler, Northern Lebanon – 96
Ben Discuillo, Lebanon – 97
# denotes District Qualifier
Combined Girls
Jill Fidler, Cedar Crest – 79 – 3rd place #
Emma Gable, Cedar Crest – 117
# denotes District Qualifier
AA Boys
Reagan Flynn, Annville-Cleona – 76 – 2nd place #
Logan Francis, Annville-Cleona – 82 – 4th place #
Wesley Heller, Annville-Cleona – 88
Andrew Heller, Annville-Cleona – 89
# denotes District Qualifier
Mid-Penn Boys
Sean Kelly, Palmyra – 77 – 6th place #
Mason North, Palmyra – 86 – 22nd (first alternate #)
# denotes District Qualifier
---
If you are looking to provide feedback or are a business or individual interested in providing sponsorship to aid our mission at LebCoSports, you are asked to contact Dan by emailing dan@lebcosports.com.

Lebanon Federal Credit Union