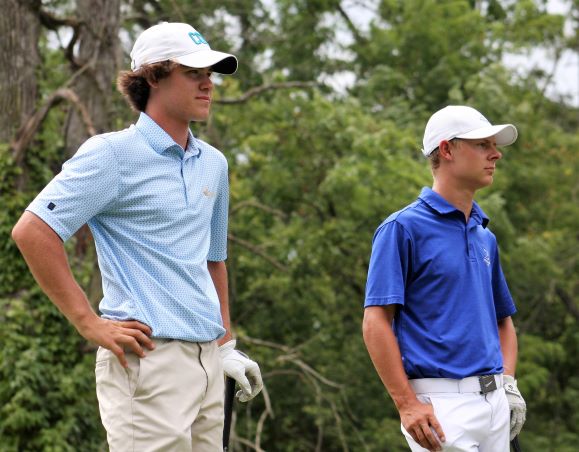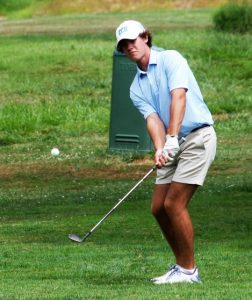 BY JEFF FALK
Editor
FREDERICKSBURG – You can call them 'kids' if you like. They really don't mind.
In actuality, the term 'young men' would probably be much more age appropriate. Yet the way they performed suggests that they're poised and mature grown men.
On a warm Sunday at the 6,037-yard, par-72 Pine Meadows Golf Course, the teenaged team of Ben Feeman and Dylan Ramsey stormed to victory at the 34th annual Lebanon County Better-Ball-of-Partners tournament, presented by Wyomissing Optometric Center. Feeman sank a six-foot birdie putt at the par-five 18th hole to provide the winning margin, after Ramsey's hot play on the front nine had propelled the Cedar Crest High School students and golf teammates to the top of the leaderboard.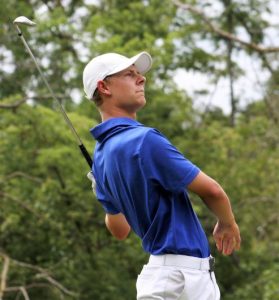 For Feeman-Ramsey it all added up to a second-round score of 63 or nine-under par, a two-round total of 14-under par (130) and a one-shot margin over runners-up Dan Brown-Brian Auman, who totaled 67-64=131, and Bill Massar, Jr.-Matt Anderson, who counted 63-68=131. After firing a five-under par 67 on Saturday, Ramsey-Feeman had entered Sunday's final round of the Lebanon County Better-Ball-of-Partners event trailing leaders Massar-Anderson by four strokes.
Chris Gebhard-John DiGiacomo finished fourth with a two-day total of 68-66=134, or ten-under par. Coming in fifth was Justin Arnt-Skeet Wentling, who posted a 67-69=136.
With their triumph, Ramsey, a freshman, and Feeman, a senior, became one of the youngest teams ever to capture the championship of the popular Lebanon County Better-Ball-of-Partners tournament. Not only did they accomplish the feat during their first time competing in the event, Feeman and Ramsey also did so on their first try playing in a competitive tournament as a team.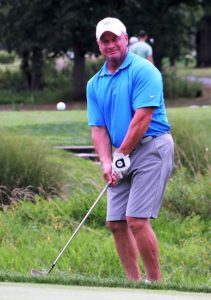 "I didn't have many expectations," said Ramsey. "I wanted to play well. I just wanted to have fun. I didn't expect to win.
"I play golf to have fun," continued Ramsey. "I tried not to play it differently. It feels good. I don't feel uncomfortable being around (grown) men."
Feeman drained short birdie putts at the 538-yard, par-five tenth hole and at the 354-yard, par-four 12th hole to get his side to eight-under for the day and 13-under for the tournament. But he and Ramsey parred the next five holes, before sinking the decisive putt at the par-five finishing hole.
"I had no idea where we stood," said Ramsey. "When I play in events, I try not to know scores. I was just trying to play my game and help him (Feeman) too.
"I think the key was when one of us hit a bad shot or had a bad hole, the other made up for it," added Ramsey. "We had a lot of bogeys, but none of them counted."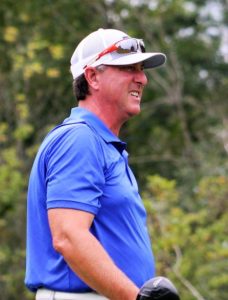 "I thought the eagle at Number Five was the momentum changer," said Feeman. "It was a feel good thing. But we played our game."
That eagle was a 40-footer from Ramsey which came at the 480-yard, par-five fifth hole and catapulted his side firmly into contention. It was preceded by Ramsey's three-foot birdie at the par-four second and his 15-foot birdie at the par-four fourth hole, and then followed by Ramsey's short birdie at the par-four eighth hole and his 12-footer at the par-three ninth.
"That was one of the best nines I ever played," said Ramsey. "I didn't play it perfectly, but I hit the ball pretty well. I made some putts.
"Tuesday was the deadline (for entries) and Ben just brought it up to me," Ramsey continued. "He said, 'Do you want to play in it?' I said 'sure'. I'm glad I played. I had fun."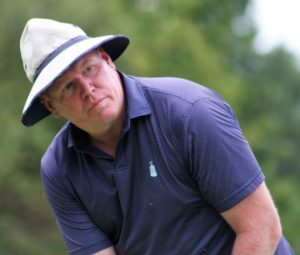 "We were in the group behind them, and we could see them happy and fist-bumping," said Auman of Feeman-Ramsey. "It didn't matter, because we still had to play our games. But they're the future. We're all happy to have the younger guys coming up. We used to be the young guys in the (local) tournaments."
Auman-Brown also made an early charge, getting their round to seven-under par for the day, and 12-under for the tournament, with Brown's short birdie at the par-four 12th hole. But a bogey at tricky par-three 13th hole derailed their momentum, and they could only manage a couple of birdies over their final five holes.
"Shooting 64 should almost guarantee a win," said Brown. "I would've thought that would be good enough. But Dylan and Ben shooting nine-under, that's really good."
"I missed some two-foot putts," said Auman. "When you tee it up, you always want to have a chance to win. But making up four shots is tough."
While first-round leaders Anderson-Massar didn't necessarily come back to the field, neither did they expand upon their lead. Their second round on Sunday consisted of five birdies, 12 pars and one bogey.
With birdies at Numbers One, Four, Five and Six, DiGiacomo-Gebhard made the turn at four-under par for the day, eight-under for the tournament and very much in contention. But they experienced difficulties duplicating their hot start on the back-nine.
To purchase images in this article please email jeff@lebcosports.com.
Lebanon County Better-Ball-of-Partners Past Champions
| Player Name | Score | Course | Year |
| --- | --- | --- | --- |
| Chris Gebhard and Jim Gardner | 63-61-124 | Lebanon Valley | 2021 |
| Chris Gebhard and Jim Gardner | 66-63-129 | Blue Mountain | 2020 |
| Dan Brown and Ryan Woefling | 63-64-127 | Pine Meadows | 2019 |
| Mike Potts and Jesse Brown | 64-69-133 | Pine Meadows | 2018 |
| Justin Arnt and Skeet Wentling | 66-64-130 | Lebanon Valley | 2017 |
| Mike Schmidt, Jr and Pete Parpagene | 63-66-129 | Fairview | 2016 |
| Don Johnson and Rick Troutman | 68-64-132 | Fairview | 2015 |
| Brian Auman and Jim Gardner | 64-69-133 | Pine Meadows | 2014 |
| Mike Schmidt Jr. and Ryan Weaber | | Iron Valley | 2013 |
| Bill Massar Jr. and Dave Berkheimer | 68-69-137 | Monroe Valley | 2012 |
| No tournament due to flooding | | | 2011 |
| Steve Allwein and Mike Schmidt | 64-68-132 | Royal Oaks | 2010 |
| Jim Gardner and Brain Auman | 60-65-125 | Fairview | 2009 |
| Tom Kintzer and Greg Behney | 66-65-131 | Blue Mountain | 2008 |
| Stu Hanford and Don Johnson | 64-67-131 | Pine Meadows | 2007 |
| Perry Umlauf and Shawn Cooper | 66-66-132 | Royal Oaks | 2005 |
| Dan Brown and Andy Gibbons | 62-67-129 | Pine Meadows | 2004 |
| Dan Brown and Andy Gibbons | 66-60-126 | Fariview | 2003 |
| Dan Brown and Chad Schulze | 61-65-126 | Lebanon Valley | 2002 |
| Bob Wenrich and John Hacunda | 70-64-134 | Monroe Valley | 2000 |
| John Digiacomo and Blaine Peffley | 64-67-131 | Fairview | 1999 |
| Joe Faller and Phil Faller | 65-74-139 | Monroe Valley | 1998 |
| Jim Gardner and Jim Calhoun | 68-67-135 | Fairview | 1997 |
| Pete Gebhard and Dave Kurtz | 70-64-134 | Fairview | 1995 |
| Pete Gebhard and Dave Kurtz | 65-68-133 | Fairview | 1994 |
| Mark Ditzler and Tom Sherk | 69-68-137 | Fairview | 1992 |
| Jeff Pyles and Jeff Behney | 70-68-138 | Fairview | 1991 |
| Rick Troutman and Pete Gebhard | 70-65-135 | Fairview | 1990 |
| Joe Faller and Dave Kurtz | 66-67-133 | Fairview | 1989 |
| Bob Page and Bill Shoop | 68-65-133 | Fairview | 1988 |