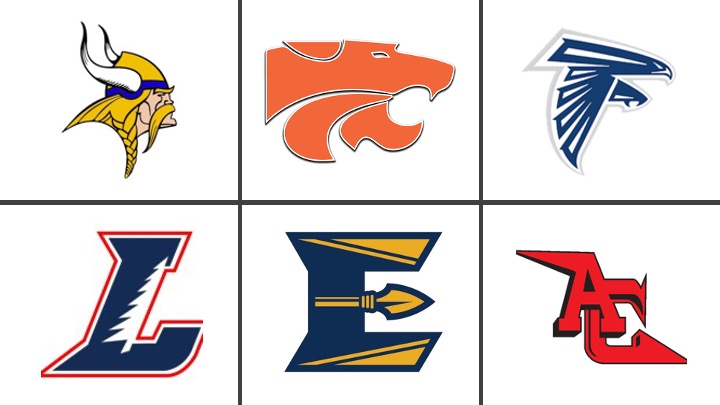 Results current through September 22.
     Annville-Cleona Dutchmen 
Lancaster-Lebanon League Section 4
Final Record: 22-8 / 2nd place
Update: During the last update, Annville-Cleona was still in the hunt for the Section 4 title, but a solid Pequea Valley put that goal out of reach.  However, there has been much to celebrate for the Dutchmen who finished the regular season with a 22-8 record.  The team's top golfer coming into the season was junior Reagan Flynn, who has averaged 82.7 in remaining the #1 option for A-C.  While Flynn's success was expected, the success of freshman Logan Francis came as a bit more of a shock with him averaging an 85.0.  This dynamic pairing individually rank as 5th and 7th in Section 4 and both have a good shot at golfing in the District 3 Championship Tournament.  Sophomore Wesley Heller (91.3 average) and junior Andrew Heller (97.8 average) square off the scoring unit that hopes to make a move at the upcoming Lebanon County Championship.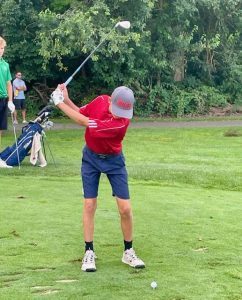 The new kid Logan Francis turns heads as he tees off
---
     Cedar Crest Falcons 
Lancaster-Lebanon League Section 1
Final Record: 17-3 / 2nd place
Update: This year, Section 1 was definitely the Cedar Crest and Manheim Township show, with the two schools playing each other tight, match after match.  On September 13, the two teams actually tied, but Township won on the tiebreaker.  The Falcons responded in the last regular season match by finishing with a team score of 299, nine shots better than their rivals.  In that match, freshman Dylan Ramsey shot a 66 (-6) and solidified his position as Section 1's top ranked golfer, touting a 70.4 average.  While his scores are the best, he is far from being alone in putting up remarkable scores over the past two matches, with senior Ben Feeman finishing with 80 and 76, while senior Jill Fidler (one of the region's top female golfers) put up scores of 82 and 79.  Crest was helped in each affair by underclassmen who stepped up into the top four, with sophomore Jackson Custer and freshman Carson DiBiaso adding to the firepower this team possesses.  Missing out on the Section 1 crown by one loss (the tiebreaker) has this group excited for the Lancaster-Lebanon League Championship, along with all of the other opportunities they will have to garner accolades before championship season is over.
---

 ELCO Raiders  
Lancaster-Lebanon League Section 3
Final Record: 18-7 / 2nd place
Update:  At the time of our last update, ELCO was on the verge of qualifying as a team for the Lancaster-Lebanon League Championship Tournament.  Last year's qualifying standard was a 350 average from the top four scores from each league match.  ELCO finished this season with a 350.2 average, but a change in the cut-off making it 360 prior to this season will keep the Raiders from disappointment.  The top performer this season has been senior Tyler Reed, whose 84.8 average ranks him 5th in Section 3.  Junior Colin Bogart (87.4 average) and senior Cole Weaver (90.4 average) have put up the next two best average for ELCO.  Sophomore Bryant Auker (94.4 average) has provided the fourth best score in most of the match this season.  One final point worth noting centers on Weaver, who struggled early in the season.  In the last Section 3 match, Weaver shot a team-low 83.  If he has found his groove, then this ELCO team will be even stronger during championship season.
---
     Lebanon Cedars
Lancaster-Lebanon League Section 4
Final Record: 1-29 / 6th place
Update: Golf is a sport in which you can get lucky on a shot from time to time, but in order to improve, you must work at it and deal with the frustrations that accompany the endeavor.  When the Cedars entered into the season, they knew the challenge that was in front of them and they accepted it without issue.  Sophomore Gavin Sheetz has been Lebanon's top golfer throughout the season, even as he continued to split time with cross country.  His 95.5 average placed him as the 11th best golfer in Section 4.  Fellow sophomore Ben DiScuillo serves as the team's #2 option, averaging a 104.2, making massive improvements to the 112 average he carried after the first two matches.  With more time spent on the links, this team should continue to see improvement.
---
     Northern Lebanon Vikings
Lancaster-Lebanon League Section 4
Final Record: 8-22 / 5th place
Update: Coming into the season, this Northern Lebanon team was young and lacked experience.  When we last checked in, Coach George pointed out that he felt that his players were putting in the work to get better.  Over the past several weeks the Vikings have proven their coach to be correct.  The team is lead by  sophomores Levi Shoemaker (99.0 average), Brian Bicksler (99.8 average), and Vinnie Battistelli (106 average), with these young men shooting 87-88-87 respectively in their last match of the regular season.  To give you an idea as to the level of work this team has put into their game, Battistelli shot a 137 during one round of eighteen played at Royal Oaks early in the year.  All reports are that the members of this squad have remained hungry and are continuing to gain experience ahead of the championship season.
---
   Palmyra Cougars
Mid-Penn Conference – Keystone Division
Final Record: 23-19 / 4th place
Update: With the regular season of golf now complete, Palmyra can now set their sights on playing championship golf.  During the season, the Cougars were led by junior Sean Kelly (77.86 average) and senior Kevin Dromgoole (84.57 average).  The duo has qualified for the Mid-Penn Championships and will be joined by senior teammates Mason North and Alexa Knapp.  The team hopes that they can send several Palmyra golfers to the District 3 Championship and perhaps even have representation at this year's PIAA State Tournament.
---
Notable Schedule Items:
Lancaster-Lebanon League Golf Championships – September 26 @ Fairview Golf Course
Lebanon County Golf Championships – September 29 @ Lebanon Country Club
Mid-Penn Conference Golf Championships –  September 27 @ Dauphin Highlands Golf Course
PIAA District 3 Golf Tournament – October 7-8
PIAA State Golf Tournament – October 17-19
---
If you are looking to provide feedback or are a business or individual interested in providing sponsorship to aid our mission at LebCoSports, you are asked to contact Dan by emailing dan@lebcosports.com.