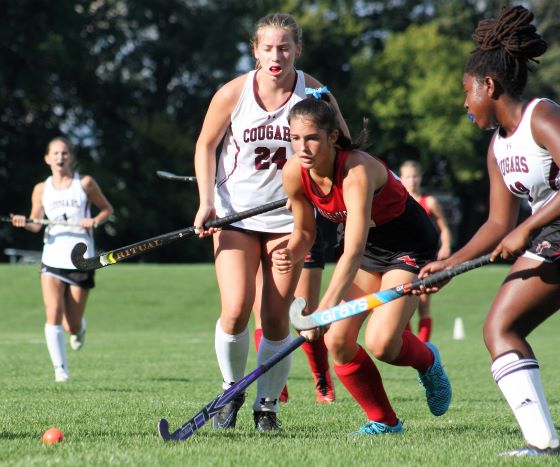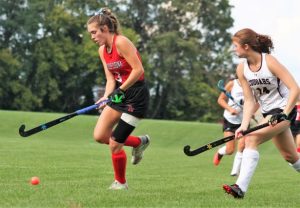 BY JEFF FALK
Editor
LANCASTER – It's a really nice collection of talented and high character individuals. They've come together for a common goal, a common purpose.
For some of them, it's never been about field hockey before. For some of them, it will never be about field hockey again.
But right now, it is for all of them.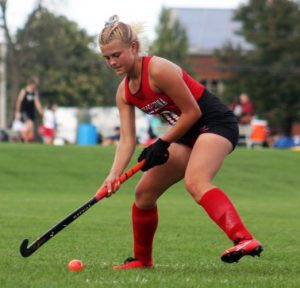 On a seasonal Tuesday evening at Lancaster Country Day School, a united Annville-Cleona squad kept rolling on, with a 2-1 triumph over the homestanding Cougars. Following an initial 30 minutes of scoreless action, Annville-Cleona netted a pair of 'hustle' goals in the third quarter and they proved to be decisive.
The victory was the Little Dutchmen's ninth in their last ten outings and kept them atop the Lancaster-Lebanon Section Four standings. Annville-Cleona improved to 9-3 on the fall and 4-0 in the section.
It's been five solid seasons since A-C last claimed an L-L section crown.
In the latest District Three power rankings, the Little Dutchmen were situated for an A classification which takes 16 teams for its postseason tournament.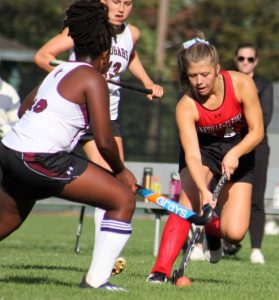 Lancaster Country Day fell to 6-6 on the year and 1-3 in Section Four.
"I'd say that a couple of them see it as their number-one sport," said Annville-Cleona head coach Carrie Gingrich of her student-athletes' priorities. "A couple are basketball players. A couple are softball players. We haven't had a winter league in field hockey, because it's basketball season. But they're (her players) still working out.
"I don't want them just playing field hockey," added Gingrich. "At a lot of bigger schools, they only play one sport. At small schools like Annville-Cleona, you need to play other sports."
Not for a lack of effort, but Annville-Cleona really encountered difficulties generating scoring opportunities in the opening half of play. That all changed early in the second half.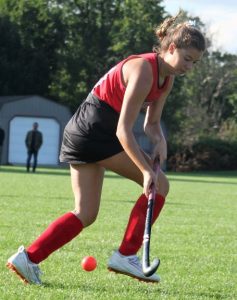 A better orchestrated offensive attack produced Little Dutchman Kendall Cooper's goal 4:33 into the third quarter. Following two quick shots from the left side of the circle, Cooper was at the right spot at the right time and slid the third rebound into the right side of the Lancaster Country Day cage.
"We did well today," said Gingrich. "Their goalie (Ryan DeGreen) has the highest save percentage in the section. She's good back there. We had a couple of balls off pads, and that's how we got goals. I just wish we had gotten shots off quicker.
"We've done really well offensively this season," continued Gingrich. "The last couple of years we've relied on our defense. We didn't let many goals in. This year we have some returning players and some younger players who are up there in scoring, and it's pretty spread out."
"Annville-Cleona is always going to come out strong," said Lancaster Country Day head coach Betsy Heim. "Their girls are really aggressive. There's a reason they're the top team in the section. But I don't think they expected how hard we played today."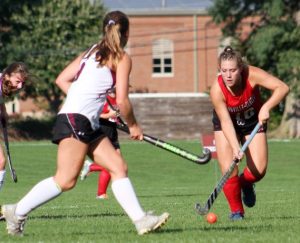 The Little Dutchmen added what would prove to be a crucial insurance tally 2:33 after Cooper's goal.
From a hard angle outside the circle, Annville-Cleona's Danika Setlock threw a hard cross on to DeGreen's pads. Teammate Josie Clay was there to gobble up the carom and bang it home.
"They're (the Cougars) definitely improved over years past," said Gingrich. "We knew it was going to be a tough game, and we never play well on this field. We had our spurts. We played better in the third quarter. Then we let down, but we came out with the win.
"I thought we were holding back some in the first half," Gingrich continued. "We wanted to take control of the game. It's a we-over-me mentality. It's not an individual sport. You're never going to go far playing as individuals."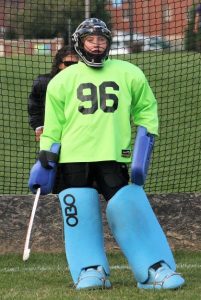 The Cougars made the final 8:25 tense moments, after freshman Anna Fisher converted a feed from senior teammate Sofia Hartmann, to pull her side to within 2-1 of the lead.
"Things are going well," said Gingrich. "We lost to two tough teams to start the season, but then we beat Cedar Crest and Elco. That gave us some confidence and we've been going from there. You don't want to lose, but if you do, it brings you back to reality and shows what you need to work on.
"The rest of our games are section games," added Gingrich. "Our goal is to win the section. Right now, we're sitting in first place. Every game is important. Everyone at any time can come out and win."
Eleven of Annville-Cleona's 12 shots on goal came in the second half. The Little Dutchmen inserted eight penalty corners compared to five for Lancaster Country Day.
"We've been so close in the past," said Gingrich of that elusive section title. "If we could get it, it would be a huge accomplishment. It would be nice for the girls. We'd also like to make it to the playoffs and then just go as far as we can. We just missed making states last year."
"We played really hard today," said Heim. "My girls put up a good fight. I thought we had four good quarters. I thought my girls played with absolute intensity. I'm very, very proud of how they played. Our defense was really in-synch."
To purchase images in this article please email jeff@lebcosports.com.
2022 Annville-Cleona Field Hockey Results
| | | | | | |
| --- | --- | --- | --- | --- | --- |
| 2022-08-31 | A | vs | Berks Catholic(3) | L | 2-1 |
| 2022-09-02 | H | vs | Lampeter Strasburg(3) | L | 4-1 |
| 2022-09-06 | A | vs | Cedar Crest(3) | W | 4-3 |
| 2022-09-09 | H | vs | Eastern Lebanon County(3) | W | 4-1 |
| 2022-09-13 | A | vs | Solanco(3) | W | 7-1 |
| 2022-09-15 | H | vs | Garden Spot(3) | W | 2-0 |
| 2022-09-17 | H | vs | East Pennsboro(3) | W | 3-1 |
| 2022-09-19 | A | vs | J P McCaskey(3) | W | 3-0 |
| 2022-09-21 | H | vs | Lancaster Mennonite(3) | W | 4-3 |
| 2022-09-23 | A | vs | Northern Lebanon(3) | W | 5-0 |
| 2022-09-24 | A | vs | Bishop McDevitt (3)(3) | L | 3-1 |
| 2022-09-27 | A | vs | Lancaster Country Day School(3) | | 0-0 |
| 2022-09-29 | H | vs | Lancaster Catholic(3) | | 0-0 |
| 2022-10-03 | H | vs | J P McCaskey(3) | | 0-0 |
| 2022-10-05 | A | vs | Lancaster Mennonite(3) | | 0-0 |
| 2022-10-07 | H | vs | Northern Lebanon(3) | | 0-0 |
| 2022-10-11 | H | vs | Lancaster Country Day School(3) | | 0-0 |
| 2022-10-13 | A | vs | Lancaster Catholic(3) | | 0-0 |
PIAA District Three Class A Power Rankings
| | | | | | | | | | | | |
| --- | --- | --- | --- | --- | --- | --- | --- | --- | --- | --- | --- |
| A | School |  W |  L |  T |  Rating |  TWP |  OWP |  TWPW |  OWPW |  TWPL |  OWPL |
| 1 | Oley Valley | 7- | 1- | 1 |  0.767941 |  0.869565 |  0.643735 |  8.00 |  104.80 |  1.20 |  58.00 |
| 2 | Boiling Springs | 10- | 0- | 0 |  0.762892 |  1.000000 |  0.473094 |  9.60 |  84.40 |  0.00 |  94.00 |
| 3 | Bishop McDevitt (3) | 8- | 0- | 0 |  0.733352 |  1.000000 |  0.407449 |  7.00 |  72.20 |  0.00 |  105.00 |
| 4 | Greenwood | 9- | 1- | 0 |  0.723607 |  0.863636 |  0.552459 |  7.60 |  101.10 |  1.20 |  81.90 |
| 5 | Berks Catholic | 11- | 1- | 0 |  0.709998 |  0.924528 |  0.447793 |  9.80 |  83.20 |  0.80 |  102.60 |
| 6 | West Perry | 8- | 2- | 0 |  0.668641 |  0.796296 |  0.512618 |  8.60 |  97.50 |  2.20 |  92.70 |
| 7 | Newport | 9- | 2- | 0 |  0.634757 |  0.773585 |  0.465078 |  8.20 |  83.90 |  2.40 |  96.50 |
| 8 | Wyomissing | 9- | 2- | 0 |  0.578210 |  0.796296 |  0.311659 |  8.60 |  55.60 |  2.20 |  122.80 |
| 9 | Annville-Cleona | 8- | 3- | 0 |  0.577468 |  0.690909 |  0.438819 |  7.60 |  83.20 |  3.40 |  106.40 |
| 10 | Littlestown | 7- | 3- | 0 |  0.553444 |  0.630435 |  0.459345 |  5.80 |  75.70 |  3.40 |  89.10 |
| 11 | Susquenita | 7- | 4- | 0 |  0.522191 |  0.563636 |  0.471536 |  6.20 |  87.80 |  4.80 |  98.40 |
| 12 | Kennard Dale | 6- | 4- | 0 |  0.510421 |  0.591837 |  0.410913 |  5.80 |  73.80 |  4.00 |  105.80 |
| 13 | Lancaster Mennonite | 6- | 3- | 1 |  0.505737 |  0.600000 |  0.390526 |  6.00 |  74.20 |  4.00 |  115.80 |
| 14 | Fleetwood | 4- | 5- | 1 |  0.486481 |  0.446809 |  0.534969 |  4.20 |  87.20 |  5.20 |  75.80 |
| 15 | Forbes Road | 3- | 1- | 0 |  0.483409 |  0.666667 |  0.259427 |  2.40 |  17.20 |  1.20 |  49.10 |
| 16 | Eastern Lebanon County | 6- | 5- | 0 |  0.483384 |  0.509434 |  0.451544 |  5.40 |  84.80 |  5.20 |  103.00 |
| 17 | Biglerville | 7- | 5- | 1 |  0.476422 |  0.524590 |  0.417550 |  6.40 |  70.90 |  5.80 |  98.90 |
| 18 | Camp Hill | 4- | 4- | 0 |  0.456024 |  0.487179 |  0.417946 |  3.80 |  70.80 |  4.00 |  98.60 |
| 19 | East Pennsboro | 3- | 10- | 0 |  0.433399 |  0.218750 |  0.695747 |  2.80 |  127.60 |  10.00 |  55.80 |
| 20 | Lancaster Country Day School | 6- | 6- | 0 |  0.426844 |  0.451613 |  0.396570 |  5.60 |  74.00 |  6.80 |  112.60 |
| 21 | Bermudian Springs | 4- | 5- | 1 |  0.426253 |  0.382979 |  0.479143 |  3.60 |  85.00 |  5.80 |  92.40 |
| 22 | Octorara | 3- | 4- | 1 |  0.423266 |  0.404762 |  0.445882 |  3.40 |  75.80 |  5.00 |  94.20 |
| 23 | Delone Catholic | 4- | 4- | 0 |  0.416941 |  0.452381 |  0.373626 |  3.80 |  47.60 |  4.60 |  79.80 |
| 24 | Schuylkill Valley | 4- | 5- | 2 |  0.413707 |  0.392157 |  0.440045 |  4.00 |  77.80 |  6.20 |  99.00 |
| 25 | Eastern York | 2- | 6- | 1 |  0.360479 |  0.287234 |  0.450000 |  2.70 |  77.40 |  6.70 |  94.60 |
| 26 | Hanover (3) | 4- | 7- | 0 |  0.350588 |  0.288136 |  0.426918 |  3.40 |  70.10 |  8.40 |  94.10 |
| 27 | Brandywine Heights | 4- | 6- | 0 |  0.333994 |  0.313725 |  0.358766 |  3.20 |  66.30 |  7.00 |  118.50 |
| 28 | Hamburg | 2- | 6- | 0 |  0.320210 |  0.238095 |  0.420571 |  2.00 |  73.60 |  6.40 |  101.40 |
| 29 | Fairfield | 1- | 5- | 1 |  0.294790 |  0.230769 |  0.373039 |  1.80 |  52.30 |  6.00 |  87.90 |
| 30 | Northern Lebanon | 1- | 6- | 1 |  0.294719 |  0.150000 |  0.471598 |  1.20 |  71.40 |  6.80 |  80.00 |
| 31 | Big Spring | 0- | 8- | 1 |  0.284381 |  0.055556 |  0.564057 |  0.50 |  95.10 |  8.50 |  73.50 |
| 32 | Kutztown | 1- | 7- | 0 |  0.247069 |  0.127660 |  0.393013 |  1.20 |  72.00 |  8.20 |  111.20 |
| 33 | Tulpehocken | 1- | 9- | 0 |  0.246014 |  0.105263 |  0.418042 |  1.20 |  76.00 |  10.20 |  105.80 |
| 34 | Lancaster Catholic | 0- | 10- | 0 |  0.230643 |  0.000000 |  0.512541 |  0.00 |  94.00 |  11.00 |  89.40 |
| 35 | Southern Huntingdon County Senior | 0- | 4- | 0 |  0.138441 |  0.000000 |  0.307647 |  0.00 |  26.15 |  4.80 |  58.85 |

Lebanon Federal Credit Union