---
If you like this type of coverage, please let us know by Following us on social media: Twitter/X – @lebcosports1 and
Facebook.
For any questions, comments, or discrepancies, please reach out to
dan@lebcosports.com.
---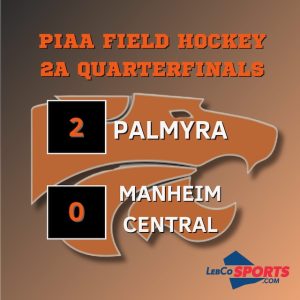 The Palmyra Cougars stormed into the State quarterfinals with a 7-1 win over West Chester East on Tuesday evening. On Saturday afternoon at Donegal High School, they battled with Manheim Central, an opponent with whom they have a recent history, having met them in the District 3 semifinals. In the November 1st matchup, Palmyra won by a score of 2-0, but the first goal did not come until there were three minutes left. As has been the case in all of their games as of late, the defense for the Cougars proved to be stout, holding Central to one shot over the course of the four quarters of play.
In Saturday's matchup, Palmyra did not wait until the final three minutes to get on the board. With the scoreboard reading 12:38 in the 1st quarter, Morgan Lantz took a pass from Keely Bowers and got the ball by Manheim Central goalie Lacy Nelson giving Palmyra a 1-0 lead. In Tuesday's win, Lantz got the scoring started with a quick goal as well.
After the lightning quick goal to start, the game then turned into a defensive battle. Manheim Central was held to just four shots, with goalkeeper Abby Bennett turning away three and Peyton Bean making a defensive save on the other.
Palmyra would add an insurance goal when Mallory Hudson scored in the 4th quarter, making the final score 2-0.
Palmyra will now move into Tuesday's State semifinals, where they will play Hershey for the fourth time this season. Hershey defeated Radnor, 3-2, in overtime to earn their spot back in the 2A Final Four. Palmyra has won each of the three previous meetings, with the most recent win coming in the District 3 quarterfinals. Palmyra-Hershey IV will be played at Lower Dauphin Middle School at 5:00 pm.
Game Stats
Scoring
1st Quarter
12:43 – Morgan Lantz, assisted by Keely Bowers 1-0
4th Quarter
7:22 – Mallory Hudson, unassisted 2-0
Shots: Palmyra – 9, Manheim Central 4
Corners: Palmyra 11, Manheim Central 13
Saves: Abby Bennett (P) – 3, Lacy Nelson (MC) – 7
Defensive Save: Peyton Bean (P)
Palmyra v Hershey Season Series
9/28: Palmyra 1, Hershey 0
10/17: Palmyra 4, Hershey 1
11/1: Palmyra 3, Hershey 1 (Districts)
For more on Palmyra Field Hockey, check out some of our recent coverage:
Palmyra Rolls in State Opener; ELCO's Run Ends
Palmyra Wins District Championship; ELCO Defeats Annville, Gains State Berth
Team of the Week – Palmyra Field Hockey (Week of September 25th)
Female Athletes of the Week – Aeryn Marks & Mallory Hudson (Week of October 30th)
Female Athlete of the Week – Keely Bowers (Week of October 23rd)