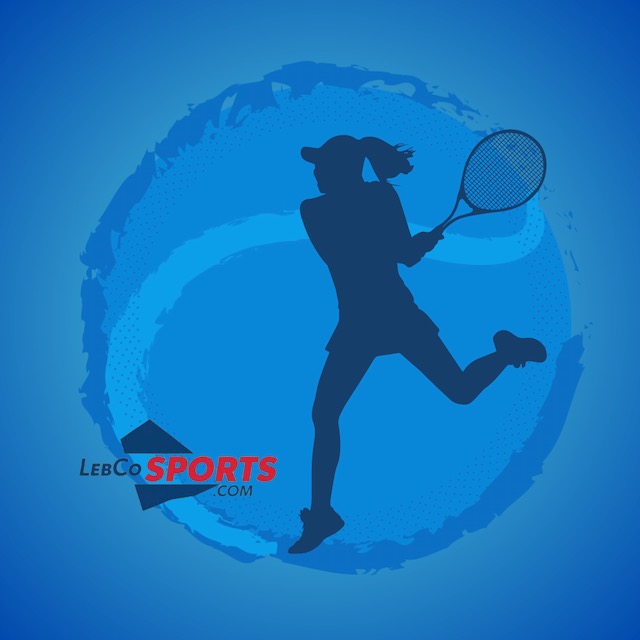 On Saturday, members of each of LebCo's six high school Girls' Tennis teams met at Cedar Crest High School to compete in the annual Lebanon County Tennis Championships.  The structure of the tournament includes brackets for #1 & #2 Singles, along with the #1 & #2 Doubles teams from each school.  From there, each school is awarded points based on finish in each category to determine a team winner.
In #1 Singles play, it was a battle of juniors when ELCO's Reece Woelfling met Palmyra's Elaina Potter in the finals.  Woelfling had defeated Cedar Crest's Kaitlyn Do in the semifinals in a 6-4, 6-2 match, while Potter had defeated Annville-Cleona's Laney Kreider by a score of 6-2, 6-2.  Woelfling had enough left in the tank and outdueled Potter to win the #1 Singles title.
In the #2 Singles, it was Cedar Crest's Annie Forry who defeated Annville-Cleona's Mia Summers for the title.
In the #1 Doubles bracket, Palmyra's duo of Rylee Sherwood and Rachel Ross found themselves playing Hope Wagner and Olivia Morrissey of Annville-Cleona in the championship round.  The two pairs were evenly matched, making for one of the most exciting contests of the day.  Wagner/Morrissey won the first set, 6-3.  Sherwood/Ross then took the second set by a score of 6-2.  This set the stage for a tiebreaking third set, which the young ladies from Palmyra were able to eventually win by a score of 10-8 to secure the #1 Doubles crown.
Palmyra's #2 Doubles team of Dahlia Dokmenler and Anna Rashid also were able to win over a pair from Annville-Cleona when they took on Gabriella Tetzlaff and Nia Haffey in the championship round.
Winning both Doubles championships and finishing as runner-up in the #1 Singles, the Palmyra Lady Cougars walked away with the Lebanon County Team Championship for the 4th straight year.  Annville-Cleona's strong showing earned them 2nd place.
---
If you like this type of coverage, please let us know by Following us on social media:
Twitter/X – @lebcosports1 and Facebook.
For any questions, comments, or discrepancies, please reach out to dan@lebcosports.com.
---
Match Results
#1 Singles
1st Round
Laney Kreider (Annville-Cleona) defeated Elsie Shuey (Northern Lebanon)  6-1, 6-0
Kaitlyn Do (Cedar Crest) defeated Iris Krouse (Lebanon)  6-1, 6-1
2nd Round
Elaina Potter (Palmyra) defeated Laney Kreider (Annville-Cleona)  6-2, 6-2
Reece Woelfling (ELCO) defeated Kaitlyn Do (Cedar Crest) 6-4, 6-2
Finals
Reece Woelfling (ELCO) defeated Elaina Potter (Palmyra)  6-0, 6-1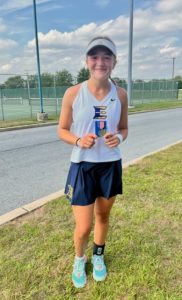 Reece Woelfling – #1 Singles Champion
#2 Singles
1st Round
Nicole Books (ELCO) defeated Nevaeh Colon (Lebanon)  6-0, 6-1
Ava Cuzzolina (Palmyra) defeated Grace Rothermel (Northern Lebanon)  6-1, 6-1
2nd Round
Annie Forry (Cedar Crest) defeated Nicole Books (ELCO)  6-1, 6-0
Mia Summers (Annville-Cleona) defeated Ava Cuzzolina (Palmyra)  6-4, 6-6, 5-7, 10-6
Finals
Annie Forry (Cedar Crest) defeated Mia Summers (Annville-Cleona)  6-1, 6-1

Annie Forry – #2 Singles Champion
#1 Doubles
1st Round
Becky Dimov/Lizzie Dimov (ELCO) defeated Stephanie Wang/Valeria Lopez (Northern Lebanon)  6-3, 3-6, 10-7
Hope Wagner/Olivia Morrissey (Annville-Cleona) defeated Katie Idgunji/Maddie Kase (Cedar Crest)  6-1, 6-3
2nd Round
Rylee Sherwood/Rachel Ross (Palmyra) defeated Becky Dimov/Lizzie Dimov (ELCO)   6-1, 6-0
Hope Wagner/Olivia Morrissey (Annville-Cleona) defeated Lina Zheng/Sarah Zheng (Lebanon)   6-1, 6-3
Finals
Rylee Sherwood/Rachel Ross (Palmyra) defeated Hope Wagner/Olivia Morrissey (Annville-Cleona)  3-6, 6-2, 10-8

Rylee Sherwood & Rachel Ross- #1 Doubles Champions
#2 Doubles
1st Round
Dahlia Dokmenler/Anna Rashid (Palmyra) defeated Amy Castro/Aggy DiScuillo (Lebanon)  6-0, 6-2
Aubrey Gard/Bella Towadrous (Cedar Crest) defeated Riley Thompson/Bella Hollinger (Northern Lebanon)  6-3, 6-2
2nd Round
Dahlia Dokmenler/Anna Rashid (Palmyra) defeated ELCO Team – will update once names are relayed (ELCO) 6-0, 6-0
Gabriella Tetzlaff/Nia Haffey (Annville-Cleona) defeated Aubrey Gard/Bella Towadrous (Cedar Crest) 6-3, 6-2
Finals
Dahlia Dokmenler/Anna Rashid (Palmyra) defeated Gabriella Tetzlaff/Nia Haffey (Annville-Cleona) 6-4, 6-1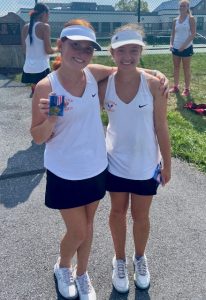 Dahlia Dokmenler & Anna Rashid – #2 Doubles Champions
---
Team Scores
1) Palmyra – 9
2) Annville-Cleona – 7
3) ELCO / Cedar Crest – 5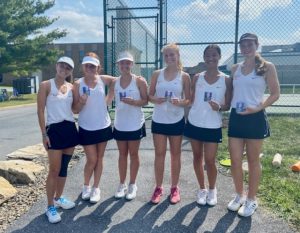 Palmyra – 2023 Lebanon County Tennis Team Champions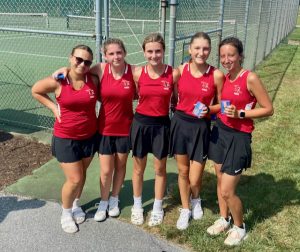 Annville-Cleona – 2nd Place
---
2022 Champions
#1 Singles: Nitya Patel (Palmyra)
#2 Singles: Cameron Lehr (ELCO)
#1 Doubles: Potter/Isett (Palmyra)
#2 Doubles: Claman/Idgunji (Cedar Crest)
Team Co-Champions: Palmyra / Cedar Crest
2022 LebCo Girls Tennis Championship Results

Lebanon Federal Credit Union