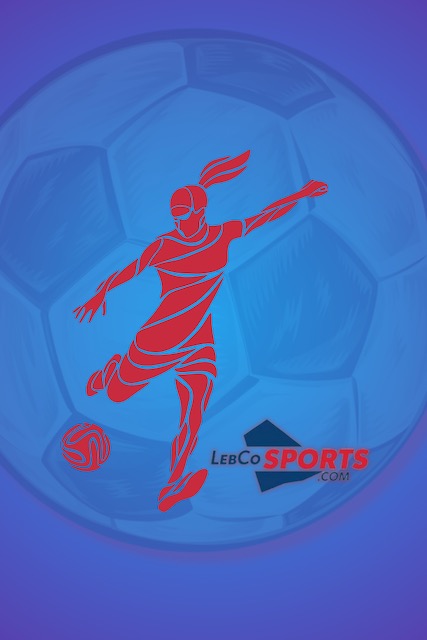 The 2023 Girls Soccer season looks like it will be an exciting one for the seven LebCo teams. Check back often to LebCoSports.com and be sure to follow our socials for the latest: Twitter/X – @lebcosports1 and Facebook.
For comments or to report errors/discrepancies, please reach out to Dan (dan@lebcosports.com).
---
     Annville-Cleona Dutchmen 
Lancaster-Lebanon League Section 4
Head Coach: Ryan Ulrich – 1st season
Key Returners: Izzy Sawich (Sr.); Rowan Ulrich (Jr.); Kya Missimer (Jr.); Mikayla Sperlich (So.)
Key Newcomers: Emma Shirk (So.); Madelyn Putt (Fr.); Addison Sanchez (Fr.)
Key Losses:  Sage Sherk (Clarion University); Julia Myers; Sarah Speraw; Rebekah Sperlich; Izzy Soliday
Outlook: Following the graduation of several key players from last year's starting eleven and the hiring of Ryan Ulrich to be the new head coach, the Dutchmen may be difficult to recognize this season.  With that said, the philosophy of the coaching staff and the players will remain the same.  They will enter each practice with the intent of acquiring new technical skills that allows them to outplay their opponents. Annville-Cleona also understands that in order to be the best team, they must learn to trust one another, a main focus of the culture that the coaches are trying to create.  Incorporating these elements of the AC Soccer program, the goal is to be able to outplay their larger opponents.  While they did lose several seniors, one thing that will help to further promote the culture is the returning talent that they do have, highlighted by junior forward Rowan Ulrich, a 1st Team Section 4 All-Star in 2023.  If all goes to plan and they play as a tight-knit unit, Annville could be among the top teams in the Section 4.
---
      Cedar Crest Falcons 
Lancaster-Lebanon League Section 1
Head Coach: Scott Steffen – 5th season
Key Returners: Ellie Gerhart (Sr.); Hannah Menicheschi (Sr.); Lily Meyer (Sr.); Kayla Myer (Sr.); Halle Smith (Sr.); Heidi Fox (Jr.);  Susie Hoffman (Jr.);  Alaina Miller (Jr.)
Key Newcomers: Dawson Behney (Sr.); Anna Durning (Jr.); Sam Fink (So.); Emma Kline (So.); Hayden Wamsher (So.); Makenzie Wamsher (So.)
Key Losses: Lily Young (Jacksonville University); Abrielle Miller (Lebanon Valley College); Abby Boyle; Stella Ludwig; Alyssa Vandett; Emilee Walborn; Myah Wright
Outlook: The Lady Falcons went 11-7 during last year's regular season, earning them a spot in the District 3 Playoffs for the 2nd straight year.  They will enter 2023 having graduated some of that top tier talent, including their #1 offensive threat, Lily Young, and their top defender, Alyssa Vandett.  Even with those heavy losses, Cedar Crest is returning many top contributors from last year, a list that includes junior Alaina Miller, a 1st Team Section 1 All-Star who served Young's goal scoring counterpart.  If they can rely on their experience and players can step up to take over key roles on the team, Cedar Crest will once again be among the most competitive teams in Section 1.
---
 ELCO Raiders  
Lancaster-Lebanon League Section 3
Head Coach: Derek Fulk – 11th season
Key Returners: Carsyn Boyer (Sr.); Avery Mays (Jr.); Makenna Seifert (Sr.); Olivia Winters (Jr.); Caitlyn Andrews-Weber (So.); Claire Jacoby (So.); Kenzie Eckhart (So.); Bre Etherson (So.); Abby Nelson (So.); Lily Schoffstall (So.); Maddie Stout (So.)
Key Newcomers: Ava Beck (Fr.); Hadyn Boyer (Fr.); Ava Seifert (Fr.)
Key Losses: Julia Bidelspach (Lycoming College); Carley Kleinfelter (LVC); Carissa Bender; Samantha Nelson
Outlook: Last season, the Lady Raiders overcame early struggles  and pushed through the end of the regular season.  In a must-win game to end the season, ELCO a late season charge to win the Section 3 Championship for the 8th straight season.  That team benefitted from several talented leaders, who have since graduated.  In comparison, this year's team is young and inexperienced, so consistent improvement will be a key part of their strategy to challenge for another Section 3 title.  They do return several talented players, headlined by senior midfielder Carsyn Boyer, a 1stTeam Section 3 selection last year.  Between the mix of veterans and youth, ELCO should be in the mix when it comes to postseason play.  One of the secret ingredients that Coach Fulk hopes will guide this team is the collection of lessons that last year's seniors left as their legacy.  If followed, these lessons could easily translate into several more years of success.
---
   Lebanon Cedars
Lancaster-Lebanon League Section 3
Head Coach: Heidi Evans – 3rd season
Key Returners: Alexa Lopez (Sr.); Seira Wolfe (Sr.); Natalie Folmer (Jr.); Olive Brandt (So.)
Key Newcomers: Natalie Folmer (Jr.)
Key Losses: None
Outlook: The Cedars had a rough go of it in '22, but it much of the struggle was expected given the youth of the team.  They return in '23 with another year of work, including a summer full of workouts that focused on foundational skills that will allow for more technical play this season.  While Lebanon is in a tough a tough Section 3, Coach Evans has built a culture of positivity where players support each other in the process of growth.  One of the players that will factor heavily into the success of the team is the field general, sophomore Olive Brandt, who will be anchoring the midfield. Senior Siera Wolfe will be holding it down on the defensive end, something she did well last year and was honored as a Section 3 – 2nd Team All-Star.  A new addition that Cedar Nation is excited about is junior Natalie Folmer who transferred from New Covenant where she scored double-digit goals last year.  While wins were tough to come by last year, expect Lebanon to be more competitive this season and to give quite the run to many of their opponents.
---

New Covenant Flames
Head Coach: Cody Kantner – 3rd season
Key Returners: Renee Dunkley (Sr.); Katelyn Ulrich (Sr.); Miracle Hershey (Jr.); Keira Kantner (Jr.); Akaiya Hershey (So.); Raena Kilmer (So.)
Key Newcomers: Caris Rhea (Sr.); Qynne Demler (Fr.); Moriah Simniskis (Fr.); Adrianna Yeagley (Fr.)
Key Losses:  None
Outlook: Last season, New Covenant benefitted from a talented group of players that had been developing for several years.  Their talent on the field resulted in a trip to the District 3 Playoffs.  They returning all of the key pieces in 2023, making them a team to watch this year after getting a taste of postseason action last year.  The players are determined to build on that success and have been working hard to meet new, more rigorous goals. With several goal-scoring options, some of the top returners who could light up the scoreboard each game are Leah Barnhart, Keira Kantner, Akaiya Hershey, and speedster Miracle Hershey. While they have talent throughout the starting lineup, the Flames will also benefit from a deep bench.  This is an area where they differ from most schools their size.  This New Covenant team will be worth watching as they hope to rewrite all of the school's record books.
---

Northern Lebanon Vikings
Lancaster-Lebanon League Section 4
Head Coach: Jeff Snyder
Key Players: Brooke Beamesderfer (Sr.); Maleah Bishop (Sr.); Lillianna Harris (Jr.); Morgan Rank (Jr.); Darby Michael (Jr.)
Key Newcomers: Several freshmen
Key Losses: Erin Shuey (Delaware Valley); Alyssa Marlowe (Penn State – Hazleton); Hanna Wanyo. 7 other seniors
Outlook: Last season, Northern Lebanon finished at the .500 mark, but had to say goodbye to ten of their players when the year ended.  This has created a tough situation, as the Lady Vikings will look to fill several positions on the field this season.  They are young, but will benefit from some experienced leaders, headlined by seniors Brooke Beamesderfer and Maleah Bishop. There will be growing pains for this group, but continued hard work and development could give this team an edge in future years. With that said, do not count out the Vikings and their ability to compete this season.
---
 Palmyra Cougars
Mid-Penn Conference – Keystone Division
Head Coach: Tim Grinstead – 5th season
Key Returners:  Hope Swanson (Sr.); Avery Grinstead (Jr.); Ava Lindenmuth (Jr.); Delaney Miller (Jr.); Alyssa Stroik (Jr.); Ellie Bauer (So.); Katie Dromgoole (So.); Kenzie Long (So.)
Key Newcomers: Elyse Ancharski (Fr.); Graceyn O'Brien (Fr.); Sammie Seager (Fr.); Ella Stuart (Fr.)
Key Losses:  Makayla Bucks (Penn College); Anna Edwards (DeSales University); Madison Grinstead (Wheaton College); Katy Pavusek (Pitt – Johnstown); Maggie Webb (Shippensburg University); Bridget Krikorian
Outlook: The 2022 season ended with the Lady Cougars having achieved their 4th straight winning season, a streak that is the longest such streak in the history of the school's soccer program.  Palmyra finished 9-7-2, narrowly missing out on making Districts in their first year in AAAA .  Last year's team was senior heavy, with five members of that squad currently playing in college.  Even with those losses, Coach Grinstead has high hopes that the 2023 team, with many new starters, can drive the winning season streak to five-in-a-row. They are a hardworking group that is dangerous offensive and communicates well, making them tough defensively. Opposing teams will have to always account for forwards Delaney Miller, Ava Lindemuth, and Makenzie Long if they want to have a chance at winning.  With continued work at making sure the starting line-up's new additions are prepared for what they will see on the field, Palmyra could prove to be a very difficult matchup in '23.
---
If you are looking to provide feedback or are a business or individual interested in providing sponsorship to aid our mission at LebCoSports, you are asked to contact Dan by emailing dan@lebcosports.com.

Lebanon Federal Credit Union