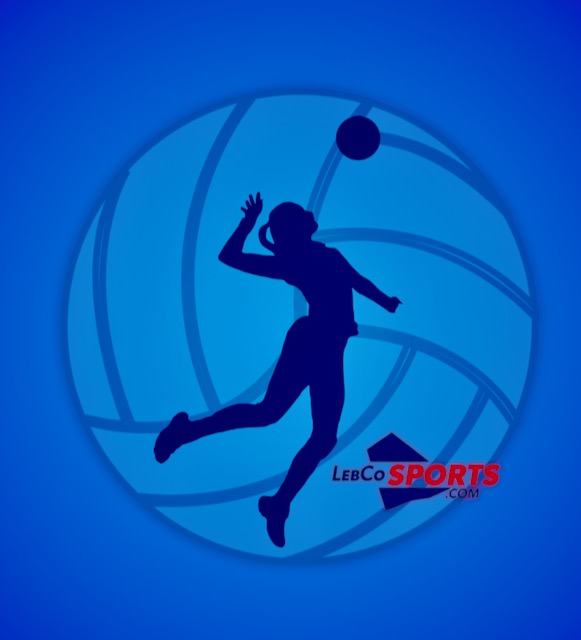 While the season has already gotten underway, we wanted to put out a late season outlook for our talented girls Volleyball teams. It's still early, so it's tough to get a true indication, but it looks like this season will be exciting across the county.
Check back often to LebCoSports.com and be sure to follow our socials for the latest: Twitter/X – @lebcosports1 and Facebook.
For comments or to report errors/discrepancies, please reach out to Dan (dan@lebcosports.com).
---
     Cedar Crest Falcons 
Lancaster-Lebanon League Section 1
Head Coach: Monica Sheaffer – 3rd season
Key Returners:  Kenadie Dunsworth (Jr.); Lily Tice (Jr.)
Key Newcomers: Alani Buie, Caroline Heller, Natalie Yeingst
Key Losses: Sophia Rosenberg (U.S. Coast Guard Academy)
Outlook: In 2022, the Lady Falcons finished 9-7 in the regular season, snagging the final spot in the District 3 Tournament where they lost to Section 1 rival Hempfield. They return in 2023 as a younger team who will need to learn to play together in order to find success.  If Crest can figure out a way to mesh, they could find their footing again for a decent season.
Current Record: 0-3
---

ELCO Raiders  
Lancaster-Lebanon League Section 3
Head Coach: Megan Hanichak – 4th season
Key Returners: Olivia Miller (Jr.); Cali Smith (Jr.); Gabby Smith (Jr.); Chloe Shirk (So.)
Key Newcomers: Maddie Mclain (Jr.); Abby Ruth (So.)
Key Losses: Emily Snader (Penn State – York); Brooke Auker; Taylor Stone
Outlook: The Lady Raiders put forth a decent effort in 2022, but at the end of the season had to say goodbye to its senior class.  This has left ELCO with an extremely young team that lacks any seniors. Coach Hanichak sees this is a unique opportunity as her players will have the chance to step up and become leaders on their own terms. The key to this team to be successful is for them to work together to speed up their rate of play. While the front-line has good size, they will have to train a new setter following the graduation of Taylor Stone.  Overall, this group is full of athletic talent, so it will just be a matter of how quickly they can gain experience as to how many matches they will win in '23.
Current Record: 2-1
---
     Lebanon Cedars
Lancaster-Lebanon League Section 2
Head Coach: Danielle Gehr – 1st season
Key Returners:  Nicole Gonzalez Ramirez (Sr.); Dora Lopez (Sr.);  Jaelyana Burrus (Jr.); Noelani Cruz (Jr.); Lilliana Harrison (Jr.); Kariana Minaya (Jr.)
Key Newcomers: Nina Harrison (Fr.)
Key Losses: Kaliyah Atkins, Alecia Disla Duran, Sophia Gilbert, Elcy Reynoso Aquino
Outlook: The 2022 Cedars were loaded with seniors, something that looks very different this year as they only carry two seniors in the starting lineup.  However, just because this group is young does not mean that they lack talent or fight.  They have been working hard under the direction of their new head coach Danielle Gehr and hope to compete hard throughout the regular season.  If you note some of the names on the roster (Lilliana Harrison & Jayleana Burrus) and remember last year's basketball team, you will also recognize the athleticism within this group.  While those two are the most recognizable names when it comes to Cedar sports, there is plenty of talent among the key returners that could result in several wins this season.
Current Record: 0-3
---

New Covenant Flames
Commonwealth Christian Athletic Conference
Head Coach: Derek Leonard – 2nd season
Key Returners: Dylan Worley (Sr.); Sophia Randall (Sr.); Lili Shepler (Sr.); Emma Weber (Jr.); Maya Gunderson (So.); Ryan Gunderson (So.)
Key Losses: Audra Foster (Penn State – York); Renae Rohrer (Eastern University); Ella VanDerPloog
Outlook: New Covenant has found success on the volleyball court in recent years. In 2022, they bumped up to AA and narrowly missed out on the District 3 Tournament following the co-op with Annville-Cleona adding to their numbers. While they had to say goodbye to a strong senior class, this edition of the Flames will look to add to their success by establishing their own identity. This will mean that several players will have to not only fill, but embrace new roles that were left vacant.  If the culture of volleyball at New Covenant can live on with this group, they are going to be right in the postseason mix again this year.
Current Record: 3-0
---

Northern Lebanon Vikings
Lancaster-Lebanon League Section 3
Head Coach: Joe Mengel – 4th season
Key Returners: Bailey McFeaters (Sr.); Ayva Sechman (Sr.)
Key Newcomers: Adrianna Raber (Jr.); Claire Borcky (So.); Shea Moyer (Fr.)
Key Losses: Sam White (Millersville); Hailey Pierce; Hope Wentling
Outlook: Last year's Northern Lebanon Volleyball Team entered unchartered territory, as they finished 14-0 in the regular season before becoming the runners-up in the District 3 Tournament on their way to playing in the PIAA State Championship Tournament.  When the season ended, the Lady Vikings had to say goodbye to seven seniors, including Sam White who is now playing for Millersville.  While Northern Lebanon lost a lot of talent and experience to graduation, the current group should not be underestimated.  According to all reports, they are working hard and are highly motivated to live up to the new standard that was set in 2022.
Current Record: 1-0
---
Palmyra Cougars
Mid-Penn Conference – Keystone Division
Head Coach: John McInerney – 1st season
Key Returners: Carmen McConaghy (Sr.); Emelia Kerr (Sr.); Victoria Baker (Jr.); Emma Ciesilka (Jr.); Maddie Hoffman (Jr.); Hannah McInerney (So.)
Key Newcomers: Addie Amy (So.); Maddie Farabaugh (So.)
Outlook: Palmyra won a State Championship in 2019.  Palmyra did not win a match in 2021.  They know which one they would rather be and are currently working towards achieving that goal again.  Last year, they rebounded for 2021 to go .500 with a very young team.  Now with more experience, the talent is in place for them to put together a solid postseason run.  Speaking of talent, they return last year's Keystone All-Stars junior Emma Ciesilka (1st team) and senior Carmen McConaghy(Honorable Mention.  Speaking of the youth, the Lady Cougars will also rely more on sophomore Hannah McInerney, whose older sister Taylor was a major piece of the 2019 team.  This team will definitely be one to watch.
Current Record: 3-2
---
If you are looking to provide feedback or are a business or individual interested in providing sponsorship to aid our mission at LebCoSports, you are asked to contact Dan by emailing dan@lebcosports.com.

Lebanon Federal Credit Union