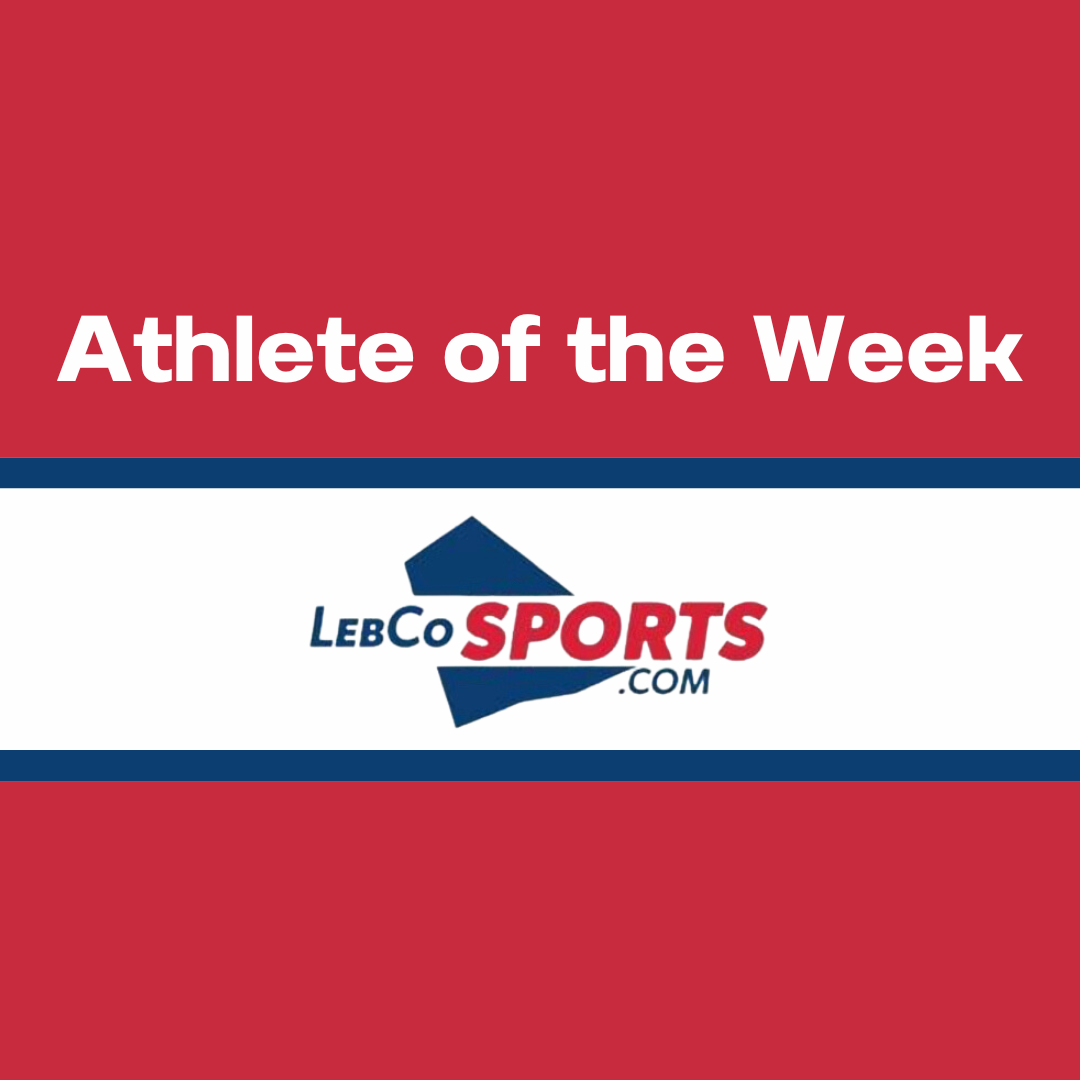 Help us decide which male and female athlete should be honored for their outstanding efforts during last week's local high school sports action.  Review the list below and then click on the link to vote.  The winners will be announced later this week.
Voting will remain open until Wednesday at 7 pm.  Only one vote per email address will be allowed.
While this may be a vote and emotions can run high, this is intended to bring attention to some of the best performances from our local student-athletes.
Nominees below are listed in alphabetical order.
---
If you like this type of coverage, please let us know by Following us on social media:
Twitter/X – @lebcosports1 and Facebook.
For any questions, comments, or discrepancies, please reach out to dan@lebcosports.com.
---
Female Nominees
Keely Bowers (Palmyra / Sr.) – Field Hockey: In two games of the Cougar Classic Tournament, Bowers scored 4 goals & added 2 assists on the way to Palmyra capturing the championships.  For her efforts, she was named to the All-Tournament Team.  On Wednesday, she contibuted 1 goal & 1 assist in Palmyra's 2-1 victory over rival Mechanicsburg.
Olive Brandt (Lebanon / So.) – Soccer: Playing as a midfielder for the Cedars, Brandt scored in both games for Lebanon this week.  With her 2 goals, she helped the Cedars in earning 2-0 shutouts over Hanover & Lancaster Country Day.
Miracle Hershey (New Covenant / Jr.) – Soccer: Over the course of two games against West Shore Christian, Hershey registered 4 goals & 2 assists.  Both of these games were wins for the Flames, with Hershey also using her speed & skill to anchor the defense as they shut out West Shore Christian on Saturday.
Miya Neuman (Northern Lebanon / Sr.) – Field Hockey: Scored 2 goals in the Lady Vikings' 4-0 win over Brandywine Heights. Her efforts helped win the second game in a row for Northern Lebanon.
Danielle Schroll (Cedar Crest / Sr.) – Field Hockey: Helping the Lady Falcons to a 4-0 start, Schroll scored twice in her team's win over Annville.  This gave her 10 goals to start the season, leading Crest to an unblemished record.
Emma Shirk (Annville-Cleona / So.) – Soccer:  Scored a hat trick in Annville's 7-3 win over McCaskey.  This was Shirk's 2nd – 3 goal performance of the young season.
Reece Woelfling (ELCO / Jr.) – Tennis: At the Lebanon County Championships, Woelfling won the #1 Singles Championship following hard fought wins over Cedar Crest's Kaitlyn Do (6-4, 6-2) & Palmyra's Elaina Potter (6-0, 6-1).
Male Nominees
James Fisher (New Covenant / Sr.) – Soccer: Fisher scored 2 goals in a close 6-5 loss to West Shore Christian.  He also played a key role in holding Mount Calvary's offense in place during a 1-0 loss.
Landon Hostetter (Annville-Cleona / Jr.) – Cross Country / Soccer: In cross country, Hostetter finished 2nd at the LVC Dutchmen Invitational with a time of 16:12.3, leading Annville to a 2nd place team finish. On the soccer field, he contributed 2 goals & had 1 assist over the course of two games, one of which was a win over Hanover.
Tristan Long (Cedar Crest / Sr.) – Football: From the defensive tackle position, Long caused nightmares for Warwick on the way to the Falcons winning 29-23 in triple overtime. He recorded 11 tackles, with 3 of them being solo & 5 of them resulting in a loss of yardage. He totaled 3.5 sacks during the contest.
Luke Shaffer (Northern Lebanon / Sr.) – Football: In the Vikings' 25-7 win over York Tech, Shaffer recorded 15 tackles from the linebacker position.  Offensively at tight end, he grabbed 3 receptions for 23 yards & a touchdown.
Caleb Sitler (Palmyra / Sr.) – Soccer: Over the course of the week, Sitler contributed in wins over Cedar Crest, Mechanicsburg, & Susquehannock. He totaled 2 goals & 4 assists to aid the Cougars as they started the season 3-1.
Ramon Urena Batista (Lebanon / Sr.) – Cross Country: In Tuesday's 90+ degree heat, Urena Batista ran an 18:12 to finish 1st against McCaskey & Warwick.  At Saturday's LVC Dutchmen Invitational, he finished 1stamong the field of 275 runners. Urena Batista conquered the 5k course at Union Canal in 15:47.7, tying the course record.
Jake Williams (ELCO / Sr.) – Football: In a shortened three quarter game against Columbia, Williams carried the ball 15 times for 356 yards, a new school record.  He totaled 5 scores in the contest, with touchdown runs of 52, 66, 80, 57 & 51 yards.

Lebanon Federal Credit Union