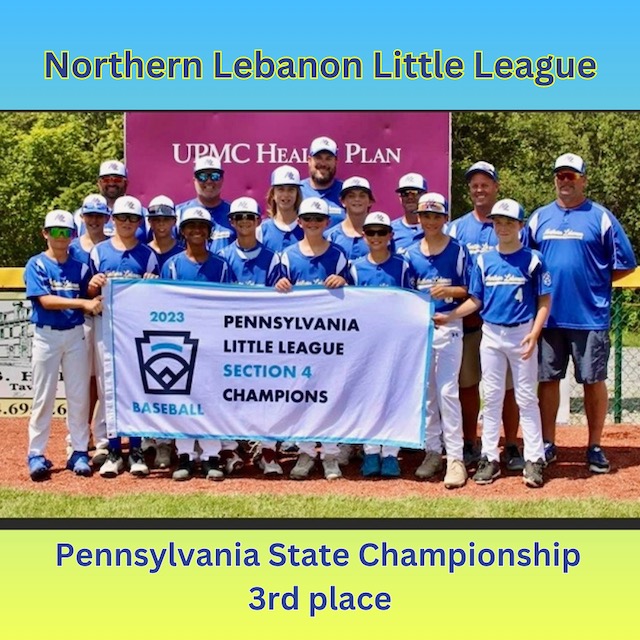 On Sunday afternoon, the Northern Lebanon League 12U All-Star Team's season came to an end with a loss to West Chester's East Side.  With that said, the twelve boys on the roster have a lot for which they can be proud.  First, they won two games in the Pennsylvania State Tournament after winning the Section 4 Tournament by beating last year's Mid-Atlantic Champion Hollidaysburg.  In doing so, they finished third in the State.  This result was the highest known finish for a Little League team hailing from Lebanon County.
While the journey ended on the Newtown-Edgemont Little League field on a pleasant, sunny day in late July, it began in mid-May when the team was selected from the pool of nominated players.  From that point forward, the boys and the coaching staff went full speed ahead in dedicating the Summer of '23 to the pursuit of baseball.  Head Coach Rick Hornberger said of the time together, "As I reflect on this journey it only brings a smile to my face."  He went on to say, "Today I asked our kids what their favorite moment of all-stars has been and many said it was the friendships they built or a favorite game they won with the Holidaysburg and East Side wins getting the most votes."
While the wins were obviously important and ranked as favorite moments, so did the friendships.  This was an indication that the players understood that they knew that the experience was something more than just being about baseball itself.  Coach Hornberger added to that thought in saying, "This thing isn't just about becoming better baseball players, it is also about becoming better people and young men."  He also cited his own growth that resulted from watching his team, "I also learned a lot from the kids including how to be humble and that there is always another opportunity."
Going into all-star tournament play, Northern Lebanon had set goals to first win Regionals and then Section 4. The two wins over Hollidaysburg that it took to secure the Section title announced their arrival as a program. The Section championship which qualified them for the State tournament was  the first in the history of the Northern Lebanon Little League program.
Hornberger said, "Winning that Section Championship is a highlight because it is so hard to do and it has never been done at this level. These boys took on the challenge and played amazing baseball to earn that crown."
Following the Section win, the eight Section winners from across the State met in a double-elimination tournament.  Northern Lebanon won this first game with a 2-1, come-from-behind win over Council Rock Newtown.  In their second game, they again overcame a deficit to score a 6-5 walk-off victory over East Side (West Chester).
Hornberger said, "Those were absolutely the greatest wins I have been a part of. There were so many great pitching and hitting performances that showed the toughness of this team."
After the two impressive wins, the name of the game became pitching depth.  With pitch counts in effect, the top end pitching that aided Northern Lebanon in their wins was now unavailable. After running into powerhouse Media on Saturday, losing 19-3, they had to regroup for a rematch with East Side without getting any of their pitching back.  They fought until the end, but ultimately were defeated 13-6 to end their run.
Taking the whole scene into account, Hornberger said, "Two state wins and getting to the semifinal to earn 3rd place in the State of Pennsylvania is amazing. We all wanted to win it, but we will never forget this great run. We told the kids this is something our kids will remember and talk about for the rest of their lives. So many great moments."
Hornberger added, "This team raised the bar for every little league player in Lebanon County. This team proved every kid can dream that they can make it to the Little League World Series. We were that close to playing on ESPN next week in the Mid-Atlantic Regional Championships."
To opponents who defeated them and will square off for the State Title on Monday evening, Hornberger said, "We wish both East Side and Media the best of luck and whoever wins we will all be rooting for them to win it all."
Hornberger also wanted to take a moment to show gratitude: "I would love to thank all the families and fans for their support during this run. All of you played an important part in helping us be successful. Also, our league president Rusty Fox for all the behind the scenes work to make sure our team had everything it needed as there is a lot of red tape that nobody knows about it."
He summed it up by saying, "This has been the most fun I have had coaching a team because of the great players, families, and coaches who were a part of it."
There is no doubt that his players agree with Coach's sentiment of it being a fun experience.  They will now have the memories of the Summer of '23 and what the twelve kids from Lebanon County were able to accomplish on and off of the field while playing Little League Baseball.
For more on Northern Lebanon's All-Star season, check out our articles that are linked below the roster.
Northern Lebanon Little League All-Star Roster
Braden Demler
Tyler Hornberger
Chase Norris
Ben Kleinfelter
Jonathan Zimmerman
Griffin Lorenzo
Nolan Anspach
Rory Smyth
Jacob Boltz
Landon Gilley
Jacob Anspach
Julius Martinez
Coaches
Rick Hornberger
Brad Demler
Jason Norris
Sean Smythe
Brad Boltz
Kevin Zimmerman
---
Northern Lebanon Little League Looks to Advance to States
---
Northern Lebanon Wins, Advances to Little League State Tournament
---
Northern Lebanon Beats Rock In Little League State Opener
---
Northern Lebanon Little League Wins Again, Defeats East Side With Walk-Off
---
A special thanks to the members of Northern Lebanon Little League Baseball community for providing the details necessary to write these articles.

Lebanon Federal Credit Union