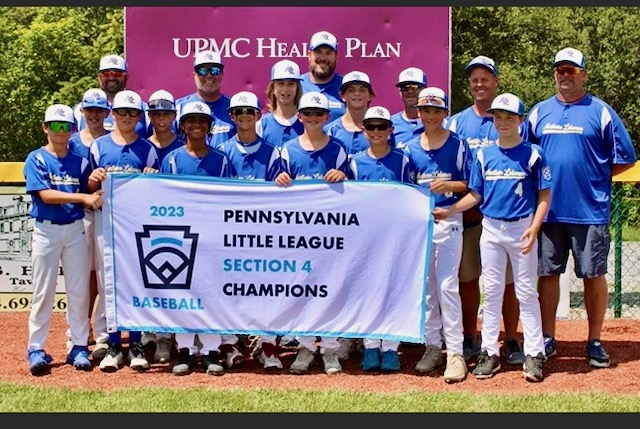 On Thursday afternoon, Northern Lebanon continued to make history, guaranteeing themselves a top three finish in the Pennsylvania Little League State Championships. They currently stand at 2-0 in the double elimination tournament after their most recent come from behind win over East Side (West Chester) on a hot afternoon in Newtown Square. In winning these first two games, Northern Lebanon now finds itself in a good position to win the State Championship and move on to represent Pennsylvania in the Mid Atlantic Regional Championship Tournament in Bristol, Connecticut.
As far as the game went, Northern Lebanon sent out their ace, Chase Norris, in the start against Section 7 champion East Side (West Chester), a team that made a lot of noise in last year's 11u state tourney. Northern Lebanon came out tight early on and East Side capitalized upon two errors, scoring three runs in the top of the 1st inning.
Down 3-0, Northern Lebanon showed their grit, quickly responding with Braden Demler singling and Tyler Hornberger hitting a line drive double to score him. With one out, Ben Kleinfelter hit an infield single to scorw Hornberger. Next up was Jonathan Zimmerman, the hero of Wednesday's win over Council Rock Newtown. Zimmerman did not disappoint, crushing a two-run home run over the right field fence to give Northern Lebanon a 4-3 lead after one inning of play.
Norris remained on the mound, but with his pitch count quickly rising and East Side threatening, Coach Rick Hornberger had to make the decision to pull the lefty after 2.2 innings. Norris struck out six, allowing four runs, all of which were unearned due to the uncharacteristic defensive lapses early in the game. Given his pitch count, the next time he will be available will be on Monday.
When Tyler Hornberger took the hill in the Top 3rd, East Side had two runners on base with two outs. Hornberger turned away the threat by striking out the batter for the third out of the inning. However, East Side had tied the game at 4-4.
In the Top 4th, East Side was able to score another unearned run without recording a hit. The sequence of events of a hit batsman, a walk, and an error led to a 5-4 score.
Again, Northern Lebanon did not back down. With one out in the Top 4th, Nolan Anspach, Rory Smyth, and Jacob Boltz all singled in succession. With the bases juiced, Landon Gilley hit a ground ball fielder's choice to second, scoring Anspach to again tie the game. East Side avoided further damage and the score stood at 5-5 going into the 5th inning.
The younger Hornberger continued to impress in relief, going through the top of the 5th and 6th holding East Side in check. In fact, it wasn't until the 5th inning when East Side had their first hit since the 1st inning. Coach Rick Hornberger said this of Tyler's performance, "He wanted the ball, he knows what he is capable of. He took over for our ace and came up huge holding that team to one unearned run in 3.1 innings. He wasn't perfect, but he made all the big time pitches when he needed to. Super proud of his performance, we could not have won without it."
With the score 5-5 going into the bottom of the 6th, the final inning in Little League regulation, Northern Lebanon had a chance to walk it off. Their magic and overall execution equated to perfection. Griffin Lorenzo led off the inning with a single to the outfield, creating a buzz from the large crowd, many who were pulling for Northern Lebanon. Nolan Anspach then laid a perfect bunt to move Lorenzo into scoring position. Rory Smyth came to the plate having gone 2/2 in his earlier plate appearances on the day. Smyth fmade it 3/3 with the hit of his life, a strike to open grass in center field, giving Lorenzo the green light to make the mad dash towards home. As he crossed the plate, he turned the field into a Northern Lebanon block party as they celebrated the 6-5 win.
Hornberger said of the game winning hit, "It was unbelievable. Rory was locked in all game and that kid is a gamer. He wanted that moment and he made it happen! I am super proud of him and all his teammates." Hornberger added, "That game winner would not be possible without the execution of Lorenzo and Anspach! Griffin came up with a loud atmosphere and just executed a great hit. Nolan is incredible, he will always make winning plays, and he did it again moving Lorenzo over to second. Unbelievable and super happy for those three kids who are always putting in the work."
Northern Lebanon Little League continues to make history, this time punching their ticket to top 3 on the State of Pennsylvania as they move to 2-0 in the State Tournament. The winner of this tournament represents Pennsylvania in the Mid Atlantic regional in Bristol, Connecticut next week where the games will be aired on ESPN.
Northern Lebanon's next game will take place at Newtown Edgemont Field on Saturday at 2:00 pm. They will face Media, who were 4-3 winners over Back Mountain. The winner of the game will move into the Championship round.
"I would love to see all of Northern Lebanon and Cedar Crest pack Newtown-Edgemont Field on Saturday," said Coach Hornberger. He added, "Media had over a thousand fans the other night and we would love to match or exceed that." The Northern Lebanon players have found a way to formulate their own high powered energy so far, but having added community support on Saturday may help them in the process. If you are interested in attending, here are directions to Newtown-Edgemont
Northern Lebanon 6, East Side 5
Here is a recap of Little League structure from this point forward. The winner of the State Tournament will advance to play in the Mid-Atlantic Championship Tournament, which features the winners from Pennsylvania, Maryland, Delaware, and the District of Columbia. The winner of that tournament then moves onto Williamsport.
For more on Northern Lebanon's win in the opener, check out our recent article: Northern Lebanon Beats Rock In Little League State Opener
A special thanks to the members of Northern Lebanon Little League Baseball community for providing the details necessary to write this article.
Northern Lebanon Little League All-Star Roster
Braden Demler
Tyler Hornberger
Chase Norris
Ben Kleinfelter
Jonathan Zimmerman
Griffin Lorenzo
Nolan Anspach
Rory Smyth
Jacob Boltz
Landon Gilley
Jacob Anspach
Julius Martinez

Lebanon Federal Credit Union