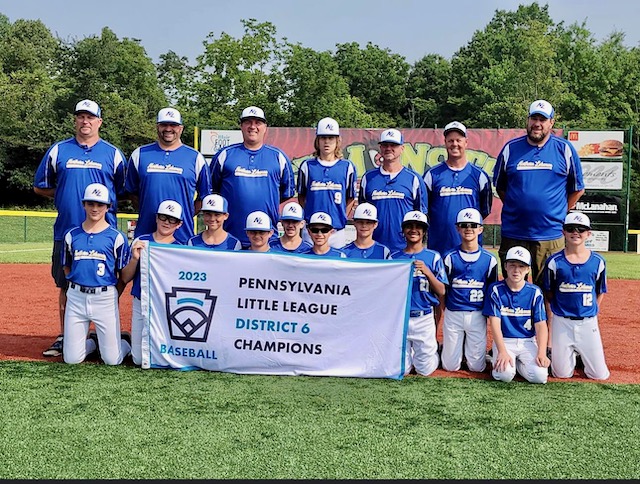 It is about that time of year when a large portion of America's population turns their attention to watching twelve-year-olds battle it out on the baseball diamond as part of the Little League World Series. Last year, the team from Hollidaysburg won Pennsylvania and went on to serve as the Mid-Atlantic's representative in Williamsport. This year, Northern Lebanon Little League 12U All-Stars prevailed over Hollidaysburg when the two teams met earlier this week at the Pennsylvania Little League Section 4 Tournament. They will meet again on Friday to determine who is going to advance to the next round.
Let's quickly rewind and look at how Northern Lebanon reached the Section 4 Tournament being played in Hollidaysburg. The team of local all-stars first had to play in the District 6 Championship. In addition to Northern Lebanon, District 6 is made of teams representing the following local Little League organizations: Hampden, Hershey, Linglestown, ELCO, Camp Hill, and East Pennsboro. In the tourney, Northern Lebanon was on the top of their game, going 5-0 and outscoring their opponents by a total of 49-2 with four shutouts.
Northern Lebanon then advanced as the District 6 representative to play in in the Section 4 Tournament. In the double elimination tournament, they were joined by teams from Hollidaysburg, State College, and Indiana (PA). On Tuesday, Northern Lebanon was matched up against Hollidaysburg. Northern Lebanon's Chase Norris was not intimidated by Hollidaysburg being the home team or being the reigning Mid-Atlantic Champions. Norris pitched 5.2 innings shutout innings, while only giving up one hit and striking out eleven. At the plate, Norris had the only hit the scored a run in the game, a home run that ended up being the difference in the game. Jonathan Zimmerman had a pair of singles and Tyler Hornberger added double in the game. Northern Lebanon won the game 1-0.
On Wednesday evening, Northern Lebanon was tasked with playing State College. Out of the lead-off spot, Braden Demler hit a monster of a home run to put Northern Lebanon up 1-0 to start the game. Demler ended the game with a total of two RBI. Also driving in two runs was Hornberger. Ben Kleinfelter added a double. Pitching for Northern Lebanon were Demler and Landon Gilley, who each pitch three innings on their way to striking out thirteen and limiting State College to one hit. The final score of the game was Northern Lebanon 7, State College 1.
On Wednesday, Northern Lebanon Little League played State College in the Section 4 Tournament. This is how lead-off hitter Braden Demler greeted State College. 💣💣💣💣💣 pic.twitter.com/SQCFDdJgtC

— LebCoSports.com (@LebCoSports1) July 21, 2023
On Friday, Northern Lebanon will play Hollidaysburg after Hollidaysburg eliminated State College on Thursday. With their unblemished record, Northern Lebanon has two chances remaining to win the tournament. If they lose Friday, it will become a one-game playoff on Saturday. The winner of Section 4 will then move on as one of the eight teams who qualified the Pennsylvania Little League State Championship Tournament. After that lies the chance to play to be the Mid-Atlantic representative at the 2023 Little League World Series.
Update: Hollidaysburg won Friday's matchup, 5-0. They will play again on Saturday, with the winner advancing to States.
Northern Lebanon Little League All-Star Roster
Braden Demler
Tyler Hornberger
Chase Norris
Ben Kleinfelter
Jonathan Zimmerman
Griffin Lorenzo
Nolan Anspach
Rory Smyth
Jacob Boltz
Landon Gilley
Jacob Anspach
Julius Martinez

Lebanon Federal Credit Union