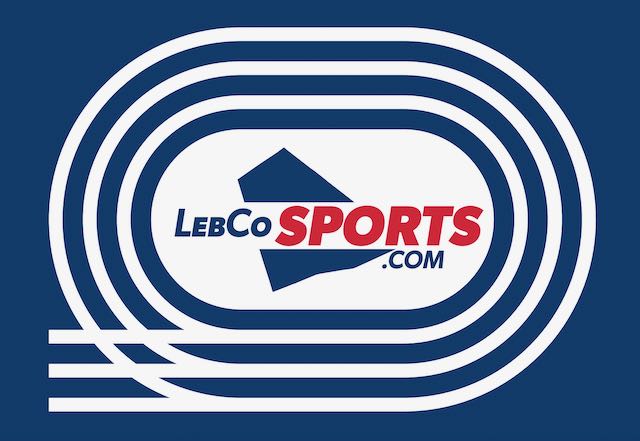 This past Thursday, the annual Lancaster Lebanon League Junior Coaches Meet was held at Hempfield. Annville-Cleona, Cedar Crest, ELCO, and Lebanon all sent athletes to compete at the event. This event has turned into an important step to getting athletes ready for the bigger stage that they will experience when they reach high school, especially since it is held at the same location where the varsity championships were held the next day. There were some excellent performances by the LebCo junior high crew, which should translate into many exciting high school track and field meets over the course of the next several years.
In the Girls competition, there were some highlights that make it look as if some of our local teams will be able to continue to improve for years to come. The highest finisher was Cedar Crest's Dakota Dengler, who while only in 7th grade was able to clear 4'10", a height that would have won her a medal at the high school meet. Cedar Crest had several other medalists, including Mikalyn Weaber, an 8thgrader who placed in both the Shot Put and the Discus. Weaber will look to add depth to the Lady Falcons squad next year. When it comes to depth, Annville-Cleona had 8th grader Jada Morales medal in the 200m with a 27.22, an improvement from the 27.5 she ran at the JH County Meet. Pay attention to her as she joins a team that already has a pair of sophomore sprinters who medaled at the high school championships. The Dutchmen also have Dana Hoover, an 8th grader who medaled in the Discus, as she (and her twin sister Nora) will work to join their sister Ava and to replace their other sister Claire who is graduating next month. Speaking of sisters who are graduating, ELCO 8th grader Madison Nelson medaled in the 400m and will hope to replace some of the athleticism lost with her older sister Samantha leaving for Southern Utah University.
On the Boys side, there were several performances from athletes who will be worth watching for in the coming years. Among those were a pair of 9th grade throwers who went 1-2. ELCO's Avery Kurtz put forth gold medal winning performances in both the Shot Put and the Discus, which should immediately translate into some varsity points next year as the Raiders look to replace Colin Daub. Cedar Crest's Tanner Zimmerman was 2nd to Kurtz in both events and next season will join an already talented group of throwers. ELCO's Griffin Kreider, an 8th grader with a familiar name to those in Myerstown, was a medalist in three events, earning bronze in the 200m and 400m, then tacking on a 5th place medal in the Long Jump. Just edging him in the Long Jump was James Myer of Cedar Crest, whose leap that measured over 18' could add to the depth the Falcons rely upon. Another athlete that could have an immediate impact next year is Lebanon's Samuel Hershey, who finished 8th in the 800m and will join the strong distance running culture that Coach Pearson has developed in recent years. There were also two 7th graders who were among the top athletes at the meet, both of whom are students at Cedar Crest. Jordan Anderson finished 2nd in the 100m and 4th in the 200m. Hayden Snavely took 3rd in the 1600m and 3rd in the High Jump.
The Cedar Crest Boys scored 57 points to win the Lancaster Lebanon Junior High Team Championship.
Below are the individual results for all competitors. Medalists are highlights in green.
---
Girls
100m – Prelims
Madison Nelson (ELCO) – 13.35
Jada Morales (Annville-Cleona) – 13.46
Cayleigh Shaak (Lebanon) – 13.69
Jocelyn Yoder (ELCO) – 13.92
Dakota Dengler (Cedar Crest) – 14.06
200m – Finals
Jada Morales (Annville-Cleona) – 27.22 6th place
200m – Prelims
Jada Morales (Annville-Cleona) – 26.97
Jocelyn Yoder (ELCO) – 28.93
Arys Guzman (Cedar Crest) – 29.20
Jaziah Hargrove (Lebanon) – 31.60
400m
Madison Nelson (ELCO) – 1:05.0 8th place
Dana Hoover (Annville-Cleona) – 1:11.2
Ryan Stopper (Cedar Crest) – 1:11.5
Aleysha Luzon (Lebanon) – 1:12.1
800m
Addison Sanchez (Annville-Cleona) – 2:41.8
Reagan Zwally (ELCO) – 2:46.2
Cosette Pich (Lebanon) – 2:47.1
Cara Figueroa (Cedar Crest) – 2:49.9
1600m
Lucy Stellmach (Annville-Cleona) – 6:11.3
Paityn Newswanger (ELCO) – 6:15.7
Clara Schneider (Cedar Crest) – 6:20.4
4 x 100m
ELCO – 54.14 7th place
Annville-Cleona – 54.56
Cedar Crest – 55.71
Lebanon – 55.74
4 x 400m
Cedar Crest – 4:38.8
ELCO – 4:45.3
Annville-Cleona – 4:47.3
Lebanon – 4:49.2
4 x 800m
Annville-Cleona – 11:15.6
ELCO – 11:45.0
Cedar Crest – 12:02.0
Lebanon – 12:39.6
Long Jump
Paige Frey (Cedar Crest) – 14'8″ 8th place
Madison Nelson (ELCO) – 14'4.25″
Addison Mays (ELCO) – 14'2.5″
Kora Wolfe (Annville-Cleona) – 14'0″
Laureliz Lozada (Lebanon) – 12'0.75″
High Jump
Dakota Dengler (Cedar Crest) – 4'10" 3rd place
Jenna Ulrich (Annville-Cleona) – 4'4"
Natalina Harrison (Lebanon) – 4'2"
Lily Harchuska (Cedar Crest) – 4'2"
Khloe Fox (ELCO) – 4'0"
Paige Frey (Cedar Crest) – 4'0"
Shot Put
Mikayla Fripps (Cedar Crest) – 32'9″ 6th place
Mikalyn Weaber (Cedar Crest) – 32'6.25″ 7th place
Dana Hoover (Annville-Cleona) – 31'6.5″
Iyanna Oboubisa (Cedar Crest) – 31'0″
Ashley Zimmerman (ELCO) – 28'0.25″
Olivia Boris (Lebanon) – 27'5.75″
Discus
Mikalyn Weaber (Cedar Crest) – 76'7" 7th place
Dana Hoover (Annville-Cleona) – 75'7.75" 8th place
Veronica Castro (Cedar Crest) – 71'8.75"
Carleigh Cessna (Lebanon) – 61'8"
Ashley Zimmerman (ELCO) – 57'10"
---
Results from the Lebanon County Junior High Meet
---
Boys
100m – Finals
Jordan Anderson (Cedar Crest) – 11.82 2nd place
Jamil Gordon (Lebanon) – 12.31 8th place
100m – Prelims
Jordan Anderson (Cedar Crest) – 11.72
Jamil Gordon (Lebanon) – 12.31
Isaiah Zimmerman (Cedar Crest) – 12.45
Asher Parham (ELCO) – 12.79
Blake Boyer (Annville-Cleona) – 12.81
Isaiah Zimmerman (Cedar Crest) – 12.45
Asher Parham (ELCO) – 12.79
Blake Boyer (Annville-Cleona) – 12.81
200m – Finals
Griffin Kreider (ELCO) – 24.90 3rd place
Jordan Anderson (Cedar Crest) – 25.14 4th place
200m – Prelims
Griffin Kreider (ELCO) – 24.52
Jordan Anderson (Cedar Crest) – 24.56
Blake Boyer (Annville-Cleona) – 26.20
400m
Griffin Kreider (ELCO) – 55.74 3rd place
Yassine Hakam (Lebanon) – 59.41
Levi Custer (Annville-Cleona) – 1:10.6
800m
Samuel Hershey (Lebanon) – 2:16.4 7th place
Zach Margut (Cedar Crest) – 2:17.3
Max Frederick (ELCO) – 2:30.2
Oliver Brandt (Annville-Cleona) – 2:35.2
1600m
Hayden Snavely (Cedar Crest) – 4:47.9 3rd place
Samuel Hershey (Lebanon) – 4:58.4
David Sinyagin (ELCO) – 5:13.2
Hunter Troxel (Annville-Cleona) – 5:51.5
4 x 100m
Cedar Crest – 48.29 2nd place
Lebanon – 49.81
ELCO – 50.31
Annville-Cleona – 53.60
4 x 400m
Cedar Crest – 3:57.5 5th place
ELCO – 4:08.6
Lebanon – 4:09.6
Annville-Cleona – 4:43.5
4 x 800m
Cedar Crest – 9:45.8 6th place
ELCO – 9:46.1 7th place
Lebanon – 10:36.4
Annville-Cleona – 10:58.5
Long Jump
James Myer (Cedar Crest) – 18'3.5" 4th place
Griffin Kreider (ELCO) – 18'1" 5th place
Jaylynn Moyer (Annville-Cleona) – 16'6"
Derek Franco Suazo (Lebanon) – 15'7"
High Jump
Hayden Snavely (Cedar Crest) – 5'2" 3rd place
Manuel Martinez (Lebanon) – 4'10"
Aiden Lezon (Annville-Cleona) – 4'8"
Brinley Donmoyer (ELCO) – 4'8"
Shot Put
Avery Kurtz (ELCO) – 47'4" 1st place
Tanner Zimmerman (Cedar Crest) – 44'9" 2nd place
Jaxon Speece (Annville-Cleona) – 33'2"
Aiden Baez (Lebanon) – 30'5.75"
Discus
Tanner Zimmerman (Cedar Crest) – 143'3.75" 1st place
Avery Kurtz (ELCO) – 128'6" 2nd place
Chase Warren (Cedar Crest) – 115'5" 8th place
Lane Peters (Annville-Cleona) – 89'5.5"
Aiden Baez (Lebanon) – 79'5"