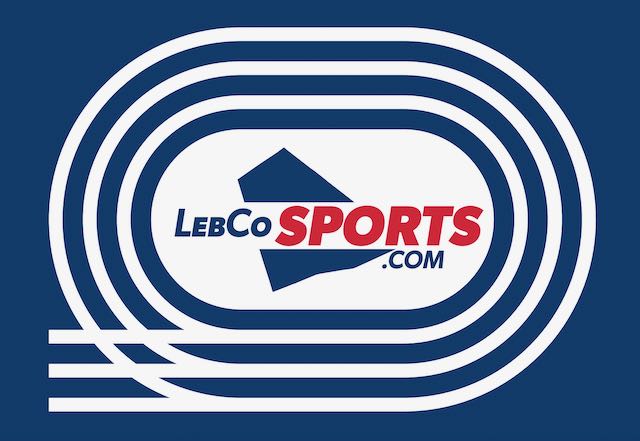 On Friday evening, the junior high track and field teams from across LebCo met up at Annville-Cleona to compete in the 12th edition of the Lebanon County Junior High Track and Field Championship Meet. The meet had been postponed from Saturday, April 29th, and the patience of the athletes was rewarded with much better weather. Much like the senior high athletes the previous night, the competition was fierce and made for quite the spectacle as it lived up to the fanfare. As with all junior high track and field events, it is important to remember that as the only major school sponsored sport in the spring season, it often can serve to create an early watch list for some of the names you will be seeing over the next few years.
On the Girls side, there were some outstanding performances worth mentioning. Palmyra's Maddie Waldryon won the 100m and 200m. Waldryon's teammate Amber McCurdy was a winner in the two distance events, the 800m and 1600m. Palmyra also went 1-2 in the Long Jump thanks to performances by Kate Lachance and Miranda Vankirk. Those place-winners set the pace for the Palmyra Girls to win the team title. Cedar Crest showed their might when it came to field events, with three wins in the High Jump (Dakota Dengler), Shot Put (Mikayla Fripps), and Discus (Mikaylyn Weaber). ELCO's Madison Nelson finished the night with a gold (400m), silver (100m), and bronze (200m).
It was very much the same on the Boys side of the action, except it was Cedar Crest leading the way. The Falcon's Jordan Anderson won the 100m and 200m races. Crest then won three of the four field events on their way to winning the team title. Among the winners was Hayden Snavely who won the High Jump. Snavely also was the winner in the 1600m, edging out Lebanon's Samuel Hershey at the finish. Hershey did not leave Annville empty handed, as returned to the track to win the 800m. Also leaving with multiple individual medals was ELCO's Griffin Kreider who took 2nd in the 100m and 200m and took gold in the 400m.
Below are all of the results that was made available. The top six finishers in each event factored into the team scoring.
---
Girls
100m
Maddie Waldryon (Palmyra) – 13.20
Madison Nelson (ELCO) – 13.25
Jada Morales (Annville-Cleona) – 13.40
Cayleigh Shaak (Lebanon) – 13.55
Jocelyn Yoder (ELCO) – 13.59
Dakota Dengler (Cedar Crest) – 13.75
Nia Hafey (Annville-Cleona) – 13.80
Selah Martino (Northern Lebanon) – 13.90
Joannielys Arenas (Lebanon) – 14.20
Kate Hathaway (Palmyra) – 14.20
Adysson Lloyd (Northern Lebanon) – 14.60
Ashanty Medina (Cedar Crest) – 14.80
200m
Maddie Waldryon (Palmyra) – 27.40
Jada Morales (Annville-Cleona) – 27.50
Madison Nelson (ELCO) – 28.12
Jocelyn Yoder (ELCO) – 29.16
Miranda Vankirk (Palmyra) – 29.80
Nia Hafey (Annville-Cleona) – 30.56
Shea Moyer (Northern Lebanon) – 30.64
Laureliz Lozada (Lebanon) – 31.31
Ashanti Medina (Cedar Crest) – 31.77
Adysson Lloyd (Northern Lebanon) – 32.30
Kylie Ollar (Cedar Crest) – 32.56
400m
Madison Nelson (ELCO) – 1:04.0
Kate Lachance (Palmyra) – 1:05.2
Ryan Stopper (Cedar Crest) – 1:07.25
Hope Shaffer (Northern Lebanon) – 1:07.44
Helena Baker (Palmyra) – 1:08.71
Emily Marinkov (Northern Lebanon) – 1:09.5
Dana Hoover (Annville-Cleona) – 1:12.0
Ava Beck (ELCO) – 1:13.4
Aleysha Luzon (Lebanon) -1:13.72
Kyra Fortney (Annville-Cleona) – 1:15.7
Cheyenne Naylor (Lebanon) – 1:16.97
800m
Amber McCurdy (Palmyra) – 2:40.9
Addison Sanchez (Annville-Cleona) – 2:43.6
Maddie Stahl (Palmyra) – 2:45.96
Elsie Shuey (Northern Lebanon) – 2:47.83
Lucy Stellmach (Annville-Cleona) – 2:47.96
Cosette Pich (Lebanon) – 2:57.81
Natalina Harrison (Lebanon) – 2:58.14
Kayla Edris (ELCO) – 2:58.36
Olivia Winters (Northern Lebanon) – 2:58.47
1600m
Amber McCurdy (Palmyra) – 5:58
Lucy Stellmach (Annville-Cleona) – 5:59.9
Clara Schneider (Cedar Crest) – 6:10.15
Paityn Newswanger (ELCO) – 6:12.3
Reagan Zwally (ELCO) – 6:13.46
Elsie Shuey (Northern Lebanon) – 6:21.69
4x100m
Annville-Cleona – 54.1
Palmyra – 55.1
ELCO – 55.39
Northern Lebanon – 55.59
Lebanon – 55.9
Cedar Crest – 59.01
4x400m
Northern Lebanon – 4:40.7
Palmyra – 4:46.8
ELCO – 4:46.9
Annville-Cleona – 4:48.15
Lebanon – 4:53.67
Cedar Crest – 5:05.33
4x800m
Annville-Cleona – 11:16.9
ELCO – 11:29
Palmyra – 11:29.9
Northern Lebanon – 11:32.56
Lebanon – 12:25.9
Long Jump
Kate Lachance (Palmyra) – 14'7"
Miranda Vankirk (Palmyra) – 14'3"
Addison Mays (ELCO) – 13'10"
Jenna Ulrich (Annville-Cleona) – 12'6.5"
Sasha Hicks (ELCO) – 12'5.25"
Lily Harchuska (Cedar Crest) – 12'3"
Isabella Battistelli (Northern Lebanon) – 12'2.5"
Laureliz Lozada (Lebanon) – 12'0.75"
Lizbeth Ortiz (Lebanon) – 11'9.75"
Ellie Dumas (Northern Lebanon) – 9'6"
High Jump
Dakota Dengler (Cedar Crest) – 4'7"
Helena Baker (Palmyra) – 4'6″
Kate Lachance (Palmyra) – 4'4″
Jenna Ulrich (Annville-Cleona) – 4'2"
T-5. Lily Harchuska (Cedar Crest) – 4'2"
T-5. Natalina Harrison (Lebanon) – 4'2"
T-5. Adewale Oluwaseyitan (ELCO) – 4'2"
8. Emma Yordy (Northern Lebanon) – 4'2"
9. Carleigh Cessna (Lebanon) – 4'0"
10. Kayla Edris (ELCO) – 4'0"
11. Isabella Battistelli (Northern Lebanon) – 4'0"
12. Sadie Wildasin (Annville-Cleona) – No Height
Shot Put
Mikayla Fripps (Cedar Crest) – 32'2.25"
Dana Hoover (Annville-Cleona) – 31'10.25"
Mykayla Weaber (Cedar Crest) – 31'5"
Melissa Hurley (Palmyra) – 28'10"
Sierra Skipper (Palmyra) – 27'8.5"
Ashley Zimmerman (ELCO) – 27'8.5"
Mykeneh Johnson (Northern Lebanon) – 26'10.5"
Olivia Boris (Lebanon) – 26'9.5"
Julia Wenger (ELCO) – 26'4.25"
Carleigh Cessna (Lebanon) – 26'2.25"
Lillian Manwiller (Annville-Cleona) – 25'9.5"
Alexis Bell (Northern Lebanon) – 23'4.5"
Discus
Mikaylyn Weaber (Cedar Crest) – 78'1"
Dana Hoover (Annville-Cleona) – 77'11"
Melissa Hurley (Palmyra) – 70'5"
Sarah Mickalonis (Palmyra) – 68'10"
Carleigh Cessna (Lebanon) – 67'1"
Veronica Castro (Cedar Crest) – 61'8"
Ashley Zimmerman (ELCO) – 60'11"
Trinity Leeper (Lebanon) – 58'3"
Julia Wenger (ELCO) – 56'6"
Sara Feagley (Northern Lebanon) – 55'5"
Mykeneh Johnson (Northern Lebanon) – 52'4"
Lillian Manwiller (Annville-Cleona) – 52'2"
Team Scores
Palmyra – 126
Annville-Cleona – 78
ELCO – 65
Cedar Crest – 53
Northern Lebanon – 25
Lebanon – 12
---
Boys
100m
Jordan Anderson (Cedar Crest) – 12.00
Griffin Kreider (ELCO) – 12.10
Jamil Gordon (Lebanon) – 12.26
Isaiah Zimmerman (Cedar Crest) – 12.29
Azir Mcadoo (Northern Lebanon) – 12.30
Blake Boyer (Annville-Cleona) – 12.70
Darryl Watson (Lebanon) – 12.78
Bryce Readinger (Palmyra) – 12.80
Duran Ramos (Palmyra) – 12.90
Jaylynn Moyer (Annville-Cleona) – 13.13
Cody Fox (Northern Lebanon) – 13.17
200m
Jordan Anderson (Cedar Crest) – 24.40
Griffin Kreider (ELCO) – 24.61
Blake Boyer (Annville-Cleona) – 25.56
Isaiah Zimmerman (Cedar Crest) – 25.76
Darryl Watson (Lebanon) – 26.10
Asher Parham (ELCO) – 26.20
Nahzyil Thomas (Lebanon) – 26.85
Bryce Readinger (Palmyra) – 26.90
Devon Englehart (Annville-Cleona) – 27.00
Duran Ramos (Palmyra) – 27.03
Owen Fahringer (Northern Lebanon) – 27.84
400m
Griffin Kreider (ELCO) – 55.9
Brady Ryan (Northern Lebanon) – 56.3
Jayden Ginder (Cedar Crest) – 58.09
Yassine Hakam (Lebanon) – 59.38
Michael Durning (Cedar Crest) – 59.49
Brendan Christman (Palmyra) – 1:00.9
Bryce Martin (Northern Lebanon) – 1:01.09
Jason Pokrop (ELCO) – 1:04.6
Faris Omar (Lebanon) – 1:05.62
Levi Custer (Annville-Cleona) – 1:11.34
Hunter Troxell (Annville-Cleona) – 1:12.87
800m
Samuel Hershey (Lebanon) – 2:16.1
David Sinyagin (ELCO) – 2:18.4
Zach Margut (Cedar Crest) – 2:25.6
Ethan Donough (ELCO) – 2:28.94
Aiden Davis (Cedar Crest) – 2:30.31
Trystan Steckbeck (Lebanon) – 2:33.7
Chris Bailey (Palmyra) – 2:37.13
Oliver Brandt (Annville-Cleona) – 2:45.6
Jack Zhang (Palmyra) – 2:50.38
John Ditzler (Annville-Cleona) – 2:50.7
Alexander Breiner (Northern Lebanon) – 3:00.38
Myles Horst (Northern Lebanon) – 3:19.8
1600m
Hayden Snavely (Cedar Crest) – 4:59.0
Samuel Hershey (Lebanon) – 5:00.3
David Sinyagin (ELCO) – 5:17.96
Henry Wengert (Cedar Crest) – 5:21.72
Ethan Donough (ELCO) – 5:27.2
Trystan Steckbeck (Lebanon) – 5:41.47
4x100m
Cedar Crest – 47.8
Northern Lebanon – 48.7
Lebanon – 49.44
ELCO – 50.77
Palmyra – 52.12
Annville-Cleona – 52.71
4x400m
Northern Lebanon – 3:51.7
Cedar Crest – 4:01.1
Lebanon – 4:05.3
ELCO – 4:06.03
Palmyra – 4:24.88
Annville-Cleona – 4:41.4
4x800m
Cedar Crest – 10:15.4
Palmyra – 10:33.1
Lebanon – 10:39.9
Annville-Cleona – 10:47.9
ELCO – 10:48.47
Long Jump
James Myer (Cedar Crest) – 17'5.75"
Duran Ramos (Palmyra) – 16'0.25"
Calvin Dash (Cedar Crest) – 15'11"
Moyer (Annville-Cleona) – 15'7.25"
Cody Fox (Northern Lebanon) – 15'6.5"
Chandler Gass (ELCO) – 15'5.25"
Derek Franco Suazo (Lebanon) – 14'11.25"
Aiden Lezon (Annville-Cleona) – 14'7.5"
Faris Omar (Lebanon) – 13'7"
Brice Pallozzi (Palmyra) – 13'6"
Cody Leedy (Northern Lebanon) – 13'2.25"
Frankie Uhler (ELCO) – 13'1"
High Jump
Hayden Snavely (Cedar Crest) – 5'4″
Manuel Martinez (Lebanon) – 5'2″
Calvin Dash (Cedar Crest) – 5'0″
Henne Cortes (Lebanon) – 5'0″
Bryce Yocum (Northern Lebanon) – 4'10"
Jack Kleisath (Northern Lebanon) – 4'8″
Brice Pallozzi (Palmyra) – 4'8″
Tanner Hibshman (ELCO) – 4'6″
Aiden Lezon (Annville-Cleona) – 4'6″
Levi Kreider (Annville-Cleona) – No Height
Shot Put
Avery Kurtz (ELCO) – 43'11.5″
Tanner Zimmerman (Cedar Crest) – 43'0″
Hunter Gaskin (ELCO) – 40'0″
Nathan Siegert (Palmyra) – 38'0.5″
Chase Warren (Cedar Crest) – 35'2″
Josh Tshudy (Palmyra) – 33'4.75″
Lane Peters (Annville-Cleona) – 32'9″
Jaxon Speece (Annville-Cleona) – 31'6.5″
Aiden Baez (Lebanon) – 30'10.5″
Landon Graby (Northern Lebanon) – 29'6″
Jack Kleisath (Northern Lebanon) – 27'7″
Jose Castillo (Lebanon) – 23'8″
Discus
Tanner Zimmerman (Cedar Crest) – 137'1″
Avery Kurtz (ELCO) – 135'8″
Chase Warren (Cedar Crest) – 132'5″
Josh Tshudy (Palmyra) – 116'8″
Dom Wentling (Annville-Cleona) – 97'10"
Ethan Bretzius (ELCO) – 95'0″
Adam Mckelvy (Palmyra) – 90'6″
Blaine Leitz (Annville-Cleona) – 86'5″
Landon Graby (Northern Lebanon) – 77'9″
Julian Rivera (Northern Lebanon) – 76'4″
Tyler Reigle (Lebanon) – 65'5″
Aiden Baez (Lebanon) – 65'1″
Team Scores
Cedar Crest – 142
ELCO – 80
Lebanon – 59
Northern Lebanon – 33
Palmyra – 28
Annville-Cleona – 17