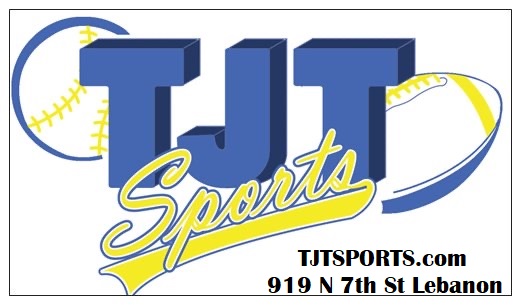 This feature is proudly presented by our friends at TJT Sports, Lebanon County's leader in trading cards and sports memorabilia.
With the regular season now complete and March Madness set to begin, we want to take the opportunity to check in with each former Lebanon County high school basketball star who is playing at the collegiate level.  This list includes nine players that were members of college teams this season, several of whom are key contributors.
For those still playing in the postseason, we want to extend the best of luck to them and their teammates.
If any player was inadvertently missed or information may be incorrect, please let Dan know by emailing him at dan@lebcosports.com.
---
Colton Lawrence   UMBC  (ELCO ' 16)
After playing three of five seasons (Covid shutdown & injury) at Division 2 powerhouse Bentley, Lawrence became a graduate transfer to join the UMBC Retrievers.  Having been the leading scorer on a D2 Elite 8 team a season ago, the experienced guard moved right into the starting lineup for his new team.  As mainstay in the lineup, Lawrence is UMBC's leading scorer, averaging 12.5 points, along with 3.5 rebounds and 1.6 assists.  He has been deadly with the three-ball, hitting 44 of them while making 35.8% of his attempts.  His season high in points was when he scored 22 on November 30th in a win against Coppin State.  For the season, the Retriever's are 17-13, 7-8 in the America East Conference.  They have one regular season game remaining before partaking in March Madness when they compete in the America East Conference Tournament.
---
Jeff Lorah  Penn State University – Berks  (ELCO '18)
After being limited to 5 games last season, the senior guard appeared in 22 this year, starting in 18 of them.  He led the team in scoring, averaging 14.0 points. His  season high of 31 came against Bryn Athyn on November 16th.  Making three pointers at a rate of 35.2%, he hit 56 of them to lead the Lions.  For his efforts, Lorah was named the PSU-Berks Men's Athlete of the Week a total of five times this season.  PSU-Berks finished the season with a 7-16 record, going 5-11 in the United East Conference.
---
Jason Eberhart  Wilkes University (Cedar Crest '20)
The junior forward appeared in 22 games for the Colonels this season, giving starting duties in two of the contests.  Eberhart's season high came when he had a 33 minute run as a starter against PSU-Wilkes Barre and scored 11 points while also grabbing 13 rebounds.  Wilkes finished the season with a 13-12 record, while going an even 8-8 in the MAC Freedom Conference.
---
Ileri Ayo-Faleye  University of Vermont (Cedar Crest '20)
The redshirt sophomore was the new kid in Vermont after transferring from Rhode Island after appearing in 8 games for the Rams last year.  With the Catamounts, the 6'8" forward appeared in 25 games, starting one of them.  He averaged 12.1 minutes per game in those appearances.  He has averaged 3.0 points per game to go with 1.9 rebounds.  He has also totaled 14 blocks.  During the January 19th game against Maine, Ayo-Faleye scored a season high 7 points.  He has been a key member of Vermont's rotation as they have won 12a in a row to finish the regular season with a 20-10 record, 14-2 in the America East Conference.  As a result, the Catamounts wrapped up their 7th straight regular season conference championship.
---
Bryce Coletti  Messiah University  (ELCO '20)
The junior guard started in all of the 25 games that the Falcons played this season.  In those games, Coletti averaged: 8.7 points, 4.2 assists, 4.7 rebounds.  Defensively, he also averaged one steal each contest.  On November 11th, the ELCO alum scored 22 points against PSU-Abington in a 2OT victory.  Perhaps his most solid stat line was in a 82-77 win against New England College on December 21st where he posted a stat line that read: 11 points, 9 rebounds, and 7 assists. Messiah finished the season with a 9-16 record, going 4-12 in the MAC Commonwealth.
---
For info about Lebanon County alumni playing at the collegiate level, check out our recent article about Women's College Basketball.
---
Asher Kemble  Bloomsburg University (ELCO '20)
 The 6'7" power forward earned increased playing time during his sophomore campaign, starting in 22 of 26 games for Bloom.  Kemble averaged 9.1 points and 5.9 rebounds.  His season high in points was 17, a game played on November 19th against Goldey-Beacom where he also pulled down 11 boards for a double-double.  He repeated the feat with a 14 & 10 performance against Lock Haven on February 1st.  Overall, the Huskies completing their season with a 1-25 record.  Although, they fought until the end, pushing West Chester to OT in Saturday's finale.
---
Braden Bohannon  Lebanon Valley College (ELCO '21)
After appearing in 17 games during the '21-'22 season, the sophomore guard was out of action as he recovered from an injury sustained during the football season.
---
Corey Attivo  Arcadia University  (ELCO '22)
Following a successful high school career, which included becoming a 1,000 point scorer for the Raiders, Attivo took his 6'9" frame to Arcadia.  During the season, the freshman forward appeared in 19 games.  His season high for points came in a December 3rd matchup against Lycoming where he hit 2 three points as part of an 8 point, 2 rebound performance over the course of 9 minutes.  Attivo's season is not done as the Knights went 15-11 overall and 9-7 in the MAC Freedom before beating DeSales in the Tournament Championship this past Saturday.  Arcadia will now travel to Cleveland where they play Friday against #14 Case Western in the first round of the NCAA Division III Basketball Tournament.
---
Luke Collins  Penn State University – Berks  (Lebanon '22)
The guard out of Lebanon joined PSU-Berks this season after being a key member of the Cedars unit that won the 2021 Lancaster League Championship.  He appeared in 21 games, starting 10 of them.  In those games, Collins averaged 7.3 points, with a season high 21 points coming on December 9th in a game against Keystone College.  He shot 40.9% from three-point range, making 38 of them to rank second on the team behind fellow Lebanon County product Jeff Lorah.  For the season, the Lions finished 7-16, with a 5-11 record in the United East.
---
Mark Linebaugh, Coach  Lycoming College  (Annville-Cleona '00)
Linebaugh is best known for being a major piece of the Dutchmen squad that won the '99 State Championship.  Since that time, he has worked his way through the coaching ranks following a successful playing career at Colgate.  Among those coaching stops was a stint as the head coach Annville-Cleona before returning to the college ranks.  Among the stops that followed was a reunion with his former high school coach, Scott Pera at Rice University, where he served as a key assistant.  Linebaugh just finished his first season at Lycoming University, finished 16-10 overall, 11-5 in the MAC Freedom.  The Warriors went from 5th place last year to 2nd this year.  The season ended with a conference tournament loss in the semifinals to Arcadia.
---
If you are looking to provide feedback or are a business or individual interested in providing sponsorship to aid our mission at LebCoSports, you are asked to contact Dan by emailing dan@lebcosports.com.

Lebanon Federal Credit Union