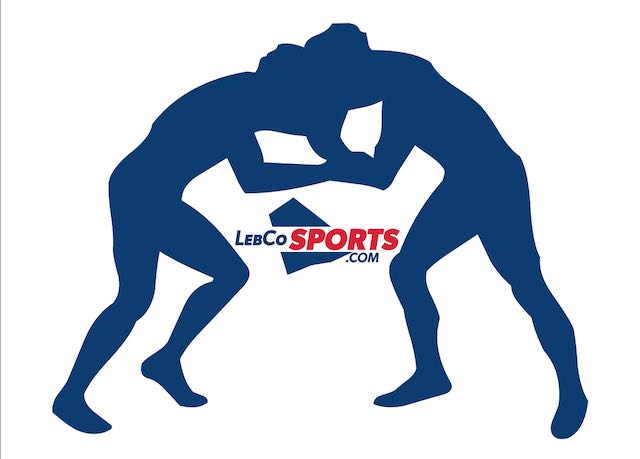 Over the weekend, wrestlers from across the state of Pennsylvania weighed in at the PJW Junior High Wrestling Championships.  The event was held at Johnstown's First Summit Arena at Cambria County War Memorial.  This event had both a boys and girls division.  In total, there were twelve wrestlers representing five of Lebanon County's school districts. They had to qualify for this event from prior regional tournaments, so just making it to this tournament was an accomplishment in itself.
For their efforts, Lebanon County wrestlers returned with four medals, including three silvers.  On the boys side, ELCO's Klint Miller and Annville-Cleona's Greyson Music each took second place in their respective weight classes.  For the girls, Lebanon's Isabella Poole finished second and ELCO's Kylee Trostle took fourth.
In addition to the junior high state wrestling tournament, the high school girls regional tournament took place.  Four Lebanon County grapplers qualified for the Pennsylvania Girls Wrestling State Championship Tournament that will be held at Central Dauphin this weekend.  The following ladies will be there: Four LebCo Girls qualified for the Wrestling State Championship Tournament this weekend @ Central Dauphin: Riley Zettlemoyer (Palmyra),  Anna Kreider (Annville-Cleona), and Gabrielle Hetrick (Lebanon) & Perla Chavez (Lebanon).
Girls Results
Isabella Poole (Lebanon)  83 pounds
Finished as state silver medalist.  Went 1-1 in round robin competition.  Her win was a 1:15 pin of a wrestler from Gettysburg.
Kylee Trostle (ELCO)  110 pounds
Finished fourth in the state. After a first round bye, she won two matches before losing one.  She won the next one with a pin at the :47 mark of the match to earn a spot in the third place match.  In the third place match, Trostle lost a 2-0 decision to the #2 seeded Anna Duncan of Ringgold, whom she had beaten earlier in the tournament.  
Laureliz Lozada (Lebanon)  125 pounds
Lost two hard fought matches by decisions that were 10-7 and 4-3.
Lily Harchuska (Cedar Crest)  125 pounds
After earning a bye in the round of 32, she went 2-2 in the tournament.  Both of her wins came by way of pinning her opponents.
Boys Results
Nick Gordon (Palmyra)  89 pounds
Lost both of his matches in the tournament.  Losses came to wrestlers from Council Rock and Emmaus.
Greyson Music (Annville-Cleona)  110 pounds
Finished as the state silver medalist. Reeled off five straight wins to earn his spot in the championship match.  In the finals, he lost an 8-3 decision to Malvern Prep's Matthew O'Neill.  Of his five wins, two were pins, one was a major decision, and one was a 15-0 tech fall.
Klint Miller (ELCO) 140 pounds
Finished as the state silver medalist. Won four straight matches to make it to the championship match. Lost to Melvin Miller of Bishop McCort in a 14-6 major decision.  Of his four wins, two were by way of pins and he also had a 15-0 tech fall.
Brinley Donmoyer (ELCO) 147 pounds
Lost two matches by decisions of 6-3 and 6-0.
Ty Landis (ELCO) 157 pounds
Went 4-2 in the tournament, including wins by a pin and a major decision.  Lost in the consolation round of 8.
Xavier Smith (Palmyra) 192 pounds
Went 1-2 in the tournament. The win was a 2:16 pin of Derry's Chase Lukon.
Cody Landis (ELCO) 212 pounds
Went 4-2 in the tournament.  Second loss was a 2-0 decision to Frazier's Derek Diamond.
Derryck Brickle (Lebanon)  252 pounds
Went 2-2 in the tournament.  He won a 10-0 major decision and a 3-1 decision.  His second loss was by a 2-0 decision to Coudersport's Lucas Risser.
---
If you are looking to provide feedback or are a business or individual interested in providing sponsorship to aid our mission at LebCoSports, you are asked to contact Dan by emailing dan@lebcosports.com.

Lebanon Federal Credit Union