This section was started as a way to share some of the many noteworthy items that occur on a regular basis.  We get some of it out via our social media, but keeping up with every item can prove difficult.  We hope you enjoy.  If you have anything you think we should know, please reach out by sending an email dan@lebcosports.com or by finding us on Twitter @lebcosports1.
---
Longtime Lebanon Daily News sportswriter Pat Huggins was honored this past Friday by being inducted into the Lancaster Lebanon League Hall of Fame.  In making Huggins a member of their Induction Class of 2023, the LL affirmed what many in Lebanon County have known for years: Pat is a legend.  A graduate of Lebanon High School (Class of '87), Huggins went on to earn his college degree from E-Town College before going to work for the Lebanon Daily News.  In 1997, he began covering high school football before being made a full-time staff sportswriter in 1999.  With the changing landscape of print media, Huggins eventually became a lone, slushie-fueled wolf covering Lebanon County sports for the slimmed-down media outlet.  After battling through the early stages of his battle with Parkinson's Disease, Huggins has now been slowed down and is no longer actively covering the local sports scene.  His voice is sorely missed by all of those who either read his work or were able to interact with him at the many events he attended.  However, if you need your fix: He is always on point whenever he is able to access Twitter while his beloved Sixers are playing.
The ceremony took place at halftime of the LL League Boys Basketball Championship.  Mike Gross was on-hand to accept the award on Huggins's behalf.
---
Last Thursday, ELCO's Morgan Kline became the 2023 Lancaster Lebanon League Girls Bowling Champion.  Her high game of 279 was part of a six-game 1405 series that landed her as the top seed coming out of qualifying.  She then defeated Penn Manor's Taylor Miller in the finals, 224-203.  When the Boys hit the lanes the next day, the top six-game series was a 1336 and the high score that won the final match was a 219.  In short, Morgan Kline can easily be considered the best high school bowler, female or male, in the two-county area.
She will get her chance to bowl at the District 3 Championships this Saturday in an event that will be held at Clearview Lanes in Mount Joy. On the boys side, Toby Zombro (Cedar Crest) will also be competing.
---
The future of Girls Wrestling in Pennsylvania is about to change, as Pennridge officially gave approval to sponsor a program for its student-athletes and became the 100th school district to do so.  This is significant due to the fact the that PIAA requires 100 schools to participate in a sport before it can be officially sanctioned.  As a result, the PIAA conducted a "first read", an important step to adding it as a newly sanctioned sport within the Commonwealth.  As far as Lebanon County goes, three local districts made up part of this historic number.  Annville-Cleona (Sept. '20) was #7,  Palmyra (June '22) was #46, and Lebanon (Oct. '22) was #70.  With several girls from additional Lebanon County schools participating in recent tournaments, do not be surprised to hear of more districts approving their own programs in the coming months.
---
Another important milestone involving the number one hundred came this past weekend when Northern Lebanon Wrestling's Conor Leonard earned his 100th career victory. This win was part of his 3rd place finish at Sectionals, earning him a spot at this weekend's District 3 Championship Tournament.
---
For the third time this season, a Lebanon Cedar was named the WGAL Athlete of the Week.  This time it was senior swimmer Carlos Hidalgo earning the recognition last week after dominating the Lancaster Lebanon League Meet.  At the meet, Hidalgo won the 50 yd & 100 yd Freestyle events.  In winning the 50, Hidalgo also set the League Meet record.  The Saint Bonaventure commit will be back in the pool the weekend of March 3-4 as he competes at the District 3 Championships in his quest to add to more State medals to his collection.  Here is a link to the WGAL feature.
---
Ariel Jones was named the Eastern Division Women's Basketball Athlete of the Week for the eighth time this season.  The Cedar Crest alumna has led her Shippensburg team to a 22-5 record (including last night's win over Shepard).  Last week, the Lady Raiders went 2-0 and Jones scored 49 points in 48 minutes of play.  With those points, the all-time PSAC leader in career points moved into 6th place all-time in D-II scoring.  Ship finishes up its regular season this Saturday before moving into the PSAC Playoffs beginning next Wednesday.
Oh, and that game last night . . . Jones scored 41 and set the all-time Shippensburg record for field goals in a career (810).
---
The 6th grade Northern Lebanon Boys took home the championship at the long running Schuylkill Haven Cully Classic Tournament.  They went 6-0 over the course of a 3 days to come out champs in a tournament that consisted of a 16- team field
In pool play, the Vikings defeated Lehighton, Schuylkill Haven, and ELCO.   They then defeated Schuylkill Haven and Lehighton in the quarterfinals and semifinals, before taking down Freeland in the championship game Sunday night.   Christian Rizzo averaged 18 ppg over the course of six games while pouring in 21 points in the championship game.  Other key contributors were Brayden Demler averaged 14 ppg and Tyler Hornberger 8 ppg over three days.
The Vikings were stifling on defense and balanced on offense, with major contributions also from Nolan Anspach, Dante McFarland, Trent Walborn, Griffin Ziegler, Jayden George, Jacob Boltz, and Corde Newswanger.  The Vikings will wrap up tournament play when they travel to Tamaqua on March 3-5.
The Vikings are coached by John Rizzo, Rick Hornberger, and Jamie Walborn.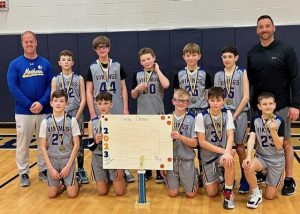 ---
If you are looking to provide feedback or are a business or individual interested in providing sponsorship to aid our mission at LebCoSports, you are asked to contact Dan by emailing dan@lebcosports.com.

Lebanon Federal Credit Union