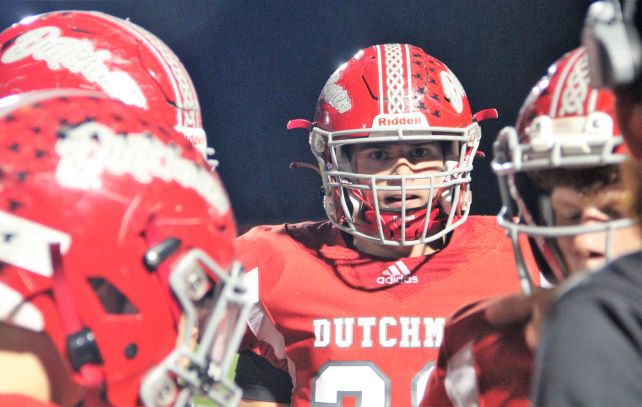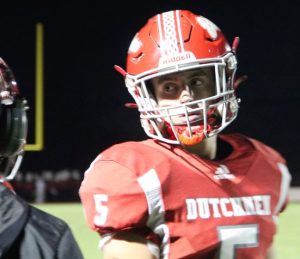 BY JEFF FALK
Editor
ANNVILLE – The Annville-Cleona football team is playing for each other, playing for its school, playing for its community. But the Little Dutchmen are also playing for the here and now, for the future, for the past.
They're playing for forever.
On a warm Friday night at Annville-Cleona High School, the Little Dutchmen took a giant leap towards perpetuity with an efficient 42-13 triumph over Camp Hill, in the semifinals of the District Three Class AA playoffs. Employing an unrelenting rushing attack and a suffocating defense, Annville-Cleona led throughout and outscored the Lions 21-0 during the middle portions of the contest.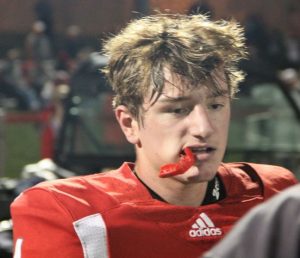 Behind the running exploits of senior Phoenix Music and junior Cael Harter, Annville-Cleona out gained Camp Hill 452 total yards to 107. Music scored twice and piled up 148 rushing yards to eclipse the 2,000-yard plateau for the season, while Harter tallied a pair of 'Dutchdowns' and amassed 145 yards on the ground.
The top-seeded Little Dutchmen rushed the ball 58 times and called a total of three pass plays.
The result was historic on a number of fronts. With the victory, Annville-Cleona, now 8-3, will host third-seeded Trinity, which took care of Delone Catholic 56-17, next Friday in search of the program's and Lebanon County's first ever District Three football championship.
The Little Dutchmen are now 2-4 in District Three appearances under Gingrich and 2-8 all-time in the postseason.
The loss ended fourth-seeded Camp Hill's season at 5-6.
"I'm an Annville kid, born and raised, and to make it to the finals is a huge thing," said Annville-Cleona head coach Matt Gingrich. "But what drives me are all those pictures of district champions on the wall outside our gym. My goal is to get this team on that wall, forever.
"Since I was a kid, all of my idols were up there," continued Gingrich. "We talk about that as a goal. I think when the kids walk by the wall now, they see it. There are no football pictures on that wall."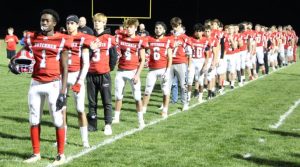 In the middle of the second period, and with the outcome still very much hanging in the balance, it was an 80-yard touchdown jaunt by Harter that turned the momentum in the favor of Annville-Cleona for good. Just 13 seconds earlier, Camp Hill had pulled to within 14-7 of the Little Dutchmen on a one-yard TD pass from quarterback Drew Branstetter to end Mike Shartle.
But 1:14 before the close of the first half, Annville-Cleona stretched its lead to 28-7, on quarterback Gavin Keller's five-yard scoring burst. Then with 2:11 left in the third quarter, Music made it a four-score game when he culminated a ten-play, 71-yard possession with a four-yard touchdown scamper.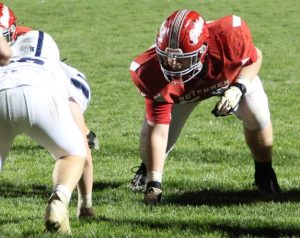 "I always worry about district games," said Gingrich. "In the league, you have an idea of what you're up against. As the week went on and we watched more film, we became more confident. We made a lot of big plays.
"Our offensive line has been physical all year," added Gingrich. "For the most part, those guys get on people and stay on their blocks. I was a lineman all my life. I like nothing better than getting on a team and suffocating them. This team has taken on that personality."
Courtesy of a short field and a 45-yard run from Music, Annville-Cleona scored on its first possession. Exactly 4:40 into the second stanza, the Little Dutchmen expanded their lead to 14-0 when Harter topped off a 16-play, 72-yard possession with a three-yard scoring run.
"They don't see the triple option often," said Gingrich of the Lions. "When you don't see the triple option it's tough to cover. The biggest thing is our kids hit the hole hard. Man do they hit it, and they hit it tight, and when you do you're going to break one eventually.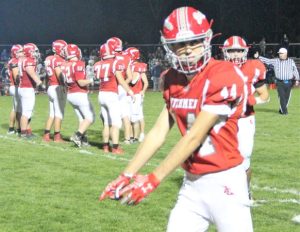 "I'm extremely proud of them (his players)," Gingrich added. "No one will ever say we're easy on our kids. When we gave up those two touchdowns, I was mad at them. Afterwards, I say I'm sorry and they say they're sorry, and we move on. The goal is to play that perfect game."
The Little Dutchmen tallied their final touchdown of the night with 6:00 left in the final quarter, on Dom Funk's 21-yard run.
A point of emphasis, Annville-Cleona limited Camp Hill's pass-heavy offense to 13 completions in 24 attempts and 111 yards through the air.
"Last year, we went to a Class AA playoff game, and two of the best teams in District Three looked like us," said Gingrich. "I never felt in place in AAA. On that night, we thought we could play at this level. At that time, I thought we had a chance to do this. But in the preseason, all the kids came out and all the kids came to workouts."
To purchase images in this article please email jeff@lebcosports.com.
2022 Annville-Cleona Football Results
| | | | | | |
| --- | --- | --- | --- | --- | --- |
| 2022-08-26 | A | vs | Hanover (3)(3) | W | 55-12 |
| 2022-09-01 | H | vs | Eastern Lebanon County(3) | L | 22-19 |
| 2022-09-09 | H | vs | Littlestown(3) | W | 42-14 |
| 2022-09-16 | H | vs | Hamburg(3) | L | 39-26 |
| 2022-09-23 | H | vs | Columbia(3) | W | 27-7 |
| 2022-09-30 | A | vs | Kutztown(3) | W | 42-28 |
| 2022-10-07 | H | vs | Lancaster Catholic(3) | L | 14-13 |
| 2022-10-14 | A | vs | Pequea Valley(3) | W | 59-12 |
| 2022-10-21 | A | vs | Schuylkill Valley(3) | W | 42-10 |
| 2022-10-28 | H | vs | Northern Lebanon(3) | W | 48-10 |
Final PIAA District Three Class AA Power Rankings
| | | | | | | | | | | | |
| --- | --- | --- | --- | --- | --- | --- | --- | --- | --- | --- | --- |
| AA | School |  W |  L |  T |  Rating |  TWP |  OWP |  TWPW |  OWPW |  TWPL |  OWPL |
| 1 | Annville-Cleona | 7- | 3- | 0 |  0.578140 |  0.685567 |  0.446841 |  6.65 |  44.55 |  3.05 |  55.15 |
| 2 | Delone Catholic | 7- | 3- | 0 |  0.574584 |  0.685567 |  0.438939 |  6.65 |  43.85 |  3.05 |  56.05 |
| 3 | Trinity (3) | 6- | 4- | 0 |  0.563112 |  0.571429 |  0.552947 |  5.60 |  53.00 |  4.20 |  42.85 |
| 4 | Camp Hill | 5- | 5- | 0 |  0.475673 |  0.465000 |  0.488718 |  4.65 |  47.65 |  5.35 |  49.85 |
| 5 | York Catholic | 5- | 5- | 0 |  0.470105 |  0.475490 |  0.463524 |  4.85 |  46.70 |  5.35 |  54.05 |
| 6 | Columbia | 3- | 7- | 0 |  0.363455 |  0.293269 |  0.449239 |  3.05 |  44.25 |  7.35 |  54.25 |
| 7 | Newport | 2- | 8- | 0 |  0.320309 |  0.173077 |  0.500260 |  1.80 |  48.10 |  8.60 |  48.05 |