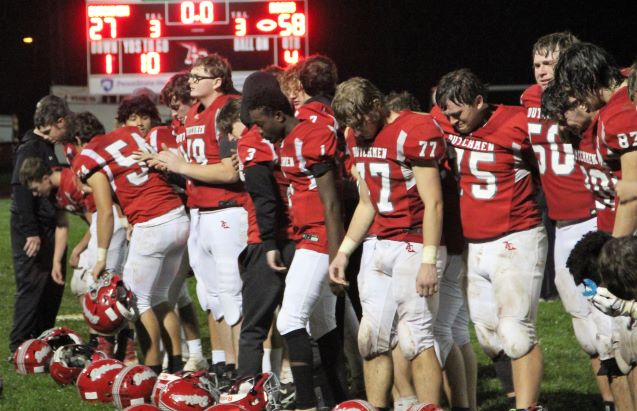 BY JEFF FALK
Editor
ANNVILLE – You could say that they will be remembered as the local team that came the closest to winning a District Three football championship. Or you could wonder aloud if any Lebanon County football squad will ever win a District Three title.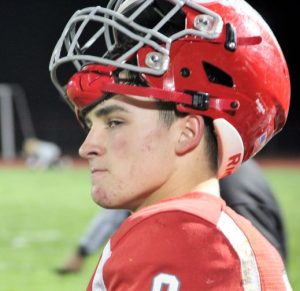 But that would be disrespectful towards this particular Annville-Cleona team, what the Little Dutchmen accomplished this year, how much they improved throughout the fall, how much they grew as individuals and teammates. Or the impact they had on their program, their town and each other.
On a  damp Saturday night at Annville-Cleona High School, the Little Dutchmen were overwhelmed by Trinity 58-27 in the District Three Class AA championship game. Unable to match Trinity's speed, quickness and athleticism, Annville-Cleona fell behind 17-0 early in the second quarter and never recovered.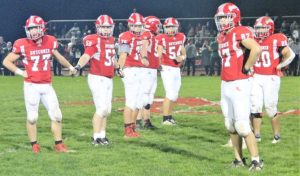 Riding four straight victories, top-seeded Annville-Cleona was being touted as a savior for a small county that has never won a district three championship in its long history of playing football.  At least one team from Lebanon County has captured a District Three championship in almost every other scholastic sport.
But thanks to an explosive Shamrock bunch, it became apparent early on that it just wasn't meant to be for Annville-Cleona or Lebanon County. Of the eight touchdowns that Trinity scored, six came on plays of 24 yards or longer.
Scoring points on all nine of its possessions, third-seeded Trinity, which improved to 8-4 on the year, neither punted or turned the ball over.
Annville-Cleona completed its year at 8-4. The loss also dropped the Little Dutchmen's all-time record in the District Three playoffs to 2-9.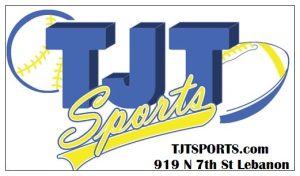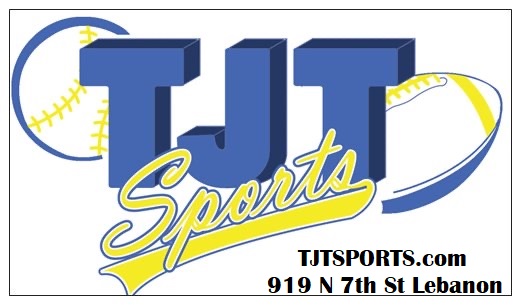 "I'd like it to be my problem," said Annville-Cleona head coach Matt Gingrich, addressing the outside expectations placed on his team. "I'd like people to talk about us being one of the best teams from Lebanon County in our classification. When we talk about teams from Reading and Lancaster and Harrisburg and York, it's a different physicality. Until we win something in the county, it's going to be the same stigma.
"Hopefully, we'll be remembered as the team that broke the barriers, the one that showed the way," continued Gingrich. "But when I look back, I think this is going to be my favorite team to coach, just because we had a lot of awesome kids."
After falling into that initial 17-0 hole, Annville-Cleona fought back in the form of Cael Harter's 63-yard touchdown jaunt, 6:26 before the break. That pulled the Little Dutchmen to within ten points of the lead, but they never could figure out a way to come up with a defensive 'stop'.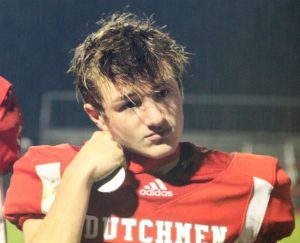 "Before the game, I thought we might be OK," said Gingrich. "But on that first series, you could just see they (the Shamrocks) moved differently than us. We didn't get to the point to be physical.
"We made a couple of mistakes, but there came a point where it was like, 'We don't have that,'" added Gingrich. "That's (Trinity) not an AA school. There's a lot of talent there."
The score became 38-7 before the Little Dutchmen could muster their next touchdown. Senior Phoenix Music ran one in from 30 yards out to make it a 24-point game, with 6:41 left in the third stanza.
"It took us a little time to figure out what we can do," said Gingrich. "If we could've gotten two or three 'stops', we would've been OK.
"In the beginning, they (the Shamrocks) defended the triple option very well," Gingrich continued. "They ran plays down. They're just better athletes. But I was very proud of our kids' effort on offense."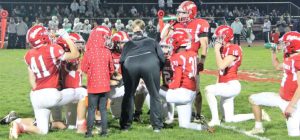 With 3:49 left in the third quarter, Harter scored a touchdown on a similar 30-yard maneuver. Music's three-yard scoring burst with 5:40 remaining capped his and Annville-Cleona's incredible seasons.
"I think the most important thing is that these guys played for their town," said Gingrich. "They help coach youth football. They go to field hockey games. They go to basketball games. They do all the volunteering things I ask them to.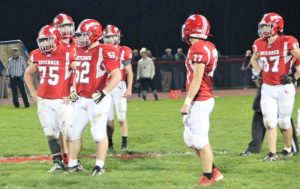 "They live 'we over me'," Gingrich added. "They look like they're going to be parts of the community. That's not natural. That means more to me than anything else."
Trinity out gained Annville-Cleona 584 total yards to 455. The 58 points that the Little Dutchmen surrendered was a season-high.
Harter carried 15 times for 179 yards, while Music gained 157 rushing yards on 21 totes. Music finished his senior season with a program-record 2,219 rushing yards and 28 touchdowns.
To purchase images in this article please email jeff@lebcosports.com
2022 Annville-Cleona Football Results
| | | | | | |
| --- | --- | --- | --- | --- | --- |
| 2022-08-26 | A | vs | Hanover (3)(3) | W | 55-12 |
| 2022-09-01 | H | vs | Eastern Lebanon County(3) | L | 22-19 |
| 2022-09-09 | H | vs | Littlestown(3) | W | 42-14 |
| 2022-09-16 | H | vs | Hamburg(3) | L | 39-26 |
| 2022-09-23 | H | vs | Columbia(3) | W | 27-7 |
| 2022-09-30 | A | vs | Kutztown(3) | W | 42-28 |
| 2022-10-07 | H | vs | Lancaster Catholic(3) | L | 14-13 |
| 2022-10-14 | A | vs | Pequea Valley(3) | W | 59-12 |
| 2022-10-21 | A | vs | Schuylkill Valley(3) | W | 42-10 |
| 2022-10-28 | H | vs | Northern Lebanon(3) | W | 48-10 |
PIAA District Three Class AA Power Rankings
| | | | | | | | | | | | |
| --- | --- | --- | --- | --- | --- | --- | --- | --- | --- | --- | --- |
| AA | School |  W |  L |  T |  Rating |  TWP |  OWP |  TWPW |  OWPW |  TWPL |  OWPL |
| 1 | Annville-Cleona | 7- | 3- | 0 |  0.578140 |  0.685567 |  0.446841 |  6.65 |  44.55 |  3.05 |  55.15 |
| 2 | Delone Catholic | 7- | 3- | 0 |  0.574584 |  0.685567 |  0.438939 |  6.65 |  43.85 |  3.05 |  56.05 |
| 3 | Trinity (3) | 6- | 4- | 0 |  0.563112 |  0.571429 |  0.552947 |  5.60 |  53.00 |  4.20 |  42.85 |
| 4 | Camp Hill | 5- | 5- | 0 |  0.475673 |  0.465000 |  0.488718 |  4.65 |  47.65 |  5.35 |  49.85 |
| 5 | York Catholic | 5- | 5- | 0 |  0.470105 |  0.475490 |  0.463524 |  4.85 |  46.70 |  5.35 |  54.05 |
| 6 | Columbia | 3- | 7- | 0 |  0.363455 |  0.293269 |  0.449239 |  3.05 |  44.25 |  7.35 |  54.25 |
| 7 | Newport | 2- | 8- | 0 |  0.320309 |  0.173077 |  0.500260 |  1.80 |  48.10 |  8.60 |  48.05 |

Lebanon Federal Credit Union