The three county programs compete as club teams in the Central Pennsylvania Interscholastic Hockey League (CPIHL).  Due to the club status of these organization, the teams have the ability to pull from areas that would not otherwise fall within their school district.
---

  Annville-Cleona Dutchmen Ice Hockey
Viola Division of the CPIHL
Head Coach: Josh Nelson / Brenden Freeman
Current Record: 1-4; 8th place
Recent Games: LLLLW
10/31: Keystone Kraken 10, Annville-Cleona 1
11/4: Twin Valley 7, Annville-Cleona 0
11/7: West Shore 2, Annville-Cleona 1
11/11: Warwick 5, Annville-Cleona 4
11/16: Annville-Cleona 8, Pottstown 3
Season Update:  Annville-Cleona is five games into their eighteen-game slate and while starting slow, seems to be waking up over the past couple of games. A notable improvement for this team has been the overall defense combined with the improved goaltender play of netminder Peyton Renninger.  On the offensive end, Zander Meily and Zachary Frentz have led the way with four goals each.  In the most recent game, a road victory at Pottstown, Meily recorded a hat trick as part of the eight goal explosion for the Dutchmen.  Also aiding the offensive attack has been Dylan Musser (2 goals, 1 assist) and Jonathon Breinich (1 goal, 2 assist).  Annville-Cleona next play after Thanksgiving when they take on Penn Manor to start the next phase of their schedule.
---

    Cedar Crest Falcons Ice Hockey
Bears Division of the CPIHL
Head Coach: Kevin Long
Current Record: 3-1; 4th place
Recent Games:  WLWW
10/31: Cedar Crest 5, Exeter/Gov Mifflin/Wilson 4
11/2: Central Dauphin 10, Cedar Crest 2
11/7: Cedar Crest 7, Palmyra 3
11/9: Cedar Crest 6, Dallastown 5
Season Update: The Falcons are off to a good start in their 2022-2023 campaign, hanging towards the top of the leaderboard. The team has benefitted from an attack that has seen goal scoring from all over the ice.  While the team has scored twenty goals, there have been eleven different goal scorers.  Leading the goal scoring for the Falcons have been Anthony Long with four (along with two assists) and Bryant Alspaugh with three (to go with four assists).  Keygan Paquette leads the team in overall scoring, as he has been credited with six assists and one goal of his own.  Thomas Winsett has spent the most time in goal this season and has posted a commendable .863 save percentage, which is a major reason why Cedar Crest has held on for two one-goal victories.  The Falcons are back in action in a big game tonight against Hershey (4-1).
---
       Palmyra Cougars Ice Hockey
Bears Division of the CPIHL
Head Coach: Andrew Anderson
Current Record: 1-5; 10th place
Recent Games: LLLLLW
10/31: Dallastown 6, Palmyra 5
11/2: Schuylkill Valley 4, Palmyra 1
11/7: Cedar Crest 7, Palmyra 3
11/11 Hershey 8, Palmyra 2
11/14: Lower Dauphin 9, Palmyra 4
11/18: Palmyra 7, Hempfield/Manheim Township 3
Season Update: The first leg of the Palmyra Cougars season does not look the greatest if you just consider the record, but there is a foundation on which the team can build upon as the season progresses.  Chief among these positives is the way that the offense has been producing, as the team has scored in every game and they have been able to lit the lamp thirteen times over the past three games.  Noah Poleshuk leads the team with six goals.  Zachary Blaszynski and Johnny Eldridge are tied for the team in overall scoring, each collecting four goals and three assists.  With all of the talk of the offense, the Cougars will look to make defensive adjustments to increase their chances at winning.  Palmyra plays tonight against a hungry Elizabethtown/Middletown team that is currently seeking its first win.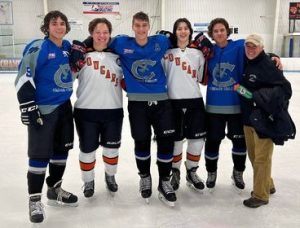 Former youth hockey teammates reunite post-game with Cedar Crest Assistant Coach Greg Allwein
---
If you are looking to provide feedback or are a business or individual interested in providing sponsorship to aid our mission at LebCoSports, you are asked to contact Dan by emailing dan@lebcosports.com.

Lebanon Federal Credit Union