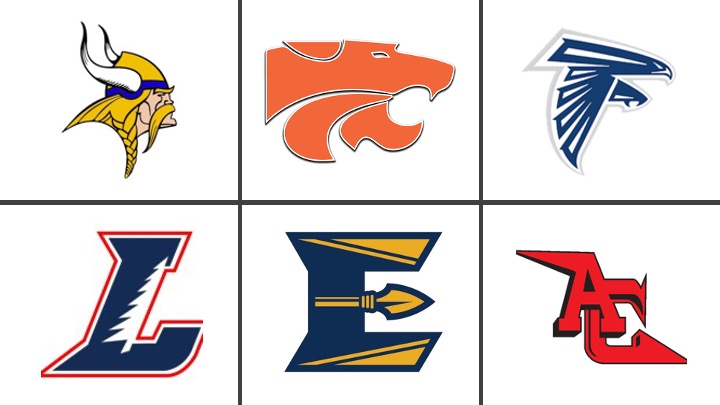 Annville-Cleona Dutchmen 
Lancaster-Lebanon League Section 3
Current Record: 3-0
Recent Results:
9-6: Annville-Cleona 24, ELCO 35
9-6: Annville-Cleona 15, Columbia 50
9-10: LVC Dutchmen Invite – 10th of 21
9-13: Annville-Cleona 27, Octorara 28
Season Update:  On Tuesday, Annville-Cleona defeated Octorara with a large portion of their student body watching.  This type of celebratory mood for the Dutchmen runners are reminiscent of Coach Gerber's teams of old.  The victory moved Coach Heller's team to 3-0 and into control of Section 3.  The team is led by sophomore Landon Hostetter, who has won both meets run so far this season, most recently running a 16:58.  Two other key contributors who have helped lead the team are senior Jared Hostetter and freshman Oliver Funck.  Being a small school who shares athletes, Annville has yet to run their full varsity team together in a meet, but they seem to have the depth to account for what would otherwise be a disadvantage.  At this point, the goal is to take it week to week and keep building the skills that will make them not only strong the rest of the regular season, but a force in the post-season as well.
---
     Cedar Crest Falcons 
Lancaster-Lebanon League Section 1
Current Record: 2-2
Recent Results:
9-6: Manheim Township 15, Cedar Crest 46
9-6: Cedar Crest 22, Penn Manor 39
9-10: LVC Dutchmen Invite – 1st of 21
9-13: Cedar Crest 20, Lebanon 43
9-13: Hempfield 15, Cedar Crest 46
Season Update: The Falcons compete in Section 1 of the Lancaster-Lebanon League and have already run into the buzz-saws that are Manheim Township and Hempfield.  This is important to remember, as their record is not a good overall indicator of their level of talent.  In a tough field at last Saturday's LVC Dutchmen Invite, the Cedar Crest starting seven took home the team trophy, far outpacing second-place Saint Joe's Prep.  In that race, junior Ben Causak led the charge, finishing third in a time of 16:19.8.  Causak has stepped up at the #1 runner for the Falcons, but in cross country you need five runners who can perform.  Cedar Crest has the right ingredients to meet that demand, beginning with a tight 2-3-4 pack consisting of junior Jake Perhonitch, senior Owen Sparks, and sophomore Viseth Meng.  There is a hard-fought, friendly competition currently brewing for the #5 spot between two freshmen, Travis Furmanski and Tony Figueroa.  Coach Risser stresses the concept of "TEAM" with his bunch and they are all challenging each other to be better.  Within this supportive culture, he is excited to see how his veterans continue to run as the season progresses, but also with how far his younger runners will develop.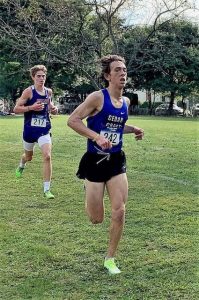 Ben Causak working hard on his way to a 3rd place finish at the LVC Dutchmen Invite
---

 ELCO Raiders  
Lancaster-Lebanon League Section 3
Current Record: 3-1
Recent Results:
9-6: Annville-Cleona 24, ELCO 35
9-6: ELCO 15, Columbia 50
9-10: LVC Dutchmen Invite -11th of 21
9-13: ELCO 23, Northern Lebanon 33
9-13: ELCO 15, Lancaster Mennonite 50
Season Update: The Raiders knew that they had to replace their top three contributors from a season ago, which is not an easy task . . . you would think.  However, they have had several key runners step up and quickly develop.  Senior Landon Brubaker has been ELCO's top runner, winning Tuesday's race after finishing 11th at the Dutchmen Invite with a time of 17:00.4.  Behind Brubaker are junior Camden Marquette and sophomore Chad Keller serving as strong contributors.   Gabe Asper and Wesley Doll have helped to close the gap in rounding out the top five for the Raiders.  Unfortunately, the loss to Annville-Cleona in the first week will make winning Section 3 a difficult task, but there are  still plenty of opportunities for this team to find success.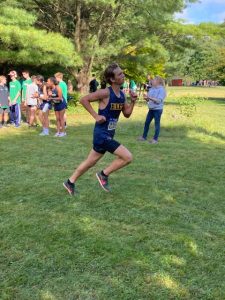 Landon Brubaker attacks the course
---
If you missed out coverage on the 2022 LVC Dutchmen Invitational, where all six county teams competed, you can find it here. 
---
     Lebanon Cedars
Lancaster-Lebanon League Section 1
Current Record: 0-3
Recent Results:
9-6: Conestoga Valley 24, Lebanon 31
9-10: LVC Dutchmen Invite – 9th of 21
9-13: Cedar Crest 20, Lebanon 43
9-13: Hempfield 17, Lebanon 46
Season Update: Coach Pearson knew coming into the season that his team was going to be young and therefore would need time to develop.  However, the Cedars seem to be developing at a faster clip than expected.  Sophomore Gavin Sheetz (who is also the school's top golfer) has been stepping up, highlighted by his 17th place finish (17:09.5) at the Dutchmen Invite. Sophomores Owen Kreider and Javier Montalvo have been working hard, showing growth that has placed them in the team's top five.  The biggest surprise for the Cedars has been newcomer Ramon Urena, a junior phenom, who took up running after a hand injury caused him to take a break from a promising amateur boxing career.  Urena won the first meet of the season, besting all runners from Conestoga Valley.  He then went on to finish fifth at the Dutchmen Invite (16:31.7), before finishing fourth at Tuesday's meet with Hempfield and Cedar Crest.  While natural talent does play a role in this sport, there is a lot to be said for race experience.  This makes for an exciting trajectory for Lebanon's season, as they have the talent and are only now getting the experience.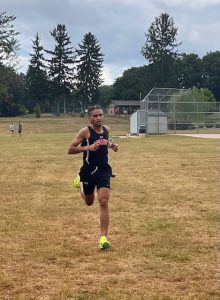 Urena brings home the victory in his first meet.
---
     Northern Lebanon Vikings
Lancaster-Lebanon League Section 3
Current Record: 2-2
Recent Results:
9-6: Octorara 19, Northern Lebanon 36
9-6: Northern Lebanon 22, Lancaster Catholic 38
9-10: LVC Dutchmen Invite – 12th of 21
9-13: ELCO 23, Northern Lebanon 33
9-13: Northern Lebanon 15, Lancaster Mennonite 50
Season Update: Coming into this season, the Vikings knew that they had lost several key pieces to graduation, but that there was an opportunity to develop the next crop of runners.  Junior Tyler Shunk is leading the way in his development, as he has been running consistently thus far in the season.  At the Dutchmen Invite, Shunk ran a 17:18.7, which placed him 21st overall.  This past Tuesday, Shunk followed up that performance with a 3rdplace finish in a meet against ELCO and Lancaster Mennonite.  Follow their leader has been a group of runners that have started to run with a pack mentality.  This will aid development, due to the fact that they are pushing each other and also jockeying to better their own positions. This group consists of Caleb Sanders, Josiah Kelly, Luke Hentz, Kenneth Battistelli, and Aiden Bertrand.  The season is still young, so Coach Schafebook's crew should have plenty of time for marked improvement.
---
   Palmyra Cougars
Mid-Penn Conference – Keystone Division
Current Record: 1-1
Recent Results:
9-6: 2nd in meet against Lower Dauphin (L) & Red Land (W)
9-10: LVC Dutchmen Invite – 8th of 21
Season Update: Two things that Palmyra knew coming into this season: 1) They lost a lot to graduation; 2) They rostered 31 runners, with 15 of them being new to high school cross country.  Through the first week of the season, the top performer for the Cougars has been Cornelius Cummings, who as a freshman is one of the newbies now running for the high school team following a stellar junior high career.  Cummings finished 3rd in his first Mid-Penn meet against Lower Dauphin and Red Land, then finished 9th at the Dutchmen Invite with a time of 16:52.9.  Joining Cummings in the front of the pack has been junior Jake Vottero, who finished 4th at the first meet and 20th at the invitational.  The issue is that after Cummings and Vottero, there is a gap that is not conducive to post-season/large invitational success.  The good news is that they have several runners who are determined to step up, as they battle for spots in the top seven.  Beyond junior Logan Mierzwicki and sophomore Ethan Yorty, there are nine more runners who are angling for these spots on the team.  Since it's anyone's game (all 9 finished in a 34 second spread on Saturday), there will be competition that will make the whole team better.  Palmyra will continue to work on key race elements during this bye week before they hit their home course next week, hosting Hershey and Cedar Cliff.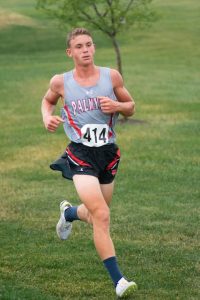 Freshman Cornelius Cummings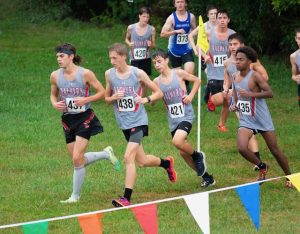 The pack working together, while also competing for varsity spots.
---
If you are looking to provide feedback or are a business or individual interested in providing sponsorship to aid our mission at LebCoSports, you are asked to contact Dan by emailing dan@lebcosports.com.