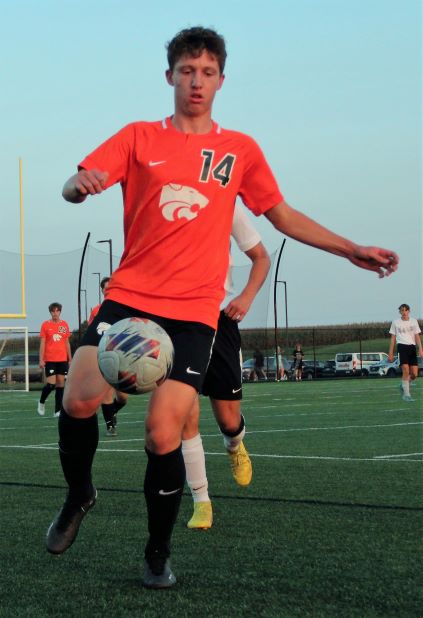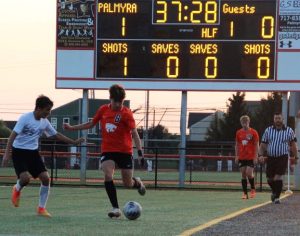 BY JEFF FALK
Editor
PALMYRA – There's something special going on in Palmyra.
Now, the Cougars don't want to get too far ahead of themselves. Nor do they want to rest on past laurels.
Either could spoil the moment.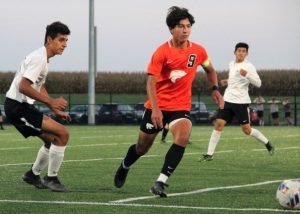 On a beautiful Wednesday night at Palmyra High School's OAL Sports Complex, the Cougars' boys' soccer team extended its spectacular start to a hopeful season with a 7-0 mercy-rule blanking of Mifflin County. After the Cougars scored on two of their first three shots, five different Palmyra players ended up netting goals.
Prolific senior Brayden Sunho paced the Palmyra scoring parade with two goals and two assists, while junior teammate Matthew Bordner notched a pair of tallies. Palmyra out shot Mifflin County 25-2, while posting an 11-0 advantage in corner kicks.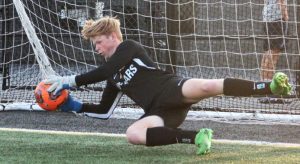 With the triumph, Palmyra stayed undefeated and improved to 7-0 on the year. The top-rated Class AAA team in District Three, the Cougars have now outscored their opponents by a combined margin of 28-8.
Coming into the fall, the Cougars were forced to replace half of their starters from a 2021 squad that lost to Hershey 3-1 in The District Three Class AAA championship game and qualified for the state playoffs.
The loss dropped Mifflin County to 0-6 overall.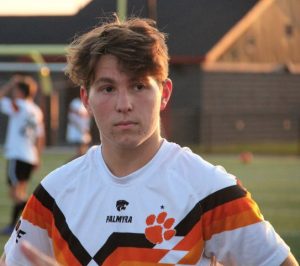 "For us, the key to the success is the culture and the work ethic," said Palmyra head coach Jeff Wilver. "We've been working on it since last February. And not just a few of the guys, but a whole bunch. We have a lot of guys who love soccer. We haven't been perfect, but our record's been perfect. I think it's a reflection of our focus on wanting to keep getting better. Sometimes you've got to be your own toughest competition.
"We all talked about goals at the beginning of the season, and those (high Class AAA ranking, Mid-Penn Keystone Division championship, District Three championship) are all things that came up," continued Wilver. "I don't think you're a competitor if you don't think about them. But we don't want to look too far ahead, because if you do you'll trip yourself up. There's a lot left to be played. We're happy where we are right now, but not satisfied by any stretch."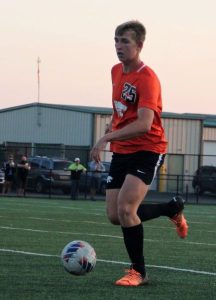 Palmyra's ability to finish proved to be the key to its fast start.
Some 2:16 into the match, Sunho rifled a well-placed 25-yard right-footer high into the far corner of the net for a 1-0 Cougar lead. Just over four minutes later, Sunho ran onto Caleb Sitler's through-ball, dribbled around Mifflin County keeper Seth Miles and slid a left-footer into the open goal.
"From an attacking perspective, we've been starting fast," said Wilver. "We've been jumping on teams early, and when you do that it takes the pressure off. You don't have to be quite as urgent. The start tonight was good, and we've been able to do that for most of the season.
"We have some very good attacking players and you saw that tonight," added Wilver. "We have some guys who share the ball and they know how to play the game. We can score in bunches. But if I had to identify one thing we need to grow on it would be our set pieces and corners."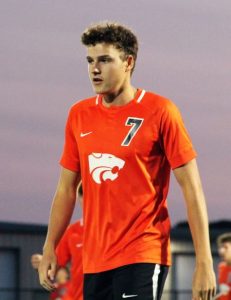 Ten minutes before the break, Sitler made it 3-0 Cougars, with an unassisted right foot to the far post. Then, during a 2:53 span early in the second half, Sunho twice fed Bordner for his pair of tallies.
"Brayden (Sunho) has been one of the best attacking players in our division for three years," said Wilver. "For me, he's as technically sound with the ball at his feet as anyone I've ever coached. He knows when to be assertive and he knows when to share the ball. Brayden is a really good mix of both. He's a really good mover of the ball. He's special when he gets the ball on his feet.
"We've really gotten the guys to buy into the idea of the process," Wilver continued. "If you focus on the process, the results will come. Tonight we were pretty good."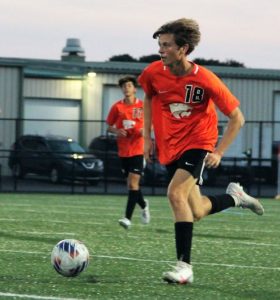 The Huskies recorded their initial shot of the contest midway through the second half, and four minutes later senior Mitchel Wise pushed the Cougar advantage to 7-0 by successfully converting a penalty kick. Senior Alex Richardson rounded out the Palmyra scoring, with 11:09 remaining.
"The difficulty with games like this is that bad habits can creep in," said Wilver. "We're always focused on going 1-0. The result was great. We're also focused on improving and late October. We're constantly asking ourselves, 'What can we improve on?' day in and day out.
"When you have success like we did last year, it either satisfies you or drives you," Wilver added. "But we didn't win some big games, and it's kept us hungry. It's important for our young guys to see that success so they can walk into it down the road. We do feel like we have unfinished business."
To purchase images in this article please email jeff@lebcosports.com.
2022 Palmyra Boys' Soccer Schedule
| | | | | | |
| --- | --- | --- | --- | --- | --- |
| 2022-09-01 | H | vs | Elizabethtown(3) | W | 4-3 |
| 2022-09-03 | A | vs | Cedar Crest(3) | W | 6-2 |
| 2022-09-06 | H | vs | Mechanicsburg(3) | W | 2-1 |
| 2022-09-08 | H | vs | Hershey(3) | W | 2-1 |
| 2022-09-10 | H | vs | Susquehannock(3) | W | 3-0 |
| 2022-09-12 | A | vs | Lower Dauphin(3) | W | 4-1 |
| 2022-09-14 | H | vs | Mifflin County(6) | | 0-0 |
| 2022-09-17 | A | vs | Conestoga Valley(3) | | 0-0 |
| 2022-09-22 | H | vs | Waynesboro(3) | | 0-0 |
| 2022-09-26 | A | vs | Central Dauphin East(3) | | 0-0 |
| 2022-09-28 | A | vs | Mechanicsburg(3) | | 0-0 |
| 2022-10-01 | H | vs | Donegal(3) | | 0-0 |
| 2022-10-04 | A | vs | Hershey(3) | | 0-0 |
| 2022-10-06 | H | vs | Lower Dauphin(3) | | 0-0 |
| 2022-10-08 | A | vs | Exeter Township(3) | | 0-0 |
| 2022-10-11 | A | vs | Mifflin County(6) | | 0-0 |
| 2022-10-15 | A | vs | Waynesboro(3) | | 0-0 |
| 2022-10-19 | H | vs | Central Dauphin East(3) | | 0-0 |

Lebanon Federal Credit Union