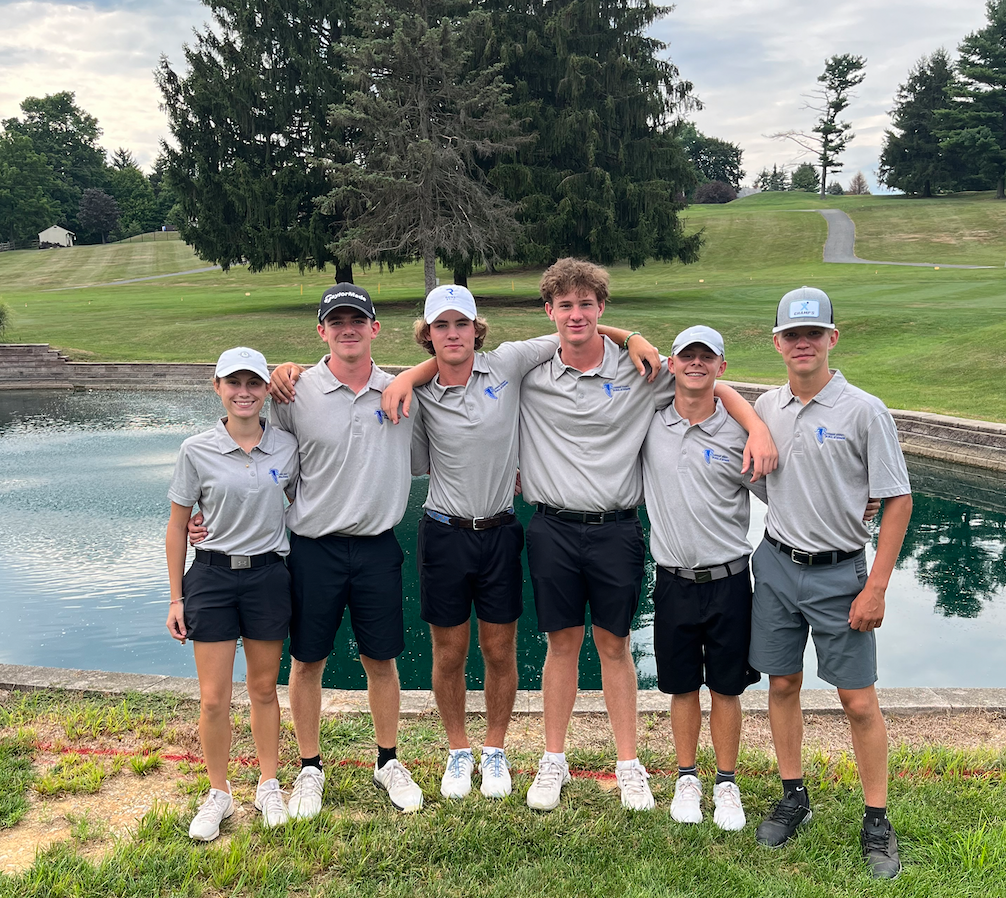 Annville-Cleona Dutchmen 
Lancaster-Lebanon League Section 4
Head Coach: Todd Evans
Key Players: Reagan Flynn (Jr.); Logan Francis (Fr.)
Key Losses: Simon Domencic
Outlook: The Dutchmen enter the season being considered "young", with the starting roster comprising of two juniors, three sophomores, and a freshman.  Last year, the team posted a 17 – 3 record, finishing second only to Pequea Valley.  That team was led by Reagan Flynn and Simon Domencic, who both earned the honor of being named Section 4 All-Stars.  Of the two leaders on last year's team, only one returns in 2022, but Coach Evans is confident that Flynn will improve on the 79.4 average posted as a sophomore.  Coach is enthusiastic about the youth on the team and the amount of improvement they will make as they gain match experience.
Current Record: 8 – 2
---
     Cedar Crest Falcons 
Lancaster-Lebanon League Section 1
Head Coach: Drew Gates
Key Players: Ben Feeman (Sr.); Jill Fidler (Sr.); Dayton DiBiaso (Jr.); Ethan Rader (So.); Dylan Ramsey (Fr.)
Key Losses: None
Outlook: During the 2021 season, the Falcons finished fourth in a very strong Section 1, but there were several individual accomplishments made by golfers , Jill Fidler and Ben Feeman, who are returning for their senior rounds.  Fidler was the District 3 runner-up in the girl's division last season and tied for 24th place at the PIAA Championship Tournament, while also winning the Lebanon County Championship for the third straight year.  On the boys' side, Feeman was also a PIAA State Championship qualifier, finishing tied for 23rd, while also being named to the All-League First Team and winning the Lebanon County Championship for the second year.  Beyond these two gifted golfers, the Falcons are returning two more of their top scores from 2021 and are adding Ramsey to the mix.  The wealth of talent and experience gives Coach Gates some great hope for this season as he hopes they can challenge for both the Section 1 and L-L League titles, but also qualify several players for Districts and ultimately States.
Current Record: 7 – 1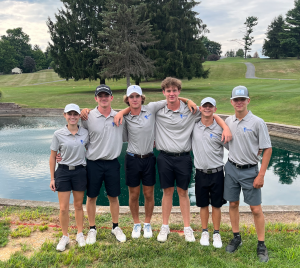 Cedar Crest  at Fairview after completing the program's first sweep in 20+ years.                     Pictured L-R: Jill Fidler, Dayton DiBiaso, Ben Feeman, Ethan Rader,                                              Dylan Ramsey, Jackson Custer
---

 ELCO Raiders  
Lancaster-Lebanon League Section 3
Head Coach: Dave Meyer
Key Players: Cole Weaver (Sr.); Tyler Reed (Sr.)
Key Losses: None
Outlook: In a section with the "perennial juggernaut" Lampeter-Strasburg, it will be a difficult road for the Section 3 crown.  However, Coach Meyer is optimistic with how his team has looked so far this season, combined with the number of returning players he has from last year.  Among those returning players is Cole Weaver, who ended the 2021 schedule as a Section 3 All-Star.  A goal of this year's team is to qualify an entire team of six golfers for the Lancaster-Lebanon League Championships.  In terms of Lebanon County, the Raiders are hoping they  will be strong enough to claim this year's Lebanon County Championship.
Current Record: 8 – 2
---
     Lebanon Cedars
Lancaster-Lebanon League Section 4
Head Coach: Mark Naimoli & Chris Fairbanks
Key Players: Gavin Sheets (So.); Ben Discuillo (So.)
Key Losses: Olivia Bartal (LVC), Julia Campbell, Freddy Batiz-Garcia
Outlook: The Cedars would like to build on the experience they gained with the returning golfers.  While still young, this group has a high ceiling that will allow them to grow into finding successes this season and beyond.
Current Record: 0 – 10
---
     Northern Lebanon Vikings
Lancaster-Lebanon League Section 4
Head Coach: Chris George
Key Players: Vincent Battistelli (So.); Brian Bicksler (So.); Levi Shoemaker (So.)
Key Losses: Peyton Wolfe, Brant Barr, Luke Dresch, Tugger Dresch
Outlook: During the 2021 campaign, the Vikings were solid in Section 3, but have since graduated key members of the team (led by Peyton Wolfe).  Through section realignment, Northern Lebanon has moved into very strong Section 4, which makes things more difficult for the young, inexperienced squad.  Coach George sees this as a rebuilding year, but is excited about several attributes the team has shown early in the season, namely how excited about golf they are, their rapport with each other as teammates, and a great work ethic that is on display at each practice.  With these factors all being considered, Coach George is confident the team will make marked improvements during the season and beyond.
Current Record: 2 – 8
---
   Palmyra Cougars
Mid-Penn Conference – Keystone Division
Head Coach: Tim Refi
Key Players: Sean Kelly (Jr.); Kevin Dromgoole (Sr.); Mason North (Sr.); Alexa Knapp (Jr.)
Key Losses: Trey Hilbert (Mount Aloysius)
Outlook: The Cougars begin the 2022 season returning most of their key pieces from last year's team that placed third in the Keystone Division with a 23-19 record.  Coach Refi is optimistic that this means that they will be able to make more improvements than their competition; translating into a higher finishing position.  Palmyra is also hoping that was is gained in experience will also mean they are able to send more members of the orange and black to the post-season.
---
If you are looking to provide feedback or are a business or individual interested in providing sponsorship to aid our mission at LebCoSports, you are asked to contact Dan by emailing dan@lebcosports.com.

Lebanon Federal Credit Union