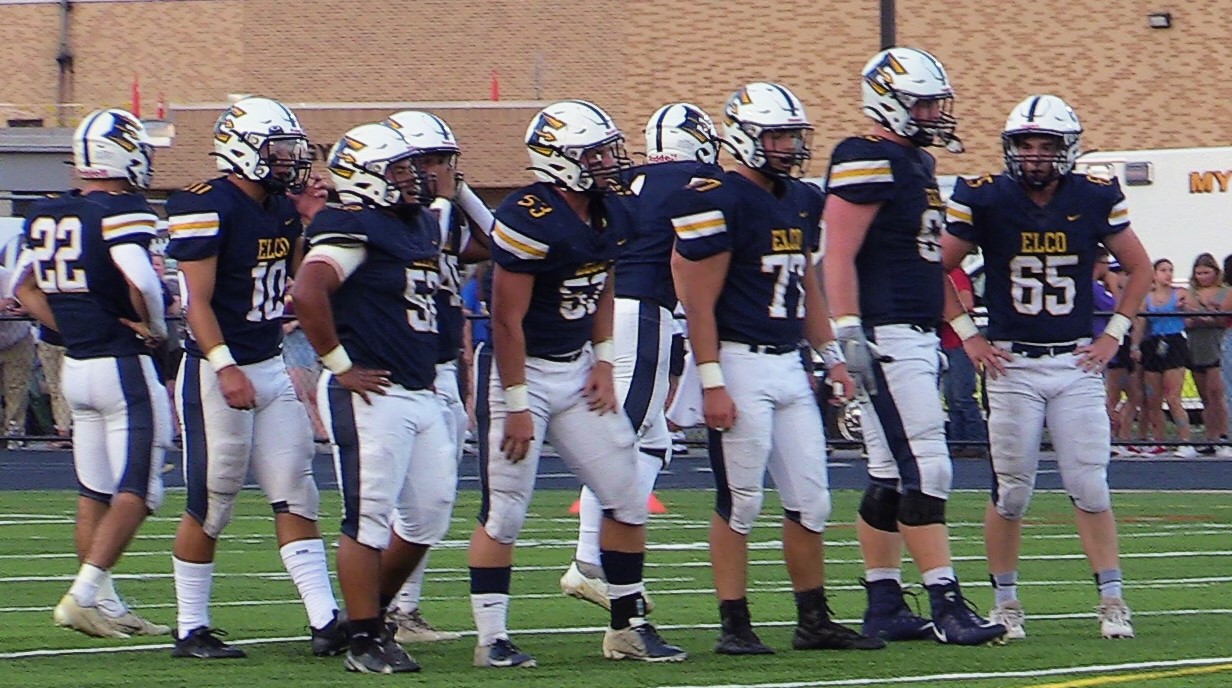 BY CHRIS GEORGE
For LebCoSports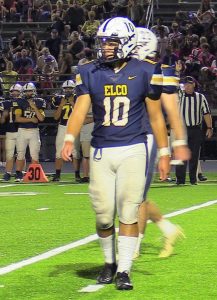 MYERSTOWN – Week One for most football coaches is typically filled with anxiety and worry about their team's preparation. Mistakes, and more importantly avoiding those mistakes, tend to decide these early games.
On Friday night in Myerstown, as Elco christened its new home turf, the first half was a high-scoring back-and-forth game that had the Raiders on their heels due to some first-quarter miscues.  The difference may have been that as both teams capitalized on the mistakes of each other early, the Raiders finally cleaned things up and made the visiting Bulldogs from West York pay for a litany of turnovers and penalties.
The Raiders turned a one-point halftime lead into a runaway 44-22 victory that left the packed house and coach Bob Miller excited for what is still to come.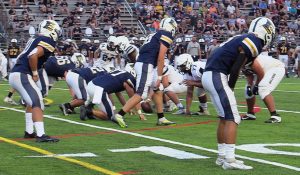 Energy and expectations were high as usual for this Raiders squad, with a roster of over 60 players, even as they enter the newly formed Lancaster-Lebanon, Berks Section 4, which is loaded with typically district and state powerhouses.  However, after the first kickoff, Elco quickly started what would be a first half full of missteps by fumbling on a toss which gave West York early field position. A few plays later, the Bulldogs bounced it in to take a 7-0 lead.
Elco answered right back, however, not with a typical methodical drive, but with a couple of punches up the gut and Jake Williams bursting through the line for an exciting 40-yard touchdown scamper, which would be one of three for him on the night that netted him 100 yards rushing.

"It was just great to have him back," said Miller.
Williams missed most of last season with several injuries, and expectations are high for the third Williams brother who Miller has been privileged to coach.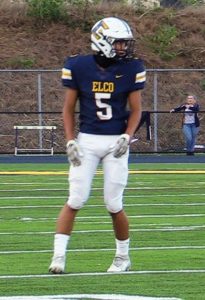 "It's been really neat to see the progression of Eric (currently playing DB at Lebanon Valley College), as the first one, having a great career and showing the way, handing it off to Luke, (now graduated and off to play LB at Bloomsburg), to now setting the stage for Jake to have his time to shine and lead this next group of Raiders," said Miller. "Of note – this is probably not the last Williams, as there looks to be at least 2 more.  Their father and former D1 football standout, Bob Williams, has been an assistant for the past several years on this Elco staff as well."
The first quarter continued with numerous mistakes back-and-forth.  Elco stopped West York on the ensuing drive but after an errant snap and a 5-yard punt which gave West York field position at Elco's 10, the Bulldogs made it 14-7.
As the second quarter began, West York's confidence started to build and many would wonder if maybe the Bulldogs could pull off the upset they had hoped for. However, the mistake bug hit West York just as badly, as it committed numerous ill-timed penalties that kept Elco drives alive.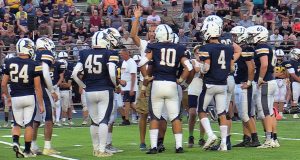 After some change-of-pace calls from Miller and a timeout, the Raiders were able to get the Bulldogs to jump offside on a huge 4th and 2 situation. Three plays later, the Raiders capitalized on that costly mistake with a perfectly called screen pass, which allowed first-year QB Dominic Thornton to connect with junior Elliott Kreider for an exciting 50-yard touchdown catch and run.
Landen Gettle, an Elco soccer player, nailed his second point-after-touchdown to tie it up.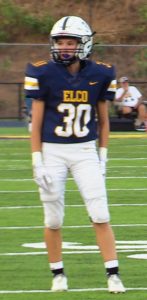 West York continued to play the mistake game in the second quarter, with penalty after penalty and numerous interceptions.  Give credit to Elco's secondary that was tested by a young promising West York gunslinger Isaac Roberts, and numerous speedy targets.
Last year may have been a struggle for the Raiders with all new faces, but most of the secondary is back now, minus graduated Cole Thomas. Insert Jake Williams as well, along with returners Jackson Conners, Alden Stichler, and safety Justin Smucker, and hopes are high that this group can take it to another level in 2022.
The Bulldogs never let off the gas, going right at the Raiders through the air all night, and although they were able to move the ball on short completions, the Raiders never broke, and multiple deep shots were thwarted. The Raiders ended the night with four picks, but could probably have had even more.
After a bad snap and safety, and another exciting Jake Williams touchdown run, the Raiders took what seemed to be a commanding lead at 23-14. However, the mistake-filled first half for both teams continued when Elco fumbled a punt late in the 2nd quarter.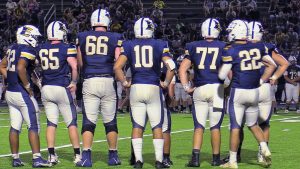 West York capitalized with Roberts rolling to his right and finding his receiver in the corner of the end zone. The Bulldogs would get the conversion to make it 23-22 going into the break.
The 90-minute first half had the mark of a game that might go all night, but early in the third quarter, Elco returned to its traditional methodical ways. Long drives of three and four yards at a chunk, and a slightly heavier dose of Williams seemed to do the trick.
The Raiders wore down the Bulldogs with long sustained drives and touchdown runs from Williams again, Austin Yesko, and Mitchell Frederick to make quick work of West York and stimy the Bulldog's upset hopes.  After multiple second-half interceptions and fumble recoveries from Stichler, Smucker, Kreider, and of course, Williams to seal it, the Raiders were celebrating in front of their jubilant student section, as they made the first night on their new stadium turf a memorable one.
Overall, Coach Miller couldn't have been happier with his team's performance. It was the perfect first game, as it tested the Raiders, but allowed them to gain confidence even after being down and put in tough circumstances.
This may come in handy as the Raiders gear up for what many have said is the best section of football in the entire state of Pennsylvania. Miller was also impressed by his senior captain and QB Dom Thornton, who he says, "brings great energy to the position and team, as he's waited his turn behind standout athletes Bohannon and Thomas the past few seasons."
Thornton had key scrambles throughout and completed both his passes on timely plays to keep Raider drives alive.
Coach Miller, who never seems phased by adversity, mentioned, "how impressed he was with the turf", but also that they "only practiced one hour on it all preseason."
The field was just finished two weeks ago. But as usual, no excuses were coming from Coach Miller about that, and why would they?
The 2022 Raiders looked right at home on their new carpet and will look to catapult off this first win against local rival Annville-Cleona in what looks to be a fantastic Week Two matchup on Thursday. The Raiders will not have a lot of time to savor this one though, as they'll be back at it on a short week.